It's finally cookie season! I believe the best gifts are hand-made, so here's a round-up of all the flavors in this year's 2020 Holiday Cookie box. Keep reading to get all the details!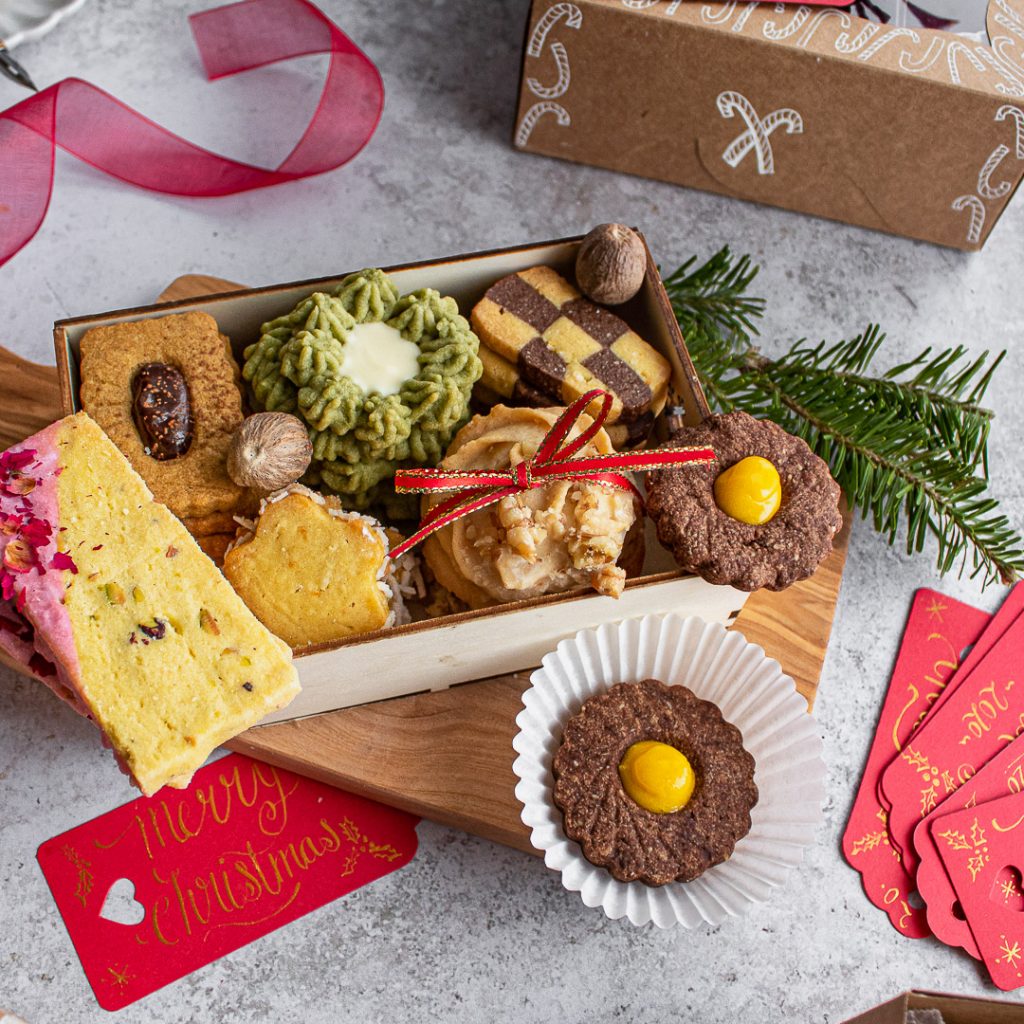 2020 Holiday Cookie Box Guide
This year's holiday cookie box is about easy delicious baking! Making countless cookies is no easy feat (I would know..i made 3 dozen of each flavor - PHEW) so to make things easier, all these cookies use the same base recipe (with a couple tweaks). 1 RECIPE = 7 FLAVORS! Make a big batch, and mix in all the flavors at the very end.
Holiday cookie boxes were MADE for gifting, so make a double or triple batch, wrap in a box and ship away! All of these cookies hold up well in transit. Without further ado, I'll let the cookies to the talking!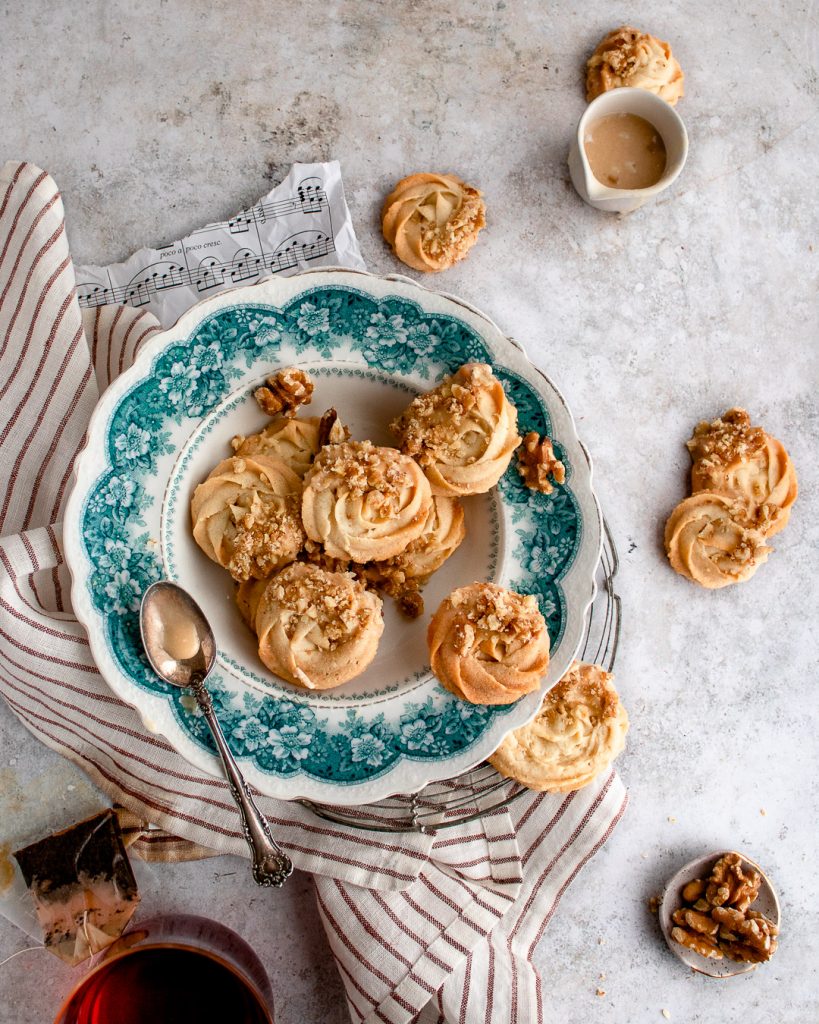 #1. Maple Walnut Viennese Whirls
No cookie box is complete without Viennese Whirls! These magical cookies are piped to get their beautiful swirl shape. 
The only finicky part about these cookies is adding in the egg white. DON'T WORRY, I break-down each step with tips and tricks to prevent spreading and splitting. It will take more mixing..but worthwhile when your cookies bake-out golden and with defined crisp edges!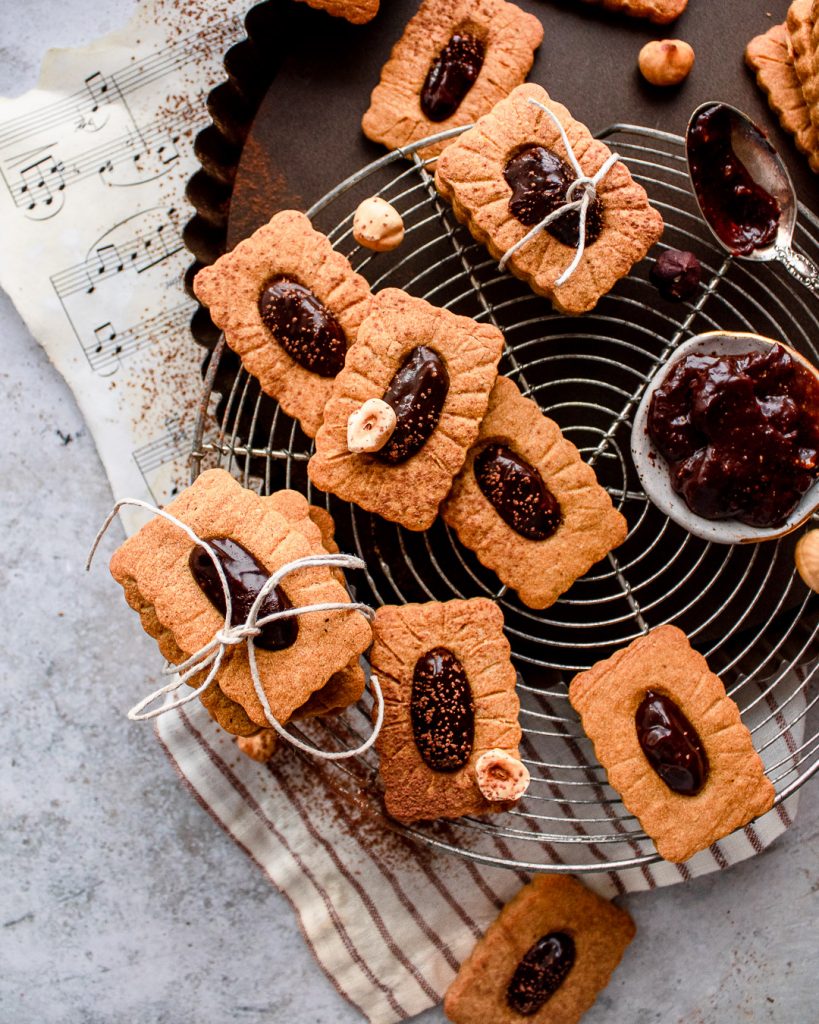 #2. Gingerbread Linzer cookie with Hazelnut Coffee Filling
If you love Nutella or anything hazelnut, then you'll LOVE these Gingerbread Linzers! Ginger and other spices are added to the base batter to create a festive dough, but the best part is the hazelnut coffee filling. 
Made with toasted caramelized hazelnuts that are ground into a nut paste and splashed with a dash of coffee, you'll be licking this off the spatula!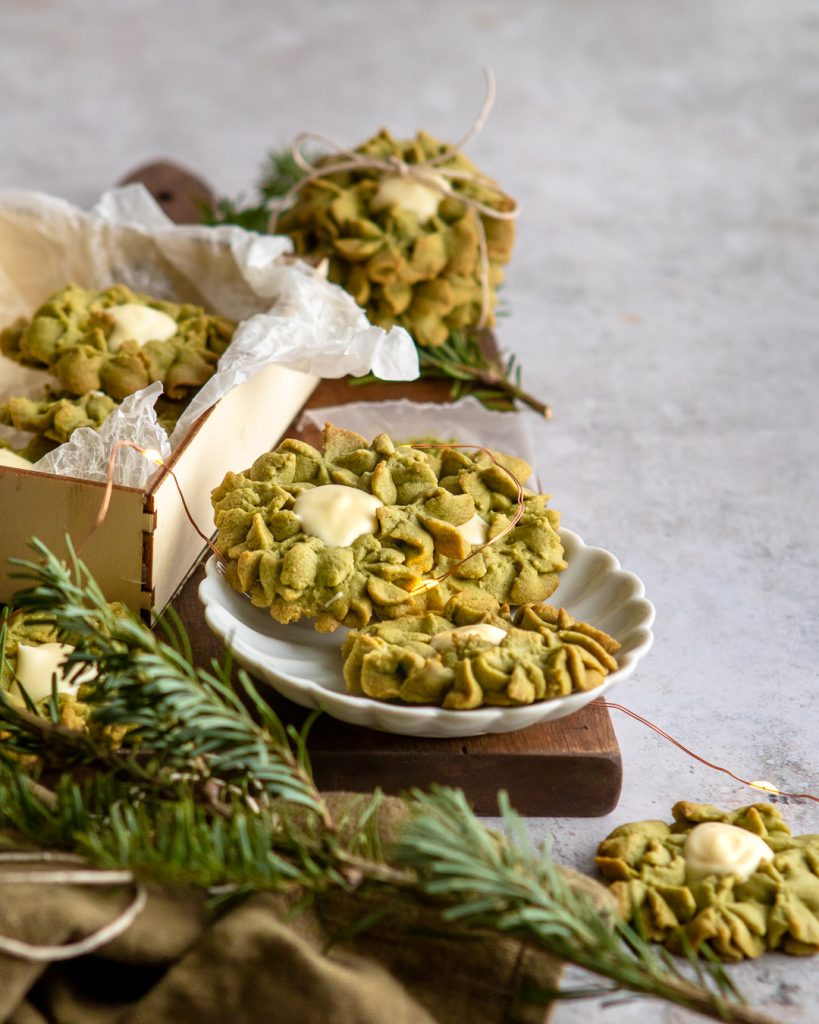 #3. Matcha White Chocolate Wreath Cookies
Just like the Viennese Whirls, these Wreath Cookies use a pip-able dough! If you're making a big batch, I suggest making these with the whirls, as the recipe is the same! Matcha is still having a moment in 2020, and I expect the crave to continue, so use your fav matcha powder. The cutest part about these cookies is the piped wreath, so use your best white chocolate for the filling!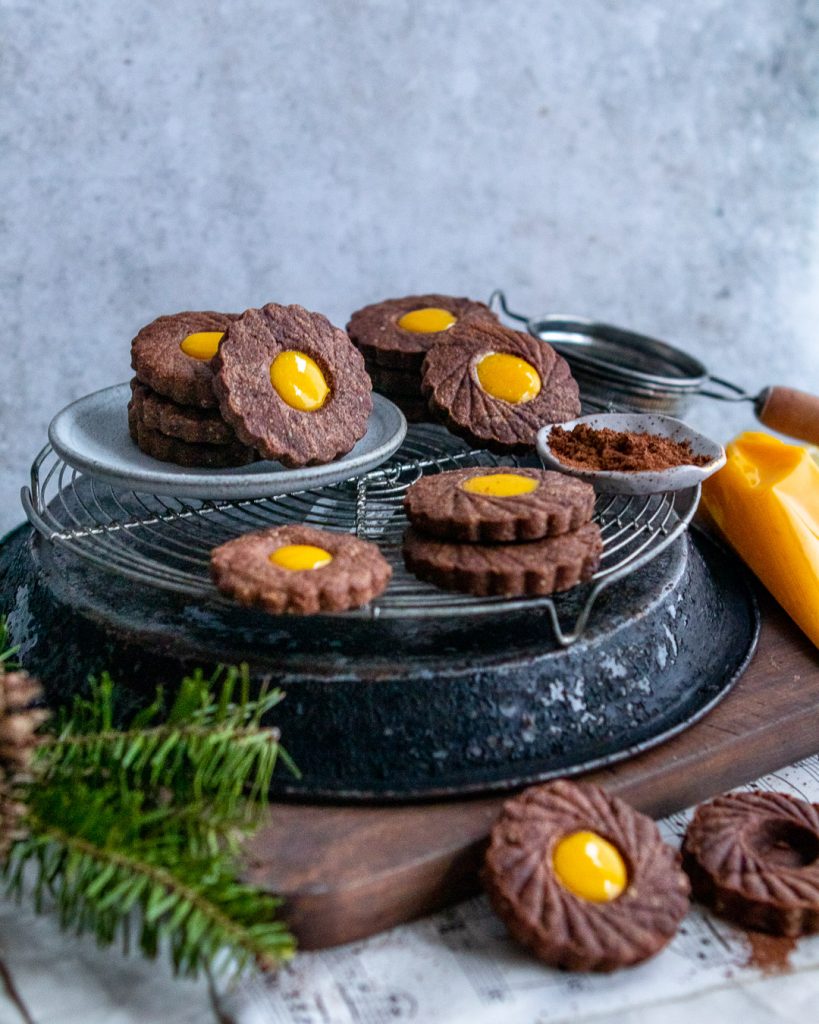 #4. Chocolate lemon curd linzer cookies
One of my favourite cookies in this box! These Chocolate Lemon Linzers are sweet and tangy. The base dough is flavored with cocoa for a rich chocolate taste. If you've never made lemon curd before, never fear! It whips together in under 10 minutes and is a great addition to your pantry!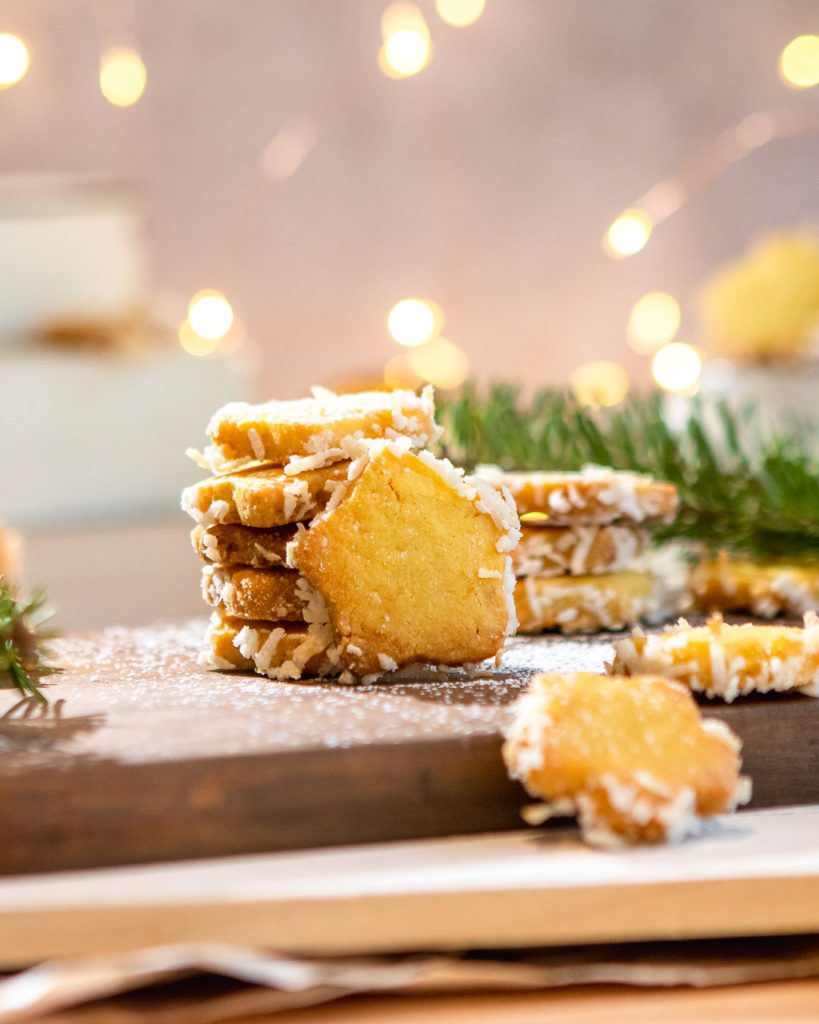 #5. Orange Coconut Star Butter Cookies
Whimsical and cute, these Orange Coconut Star Cookies are buttery and tender. The best part? Coconut shreds are added to the rim right before baking so they get toasty and crunchy when baked!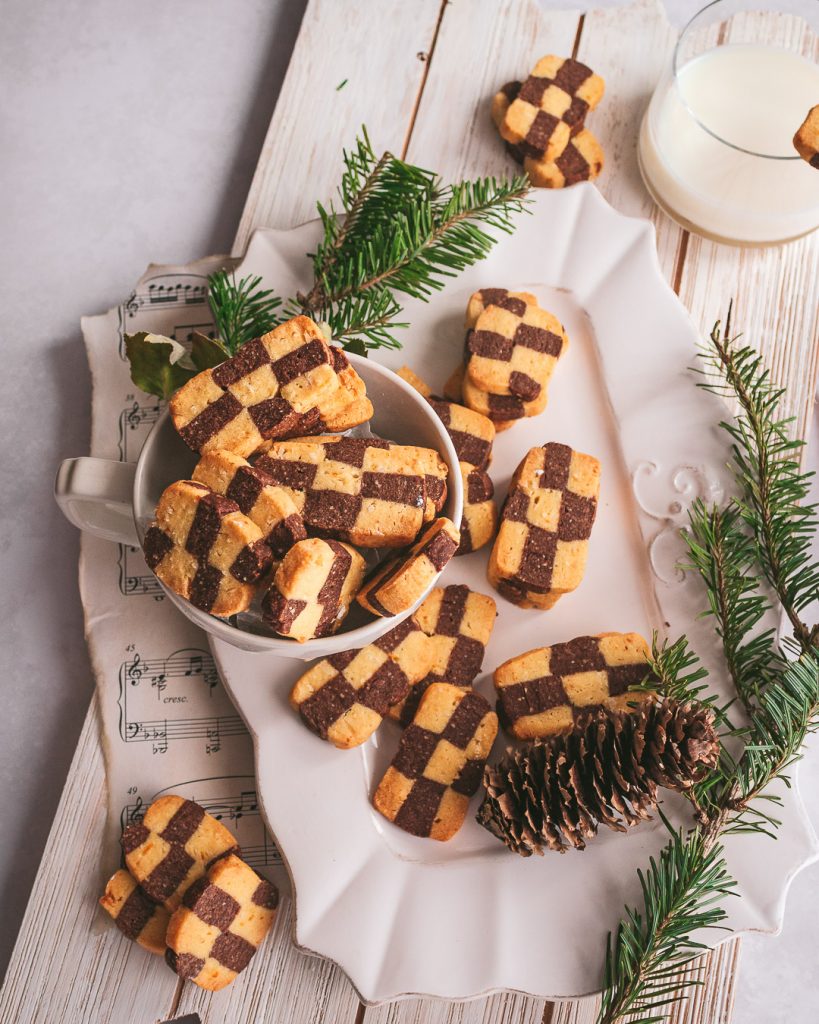 #6. Chocolate Orange Coconut Checkerboard Cookies
Combining cookie #4 & #5, these checkerboard cookies are impressive and simple to make! Perfect for when you have leftover dough, you can combine the scraps into a checkerboard design. Read all of my tips for assemble this pattern!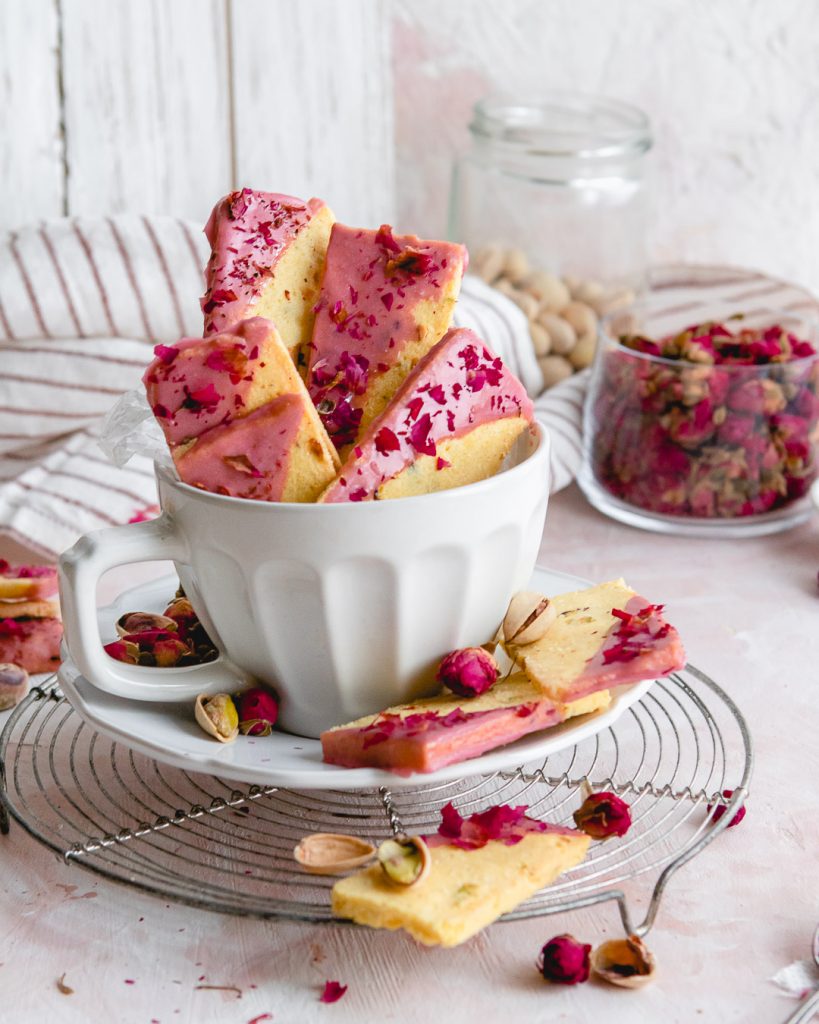 #7 Pistachio Rose Ice Box Cookies
No cookie box is complete without an ice box option! These Pistachio Rose Cookies, use the exact same base as the checkerboard cookies, but with different mix-ins.  Easily frozen or chilled, you'll be able to enjoy a sweet treat any time! Simply slice-and-bake! 
I hope you enjoy this year's Holiday Cookie box as much as I do! As always, if you make a recipe, rate, and leave a comment! It means the world!
Happy Holidays! Sharon XO
Did you make this recipe?
Tag @WhiskfullySo on Instagram
if you like this recipe, you may also enjoy...