Vinyl food photography backdrops are my go-to when it comes to selecting a backdrop. Not only are they more affordable, but they're easy to store, clean, and lightweight enough for on-location shoots.
With so many shops offering vinyl backdrops, the trickiest part is finding good quality vinyl backdrops. Oftentimes the picture of the product can massively under-represent what you'll actually be receiving, so today I'll be sharing my favorite vinyl food photography backdrop stores!
If you're looking for another type of food photography backdrop, check out part one of this backdrop series where I do an overview about the types of backdrops, as well as things to look for when shopping for backdrops.
*NOTE* I'm not an affiliate for any of the brands or products below, so these reviews are completely honest.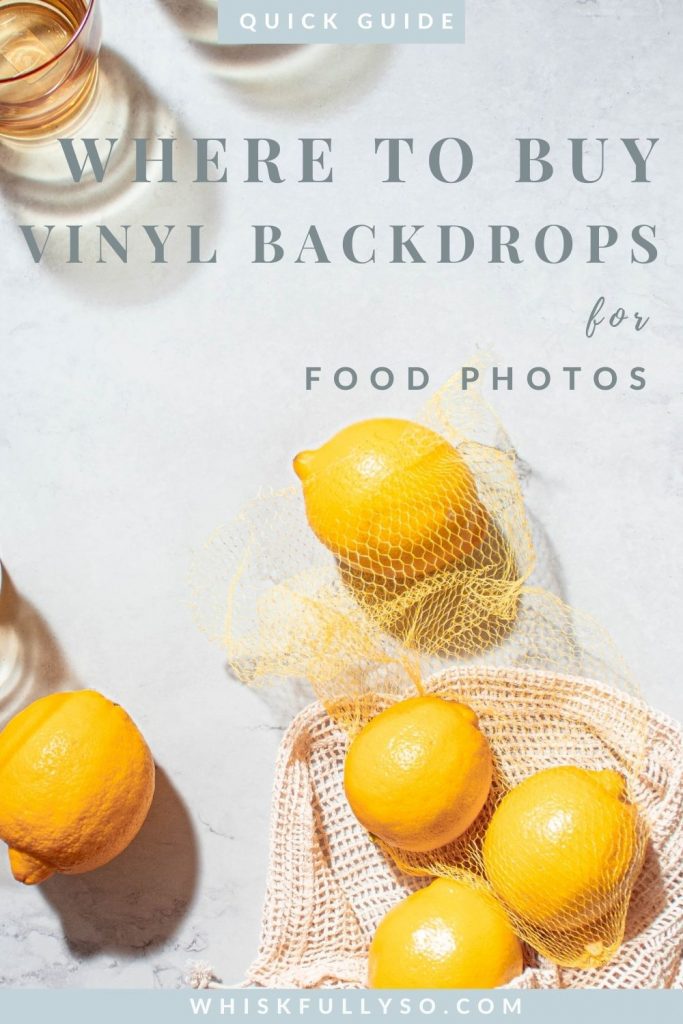 Jump to:
Red Flags To Look Out For when Shopping for Vinyl Backdrops
Here are some 🚩 red flags 🚩 to look out for when buying vinyl backdrops. While one red flag is isn't a complete deal breaker, do keep these things in mind when shopping!
1. Too Affordable
While I looove a good deal, sometimes the price really IS too good to be true. I learned this the hard way. My first vinyl backdrop was a marble peel-and-stick replica I found on Amazon. It was only $9 for a roll, but when it came, I was so underwhelmed by the poor quality. Remember, what you pay for is what you get. Any backdrop under $30 CAD/ or $25 USD you should be skeptical of the quality and dig around to get more information.
2. Questionable printing quality
With vinyl backdrops, quality is even more important because vinyl backdrops are essentially prints of an image on a vinyl fabric. Therefore how "real" your backdrop looks depends on the quality of the original image. If the backdrop image is blurry or even pixelated, this will be even more obvious once printed on vinyl. To ensure a high quality product, the backdrop should be printed using appropriate vinyl inks, and on durable vinyl material. No sample Images. Take the time to read a shop's FAQ or about pages, this is usually where they share about their product printing and quality check process.
3. No Product Sample Images
On the product page, a reputable seller will always have sample images of how they or customers have used their product. This helps you get a sense of: 1) what you can photograph on the backdrop; 2) How the backdrop looks in different light; and 3) How the backdrop colors appear in photographs. If there are no sample pictures on the product page, I would go to their Instagram page (if they have one), to try and find examples. If they have neither, that's a major red flag, and not worth investing in.
4. Dubious Origins
Honest vinyl backdrop sellers will always indict how they came across (or developed) the images for their backdrops. Firstly, it's illegal to print someone else's image, and even more illegal to then sell those prints for profit. Most backdrop vinyl sellers will either use stock or purchase image licenses; however, my recommendation is to stick with sellers who photograph or create the images themselves. Not only are you supporting the creatives, but ensuring that your money goes to the right people.
5. No reviews
Just like with any investment, it doesn't hurt to ask friends first. Most of my favorite backdrop suppliers came from word-of-mouth from fellow food bloggers/photographers. The best way to find a good shop is by seeing what other creators are using, and asking them where they purchased the backdrop.
My Favorite Shops to Buy Vinyl Food Photography Backdrops
Below is a round-up of my favorite vinyl food photography backdrop shops. Including price point and location information to help you decide which shop(s) you want to purchase from. However, I have a few in this list that I haven't purchased a vinyl product from but they 1) Come highly recommended from fellow food photographers and 2) I've purchased other backdrop products from - just not a vinyl product.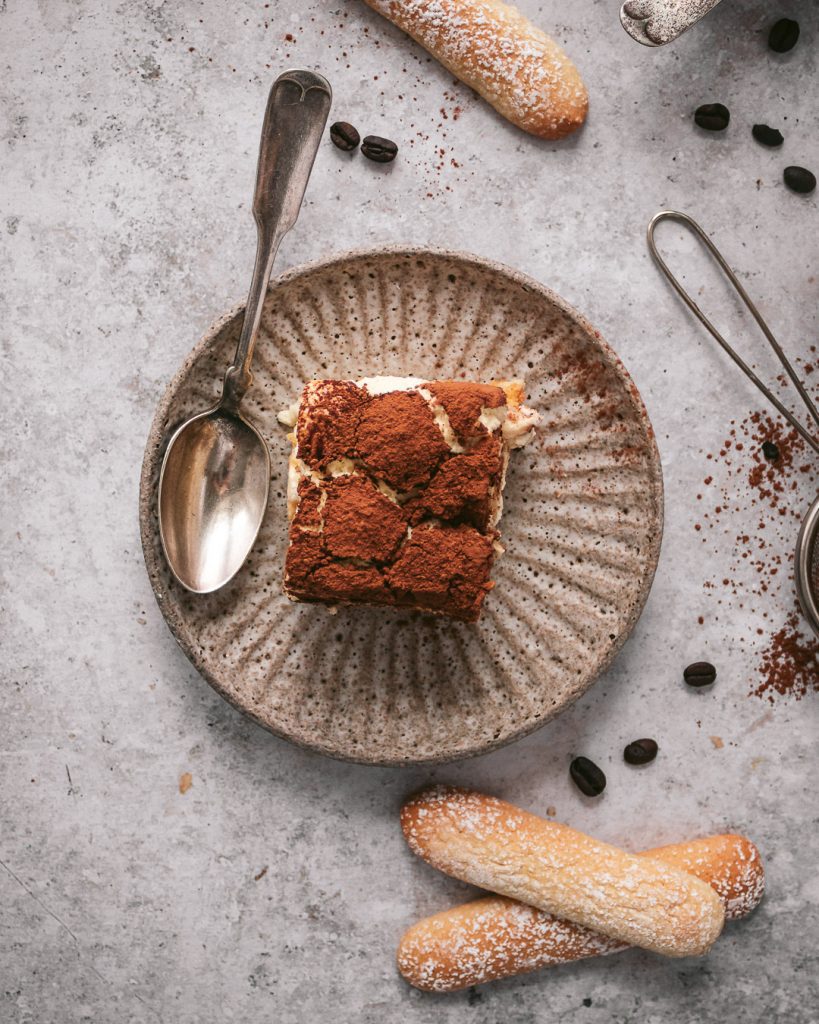 I have to kick off this list with CBL Backdrops because this was the shop that started off the vinyl obsession. Out of all the shops in this list, CBL undoubtedly has the largest number of products, and they are continually adding to the shop. The shop is organized by color, with a huge selection of tile, marble, concrete, and wood surfaces. What I love most about their backdrops is that the vinyl they print on is completely smooth, so when photographed there won't be any giveaways that the surface isn't real!
Shop Details:
Location: Based in the UK
Sizes: A huge variety of sizes from small to XXL
Pricing: A 2ft by 3ft (food photography recommended minimum size) is £27.50 = $36.38 USD = $46.33 CAD
Shipping: For International shipping, CBL backdrops use DHL. Unfortunately for Canadian residents, you will have to pay duties. In my experience this can range from $30-$40 CAD.
---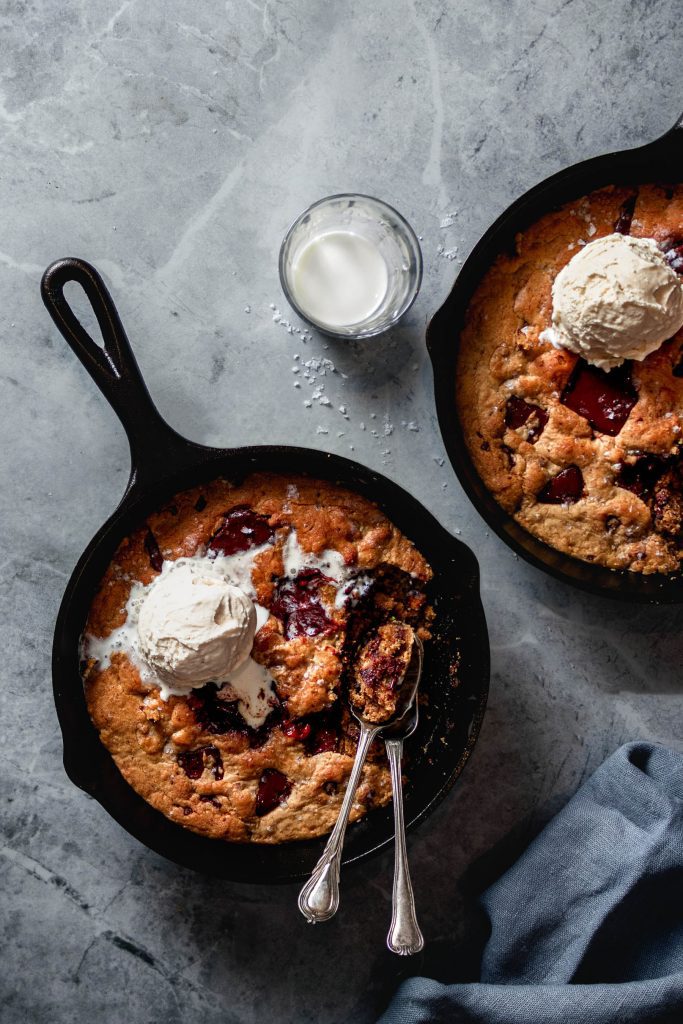 Poppy Bee Surfaces is my favorite at the moment. The founders Joe and Clare create all of the backdrops either by hand or via printed photographs. They put so much care into their product, and it really shows. Out of all the vinyl backdrops I own, their quality is the best. The vinyl is thicker than most, and the colors are out of this world. The collection contains a huge selection of marble and quartz surfaces, as well as some beautifully painted ones by Joe. My only woe with the product is I have to be super mindful of not scratching the surface. Maybe it's because the material they print on is almost like canvas, I have to take extra special care when handling it. This means no tape, no heat, and definitely, no turmeric. They additionally coat their surfaces in laminate, but I still have to be careful.
Shop Details:
Location: Vermont, USA
Sizes: Currently offering two sizes: 2ft x 3ft and 3ft x 4.5ft
Pricing: Slightly higher in price point with a 2ft x 3ft backdrop priced at $59.00 USD.
Shipping: Shipping is free within continental USA when you purchase three or more products. For International shipping to Canada there is a flat rate of $30 and $40-$42 for the rest of the world. This does not include duties.
---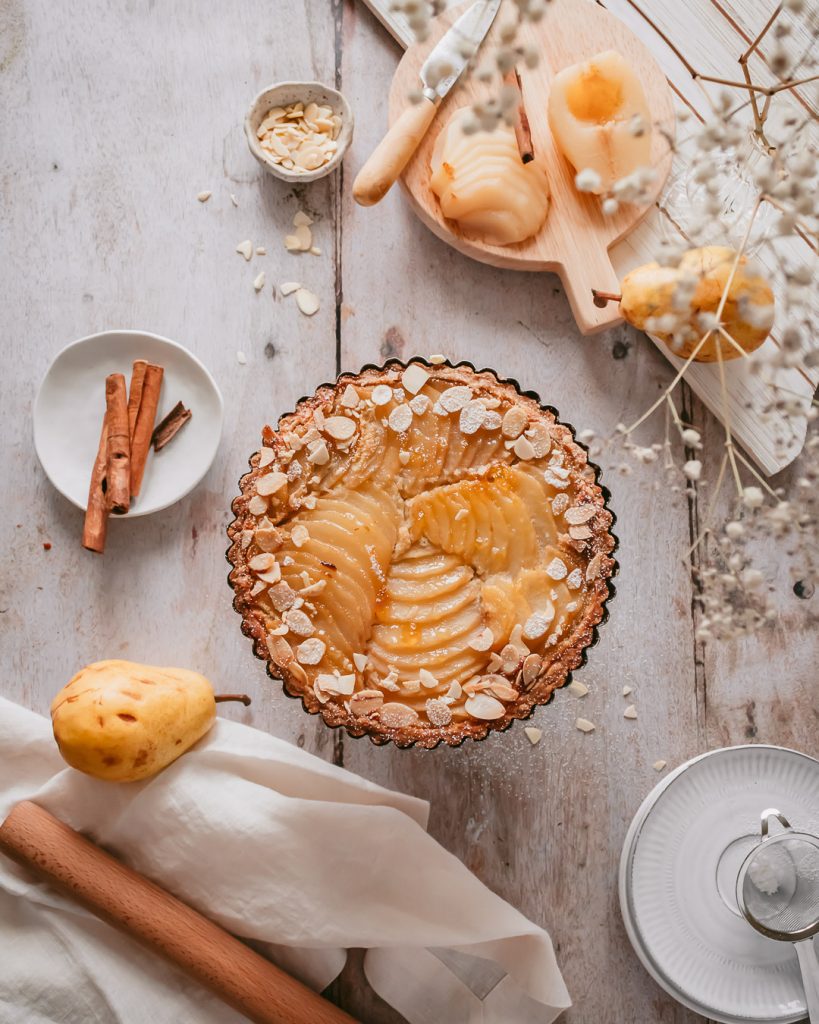 3. Club Backdrops
If product photography is your game, then Club Backdrops is for you. They have the brightest selection of backdrops, and I would describe their vibe as bright, abstract, graphic, and retro. Recently, they've begun offering more tiled options as well, and I personally love "Lorca" a stormy blue tiled surface. They also offer custom creation, if you're looking for a specific color or graphic.
Shop Details:
Location: Edinburgh, Scotland
Sizes: Currently offering two sizes: 2ft x 3ft and 3ft x 4ft
Pricing: Pricing for a 2ft x 3ft backdrops is $44 CAD = $34.55 USD = £26.12. However they often have discounts for bulk orders.
Shipping: They ship worldwide, with a variety of rates depending on where you are located. For all international shipping they use DHL. I recommend reading their shipping section for all pricing details.
Vinyl Food Photography Shops that Come Highly Recommended
While I have yet to purchase a backdrop from the following shops, I've heard so much about them through friends, and these shops all come highly recommended.
1. Fondos Para Fotógrafos
Fondos Para Fotógrafos is based in Madrid, Spain, and their vinyl backdrop product collection is stunning. Lots of bright colors, textures, and some really amazing patterns. Their collection is a combination of photographed backdrops: printed images of surfaces they photographed in their surroundings, and hand painted backdrops: photographs of backdrops they hand painted in their studio.
2. Errer
Errer is based in the Netherlands, and they have a wide selection of vinyl backdrops ranging from marble, colored tile, wood, painted, and a couple solid color options for product photography. I particularly have my eye on some colorful tiles and even one of an old baking tray.
3. Woodville Workshop
Woodville Workshop is known for their double sided wood painted backdrops, and I own several of those. They recently launched some vinyl backdrop products, but their collection remains quite small consisting mostly of tile, marble and wood options. Personally, my style is moving away from rustic and more minimal/modern, so I haven't purchased some. However, knowing their dedication to quality, I'm sure the vinyl backdrops will be well made too.
I want to hear from you!
If you have a vinyl food photography backdrop shop you love, then share it below! As always, if you have a question please leave a reply in the comments section below. You can also contact me via e-mail or DM me on Instagram.
Happy creating, Sharon