If the words "photography licensing" sends your mind into a frenzy or makes your eyes glaze over, I know exactly how you feel. However, photo licensing is VERY important. Not only to protect the rights of the creator, but learning how to accurately (and fairly) price and license your work is about confidently acknowledging the value your work and services add. 
I get it, putting a dollar amount on your work is awkward in the beginning. You're worried that clients will laugh at the numbers you present. I want to reassure you that these fears are all in your head. Below is a comprehensive guide on the basics of photo licensing; how to accurately price photo licensing; and even some red flags to look out for! 
*DISCLAIMER*  I am NOT an Intellectual property lawyer. All the information below is my opinion and formed from experiences from past two years of creating freelance work for clients, and from my position as an art director at a marketing agency. I recommend consulting an attorney familiar with the intellectual property rights of your business operating province, state or country.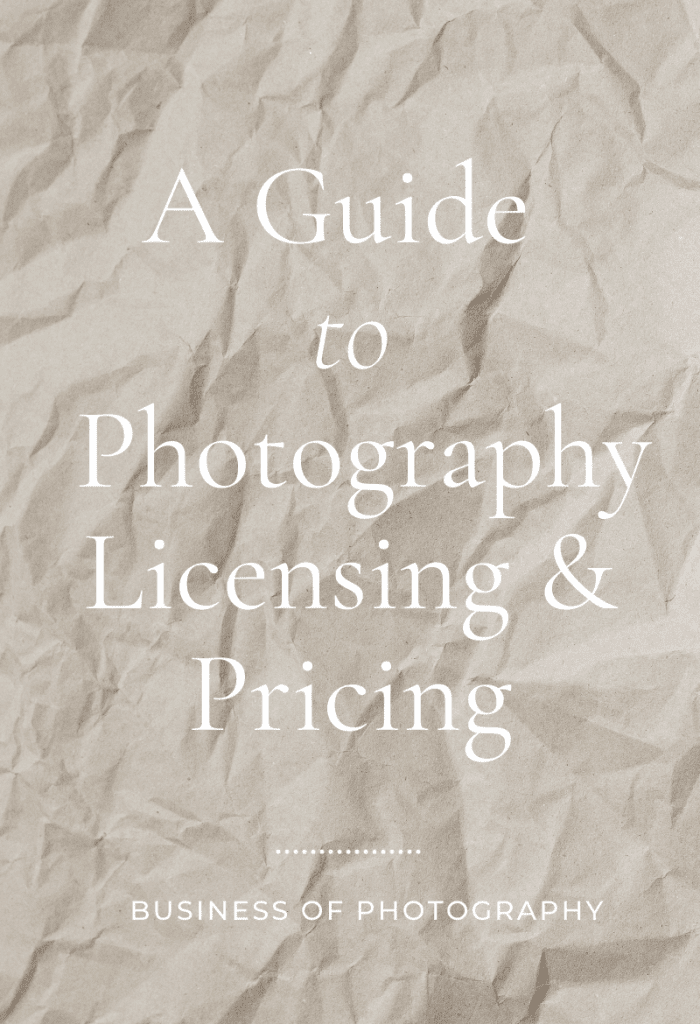 Jump to:
What is Photography Licensing?
Let's say you're looking for a place to live, but you can't afford to buy an apartment. The next best thing would be to rent. You find a place, and you negotiate with the landlord for a rental term of one year. 
This same principle of "renting" applies to photography licensing. As the photographer, you own the copyright to your work. I do not recommend selling ownership of your work, because you potentially lose out on profit generated from the usage of your work and no longer have any right to it. Instead, offer clients/brands a license to use the work for an outlined term - also more affordable compared to a full-buyout (aka a transfer of copyright). 
Photography licensing is a written contractual agreement in which the creator of the images (usually the photographer) grants specific usage rights for a brand/ client to use the outlined assets for a stipulated amount of time. 
Let's break down that definition into key points: 
It's a written contract: The terms of a photo license should always be written out either in the project contract or separately, in which both the creator and client should sign. That way if either party breaks the terms, there's a contract to refer to. 
The creator grants the rights: As the photographer, you automatically own those images. Period. You only can determine how a brand/client can use your work. Sometimes, a photographer can grant their agency ownership rights as well, so the agency can authorize licenses on their behalf.
Specific Usage Areas: A license grants a client/brand the right to use those images in certain areas only. In my experience, clients usually request website and social media usage only,  including social media ads and web ads. 
Outlined Assets: Include a small thumbnail of the asset (with watermark!) or clearly reference with text to avoid confusion over which assets have been granted a license.
Stipulated Amount of Time: While a license can have a perpetual (non-expiring) term, this should be reflected in the price.
If you're unsure what a license should include, refer back to these key points to cover all of your bases. Always make sure your license agreement includes: 1) what images are being licensed, 2) the license term, 3) where/how the images will be used; 4) the pricing for the outline term, and 5) an area where both parties sign off. 
What are the benefits to photography licensing?
More often than not, a client will ask me outright to own the copyright for the work. I get it….sometimes you don't know how you want to use an image until the situation comes up, and it's easier to have all the options. However, should a brand ever approach you asking for copyright, you should charge an additional 70% to 100% of the creative fee. After all, you're selling away your rights!
Personally, I'm a huge advocate for image licensing. In this situation, I get to keep my most valuable assets (my work), and the client still gets what they want.
Below are some of the benefits of photography licensing you can emphasize to your on-the-fence clients:
More affordable: Since the client is only "renting" the image, the investment is much lower.
Keeps their content fresh: At the end of the license, a client can request for a new photoshoot of their existing or new products.
Licenses can be added on to or extended: If a client wants to use the image(s) in more areas, these can be added on even during a license term. or the license can be renewed upon expiration. NOTE: A license also benefits you because you can increase the license fee upon renewal depending on the growth of your business and skills. 
Short lifespan of food photography: If a client is weary about the idea of a license, I always emphasize the short lifespan of an image (especially if they mainly want social media usage) to drive home the value of licensing over copyright ownership. 
How to fairly price photography licensing?
Now that you know what licensing is, you're probably thinking…so how do I price the license? Unfortunately, there's no fixed or standard price amount because, as you now know, licensing is determined by the areas in which a client wants to use the images, and the time. HOWEVER, here's a simple process I always follow to determine license fees. 
Having an on-boarding call with a client is my #1 priority so I can properly and accurately provide a project quotation. Asking the right licensing questions is a part of this call. If you can't get onto the phone with a client, have them answer these questions either via a form or email.
Step One - Determine which deliverables the client needs licenses for:
Maybe the client only wants the license for one image, or maybe all. Either way, make sure you and the client are clear on this. 
Step Two: Determine the type of license the client require for each asset: 
Confusing, I know, but there are many types of licenses, from commercial, to editorial, digital, print, Out-of-home, etc. Should you want more information on the types of licenses read this post. 
Step Three - Determine the usage areas:
Below is a list of usage areas a client can request. 
Digital:
- Company owned website
- Company owned newsletters
- Social Media & SM ads
- Press/PR
- Web Ads
- External Retailer sites
Print:
- Mail Brochures
- Internal or B2B Marketing
- In-Store
- Packaging
- Out-of-Home
- Book or Magazine
This list covers the most popular ones; however, depending on your clients needs they can request additional areas. A common new area I'm hearing is for third-party online retailers like Amazon. If a client doesn't know what they need, you can suggest usage areas as well so they don't feel overwhelmed with the options. It's also important to outline the region in which the usage will be used. 
Step Four: Determine the license term:
How long do they need the license for? Remember that in the food and beverage industry trends are always changing, so an image is really only relevant for 1-2 years. I've found that a license term of up to 5 years is more than enough to cover a client's needs. Usually clients will want new images at the end of the term. 
(Do the following post-discovery call…)
Step Five: Create a pricing estimate
Now that you've gathered the licensing requirements, it's time to do some industry research. I love using the Getty Image license calculator to get a rough estimate on how much I should price the license. 
TIP: Depending on whether the license is for a small local brand or a multinational corporation, scale the Getty image license number accordingly. For small brands this could be 5% - 7% of the Getty recommendation.
Step Six: Put it into writing!
This is probably the most important step. It doesn't need to be a fancy document, but it should include all of those key points (refer to above section!) For ease, I include all of this in the contract I send to my client for review rather than a separate document. 
What if brands don't have the budget for licensing? 
In reality, brands set aside thousands, no, tens of thousands of dollars just for ads. I distinctly remember the day photo licensing clicked for me. I was asking the media buying team at the agency I now work at how much a client had set aside for an image of a drink product to be advertised at a bus stop station. 
"Oh just a minimum of 10K..." 
So I asked, "How much did the creative team get?" 
"Probably less than 10 percent."
So you're telling me, that from ONE image, the agency made an easy 10K, while the brand probably made thousands more from sales,and the creative got next to nothing?!
Think about that for a second. The ones profiting the most from the image weren't even the ones who created it! That doesn't seem fair to me. Now what if the photographer or artist had known about image licensing, and asked the right questions? I'm 100% sure they would have gotten a bigger piece of the pie.
Main takeaway from this story: Brands have the budget for licensing. If brands truly respect photographers, freelancers, they will offer some compensation for licensing. However, it's up to you to ask!
Let me be clear though….small business and restaurants are less likely to have a budget for licensing. In this case I would either scale back the number of deliverables to account for this. However, magazines, medium, and national brands will have the budget for licensing, especially if they are working via an agency to procure freelance work. NOTE: Editorial magazines usually have smaller budgets, so this is where you have options. Often, photographers will charge a smaller licensing fee or waive it completely because the exposure from the magazine distribution will line up new clients. However, this should be reviewed on a case-by-case basis.
Red Flags to look out for when negotiating licenses with clients
Client doesn't want to sign a contract: This is a MASSIVE red flag that the client doesn't want to adhere to terms. What if it's your ultimate dream brand, are you going to turn that down? So you say yes, and then this happens. You create the photo(s), get paid a decent amount, then later see the images on IG ads or even a billboard. You'd be angry wouldn't you? Knowing that the brand was profiting off of your hard work, but you could do nothing about it because there were no terms in writing. 
Client is unyielding on requiring copyright: Clients will always try to get more rights to the image. Only you can look out for your best interests. Be sure to read over the contract multiple times  especially if the client provides the contract. Look out for red flag terms like, "in perpetuity", "liability", "all rights including ideas". If you want more information on copyright and licensing, Kyleigh has a great post. Read it here!
The right to edit: You, the licensor, can decide if you also want to grant the right for the client to edit your images. This also extends to protecting the rights of the ideas/concepts behind your work. I always explicitly prohibit my clients from recreating, editing, or re-producing the works. 
Regardless of whether you're represented by an agency or self, you should have a solid understanding about licensing so you can have a profitable income; protect your greatest assets; control how they are being distributed; and prevent others from taking advantage. 
I want to hear from you!
Don't hesitate to comment below or send me an email if you have any specific questions about photography licensing! It can be overwhelming to figure out, so don't be hard on yourself! You're on your way! 
Happy Creating,
Sharon