There's a new photography course on the scene called Restaurant Photography Masterclass by Michigan food photographer Stacy Feyer-Salo.
Of course I had to take it, beta-test it, and share my honest opinion.
I've taken quite a few food photography courses over the years; no seriously, just read all my previous reviews here. My primary goal with this blog is to make food photography knowledge accessible to anyone and everyone. With this in mind, here's my unsponsored and non-affiliate review.
So, if you've been thinking about becoming a restaurant photographer, keep reading to find out if this course is just the thing you need to jump start your business.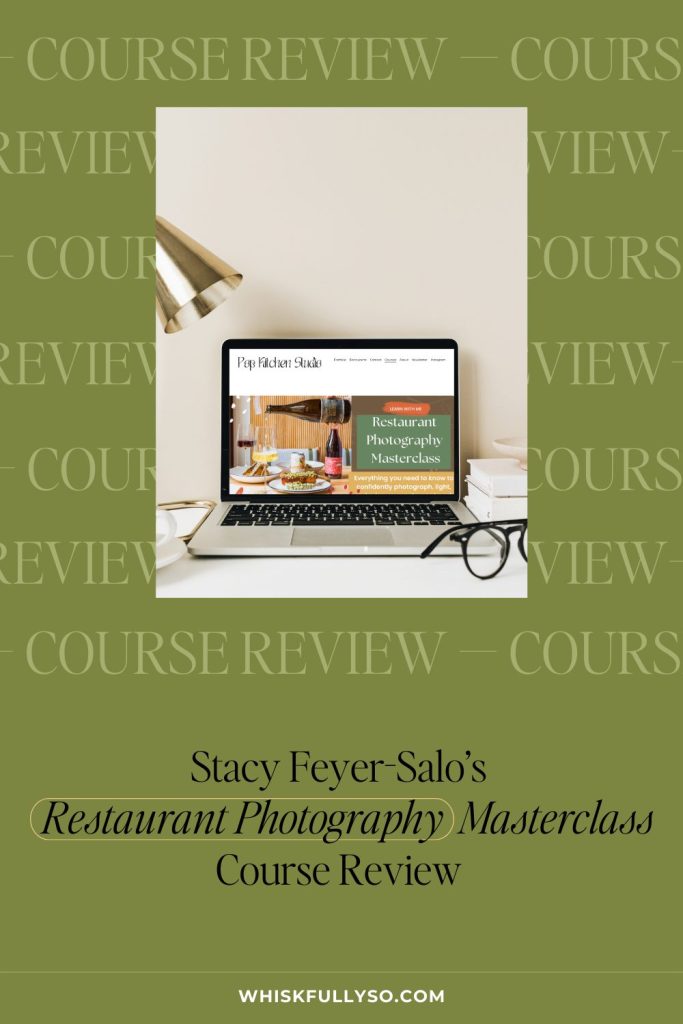 Jump to:
What is Restaurant Photography Masterclass?
Restaurant Photography Masterclass is an e-course dedicated to teaching photographers lighting and business skills to generate income creating content for restaurants in order to grow their photography business.
In my opinion, restaurant photography is the secret bread and butter to a photographer business. Why? Restaurants always need content for social media, and, if you're smart about it, you can secure long-term partnerships with restaurants creating content for them—the dream of any freelancer, am I right?
An overview of the course:
Four modules with a total of 36 lessons
Lessons are available all at once, and are "go at your own pace"
Included in some modules are PDF resources and cheat sheets
Lifetime access included
How is this course structured?
This course has four modules and a total of 36 lessons comprised of videos and PDF resources. I buckled down and went through the entire course in a day, so it's definitely do-able over a weekend. The videos are between 20-30 minutes, so if you watched one video per day you'd be able to finish the course in two to three weeks.
When I first beta-tested this course, the modules mostly comprised of video lessons, but after receiving feedback Stacy has included PDF cheatsheets and updates to the lessons. These PDF are worth their weight in gold, and one of the things I love about this course.
Below is a breakdown of the modules:
Module 1: Introduction & Lighting Foundations
Modules 2: Artificial Light Intro
Module 3: Restaurant Photography Workflow with Artificial Light
Module 4: Earning an Income
What's included in Restaurant Photography Masterclass?
Besides all the video lessons, here are some of the bonuses and resources you can expect:
Restaurant Photography Gear Guide
Restaurant Photography Etiquette Guide
Light Modifier Cheat Sheet
Bonus Photoshop Editing Lesson
Pitching and Estimate Template
What's not included in Restaurant Photography Masterclass?
This course doesn't include a community group or live coaching calls. Personally, the community group isn't a major need for me as I don't interact much on them anyways. I prefer having direct access to the teacher instead. Live group coaching calls are something I hope will be added in the future.
Who is Restaurant Photography Masterclass for?
Maybe, you're totally new to food photography and are unsure if restaurant photography is right for you. My answer? Try it out anyways! It's a great way to make some money on the side; build up your local network in the industry, and your skills will exponentially grow.
I started photographing restaurants in 2021, and, while it was intimidating in the beginning, I saw rapid improvement because I had to learn how to think on my feet, and pivot quickly when things weren't working out in a fast-paced work environment.
If any of the following scenarios is where you are in your photography career, then I'd highly recommend this course for you:
You're a food photographer looking to expand income streams so you can stop living paycheque to paycheque, and spend your free time creating the work you actually want to create.
You're a food photographer who dreams of working with their local businesses but has no idea where to begin.
You're a food photographer who occasionally works with restaurants, but is looking for tools to level up your services and sales systems to build a thriving restaurant photography business.
Do I need to be at a certain skill level to take this course?
This course is intended for intermediate photographers. The first module focuses on lighting foundations, but there isn't an in-depth lesson on camera and exposure basics. For a total novice it may be difficult to follow along, but not impossible If you're also learning about photography at the same time.
In short, If you're confident shooting on manual and know how to manipulate natural light, then you have all the prerequisite skills needed for this course. Having some experience shooting with artificial light is helpful, but isn't necessary as Stacy walks through how to use artificial light for restaurant shoots.
What equipment do I need for this course for?
Included in the course are Stacy's gear recommendations, and, while you don't need to purchase the exact same equipment, you'll need a camera, a basic artificial lighting kit (if you're using artificial light), and a tripod in order to apply what you learn in the course and work with clients.
How much does this course cost? Are there payment plans?
At the time of this review, Restaurant Photography Masterclass is priced at a one-time payment of $297 USD. If you prefer payment plans, there's an option for three payments of $119 USD each.
Do I think the investment is worth it?
In comparison to other food photography courses, the price is fair and on par given that Foodtography School's beginner photography course is on the high end for almost $1000 USD, and The Bite Shot has courses priced between $400 USD and $2000 USD.
If you want to learn restaurant photography, there aren't many free resources or courses available, so I recommend investing in this course early on.
My main critique with the price is that the production value can be improved on. However, throughout the beta-testing process, Stacy was so open to feedback and made many improvements to the course even before launch day. This confirmed my confidence in her skills as an educator and her on-going commitment to updating the course over time.
The true value of this course is the inside experience and knowledge that Stacy brings, and that's what I see reflected in the price of this course.
What makes this course unique
Beside the fact that this course is the first of it's kind, the course covers everything from technical lighting demos to business practices for success when pitching to prospective clients and even tips on what to do on shoot day.
Elements of the course I found most helpful:
1) Restaurant etiquette do's and don'ts guide: It seems like a no brainer to provide a stellar client experience, but what about on shoot days? Restaurants operate differently from brand clients, so included in the course is a really helpful list of do's and don'ts for shoot day to guarantee that you provide an amazing professional experience.
2) How to use artificial light in restaurant photography: There's no other course that offers this, and the lessons on lighting were easily my favorite. There are so many different ways to light, but this course primarily shares one-light setups that are easiest for restaurant shoots.
3) How to photograph portraits: As someone who primarily shoots stationary food, taking photographs of people scares the heck out of me. How do I get them to relax and smile naturally? How do I tell them to pose? The lesson on photographing portraits gave me a game plan the next time I have to photograph portraits.
4) Behind the scenes restaurant shoot walk-through: It's one thing for a course to tell you how to photograph restaurants, and it's a whole other level to actually show it, and that's exactly what this course does!
5) Discovery call scripts and pitching templates: While I'm confident about pitching to brands, pitching to restaurants requires a slightly different strategy. I love that Stacy included the exact discovery call scripts and pricing structure she uses to close the deal.
What can I expect after taking the course?
Upon completing the course, I felt ready to pitch to restaurant clients and start building up this part of my portfolio! Before taking this course, I did have experience shooting restaurants. However, those projects were primarily through an agency, and I didn't have much experience pitching restaurants on my own.
Stacy's mindset of "working for free" in order to build up one's portfolio was really refreshing and a stance I whole heartedly agree with. Let me emphasize, you will NOT work for free forever—just until your portfolio has been started.
I'm an advocate for getting paid for services and value added, but we have to consider the perspective of a prospective client. Imagine for a minute that you're the owner of a hot new restaurant in your town. You want beautiful images of your menu for social media. Two photographers reach out. Both charge $1000 for a photoshoot, but one of the photographers has no portfolio: no work to prove that they can deliver on your investment. Which photographer would you choose? Photographer A with a proven track record or Photographer B with no portfolio?
We all have to start somewhere, and it's totally okay if your restaurant photography portfolio is empty. Start building it today. You may not get paid, or paid less than your expected rates, but you'll have a portfolio. Once your credibility has been built, start charging what you know you deserve.
This course doesn't promise five/six figure clients or a mastery of lighting at the end, but it does deliver on tried-and-tested experience and gives you the tools you need to start pitching and photographing restaurants. With practice and commitment to the skills you learn from the course, anyone can succeed.
Q&A
Thanks so much to everyone who submitted a question on my IG stories about this course.
Did the course give actionable steps to follow or generic advice that's repeated?
Module four has the most structure in regards to actionable steps and a sales system to follow. Every photographer has their own process for working, so by no means do you need to stick to the structure and workflows Stacy teaches in the modules. I encourage you to adapt the process to work for your business.
Modules two and three on lighting are the most technical, and provide plenty of details regarding light-set up and settings for restaurant shoots.
Is there anything I didn't like about the course?
I wish the restaurants behind-the-scenes demos video lessons were longer, and included more variety in lighting set-ups. However, that may be more advanced and out of scope as this is a beginner/intermediate course.
I want to hear from you!
If you made it this far, thanks for reading my entire review!
If this is a course you're interested in or maybe you've taken a restaurant photography course already, how was it? Share your experience below!
Don't hesitate to comment below or send me an email if you have any questions about this course.
Happy creating,
Sharon