Food Photography backdrops are a big expense, but undoubtedly are part of the process of learning food photography. While food photography is about food, the right backdrop can take your photo from great to memorable. It provides the foundation (literally) for your composition to build on and sets the tone for color and mood.
Food photography backdrops come in a variety of materials. Each with pros and cons that make it better suited for a specific type of shot. Before I dive into that, let's explore what makes a good food photography backdrop?
*NOTE* I'm not an affiliate for any of the brands or products below, so these reviews are completely honest.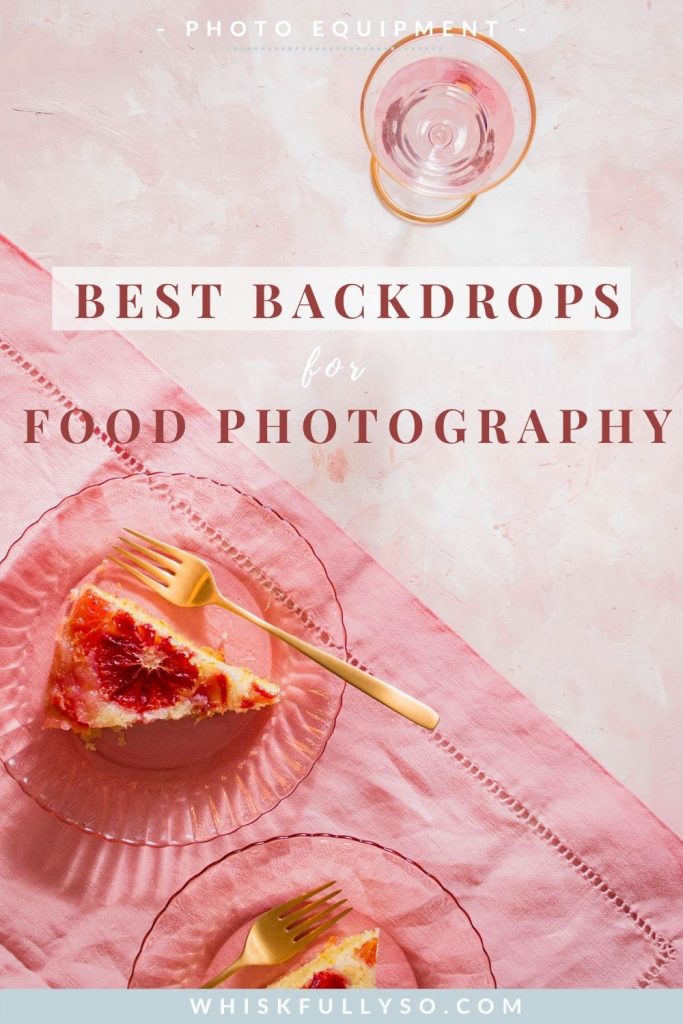 Jump to:
What makes a Good Food Photography Backdrop
Keep the below food photography backdrop characteristics in mind as you're shopping!
1. Durable
As you'll find below, food photography backdrops come in a variety of materials. However, if you're investing in expensive backdrops, make sure that they are made of high quality materials that will last the time. Depending on the material and constructions, some backdrops are now waterproof, stain-proof and warp proof.
2. Size
Food photography scenes can be as small as 1ft x 1 ft or as large as a table spread. While there's no "ideal" size for food photography backdrops, always ensure that whatever size you buy suits your needs and your style. As a general rule for food bloggers and content creators I recommend no smaller than 2ft x 3ft. I personally prefer 2ft x 4ft as I like shooting landscape orientation too.
3. Matte Finish
I hesitate to make this a "rule" because depending on the creative brief a sparkly backdrop could be better. However, having a matte and non-reflective surface is more popular than the former. If you're still learning about food photography and lighting, I recommend purchasing a matte surface so you can focus on building up your composition, lighting, and camera knowledge without having to struggle with reflections.
4. Contrast
Whether it be a tile pattern, streaks in a marble surface, or splotches of white against grey paint, contrast in your backdrop will add depth and complexity to your image. Food needs to be grounded or else the image will seem flat. Contrast can also be in the form of texture. A rough wooden vintage table, peeling paint, or even a stained baking tray adds plenty of contrast and elaborates on the story of the dish. A little warning: too much texture and pattern can be overwhelming and pull the attention away from the food.
5. Portable
This trait is also one that depends on the type of images you photograph. In general the more portable and storable a backdrop is the more likely you'll use it again and again. Vinyl backdrops are great for this reason because they are feather-light and easy to store. Wooden backdrops are a little trickier, but if you purchase one within my recommended sizing you should have no problem lifting them around your space.
The Best Types of Food Photography Backdrops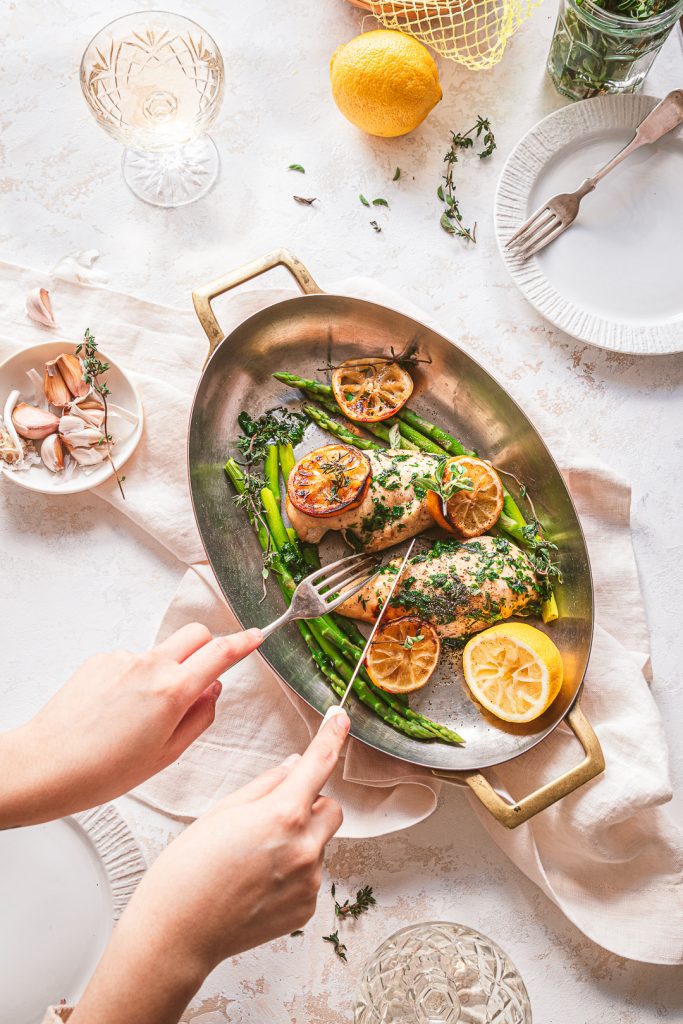 1. Wood-based Food Photography Backdrops
In my opinion, wood-based backdrops are the most superior in quality because, not only are they extremely durable, but any type of design can be painted on wood. Textures like concrete or plaster based backdrops can be painted on the wood and are available in a variety of colors too - the possibilities are endless. I've been able to find some truly stunning backdrops at vintage or second-hand furniture stores. Pieces like old doors, wooden tables make amazing backdrops and surfaces to shoot on.
Pros of Wood-based Backdrops
Durable: They are usually made of heavy plywood.
Double-sided: Two surfaces on one piece of wood!
Endless color options: I love painting my own backdrops and exploring different color palettes.
If you're interested in painting your own backdrops, check-out this tutorial here!
Includes texture from the wood itself: The grain of wood can be additionally roughed up for more texture.
Cons of Wood-based Backdrops
Expensive: Wood-based backdrops are hand-painted by artisans which is reflected in the cost. Expect to pay between $250 USD - $400 USD for a hand-painted double sided backdrop.
Heavy: They can be difficult to move around due to their size and weight.
Prone to staining: Even though brands coat the backdrop in sealant, be cautious when shooting greasy foods, sauces, jams, or any dish with spices like Turmeric, Cumin, Paprika, as it will stain the backdrop.
Unable to mimic marble: The one thing wooden painted backdrops can't replicate is marble, unless you're able to afford a custom hand-painted one, but it's tricky since natural marble has a slight sheen to it.
Not Space friendly: If your space is limited I recommend not investing into too many wooden backdrops as they need lots of storage space.
---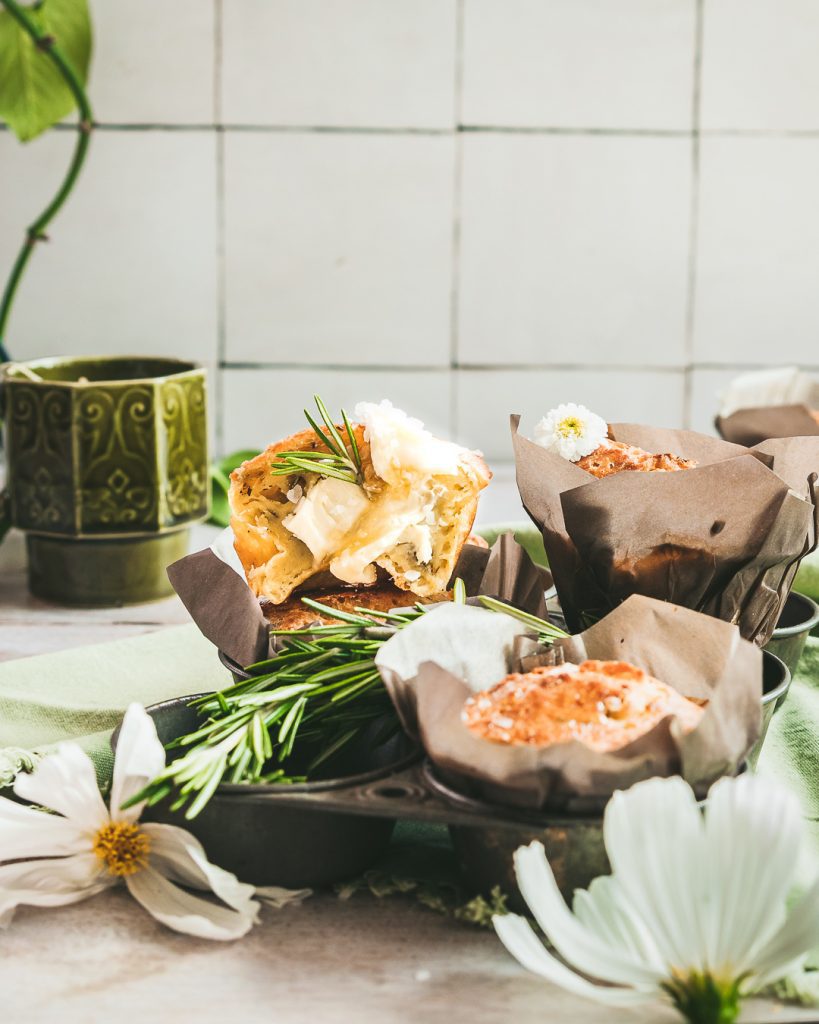 2. Vinyl-Based Food Photography Backdrops
The number of vinyl based backdrops I own rivals the number of wood backdrops. Unlike wood-based backdrops, you can get any type of finish because the "backdrop" is printed on vinyl. From tiles, to marble, concrete, steel, and even backdrops for product photography. The only caution I have for vinyl backdrops is in the quality. Vinyl backdrops rely on high-quality printing for accurate replication of surfaces. I made the mistake once of purchasing a cheap peel-and-stick marble vinyl. It was so obviously fake and poor in quality because the image printed on the vinyl was pixelated.
Pros of Vinyl-based Backdrops
Easy to store: Roll-them up for easy storage! Some vinyl backdrops are now printed on durable foam boards which cannot be rolled up, but are very thin and easy to store upright.
Variety of surfaces: I love finding tile patterned vinyl backdrops
Mess-Friendly: Less stress when shooting messier foods because they're really easy to clean and mostly stain proof.
Cons of Vinyl-based Backdrops
Pixilation: Quality is really important in Vinyl backdrops, so don't be cheap and look for a brand that uses high quality printers.
Can Lack Depth: Because the textures are printed rather than real, vinyl backdrops that mimic wooden surfaces can look fake at certain angle perspectives.
Cannot be Patched-Up: Unlike painted surfaces that can be patched-up, any visible tear or peeling in vinyl must be replaced entirely.
---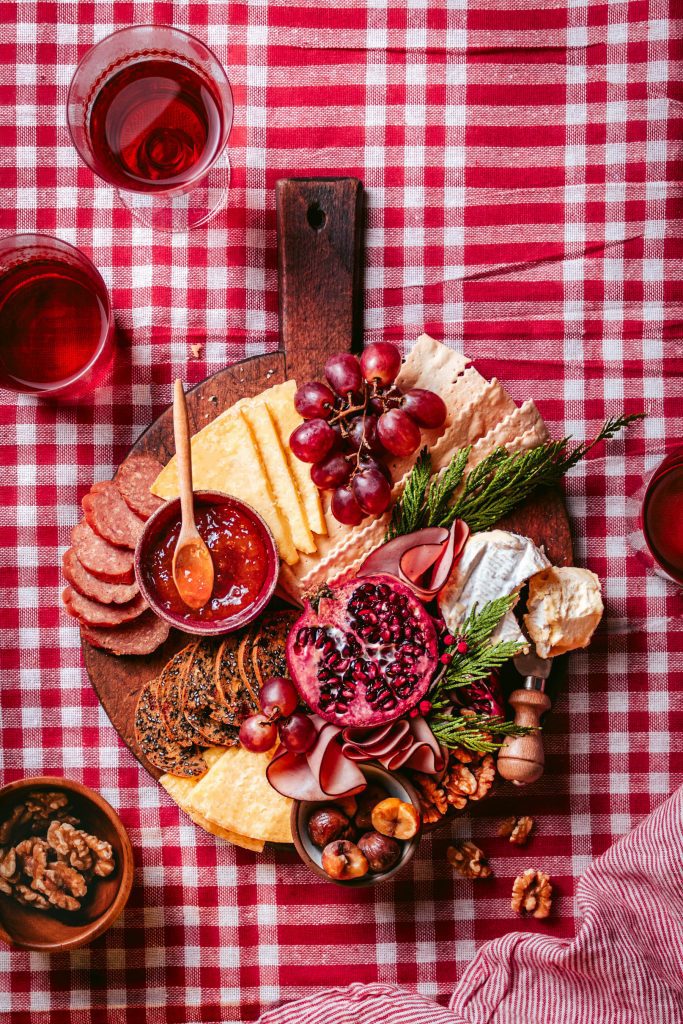 3. Fabric-based Food Photography Backdrops
Don't neglect your linens and tablecloths because they aren't just good props but when used as backdrops have a beautiful rumpled "lived-in" look that is softer than vinyl and wood. Another fabric option besides linen and cotton is painted canvas - a totally different look, but worth exploring.
Pros of Fabric-based Backdrops
Easy to clean: Just toss them in the wash! Which makes it even softer over time. *NOTE* DO NOT throw painted canvas in the wash as all the paint will wash-out and dye the other items in the wash.
Lots of texture: There are so many fabrics to explore like velvet, corduroy, fluffy knits, or even the plastic mesh bags that fruits come in!
Affordable: The most affordable of the three, you can easily find fabric for $4 - $7 USD per yard or table napkins at homeware stores.
Cons of Fabric-based Backdrops
Not durable: Unfortunately fabric cannot sustain the weight of food and props, so it needs to be tacked down to a durable surface.
Prone to Wrinkles: Wrinkles can be very distracting especially in large table scenes, so always steam or iron the fabric before using.
What to consider before Buying a Food Photography Backdrop
I know how tempting it is to splurge on a bunch of backdrops, especially when you see other creators creating stunning images on backdrops they purchased. However, before you go and spend hundreds or thousands of dollars, get to know your style more so you invest wisely.
Consider the following questions to help guide your purchases:
What type of food photos do I like taking?
Do I mostly photograph large or small scenes?
Is my style rustic/vintage or minimal/modern?
Do I shoot on location often and need something that's easy to store and move?
How big is my shooting space? Do I have enough storage?
I wish I had thought out my purchases a little more in the beginning, rather than buying things on a whim or when a sale popped up - guilty!
Coming up next on Whiskfully So!
Later this month I'll be publish a follow-up guide sharing my favorite shops to purchase vinyl food photography backdrops. Make sure you're subscribed to my newsletter so you don't miss out on updates and weekly photography and creative business tips!
I want to hear from you!
If you feel like I've left something out or have other questions, please leave a reply in the comments section below. You can also contact me via e-mail or DM me on Instagram.
As always if you have a food photography topic you want me to tackle, just let me know!
Happy creating, Sharon