Cornflake Pecan Pie bars that are faster than pie, and just as delicious! A tender shortbread crust, and an extra helping of cornflakes for a salty sweet crunch!
What are Cornflake Pecan Pie Bars
Imagine all the flavors of pecan pie: buttery caramel-like, nutty and gooey, all packed into a small bite-sized bar that crackles as you bite in. The tender shortbread crust melts in your mouth giving way to a crunchy layer of cornflakes that hits the perfect in-between of salty and sweet. I set out to make a gooey pecan pie bar, but in the process I wanted, no CRAVED, that extra crunch, so I revived some stale cornflakes by adding them into the mix. Super crunchy and delicious! The best part, all of this comes together under an hour! Waay faster and trust me, when I say, your thanksgiving guests will be loving these more than the pie.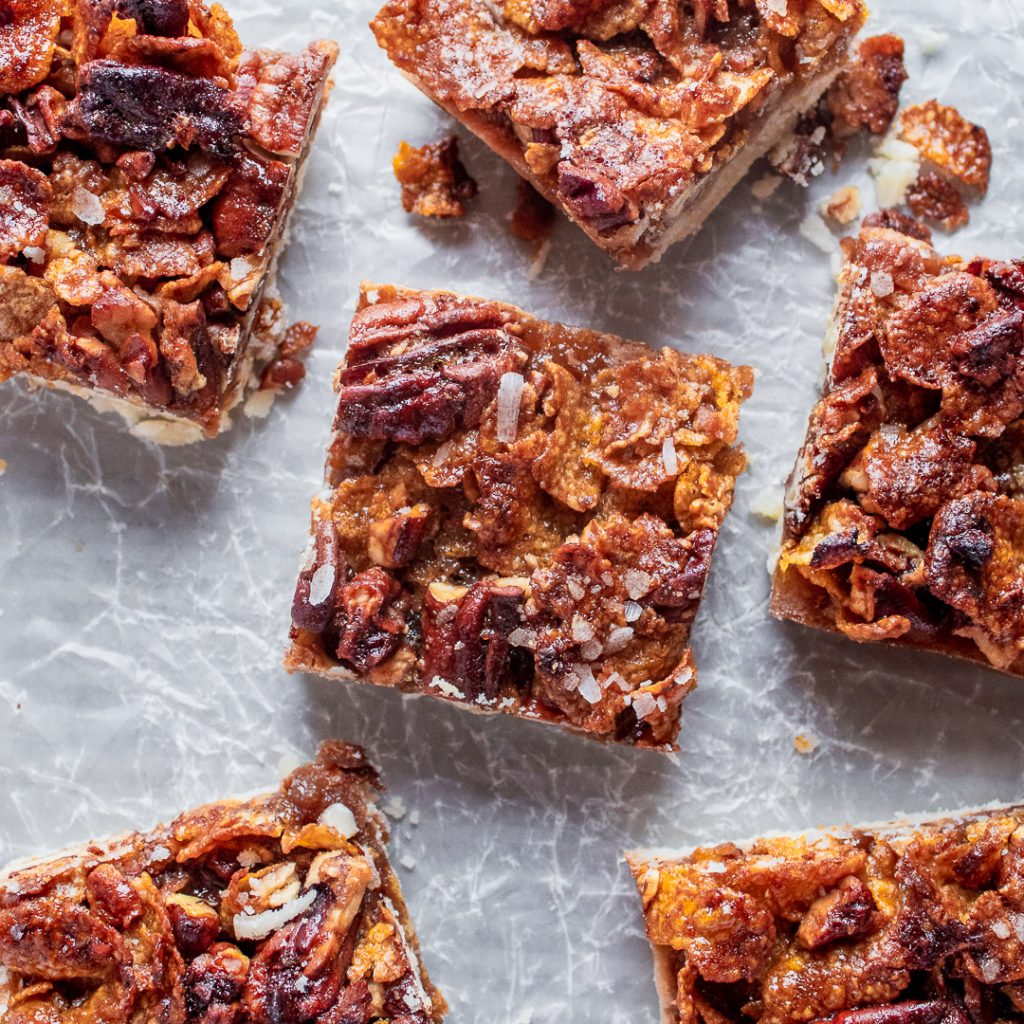 Ingredients you will need...
This recipe is all about using what you have in your pantry. Don't have cornflakes...try Cheerios or even granola! 
for the shortbread crust
All-purpose flour: just like making traditional pie crust.
*If you have a gluten-intolerance, almond flour can be equally substituted 
Butter: Make sure your butter is cold for a flaky crust!
*Can be subbed with vegan/dairy-free butter
Granulated sugar: For a little bit of sweetness in the crust
Confectioners Sugar: Believe it or not, adding confectioners sugar makes the crust extra tender and flaky. It does this by preventing the full binding of gluten.
Cold Water: Just a few tablespoons to bring the dough together. Keep it cold to prevent the butter from melting. 
for the cornflake pecan topping
Butter: Browned butter is ammmazing..and in this case it enhances the nutty notes. 
Brown sugar: For extra sweetness.
Maple Syrup: I like to use real 100% syrup, as it tastes better  and is healthier than corn syrup versions. 
Heavy Cream: This makes the topping extra gooey for the perfect bite. 
Egg: This is the most important ingredient! The egg helps bind everything together!
If you are vegan or allergic this can be omitted, but the final result will be more like a cookie than a bar. Still delicious! 
Pecans: The best part! Taste test your pecans before hand to make sure they are as fresh as possible and not stale!
Cornflakes: Okay, these can be a tad stale. The larger the flakes the better! 
Tips for how to make pecan pie bars
1. Keep the butter cold: If the butter is too warm it will melt and the outcome will be dense tough crust. If you find that the dough is warm and sticky after pressing in the pan, let it chill in the freezer for 5-10 minutes before baking. 
2. Don't chop too much: This is more for aesthetics, but I find that just halving the pecans is best. If chopped too finely they tend to brown faster, and the topping will be flatter with less crunchy ridges.
3. Wait till it bubbles: The way to tell when pecan pie bars are baked is by looking at the top. It should be an amber brown and bubbling. As the bars cool the butter and sugar will caramelize and harden. Better to under-bake than over or you'll break a tooth!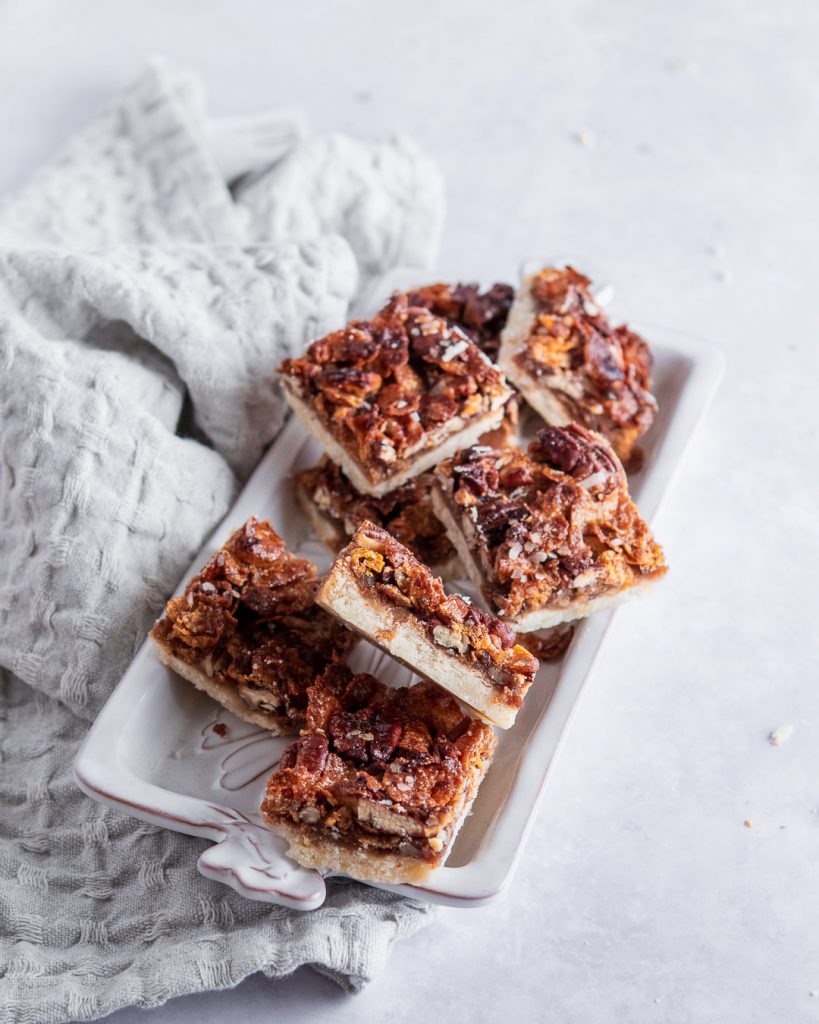 How to store Pecan Pie Bars
Store for up to one week in an air-tight container. 
These are perfect for adding to your dessert freezer stash. To do so, let them cool completely after baking before cutting. Once cut, place them side-by-side and wrap tightly in aluminum foil or wax paper with a sheet in-between each layer if stacking. De-frost over night at room temperature before enjoying! 
Thanksgiving is a super busy time, and sometimes you forget to make dessert - I know I have. These are perfect for when you're in a pinch. 
Happy Baking! Sharon XO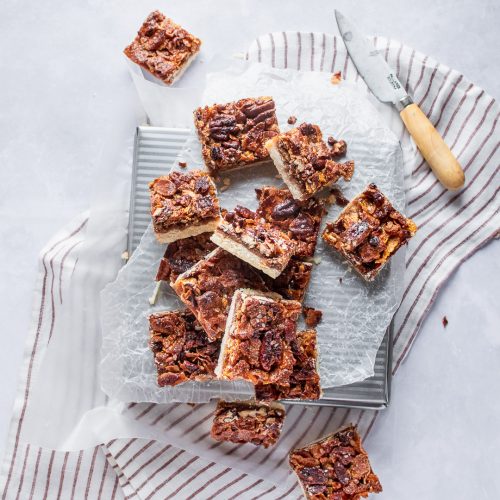 Cornflake Pecan Pie Bars - Under 1 Hour
Faster than pie, and just as tasty, these pecan pie bars are made with maple, a tender shortbread crust, and an extra helping of cornflakes for a salty sweet crunch!
Ingredients
for the shortbread crust
1 ½

cup (184g)

all-purpose flour

½

cup (1 stick)

unsalted butter

cold, cut into 1 inch cubes

¼

cup (50g)

granulated sugar

2

tbsp (25g)

confectioners sugar

14g

1

tsp (5ml)

vanilla extract

½

tsp

kosher salt

2-3

tbsp (30-45ml)

cold water
for the cornflake pecan topping
2

tbsp (28g)

unsalted butter

1

tbsp (15ml)

heavy cream

¼

cup (60ml)

maple syrup

½

cup (100g)

brown sugar

2

tbsp (16g)

all-purpose flour

1

medium

egg

2

cups (218g)

pecans

chopped into halves

1½

cup (45g)

cornflakes

flaky sea salt for sprinkling
Instructions
for the shortbread crust
Preheat the oven to 350°F then grease and line an 8 x 8 inch baking pan with parchment paper.

In the bowl of a food processor, combine the flour, unsalted butter, granulated and confectioners sugar, vanilla extract, salt, and water. Pulse a few times to combine until the butter is broken into almond sized shreds and is incorporated into the flour. The dough should hold together easily and slightly moist. (This can also be done by hand)

Tip the dough out into the prepared pan. Use your fingers or the flat bottom of a measuring cup to press the dough into an even layer and up the sides about ¼ inch to create a border. Bake the crust until light golden brown and set, about 15 minutes. Set aside and let cool slightly while you make the topping.
for the filling
Melt butter in a saucepan over medium low heat until dark brown and has a nutty aroma. Once browned, stream in the heavy cream, maple syrup, and whisk to combine. Remove from the heat and stir in brown sugar until fully dissolved.

Sift in all-purpose flour, and whisk until a sticky paste forms. Add more flour if necessary in tablespoon increments. Whisk in the egg until fully incorporated. Lastly, stir in the halved pecans and cornflakes. The mixture should all be held together by the egg and will be gooey.

Pour pecan mixture over warm. Bake until filling is bubbling and caramel in color, about 20 minutes. If the top starts burning, cover the top loosely with aluminum foil. Once baked, let the pan cool completely to room temperature before removing and cutting into 2 inch squares with a sharp wet knife. wiping in-between each cut.
Notes
SUBSTITUTIONS:
Unfortunately, egg is needed in this recipe for the gooey chewy texture. It can still be made without, but will be more like a pecan cookie. Still delish! 
For a gluten-free version: sub all-purpose flour with equal parts almond flour.
STORING NOTES:
FREEZING: These can be frozen for up to 2 months. After completely cooled, wrap bars tightly with aluminium foil or wax paper separating each layer. Thaw overnight in room temperature before serving. 
Did you make this recipe?
Tag @WhiskfullySo on Instagram