This Classic Alhambra Chocolate Sponge Cake is bouncy and light. Perfect for topping with rich chocolate cream and fresh fruit!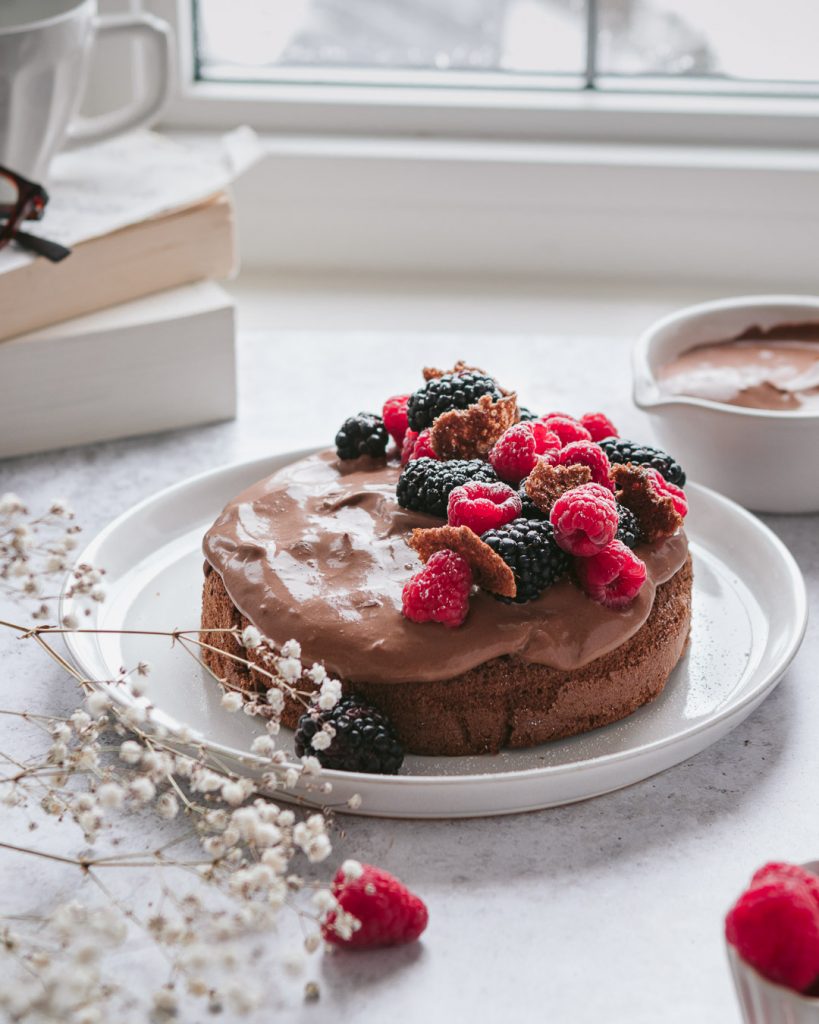 What is an Alhambra Chocolate Sponge Cake?
The origin of Alhambra is not clear, but it's said to be named after the famous Alhambra castle in Spain. Regardless of its origins, this Alhambra Chocolate Sponge cake is a classic in pastry schools around the world and beloved by many. 
YIELD: This recipe makes one (1) six inch cake.
TEXTURE: There are many ways to make a sponge cake, but this recipe uses the Sabayon method (more on this below) to get a light and springy cake. 
FLAVOR: Chocolate, chocolate, chocolate! This cake has very few ingredients so the only thing you'll be tasting is rich chocolate. 
LEVEL OF DIFFICULTY: Intermediate - This recipe can be tricky because if the ingredients are not precise of the eggs not fully whipped, the cake will bake-out dense and deflated...EW.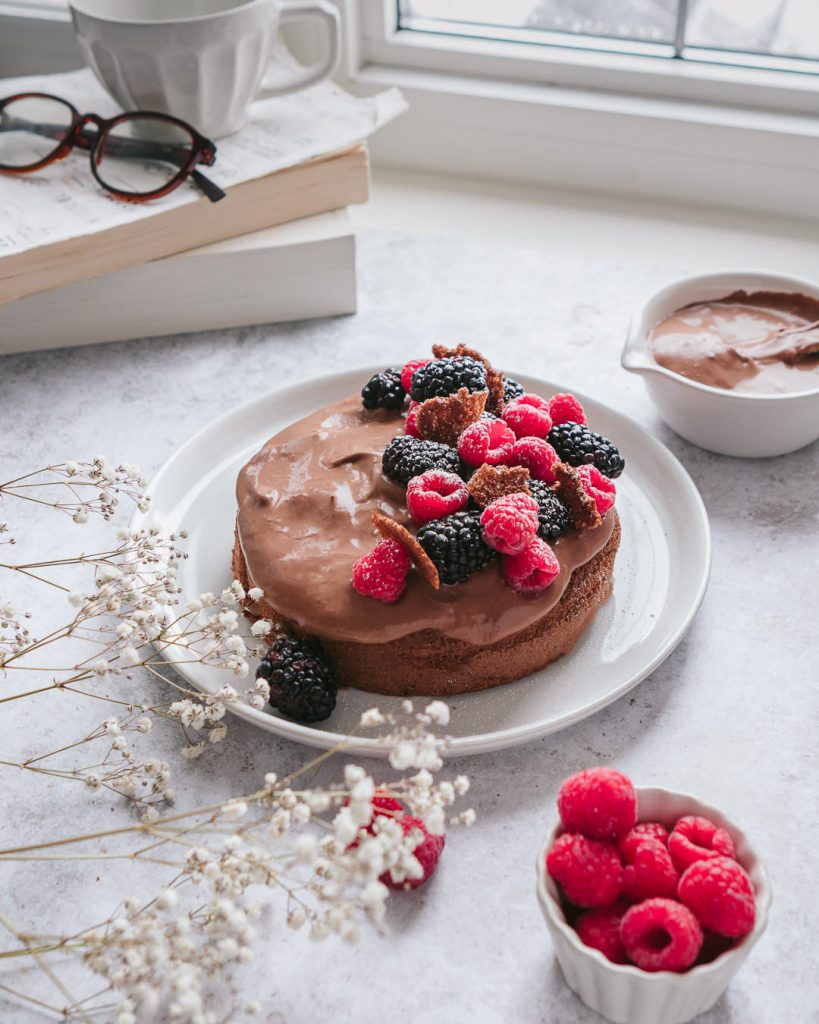 What is the Sabayon Method?
The Sabayon method is actually a base sauce recipe where egg whites, sugar, and (traditionally) wine are whisked together over a bowl of simmering water (bain marie) until thickened into a silky custard. It's creamy, sweet and crucial to the sponge texture of this cake.
Bain marie tips
1. Do not let the water boil - the water should never exceed the simmering stage to prevent the eggs from curdling
2.The bowl should fit snuggly on top of the pot . It should not float or be too small or else you'll have difficulty removing it from the pot. 
3.The bowl should not touch the water - eggs are very sensitive to heat, so this also prevents them from curdling.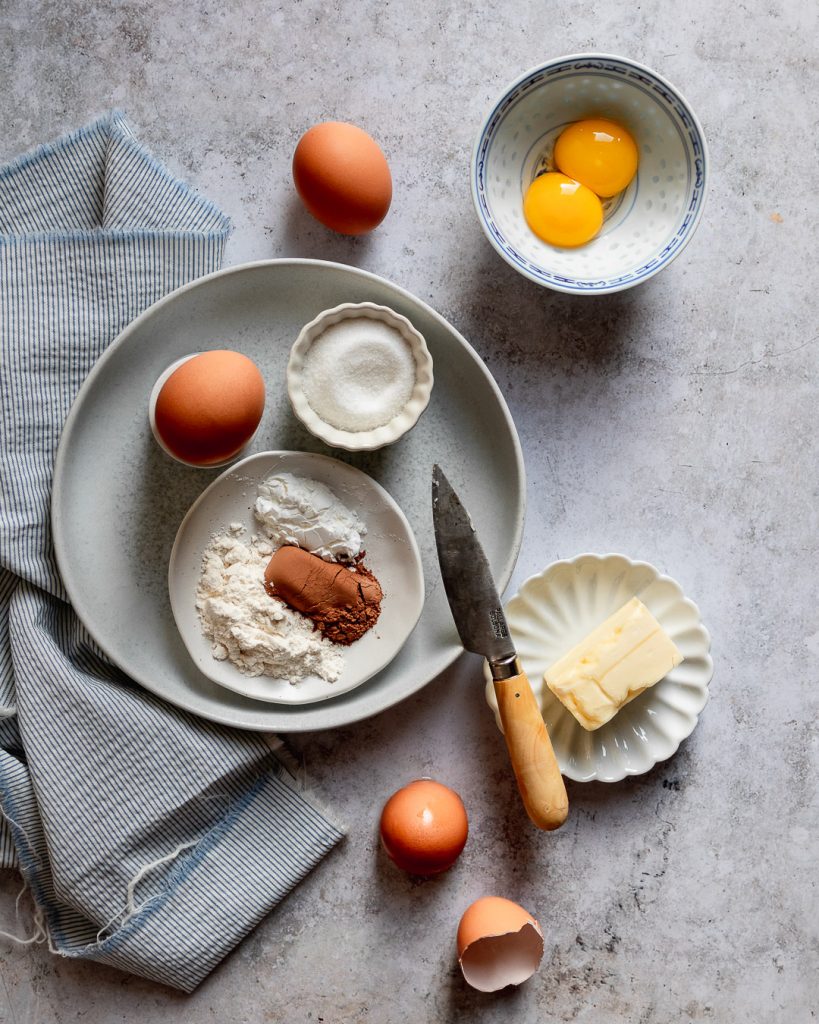 Ingredients for Alhambra Chocolate Sponge Cake
Whole eggs - Eggs are the foundation of this recipe. Room temperature eggs are easier to whisk, so take them out a bit before baking. 
Egg yolks - Extra egg yolks make this cake decadent!
Granulated sugar - Sugar helps stabilize the egg proteins so it can be whisked until creamy. 
Cake flour - Cake flour is lighter than all-purpose, which prevents this cake from becoming dense. All-purpose can be substituted if needed. 
Cornstarch - Since this recipe uses very little flour, cornstarch helps to thicken the batter. 
Dutch-processed cocoa powder - The yummy stuff! This Alhambra Chocolate Sponge cake does not use a leavening agent, because the whipped eggs gives the cake its height. As such, a neutral cocoa powder is needed. 
Unsalted Butter - All sponge cakes need fat to get a moist crumb. You can substitute for neutral oil but, butter (plant-based even) is best for taste.
Step-by-step instructions to make Alhambra Chocolate Sponge Cake
Don't be fooled by its simple appearance. This Alhambra Chocolate Sponge cake is decadent, chocolate-y, and can be tricky to get right. Keep reading to see all the step-by-step photos and tips!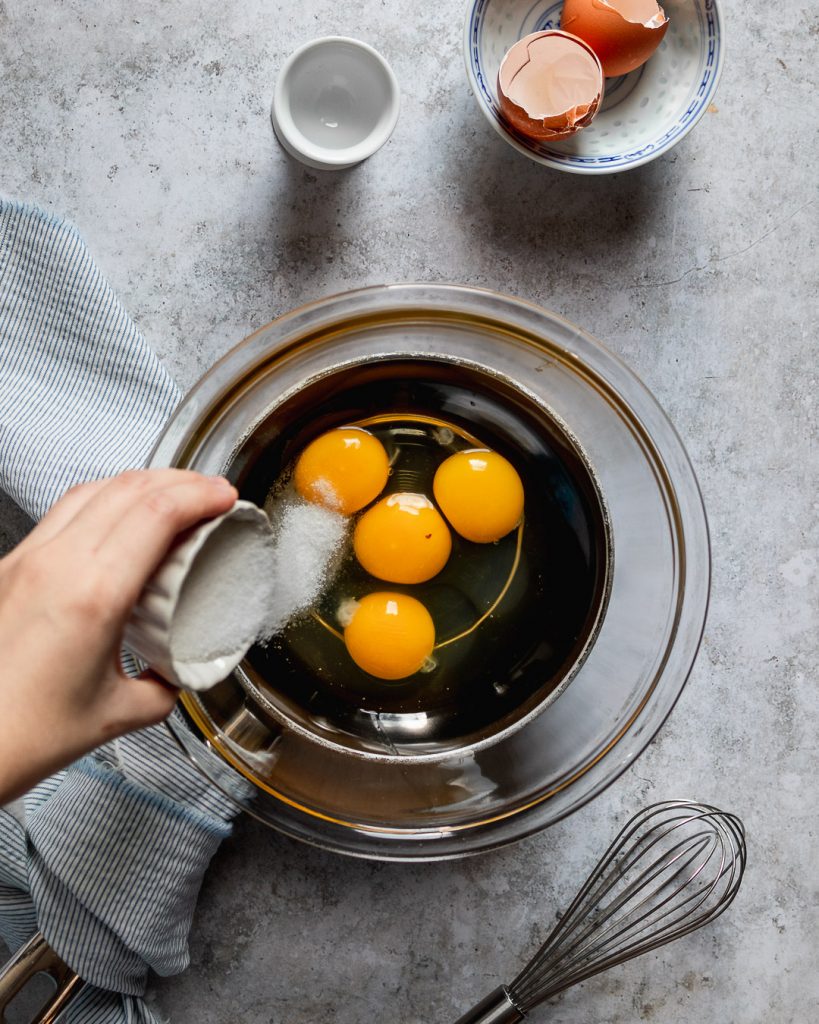 #1. Whisk eggs and sugar over a pot of simmering water
The Sabayon mixture is the base of this cake, so first combine eggs, egg yolks and sugar into a bowl. Set the bowl over a pot of barely simmering water and whisk to combine.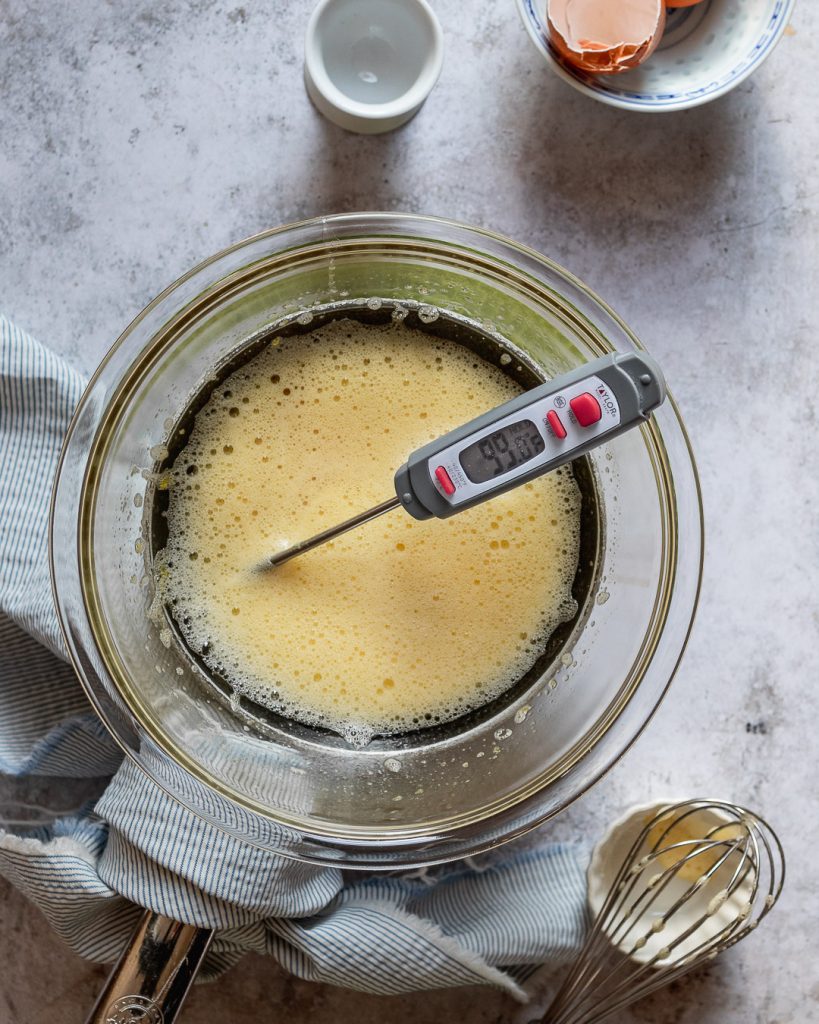 #2. Whisk the eggs until 99°F/ 37°F.
Use a thermometer to watch over the eggs as you mix them. Once they reach 99°F/ 37°F, remove the bowl and wipe any condensation from the bowl. You do not want to exceed 99°F/ 37°F or else the eggs have a higher chance of curdling.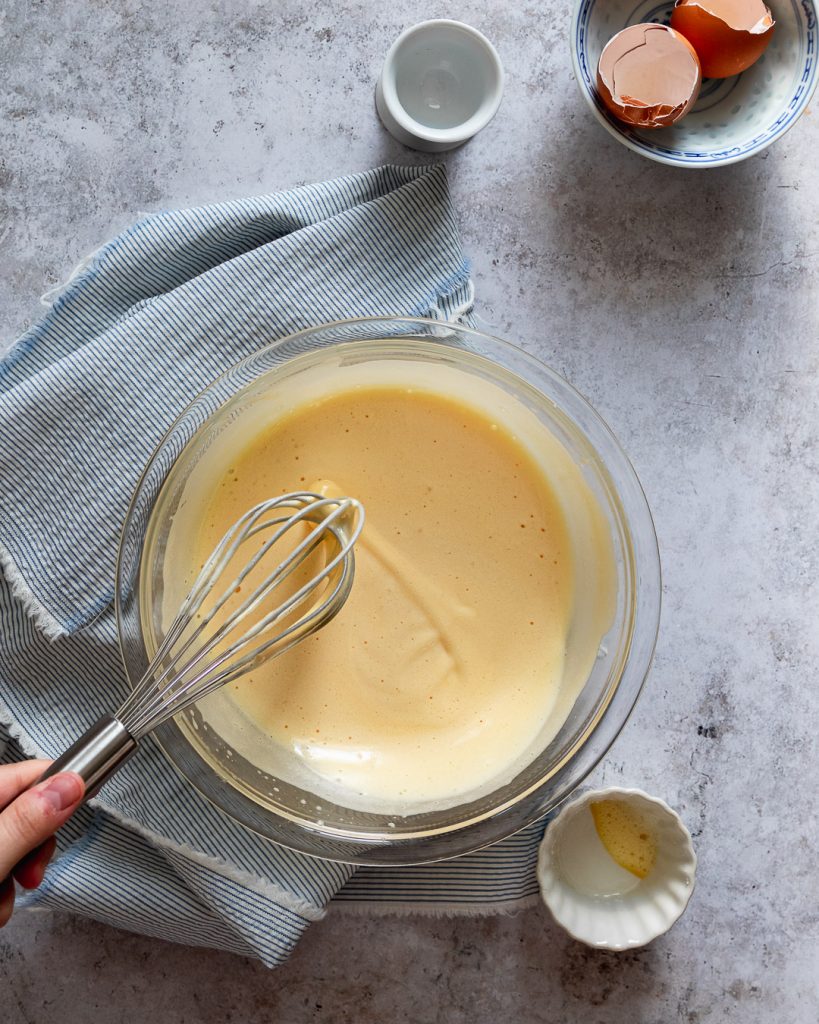 #3. Whisk until ribbon stage
Whisk the egg mixture vigorously until thickened and the mixture falls off the whisk in ribbons. Be patient and don't rush this step. If the batter is not whisked to this stage, you won't get enough air in the batter and your cake will deflate. Look for: glossy, lightened in color batter, that is thickened and creamy. 
TIP: I recommend using an electric hand-held mixer or a stand mixer to whisk the eggs to ribbon stage. Doing it by hand it possible but it will take a while.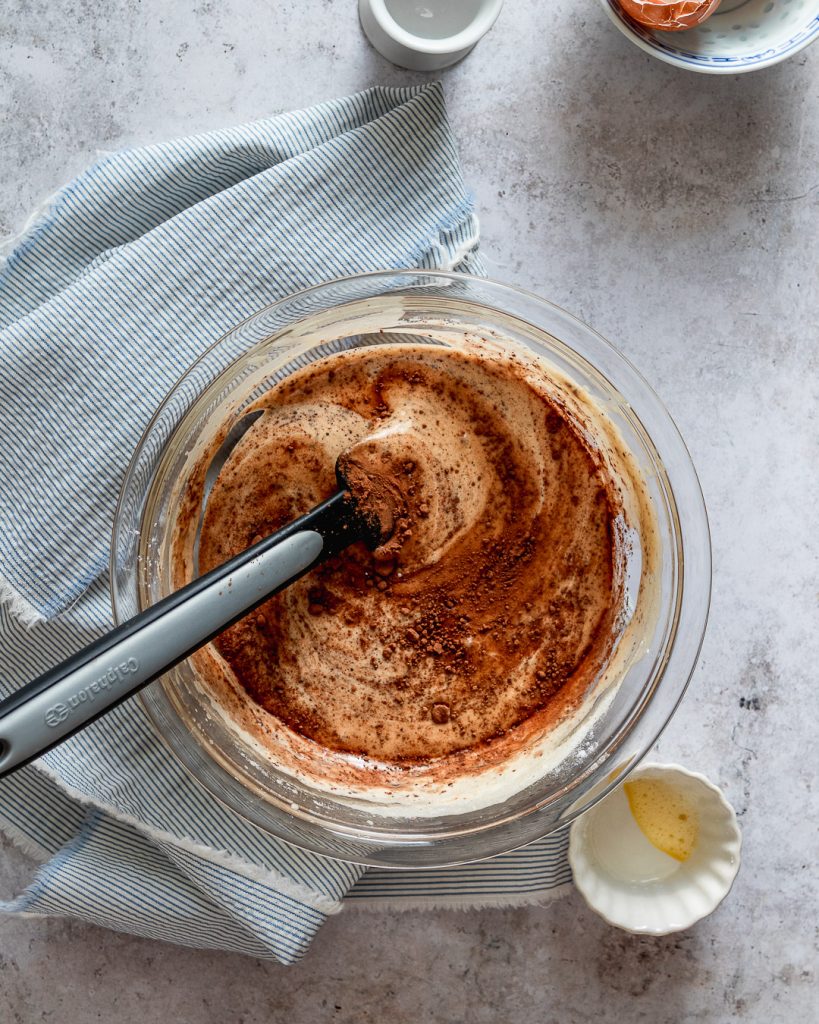 #4. Sift and fold Alhambra Chocolate Sponge Cake dry ingredients
Sift in all the dry ingredients to prevent lumps, and gently fold to prevent deflating all the air you just whisked in. Fold until half-combined, like this photo above. 
NOTE: We only want to half-combine, because we still need to add the butter, and we don't want to over whisk as that would deflate the batter.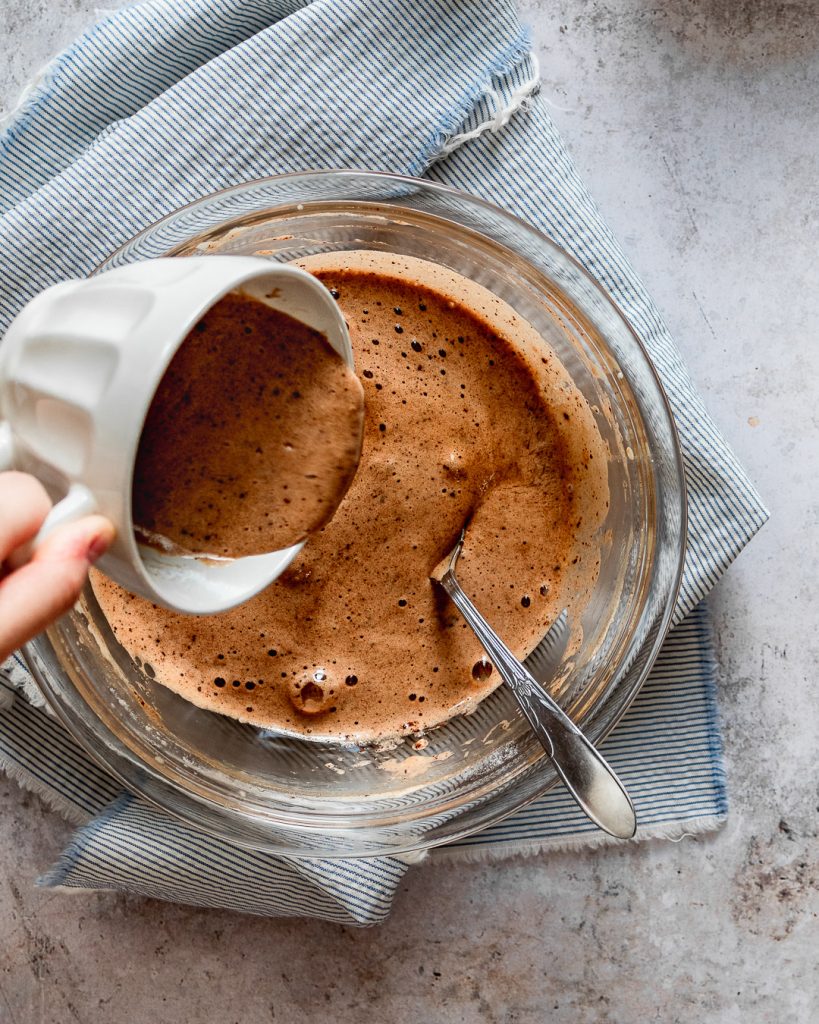 #5. Temper melted butter and combine 
Tempering is just a fancy word for "bringing 2 ingredients to the same temp". If we added the hot melted butter into the batter, it would deflate the batter and curdle the eggs. So to get the two mixes accustomed, spoon a little of the batter into the melted butter to cool it down. Then pour it back into the larger bowl and fold to fully combine. 
#6. Bake Alhambra Chocolate Sponge Cake
Prep a 6 inch baking pan by ONLY greasing the bottom. Do not grease the sides, because the batter needs something to grip so it can rise. Pour the batter into the pan and give it a hard tap on the counter to remove any air bubbles. Be careful not to over bake as the cake will become dense. The cake should spring back slightly when pressed. 
What to pair with Alhambra Chocolate Sponge Cake
This cake is AMAZING plain, but it's so fun to jazz up. Here are some of my fav pairings:
1. Base for entrements - This is essentially a "go-to" classic recipe, and works so well as a layer in entrements. Check out my Chocolate Heaven Citrus Gateaux to see how I used this recipe!
2.Top with fruits - Top with whipped cream and a pile of fresh berries!
3.Use the discards to make trifles - If your cake does turn out a little dry,  here's a quick fix! Break it up into pieces and make trifles: layered desserts of cake, cream and fruits. 
This Alhambra Chocolate Sponge cake is best enjoyed fresh as it can get stodgy over time. If baking ahead, store this cake by wrapping it tightly in cling wrap, then storing in an airtight container for up to 2 days. 
Happy Baking!
Sharon
if you like this recipe, you may also enjoy...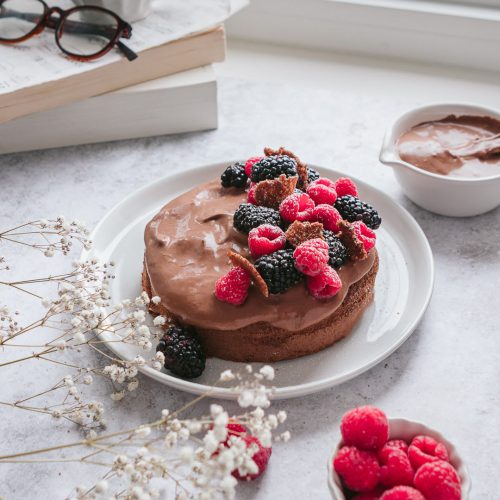 Classic Alhambra Chocolate Sponge Cake
The softest Alhambra Chocolate Sponge Cake that is light and fluffy. Made with melted butter, frothy whipped eggs and rich chocolate.
Ingredients
100g

2 whole eggs

25g

approx. 2 egg yolks

40g

granulated sugar

13g

1 + ½ tbsp

cake flour

3g

½ tbsp + ½ tsp

cornstarch

15g

1 tbsp

dutch-processed cocoa powder

50g

¼ cup

unsalted butter

melted
Instructions
Preheat the oven to 375°F/ 190*F and grease ONLY the bottom of a 6 inch round baking pan.

Place eggs, egg yolks, and sugar in a clean bowl and lightly whisk over a pot of barely simmering water (aka bain marie) until 99°F/ 37°F.

Remove the bowl from the pan of water, wipe any condensation, and continue to whisk using an electric mixer until pale in color, thick, and at the ribbon stage.

Whisk together flour, cornstarch and cocoa powder in a small bowl then sift into the ribboned eggs. Fold with a spatula until half way combined.

Take 2 large scoops of the batter and add it to the melted butter. This cools down the butter and accustoms the two. Add the butter mixture back into the cake batter and fold until combined and no streaks of butter remain.

Pour into the prepped cake pan, and bake in the preheated oven for 15 minutes or until golden brown. Once at the 15 minutes mark, check every 2 minutes to make sure you don't over bake. The cake should spring back gently when pressed.
Notes
SUBSTITUTIONS:
Cake flour works best for a light and fluffy cake, but all-purpose flour can be substituted. 
BAIN MARIE NOTES:
Make sure the bowl does not touch the simmering water
The bowl should not float in the pot. 
Did you make this recipe?
Tag @WhiskfullySo on Instagram