Extra Moist Browned Butter Banana Walnut Bread - the answer to all afternoon snack cravings, breakfast grumbles, and an all-round crown pleaser.
Picture this: It's 1pm, you've had lunch, but of course, your stomach is already grumbling for snack time. After rummaging around your snack cupboard you emerge empty-handed. All the snack hunt produced was a bag of old nuts and a bundle of nasty-looking bananas - I'm talking questionably safe brown and mushy bananas. Fortunately, we can transform those bananas, nuts, and some pantry staples into a warm, delicious banana-walnut bread that tastes perfect with butter, and a side of tea.
This is one of my favourite recipes and if you're new to baking, I recommend starting with this. The preparation method is very forgiving to little mistakes and it combines pantry items you may already have at home.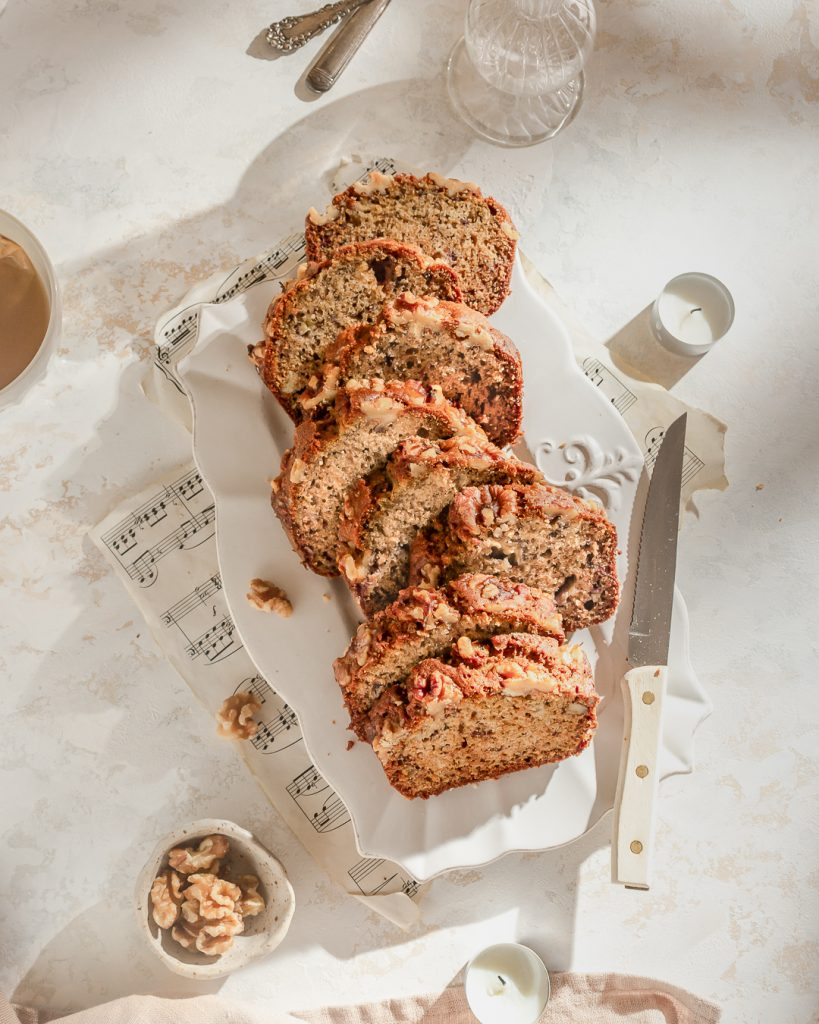 All the yummy details in this brown butter banana bread
YIELD: This recipe makes 1 large bread loaf.   
METHOD: A classic wet and dry combination method. The butter is first browned, then used to dissolve all the sugar, and wet ingredients. Lastly, the dry ingredients are folded in. 
TEXTURE: Fluffy, moist, almost cake like in texture but much lighter.
FLAVOR: It's got sweet caramel notes from the browned butter, tons of banana flavor, and a slight zing from greek yogurt. 
LEVEL OF DIFFICULTY: Easy-peasy. The batter takes less than 15 minutes, and the longest part is baking.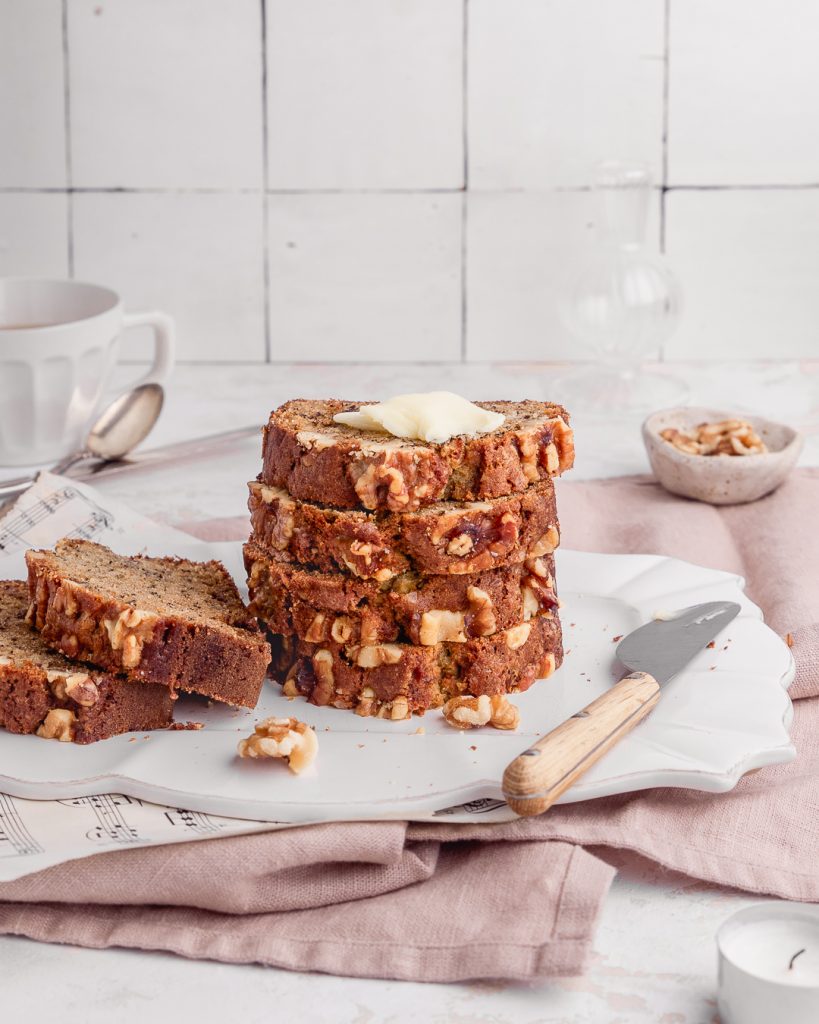 Ingredients to make this browned butter Banana Walnut Bread
*I've chosen ingredients that appeal to my diet and taste. If you have dietary restrictions, you can make the following substitutions:
Unsalted Butter - Browning butter gives it an incredible butterscotch flavor. If you've never tried it before...you'll thank me once you do! For a healthier alternative, you can sub in olive oil (unfortunately, you can't brown it though).
Granulated, Brown Sugar & Honey - These are the sweeteners. Using both white and brown sugar makes the bread moist, and fluffy. 
Eggs - Make sure your eggs are at room temp before using!
Greek Yogurt - A not-so-secret ingredient, but this is key to getting a moist banana bread with some zing for lightness.
Whole Wheat & All-Purpose Flour - Not only is Whole Wheat flour a healthy alternative, but it also gives a nutty flavour to this bread. If you are gluten intolerant, you can substitute for Bob's Mill Gluten-Free Flour (In my opinion, this is the best gluten-free option).
Baking Soda - To help the loaf rise. Note that baking soda is NOT the same as baking powder. (see tips section for more details)
Walnuts - Don't let a nut allergy stop you from enjoying this classic, you can substitute ½ cup rolled oats or seeds (chia, sunflower etc.) instead.
Demerara or Turbinado Sugar - A heavy sprinkle of this before baking gives the banana bread an excellent crunch!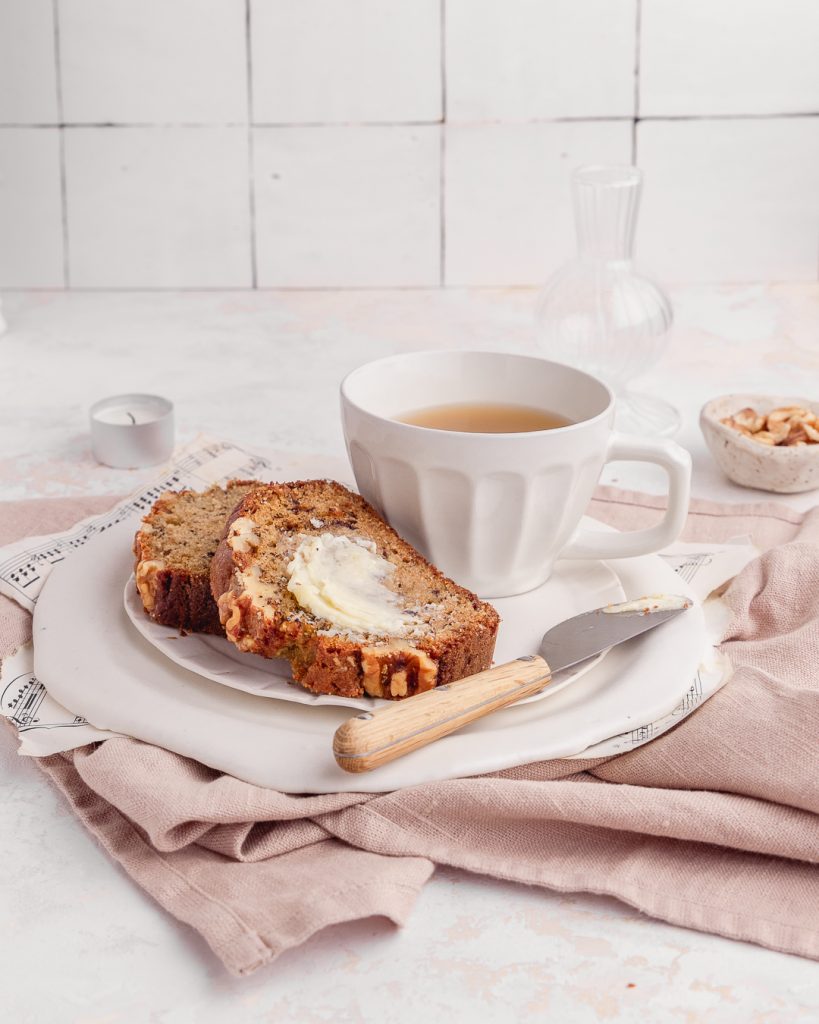 Tips to Make the Best banana Bread
TIP 1 - Use BROWN overripe bananas: those brown mushy bananas give the bread it's moist texture and intense flavour. While it may be tempting to use the bananas yellow, the flavour won't be as prominent.
TIP: If you're in a hurry, pop them into the oven at 300°F on a lined tray with their peel intact and bake for 15-20 minutes flipping until they are black all over. Let them cool, then peel and mash to use.
TIP 2 - Use Room Temperature Eggs: Especially with melted butter, if cold ingredients are added to hot it will curdle your batter, meaning your ingredients won't incorporate as well.
TIP 3 - Baking Soda v. Baking Powder: While they may seem the same, they produce VERY different results. This recipe calls for baking soda as it works best with the acidic ingredients here: brown sugar and bananas.
TIP 4 - Don't Over Mix: Using a spatula or flat headed utensil to incorporate the mashed bananas and walnuts will prevent knocking the air out of the batter and over mixing. Stop mixing when everything is JUST combined or the batter will be tough and dry.
TIP 5 - Under Bake: If after 35 minutes of baking your inserted knife still has a bit of crumb on it, it's OKAY! Remove your bread so the crust doesn't burn and the middle will continue to bake while cooling.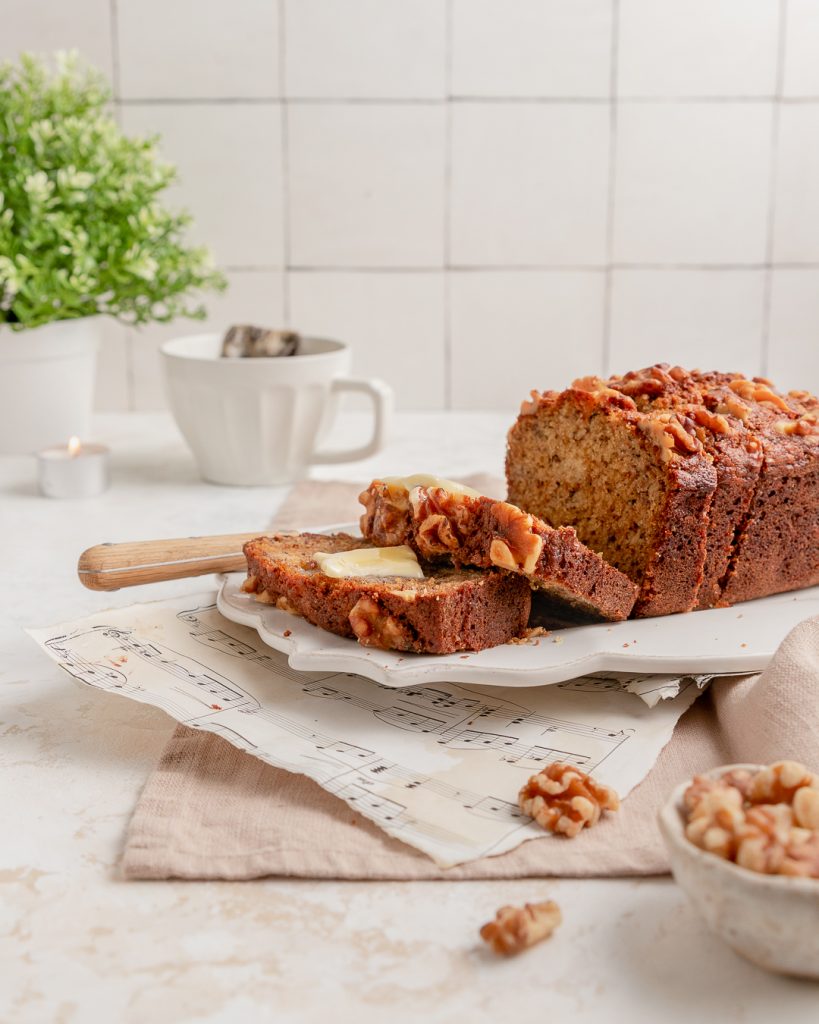 How to keep banana bread fresh
Luckily, banana bread has a longer shelf life, and stays fresh for 5 days post bake. Just make sure you either 1) store it in an air tight container or 2) Wrap it tightly with plastic wrap.
I hope this browned butter walnut banana bread becomes a staple in your home. It truly is a beloved classic!
Happy Baking! Sharon. 
if you like this recipe, you may also enjoy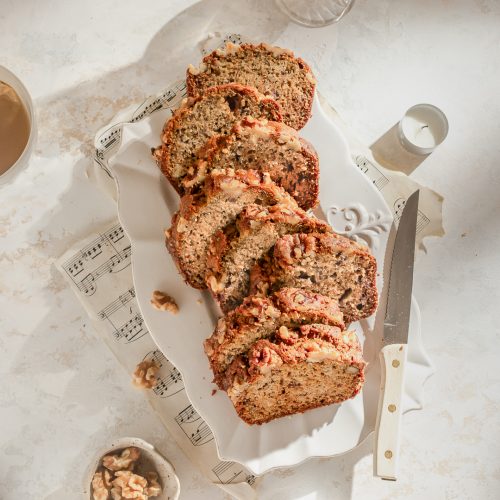 Extra Moist Browned Butter Banana Walnut Bread
A classic recipe made even better with slight cinnamon spice, yogurt for a very moist crumb, and browned butter for a rich taste - give life to your old bananas!
Ingredients
½

cup

unsalted butter

, cut into 1 inch cubes. Set aside 3 of the cubes.(Note 1)

¼

cup

granulated sugar

¼

cup

brown sugar

¼

cup

honey

warmed in the microwave for 30 seconds

2

medium eggs

room temperature

2

tsp

vanilla extract

⅓

cup

greek yogurt

room temperature

1 ½

tsp

cinnamon

3

medium bananas

very ripe with spots and mashed into a fine puree.

½

tsp

salt

1

tsp

baking soda

1

cup

all-purpose flour

½

cup

whole wheat flour

(Note 2)

Demerara or turbinado sugar

for sprinkling
Instructions
Preheat oven to 350°F. Spray your 9" x 5" loaf pan with non-stick spray, then line with parchment paper letting some hang over the long sides for easy removal post bake, and set aside.

Brown the butter by placing all but 3 of the cubes into a saucepan over medium low heat. Swirl the pan often so the butter can completely melt. The butter will foam and start to turn caramel brown after 4-5 minutes. Once it turns a deep amber color, remove from the heat, and stir in the remaining 3 cubes of butter. Set aside to cool.

In a separate small bowl, whisk together all the dry ingredients (salt, baking soda, all-purpose flour, and whole wheat flour).

In a large mixing bowl, whisk together the granulated sugar, brown sugar, and warm honey. Pour in the slightly cooled browned butter. Whisk until all sugars are fully dissolved.

Mix in the eggs one at a time, then pour in vanilla extract, greek yogurt, cinnamon, and whisk until smooth with no visible lumps.

Finally stir in the mashed bananas (remember, the more mashed the better).

Gradually add the dry ingredients into the large bowl with the wet ingredients and fold with a spatula to incorporate JUST until there are no more visible flecks of flour in the bowl.

Pour the batter into the prepared pan, filling it ¾ of the way up. Top with raw walnuts, and a generous sprinkle of demerara or turbinado sugar all over the top..

Bake for 35-40 minutes, or until a knife inserted into the center comes out only with a bit of crumb.

Cool for 5 minutes before removing from the pan and serving.
Notes
NOTES:
In lieu of unsalted butter, you can use olive oil for a healthier banana bread. 
Instead of using whole wheat flour, all-purpose, spelt or rye can be used - just make sure the total flour used is 1 ½ cups.
TO STORE:
This bread lasts for up to 4 days when stored in an airtight container at room temperature or wrapped tightly with plastic wrap. 
Did you make this recipe?
Tag @WhiskfullySo on Instagram