This Carrot Cake Muffin is spiced with ginger, nutmeg and cinnamon for all the tastes of fall; yet still has a summery note from the coconut cream yogurt frosting. What better way to transition into the colder weather than with a treat that's says both summer AND fall! Best of all, this muffin can be adapted into dairy-free (YUP!) and gluten-free. This deliciousness was meant to be shared. 
Happy September 1st! It's crazy how summer went by so quickly this year, and while I still can't get enough of all the delicious summer treats, I'm ready to turn on my oven, get cozy in sweaters and start fall baking. 
How do I make Carrot Cake Muffins?
Similar to quick-breads, like banana bread, this carrot cake muffin is made by combining the wet and dry ingredients separately, then together. First, whisk all the dry ingredients together in one bowl, and the wet in an another, them fold them all together in two parts. Lastly, divide the batter amongst your prepped muffin tray, and bake! The coconut frosting, is just as simple to whip together. Simply whisk together all the frosting ingredients, and add to the cooled muffins. Voila! Deliciously moist, carrot cake muffins with coconut yogurt frosting. These muffins can be enjoyed sans the frosting for a breakfast meal. I like to enjoy them hot and with a smear of butter!
What Ingredients Do I Need?
This batter comes together very quickly, so the prep work is super important. Here is what you'll need. 
Carrots: These are carrot cake muffins, so fresh carrots are paramount! Prep by peeling and finely shredding using a grater. 
Cinnamon, Ginger, Nutmeg, Maple Syrup: All the spices of fall, make this muffin a winner. 
Vegetable Oil: Did I mention these muffins are healthier? I love how the oil, makes these muffins super moist. You can use olive oil, but it does change the taste slightly. 
Granulated Sugar: For a little extra sweetness.
Brown Sugar: Having a larger ratio of brown to white sugar means a puffier muffin and a moist crumb. 
Eggs: To really up the richness, this batter calls for two whole eggs. 
All-purpose flour: I use all- purpose flour, but for a gluten-free version, substitute with gluten-free flour of your choice. For an equal substitute and similar taste, I recommend certified gluten-free oat flour. 
Coconut Cream: I LOVE coconut cream; It gives a thick frosting and is much healthier. Coconut cream can be purchased at the grocery store in cans. See Tips for how to separate the cream from the can. 
Greek Yogurt: Adding yogurt gives a delightful tangy creaminess to the frosting. For a diary free version, simply omit this.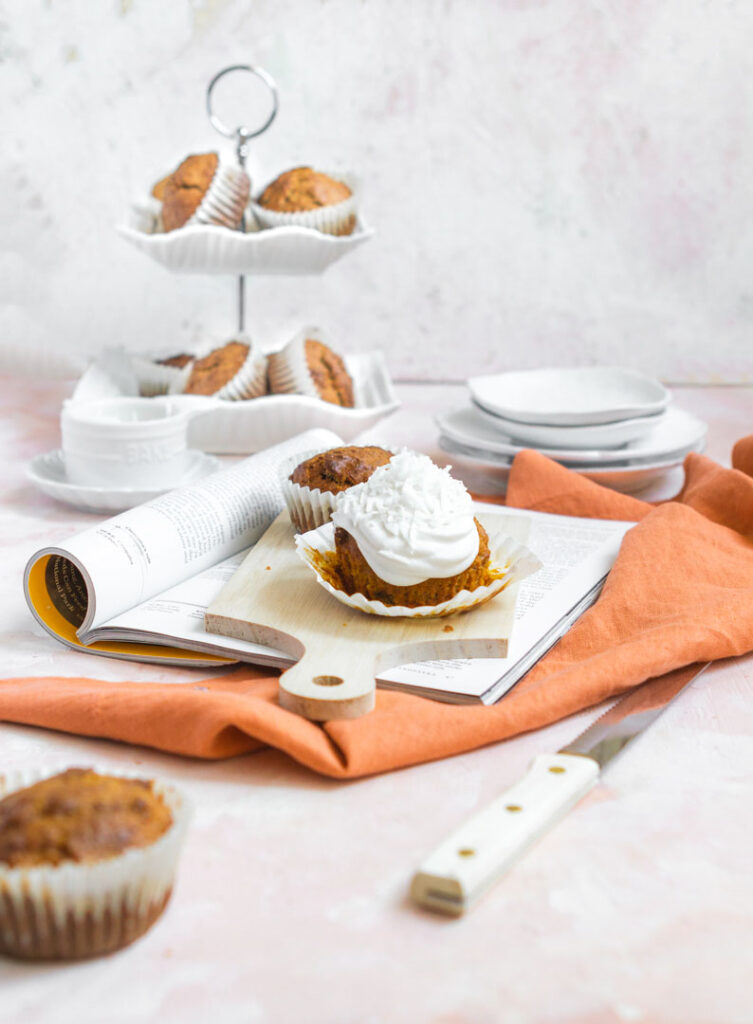 Tips for Making Carrot Cake Muffins
Finely Shred the Carrots: what makes these muffins delicious is an even flavour of carrot. No one wants a chunk of carrot, so take the time to grate the carrot. 
Separate the coconut cream: Store the can upside down in the fridge 1-2 hours before baking. The cream will sink to the bottom making the separation of liquid and cream easier. 
Use room temperature eggs: I say this time and time again, but baking with room temperature eggs are crucial or else the batter can curdled while baking giving a weird texture .
Allow the muffins to completely cool before frosting: If you add the frosting while the muffins are hot, the frosting will pool everywhere. 
How to Store Carrot Cake Muffins
Once frosted, these carrot cake muffins should be stored in the refrigerator in an airtight container to last 4 days. If you're looking to bake ahead, the muffins can be made the night before, and frosted in the morning or enjoyed as a morning breakfast - I like mine hot, with a smear of butter.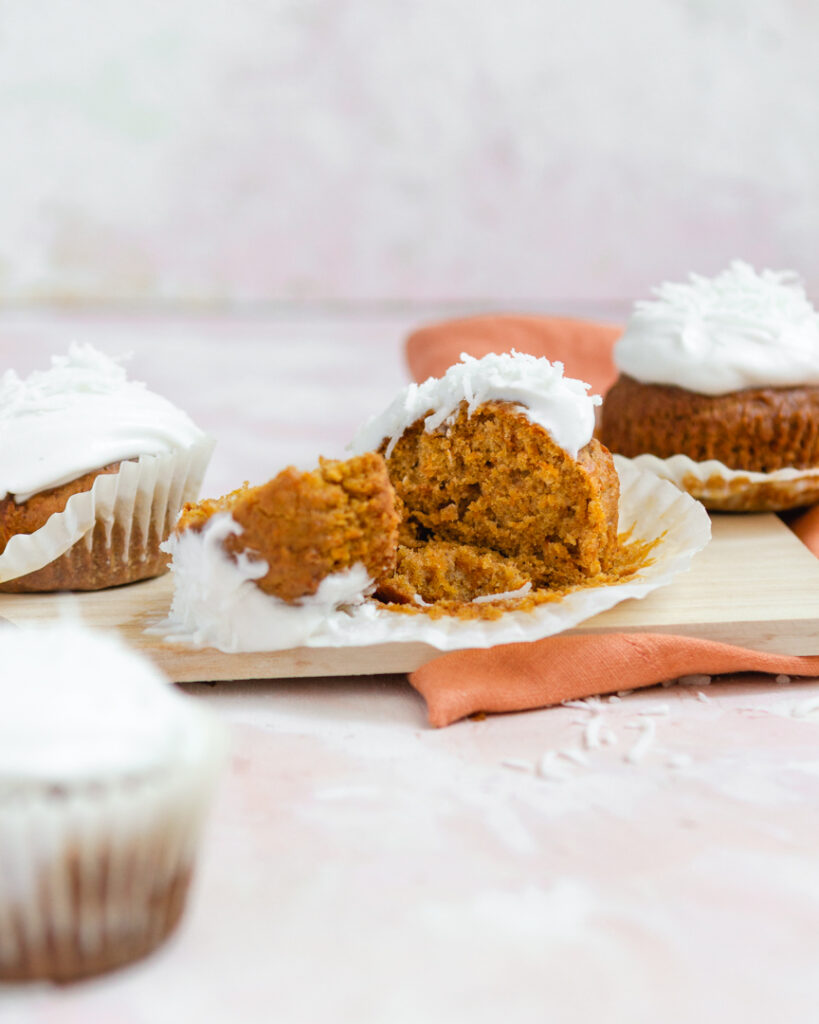 I hope you enjoy these carrot cake muffins as much as I do! Here's to the beginning of this seasons fall baking. See you next week!
-Sharon XO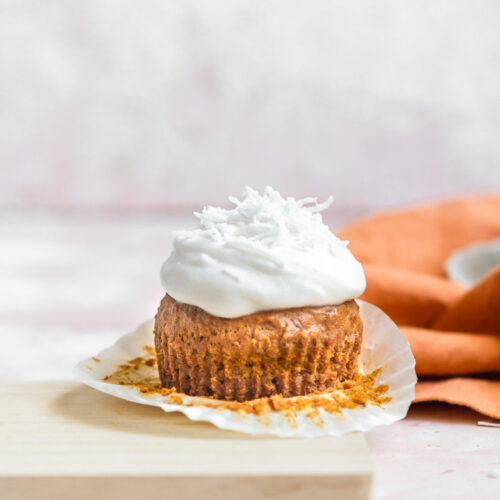 Carrot Cake Muffins with Coconut Yogurt Frosting
Moist and delicious, you'll never guess that these carrot cake muffins are butter-free! Topped with a delicious coconut cream yogurt frosting, this healthier muffin is perfect at any breakfast or as an afternoon treat! (Dairy-Free, can be adapted to Gluten-Free)
Ingredients
for the muffins
1 ½

cups (240g)

All-purpose flour

½

tsp

Baking Soda

¼

tsp

Salt

1

tsp

Cinnamon Powder

¼

tsp

Nutmeg

½

cup (118ml)

Neutral Oil

¼

cup

greek yogurt

⅓

cup (65g)

Brown Sugar

¼

cup (52g)

Granulated Sugar

2

medium

whole eggs

¼

tsp

ground ginger

½

tsp

Vanilla Extract

1

tbsp (15ml)

Maple Syrup

1

cup (158g)

Carrots

finely shredded
for the coconut yogurt frosting
½

cup (7oz)

Coconut Cream

chilled

½

cup (174g)

Greek Yogurt

¼

tsp

Vanilla Extract

¼

cup (25g)

Confectioners Sugar
Instructions
First, separate the coconut cream from the water, by flipping the can upside down and chilling in the fridge until ready to use. 
for the muffin batter
Preheat the oven to 375°F and line a muffin tin with cupcake liners.

In a large mixing bowl, stir to combine flour, baking soda, cinnamon, nutmeg, ground ginger and salt.

In another bowl, whisk together the oil, brown sugar, granulated sugar, and the greek yogurt. Beat in the eggs one at a time. Whisk in maple syrup and vanilla extract. Fold in half of the flour mixture along with the shredded carrots until no streaks of flour remain, then fold in the remaining flour until just combined. (Do not over beat or the muffins will be tough)

Fill each prepared muffin liner ¾ of the way full with batter and baked for 20-25 minutes or until an inserted toothpick comes out cleanly with only a few crumbs.

Let cool in the pan for 10 minutes before removing to cool completely on racks.
for the frosting
Place the chilled coconut cream, yogurt, vanilla extract and confectioners sugar in a bowl or the bowl of a stand mixer fitted with the whisk attachment. Whisk until the mixture is light and fluffy.

Dollop each cooled muffin with enough frosting for your liking, and (optionally) top with shreds of coconut. ENJOY! Alternatively, if you don't use the coconut frosting, enjoy the muffin warm with melted butter. 
Notes
If adapting to gluten-free, replace equal amounts of all-purpose with your choice of flour. I recommend Oat flour for a similar taste. 
did you make this recipe?
Tag @WhiskfullySo on Instagram