I have a confession to make, I have a slight addiction for bananas. I'm not talking about the ripe banana; no, I mean the overripe ones perfect for baking.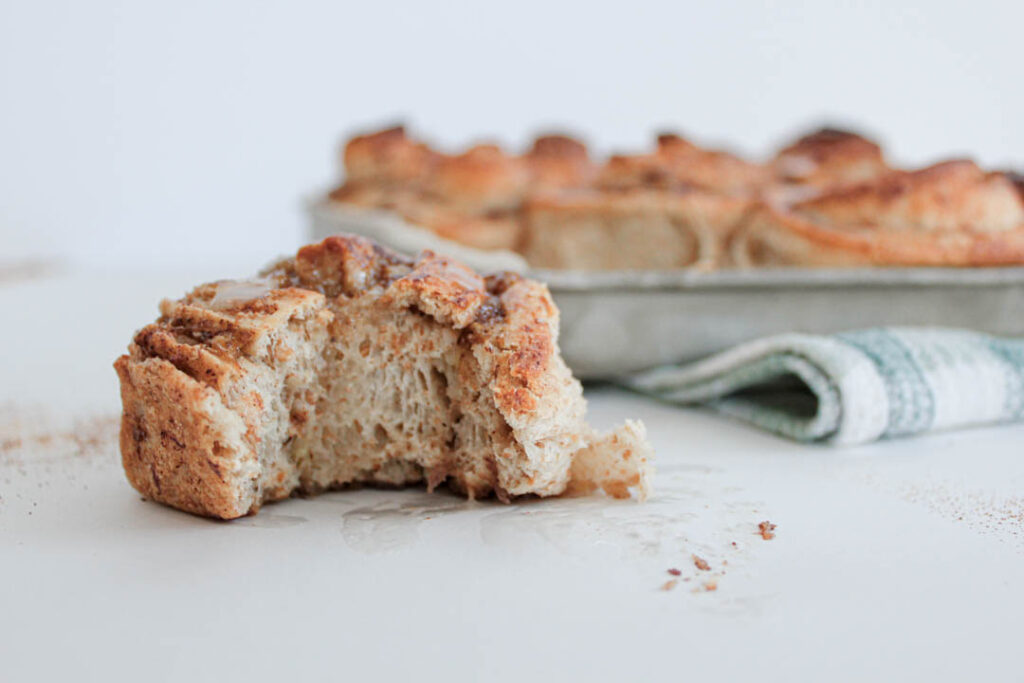 Fluffy Cinnamon Banana Brioche Rolls
Two weeks ago as I was working on these cinnamon rolls, they started out classic: lots of butter, brown sugar, and a quick dough. They were delicious, but I was craving a fluffy, moist centre. So first I tried increasing the butter filling - too wet. Then I added butter to the dough - too greasy. Then one day I saw a lone overripe banana on the counter. I didn't have enough to make banana bread, and I got a crazy thought - thus the banana came into play. It seemed like a crazy idea at the time, but then I got these amazingly light, moist, fluffy and rich cinnamon buns and the banana addition seemed like the most natural thing.
The filling instantly was at another level, so I decided to "level-up" my dough too by making a brioche dough known for it's rich and tender crumb due to the addition of eggs and butter. It would be a crime to not have any frosting, but my family can't have cream cheese; so unfortunately, no cream cheese frosting, but this glaze is just as good. It's light, zesty and sweet - everything luxurious about a glaze. I promise once you've tried this recipe you'll be a cinnamon banana roll convert too!
Star Ingredients in Cinnamon Banana Rolls
Active Dry Yeast: For this recipe I chose active dry, it is imperative that the yeast is fresh (check the expiration date) and is first proofed in the milk or else it WILL NOT activate and your dough will not rise. If you choose to use another yeast, please refer to the conversions below as different yeasts (Fresh, Active Dry or Instant) have different strengths.
Active Dry > Instant Yeast: 1 ¼ tsp | Active Dry > Fresh Yeast: 1 tsp
Bread Flour: What makes this dough so fluffy is the bread flour; it has a high protein content of 11-13 percent. While making this dough with all-purpose flour is possible the results will be more dense/tough. If you don't have bread flour (I totally understand; there is a shortage these days), whole wheat flour is also okay!
Overripe Banana: Just like it's role in banana bread, an overripe banana has more flavour and is easier to incorporate into the butter. So make sure those bananas are brown and mushy.
How to Develop Gluten in Dough
Dough goes through four stages of development, each crucial to the structure of its final stage. Under developed dough is equally unappealing as over developed dough. Keep trying and use the following stages as a guide.
*Note: This guide can be referenced when hand kneading, but it will take longer.
Stage 1 - Pickup Period: At this early stage, the ingredients are combined at a low speed. The dough is a wet shaggy, sticky mess, barely holding together.
Stage 2 - Preliminary Development: The dough should be mixed at medium speed and will appear slightly rough but beginning to hold together.
Stage 3 - Initial Development: This is when the dough begins to gain elasticity and gluten begins forming. The dough should begin to pull away from the side of the bowl. Be careful not to mix on high speed as this will break the gluten bonds rather than form.
Stage 4 - Final Development: At this stage, the dough should be fully formed. It should be smooth, elastic and the side of the bowl should be completely clean. At this point, begin testing the dough using the "Window Technique". Once it's at the final stage, stop mixing or the gluten strands will over develop and break resulting in a sticky dough that is dense with no elasticity and will not rise when baked.
Window Technique: Take a small piece of dough, and stretch it from underneath. If the dough can be stretched thin enough to let light through then it has been sufficiently developed. If the dough tears when being stretched it has not been developed enough, keep mixing.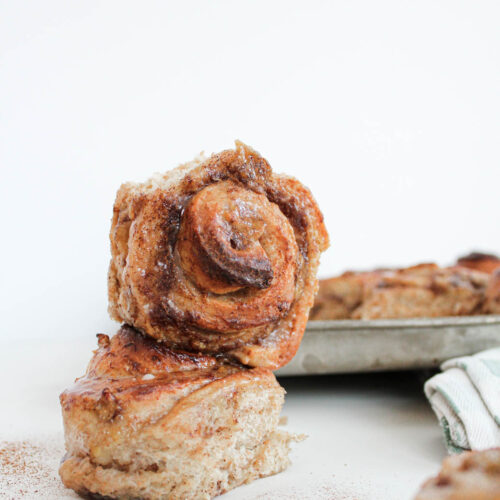 The Fluffiest Cinnamon Banana Rolls
These cinnamon banana rolls have a fluffy brioche base and a moist cinnamon banana butter filling topped with a light zesty lemon glaze. Once you've tried this recipe you'll be a cinnamon banana roll convert too!
Ingredients
for the dough
2

tsp

active dry yeast*

¼

cup

milk

room temperature

¼

cup

granulated sugar

2

eggs

room temperature

⅓

cup

unsalted butter

room temperature, cut into 1 inch cubes

2

cups

bread flour
for the filling
4

tbsp

unsalted butter

softened

¼

cup

light brown sugar

1

medium

overrripe banana

mashed

1

tbsp

cinnamon
for the glaze
1 ½

cups

powdered sugar

1

tbsp

milk

½

tsp

lemon juice

1

tsp

vanillla extract
Instructions
for the dough
Proof the Yeast: In a small bowl, pour the warm milk (heated to no higher than 105°F) and sprinkle the yeast on top. Let it sit for 5-10 minutes and, if active, the yeast should foam.

In a stand mixer, fitted with a dough hook, add the sugar, eggs, salt, activated milk/yeast mixture and flour. Mix on low until it becomes a shaggy mess (the dough will be sticky and wet) Add the butter in small cubes then turn up to medium and continue mixing until the dough pulls away from the sides of the bowl (about 10 minutes).

Once the dough has reached peak gluten development,(try Window Technique) stop mixing and let the dough rest for 1 hour in an oiled bowl covered with cling wrap or a warm towel.
for the filling
In a small bowl, cream the butter using a spatuala to press until soften. Add the mashed banana and continue to mix until combined.

1. In another bowl, whisk together the brown sugar
assemble and bake
Preheat the oven to 375°F and line a 9" x 12" pan with parchment paper.

Once the dough is proofed, punch it down to release excess air. On a lightly flour surface, roll the dough into a rectangle 16"(width) x 19"(length). Trim the edges until the rectangle is 15"(width) x 18"(length).

Using a brush or spatula, brush the creamed butter/banana mixture over the dough in an even layer. Sprinkle the brown/cinnamon sugar.

Using a ruler, on the long sides of the rectangle mark every 1.5 inch. Using a pastry cutter or knife, cut from one marker on one side of the rectangle to the other.

Roll each strip tightly, patting the tail into the roll to adhere. While rolling, some of the filling may spill out, but that's okay! There should be 12 rolls in total.

Place the rolls in the prepared pan up to an inch apart. Cover with cling wrap and let them rise for another 30 minutes.

Once risen, bake for 20 - 30 minutes or until slightly golden.
for the glaze
While the rolls are baking, make the glaze by whisking together powdered sugar, milk, lemon juice, vanilla extract. Heat in the microwave for 10 seconds to melt.

Once the rolls are done baking, let them cool for 10 minutes, then pour the glaze liberally over. Delicious, enjoy!
Notes
If substituting active yeast use the following conversion: Active Dry > Instant Yeast: 1 ¼ tsp | Active Dry > Fresh Yeast: 1 tsp
Did you make this recipe?
Tag @WhiskfullySo on Instagram