Clementine Mocha Meringue Sandwich Cookies that melt in your mouth with crispy layers of almond meringue, fresh citrus & fluffy mocha cream.
Summer is still five months away...but Clementines are little gems that bring a burst of sunshine in each juicy bite. This recipe, is heavy on the sweet and crunchy, with clementines bringing a slight fresh acidity. If you've never made meringue cookies before, don't worry because this recipe is VERY easy, no fancy techniques required! But first...what are Clementines?
This recipe is adapted from William Curley's Caramel Chantilly recipe found in his book, "Patisserie: A Masterclass in Classic and Contemporary Patisserie".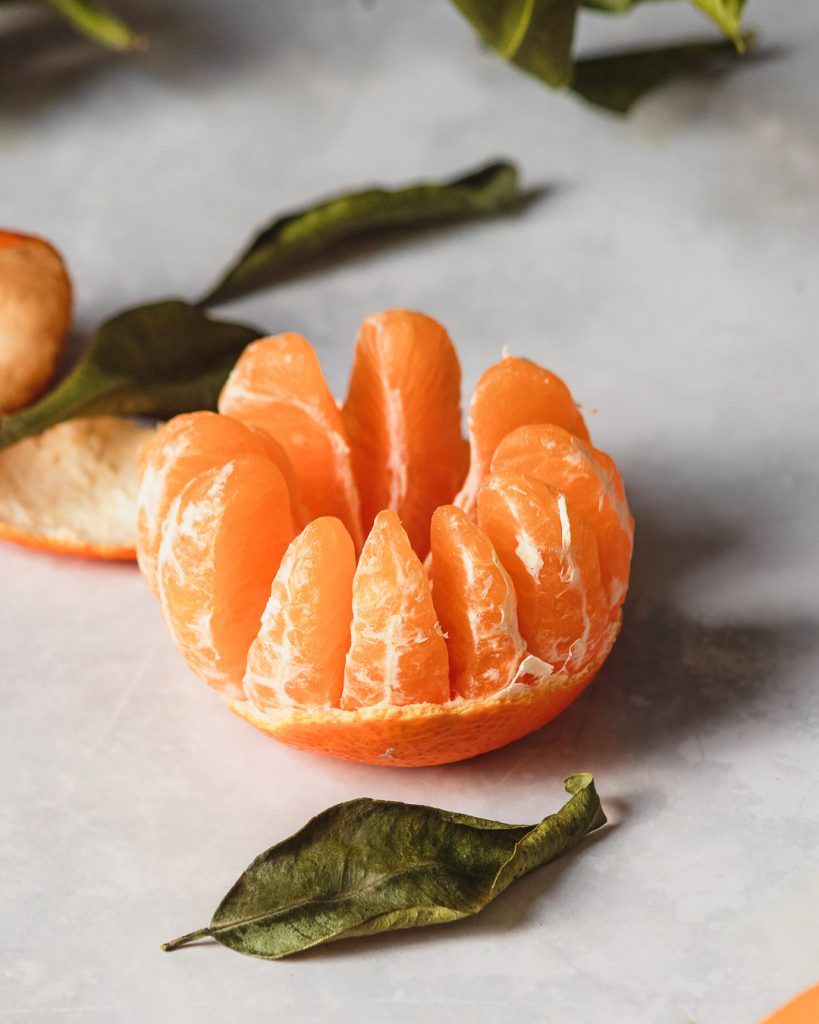 Mandarins vs Tangerines vs Clementines vs Satsumas
Picture this: you're at your grocery story browsing for Clementines and you come across Mandarins, Tangerines, Satsumas and you're thinking, "what's the difference? Does it matter I don't get Clementines?"
MANDARINS: This is the big mama in which Clementines, Tangerines and Satsumas fall under. Generally, Mandarins are small, flat in shape and have a thin loose skin making them easy to peel.
TANGERINES: These are a type of Mandarin that are less sweet, slightly sour and with tougher skin.
CLEMENTINES: The smallest of Mandarin varieties, clementines are super sweet, seedless and with smooth shiny skins. They're also known as "Cuties" or "Sweeties".
SATSUMAS: Originating from Japan, Satsumas are delicate sweet and juicy. Due to their tender peel they are easily damaged; thus, also more difficult to find fresh in stores. 
If you're not able to find clementines no worries, any of the above will be perfectly fine. However, let's all agree that they are NOT the same. 
What are Clementine Mocha Meringue Sandwich Cookies?
Chances are you're seen meringue cookies: glossy piped cookies that are crunchy and shatter in the mouth. These are just that but with the extra layer of meringue cookie and mocha clementine Chantilly cream to make these an extra special treat you and your guests will love! 
YIELD: This recipe makes 14 mini Clementine Mocha Meringue Sandwiches.
TEXTURE: Properly baked meringue cookies have a shiny crunchy shell. Unlike Pavlovas (semi-baked meringues), the inside of a meringue cookie should be fully dried and crispy. Before baking, these Clementine Mocha Meringue Sandwich Cookies are decorated with almond slices and a dusting of powdered sugar. 
FLAVOR: Clementines are naturally very sweet on their own, so I did not add sugar to the mocha cream. Instead, I used dutch-process cocoa powder to balance out the sweetness. Meringue cookies are made with eggs whites and sugar. Adding almond flour/meal gave these a nuttier taste so it doesn't feel like you're eating pure sugar. 
SPECIAL EQUIPMENT: Round ½ inch piping tip & 1 open star tip. If you have neither, you can DIY a piping bag using a plastic ziplock bag and cutting off the tip.
LEVEL OF DIFFICULTY: Between Easy and Intermediate. This recipe is perfect for those who've made meringue before, but are looking to level up. This recipes uses French meringue, the easiest of the three types.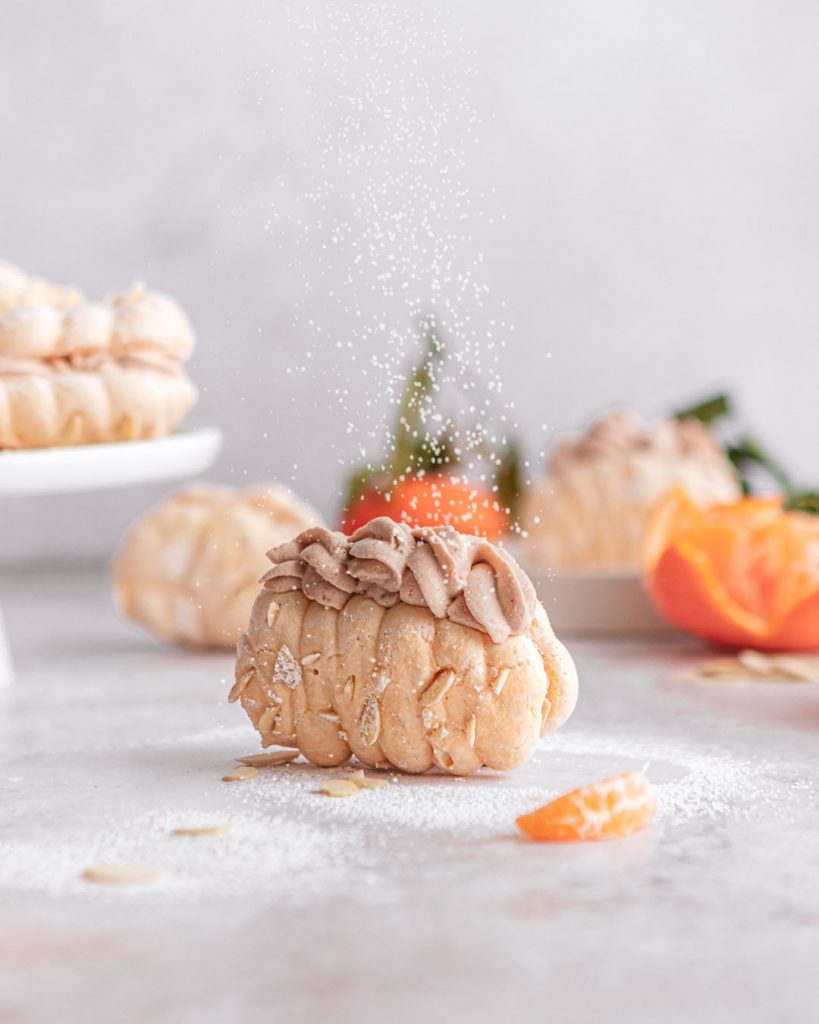 Ingredients for Clementine Mocha Meringue Sandwich Cookies
egg whites - The foundation of a successful meringue is room temperature egg whites. Not only are they easier to separate when warm, they also whip up easier. 
granulated sugar - Sugar helps stabilize the egg proteins and also sweetens the meringue. Don't forget to read the "how-to" below to make sure you incorporate the sugar correctly! 
ground almonds - To flavor the meringue cookies.
powdered sugar - Protects the surface of the meringue cookies while they bake and prevents weeping and moisture leakage. 
flaked almonds - to decorate the meringue cookies.
Heavy Cream - make sure you buy at least 33% heavy whipping cream to ensure it whips up. 
Dutch-processed cocoa powder - dutch-processed makes this alkaline (aka. non-acidic) and yields more realistic colour (no red tinge)  and dissolves better in liquids.
Clementine Zest - Can't forget the star of the show! once zested, peel into individual wedges for assembling.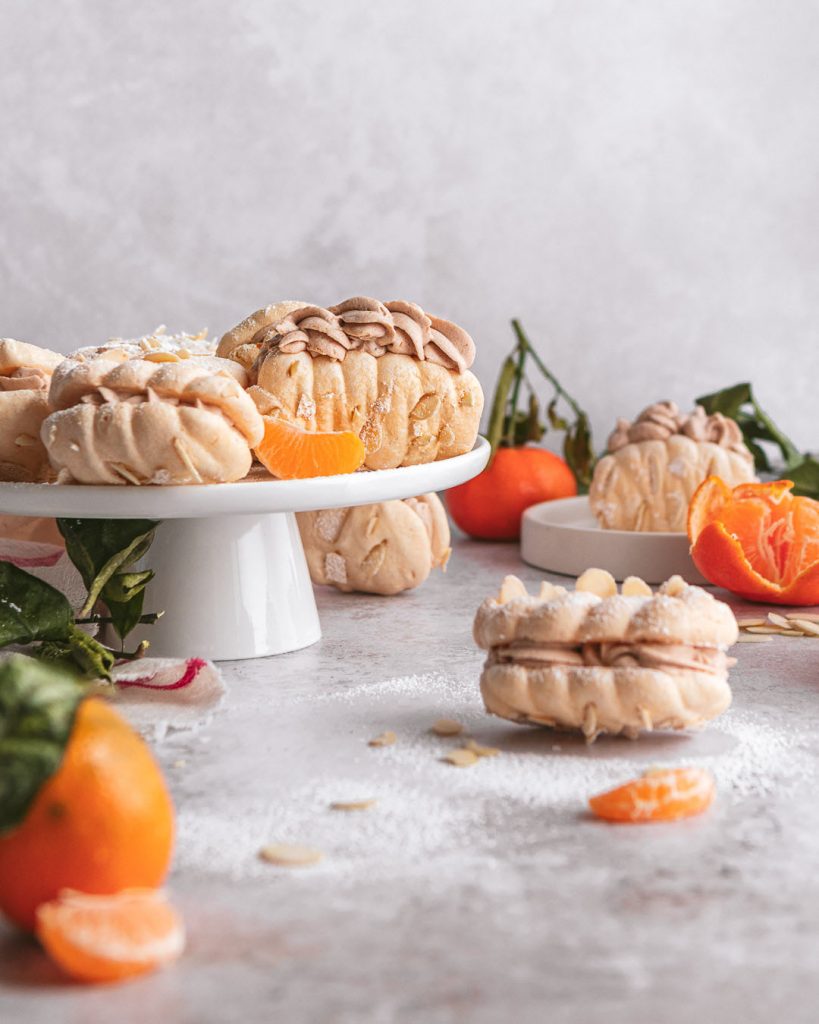 How to Make Clementine Mocha Meringue Sandwich Cookies?
While anything meringue can be stressful to make since they're known to be finicky, these Clementine Mocha Meringue Sandwich Cookies could not be easier to make and require only 5 steps. 
1.Make the French Meringue: French meringue only requires 3 steps: a) whisk the egg whites until foamy; b) add the sugar; c) whisk until stiff.
Here are notes for each of the 3 steps above:
a. whisk the egg whites until foamy: Letting your stand-mixer or hand mixer do the work. Whisk the egg whites on medium speed until they are foamy. Foamy means that the egg proteins are starting to break up. 
b. Add half the sugar: It's important not to overwhelm the eggs by adding in all the sugar at once. Add half the sugar first in 1 tbsp increments while the mixer is on to ensure that the sugar dissolves. Once the meringue reaches the "soft-peak stage" - meaning peaks are just starting to hold, but they're soft and melt back into themselves after a second. Add in the the rest of the sugar in the same manner as before. 
c. Whip to stiff peaks: Once all the sugar has been added, increase the speed to high and whisk the meringue until stiff peaks form. The mixture should be glossy, and when you scoop the meringue the structure will hold. Rub some of the mixture between your fingers to check for any undissolved sugar granules.
How to Pipe, make cream & assemble meringue cookies
2. Pipe - Pipe the cookies onto a large baking tray lined with a silicone baking mat. Parchment paper also works, but I found a silicone mat yield the most crisp bottoms and no moisture. The cookies are "egg-shaped" and best piped with a round tip. Pipe in a zig-zag motion. 
3.Bake - The key to perfectly crisp meringue cookies is to bake them at a low temperature for a long period of time. Once baked, turn off the oven and let them cool inside before removing.
4. Whip the mocha clementine Chantilly cream - Chantilly cream is very similar to regular whipped cream except for the addition of extracts and sometimes sweetener.  Dutch-processed cocoa and zest are added to flavor the cream. I also add gelatine to help stiffen the cream and prevent it from making the meringue cookies soggy (optional if you are serving immediately).
5. Assemble - Properly baked meringue cookies should easily peel off from the baking mat. Match up the cookies into pairs and using the star tip, pipe the cream onto one side before sandwiching with the other. 
Tips for making fool-proof Meringue cookies
Prep Ahead: When it comes to making meringues, preparing all the ingredients before hand is crucial to success.
Only egg whites: Make sure there are no streaks of yolk or grease! The tiniest bit of egg yolk can cause a meringue to fail. The best way to separate egg whites is to crack all the eggs into a bowl, and scoop out the whites with your hand. This way the yolks won't break. 
Don't open the oven: While it may be tempting, don't open the oven while the cookies are baking. This may cause them to deflate. Allow them to fully cool-down in the oven after baking. 
The perfect Clementine Mocha Meringue Sandwich Cookies that are sure to please any crowd! Feel free to experiment and explore other fillings! Once made, these are best enjoyed immediately or last an additional 2 days when stored in the fridge in an air-tight container.
Happy Baking!
Sharon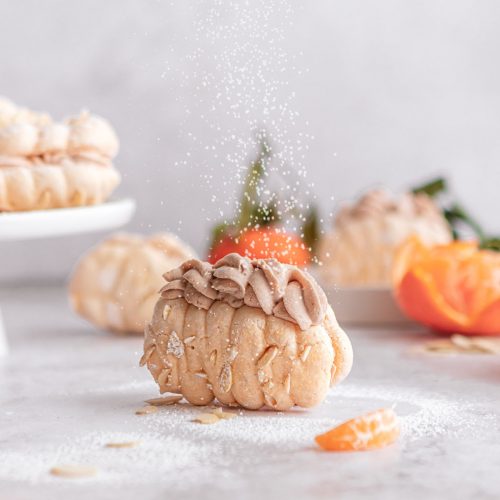 Clementine Mocha Meringue Sandwich Cookies
Clementine Mocha Meringue Sandwich Cookies that melt in your mouth with crispy layers of almond meringue, fresh citrus & fluffy mocha cream.
Ingredients
for the french meringue
4

(122g)

egg whites

room temperature

⅓

cup (85g)

granulated sugar

⅓

cup (40g)

almond flour

1

cup +⅓ extra for dusting (145g)

powdered sugar

set aside ⅓ cup

¾

cup (40g)

flaked almonds

lightly toasted
for the clementine mocha chantilly cream
¼

tsp (3g)

gelatine powder (optional)

¾

cup (177ml)

cup - heavy cream

1

tbsp (8g)

duch-processed cocoa powder

1

tsp (5ml)

vanilla extract

zest of 3 clementines

3

clementines

peeled and cut into small pea sized cubes
special equipment
½

inch

round piping tip

½

inch

open star piping tip
Instructions
for the french meringue
Preheat the oven to 250°F. And line 2 baking pans with a silicone baking mat of the same size or parchment paper.

Place egg whites into the bowl of a stand mixer fitted with the whisk attachment. Or use a hand-held beater. Whisk on medium speed, until egg whites begin to foam.

Add half the super in 1 tbsp increments while the machine continues to whisk until soft peaks form. Add in the remaining sugar in 1 tbsp increments, then increase the mixing speed to high, and whisk until stiff peaks form. Approx. 3-4 minutes.

Using a spatula, fold in ground almonds and powdered sugar until just combined. DO NOT over fold or the batter will deflate.

Spoon the meringue mixture into a large piping bag with a ½ inch round nozzle and pipe 14 (2 x 1 ¼ inch) ovals on each pan (28 cookies total) leaving a ½ inch space in-between each cookie.

Decorate each cookie with flaked almonds then dust liberally with icing sugar.

Leave to sit for 2-3 minutes, then dust with powder sugar again and bake for 40 mins until crisp. Turn off the oven and let the cookies cool for at least 20 minutes inside with the oven door propped oven.
for the clementine mocha chantilly cream
(OPTIONAL) - if using gelatine, bloom by sprinkling the gelatine into a bowl of 3 tbsp of cold water. Let it rest for 2 minutes before heating in the microwave for 30 seconds until dissolved. Let it cool to room temperature.

In a clean medium sized bowl, add the whipped cream, cocoa powder and vanilla extract. Whisk on high speed until soft peaks form before adding gelatine if using. Continue to beat until stiff peaks form. Approx. 5 minutes. Fold in the clementine zest until evenly distributed. Chill covered in the fridge until ready to use.
to assemble
Gently peel the baked meringue cookies from the pans (when fully cooked, they should not tear) and match them up into pairs.

Spoon the chantilly cream into a large piping bag fitted with a ½ open star tip.

Pipe a swirl of cream onto half of the meringue cookie. Top with sliced clementines then sandwich with another meringue cookie and pipe a swirl of cream along the top of each sandwiched pair to finish. Serve immediately.
Notes
STORING NOTES:
Prior to assembling, the meringue cookies remain crisp and fresh for 1 week when stored in an air-tight container.
Once assembled, they should be enjoyed immediately. If gelatine was used in the cream, the assembled sandwiches remain fresh for 2 days when chilled in the fridge inside and air-tight container. 
Did you make this recipe?
Tag @WhiskfullySo on Instagram
if you like this recipe, you may also enjoy...