Flash v continuous light: Which is better for your food photography? Between flash and continuous lights there are so many artificial light options for food photographers. But which is the best? Let's find out!
I'll be comparing these two artificial lights in the follow four (4) categories, to help you decide which is better for your style of photography. 
1. Level of Difficulty
2. Price Point 
3. Light Power
4. Freezing motion. 
If you're new to photography and are still debating between natural or artificial light, here's a blog post to help you decide!
AND if you need gear recommendations, I have a whole post sharing exactly what I use on a daily basis, check it out here.  Lastly, I'll be wrapping thing up with a summary, and sharing which is my favourite to use! 
NOTE: All of the opinions below are entirely my own, and while I may find some thing easier than others, that's not true for everyone. This post is also specifically written for food photographers.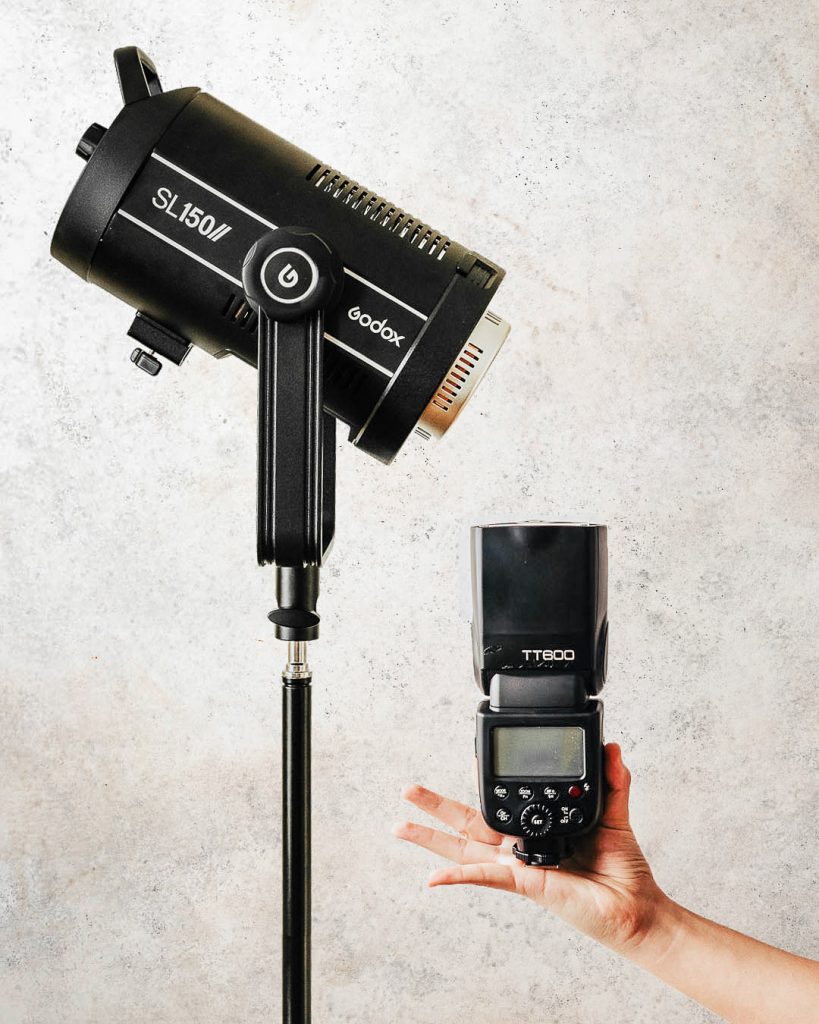 but first...what is the difference between flash and continuous light? 
FLASH light
FLASH lights (also known as speedlites) are available in different forms, but essentially, flash lights are triggered by pressing a button on the unit or by triggering your camera shutter.
You may recognize flash units being used on school picture day. When a photographer presses the camera shutter button, a small flash unit on top of their camera fires a flash.  In food photography, flash lights are not attached on the camera, but are attached to light stands to the side of the scene. REMEMBER: Food doesn't look good when lit from the front. Generally, flash units are small and extremely portable making them a good choice for off-site photography and outdoor portraits. 
Continuous Light
If "flash" is light fired at bursts, then Continuous light (like the name) is a light that is ALWAYS on. People often forget that the sun is a source of continuous light, it may not be the most consistent, but it's always on.
One of the immediate perks of continuous light is that you can instantly see how the light is affecting your scene. While there's no way to tell with a flash until you take an image. On the downside, they can be very big and bulky, because they need a large power unit to function. 
CATEGORY #1: level of difficulty 
Ranking system: 1 out of 5 (1 being easiest; and 5 being most difficult)
flash - ⅘
As someone who knew nothing about artificial lighting when I made the switch from natural, flash lighting was the hardest concept to grasp and learn. It was easy learning how to configure the gear, but a steep learning curve to make the flash look good. I'm a visual learner, so not being able to see how the light would turn out was difficult. 
Continuous light - ⅗ 
Continuous light is MUCH easier to learn, because it's just like using natural light but better due to its consistency. I will say though, that it still has its own nuances, and with any new gear, it will take time to discover its possibilities. However, it's definitely less stressful than flash. 
CATEGORY #2: Price Point 
Ranking system: 1 out of 5 (1 being most affordable; and 5 being most expensive)
flash - ⅖
For being the most difficult of the two to learn, it's the most affordable. You can easily purchase a beginners kit for under $250, and be able to take beautiful photos. That being said, there are more expensive units, but for the most part, the entry level products are affordable.
For flash artificial light, you'll need to purchase:
a speedlite ($70+)
small unit to trigger the light ($60+)
a light stand to hold the strobe ($30-50)
a large modifier (this is essential or else you'll just harsh light ($70-100)
bounce boards to reflect light ($10) 
TOTAL: $240
Continuous light - ⅘ 
I won't lie, they aren't cheap, and once you get into them - it's a rabbit hole 😁 Unlike flash, what you pay for is what you get with continuous, so you'll want to research and invest well. Some strobes have extra features like a fan silence (essential for video), and an external plug so you don't have to rely on battery power.  There are some more affordable options, but because you need a lot of output for food photography, those are better suited for portrait photography or vlogging.
With continuous artificial light, you'll need to purchase:
a strobe (Minimum $250-$1K or more!!)
a light stand to hold the strobe ($30-50)
a large modifier (this is essential or else you'll just harsh light ($70-100)
bounce boards to reflect light ($10) 
TOTAL: $360
CATEGORY #3: Light Power
Ranking system: 1 out of 5 (1 being least powerful; and 5 being most powerful)
Flash - 5/5 
Flash is EXTREMELY powerful. I don't recommend doing this, but if someone's ever shined a flashlight in your face, that's what a flash unit is like but x 100! 
Ambient light is any light that is not intentionally added into the scene by the photographer. Examples include: over-head room lights, sunlight, fireflies, bouncing lamp light, etc. Here is where the power of flash artificial light really shines, because it's so powerful is can knock-out ambient light.  If you're a photographer who can only work at night, you'll be able to use flash while having other lights on in your workspace, and not worry about them affecting your image. 
Continuous Light - ⅗
Don't get me wrong, continuous light is still VERY powerful, but unlike flash it won't be able to completely block ambient light. You'll have more luck if your ambient light is sunlight, but if you have colored mood lighting, then you'll have a tough time.
The one thing that makes continuous light better is that it is softer, and easier to manipulate to look like natural light. This is great for food photography, because flash can make food photos look a little "too perfect". But if you're specializing in commercial food or product then you'll want flash. 
CATEGORY #4: Freezing motion
Ranking system: 1 out of 5 (1 being least effective; and 5 being most effective)
Flash - 5/5
If you love splash shots, or composing levitating food photos, then flash is a powerhouse for this. Remember, what I said above about flash knocking-out ambient lighting? Well, that same power is perfect for freezing motion. In fact, this is why many photographers say that when switching to flash their images like sharper. With flash you'll be able to capture every flying water droplet with clarity. You'll no longer have to abuse the noise slider in Lightroom. 
Additionally, with certain flash units you'll be able to shoot at high-speed sync. High-speed sync (HSS) Allows you to shoot at speeds faster than your camera's sync speed. When triggered, your flash will release a series of bursts. This is great for capturing movement when you'll want multiple shots to find the best one. 
Continuous Light - ⅗
Continuous light is able freeze motion much much better than natural light, but compared to the crystal clear outcome of flash, it'll still require boosting and editing in post-production. With continuous artificial light, you won't need high-speed sync since your light is constant, so just shoot on high-speed continuous drive mode. 
Closing notes & My preference
As you see, there's not clear winner of "which is better", but depending on your needs and photography style, one option will better than the other. 
For me, Continuous light is by far my favourite. Crafting light is so important in any photography style, and with continuous, I like seeing the changes in real time. Especially since I also create films, this was the best investment for me. Unlike flash, I can also adjust the temperature of my continuous light, so that's great. In regards to freezing motion, I haven't had any issues, and it's definitely still better than natural light. 
I hope this little comparison blog post, was helpful for you if you're stuck debating between the two. Let me know in the comments below which is your favourite! 
Till next time! Sharon XO
P.S. I'm always opening to hearing what you want me to cover next about photography, so comment below! 
if you liked this guide, you may also enjoy...