Lemon Poppy Seed Donuts! This yeast-raised doughnut has a buttery brioche base speckled with poppy seeds and is topped with a delicious honey lemon glaze. Whether you like donutsfor breakfast or as a treat: I guarantee you'll LOVE these anytime of day!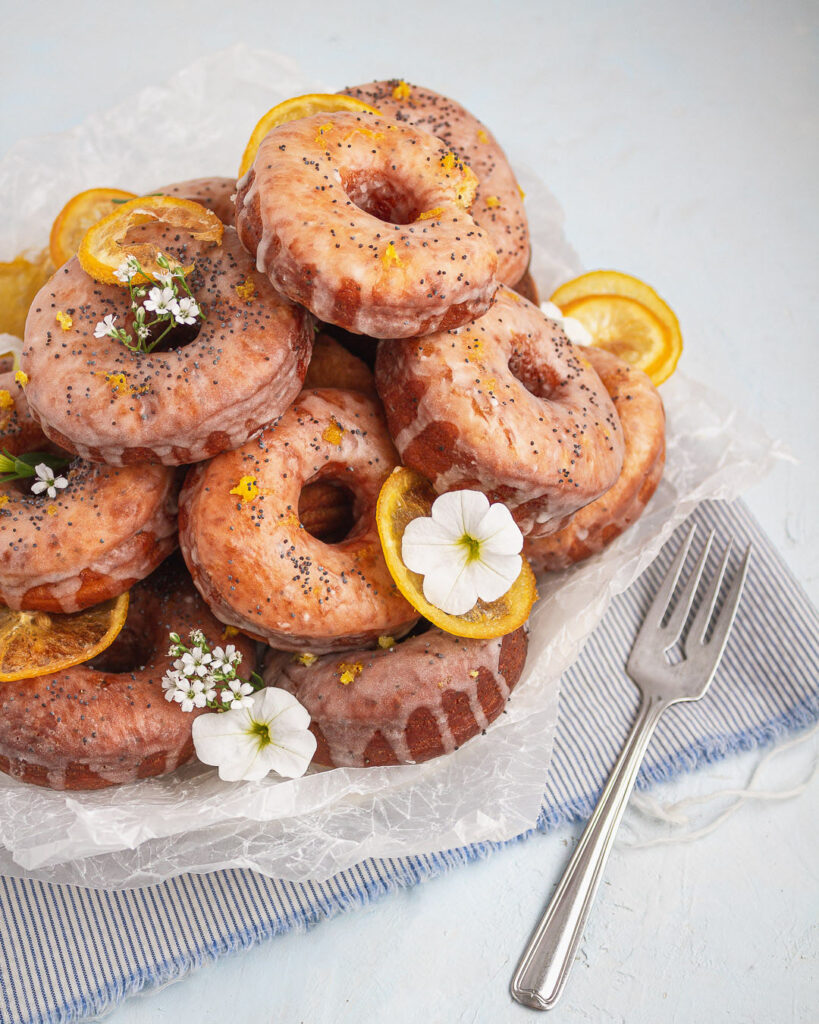 which is better Fried Donuts or Baked? 
I feel like fried donuts get a bad rep because they're fried, and while eating a ton of fast-food doughnut will make you feel sluggish, this home-made version is just a tasty, minus the extra flour coating and double frying. The main difference between baked and fried is the texture! Since this donut is yeast-raised and fried, the hot oil will yield a bite that's crunchy but light and fluffy on the inside. This donut flavour is a classic for a reason, so if you love a light fluffy donut, and not the cake-y kind, then this recipe is for you!
What Ingredients Do I Need for fluffy lemon poppy seed donuts? 
Whole & Evaporated Milk: Most donut recipes only use whole milk, but I find that by adding a little evaporated milk I get a richer taste. 
Unsalted Butter: A key component of our brioche dough base as butter makes this doughnut super soft.  
Instant Yeast: These rely on instant yeast to get their fluffy raise. Instant yeast DOES NOT need to activated, so if you use active yeast, be sure to activate it in the milk first. (*If using active yeast, add an additional ¼ tsp)
Granulated Sugar: You'll need just 2 tbsp of sugar to add some sweetness to the dough. 
Lemon Juice: For that delicious lemon flavour, use freshly squeezed lemon juice. 
Poppy Seeds: They are lemon poppy seed donuts after all!
Powdered Sugar: A key component for a crackly frosted glaze. 
Honey: This makes the glaze super smooth, and bonus, it's a chance to support your local honey brands. 
How to Make & Fry Perfect Donuts
These lemon poppy seed donuts are easy to whip up early morning or just in time for an afternoon snack, but here are some tips to ensure success.
Add the butter in small pieces when mixing the dough to ensure it all gets mixed in and that the dough will be smooth. 
Use a cooking thermometer to make sure the temperature of the oil is a consistent 375°F so all the donuts bake evenly at for the same amount of time. 
Line with parchment paper squares for the second rise, so it's easier to fry. Simply slide the donuts (with the paper) into the hot oil, and then remove. No hot oil burns here!
Fry in batches. While it's tempting to fry the donuts all at once. Don't crowd the pot, or your doughnuts won't fry evenly and you'll splash hot oil everywhere.
Flip every 30 seconds as these donuts cook really fast, so make sure you keep an eye on them. For an easy time frying, use two skewers or chopsticks to flip the donuts.
Cool the donuts before glazing to prevent the icing from melting. If you want perfectly glazed donut tops, have a fan facing the doughnuts so the glaze dries immediately aka no drips!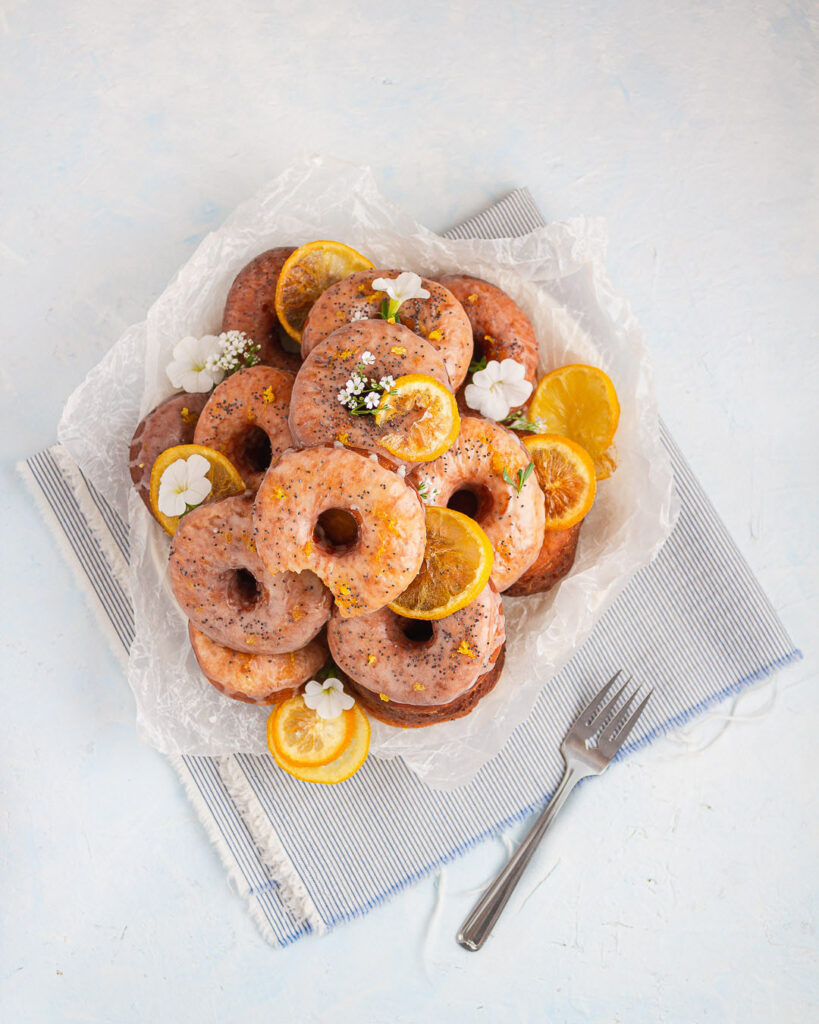 Can I make these fluffy lemon poppy seed donuts ahead of time? And How to Store them
These lemon poppyseed donuts are best enjoyed right away, but if you want to break up the work, the dough can be mixed the night before. After the first rise, shape the dough into a round disc, wrap in cling wrap, and refrigerate. The next morning, proceed with cutting out the donuts and frying. 
Once fried, these keep well at room temperature or in the fridge for two days in a an airtight container. If you plan on baking ahead, wait to frost them when ready to enjoy to prevent soggy donuts.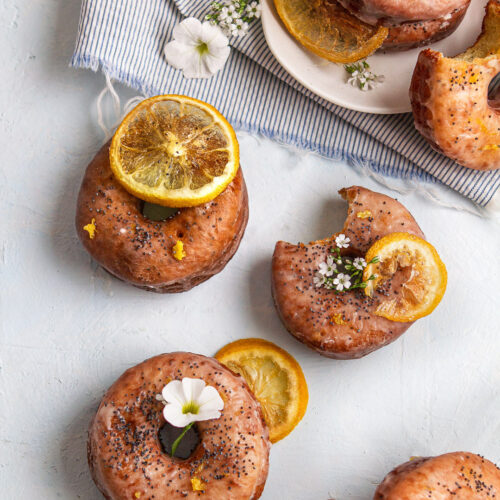 Fluffy Lemon Poppy Seed Donuts
This yeast-raised doughnut has a buttery brioche base speckled with poppy seeds and is topped with a delicious honey lemon glaze.
Ingredients
for the dough
¾

cup (177ml)

milk

room temperature

¼

cup (73ml)

evaporated milk

room temperature

2

tsp (7g)

instant yeast

2

whole small eggs

whisked

6

tbsp (85g)

unsalted butter

softened at room temperature

2

tbsp (25g)

granulated sugar

½

tsp (3g)

salt

3 ½

cups (500g)

all-purpose flour

1

tbsp (9g)

Poppy Seeds

juice from half a small lemon
for the honey lemon glaze
¾

cup (75g)

powdered sugar

sifted

2

tbsp (30ml)

evaporated milk

⅛

cup (30ml)

honey

Lemon zest and poppy seeds to garnish
Instructions
for the dough
In the bowl of a stand mixer fitted with a dough hook, add all the ingredients (except butter), and half of the flour. Mix on low speed until just combined and starting to hold together.

Increase the speed to medium, and add the softened butter in small pieces. Mix for 8-10 minutes until the butter is fully incorporated into the dough, then add the rest of the flour and mix until the dough starts to pull cleanly away from the sides of the bowl.

Dump out the dough on a flat surface and knead for one minute, pulling the dough into a round ball until smooth. Place into a lightly oiled bowl, cover and let rise for 30 minutes to one hour or until doubled in size.

*If making this dough the night before, refrigerate now.
for shaping and second rise
Once doubled in size, roll out on a lightly floured surface to ½ inch thick. Using a 3 inch round cutter, cut out 14 circles, then use a smaller 1 inch cutter to cut out the center hole. Place the cut-out doughnuts onto cut-out squares of parchment paper and on a baking tray. Cover and let double in size for another 45 minutes or until the dough slightly springs back when touched.
for frying
Fill a deep 4 quart pot halfway full with neutral oil and preheat until the oil is 375°F. Without crowding the pot, gently slide the doughnuts with the parchment paper into the hot oil, and fry each side for 30 seconds on until golden brown. Drain and cool on a wire rack for 5-10 minutes before glazing.
for the glaze
Whisk together powdered sugar, evaporated milk and honey until thick and ribbony. Dip the tops of each doughnut into the glaze by twisting clockwise. Rest the doughnuts again on a wire rack so the excess glaze drip off. Garnish with lemon zest and poppy seeds.
Notes
If using active yeast, add an additional ¼ tsp and activate in the room temperature milk for 5 -10 minutes or until frothy. 
Tag @WhiskfullySo on Instagram