These Healthy Peppermint Twix Bars bring the holiday cheer! Made with an almond flour shortbread; filled with an ooey gooey date caramel center; sprinkled with peanuts; covered in a glossy layer of milk chocolate and crushed candy cane shards. 
Are these Homemade Twix bars really healthier?
We've all had that moment where we indulged in one...or two candy bars...and either felt guilty about it or just sugar high. This homemade version has all the deliciousness and NONE of the guilt or yucky feeling.
In Twix, the biscuit is key, so I made mine with almond flour and vegan butter. Most recipes use coconut oil to bind the flour, but I wanted the biscuit to be as flaky as possible. Next the caramel - in a classic Twix, the caramel is made of pure sugar. Not only is it hard to get right (boil it too long and it will be hard, not long enough and it will be gritty), but it takes a while and I wanted a recipe you can get right EVERY DANG TIME. Caramel made with dates is an equally yummy substitute and much easier to make is ! I know...you're doubtful, but TRUST ME. Super creamy, naturally sweet, and no added sugar, you'll get that classic string-pull effect when you cut open the Twix.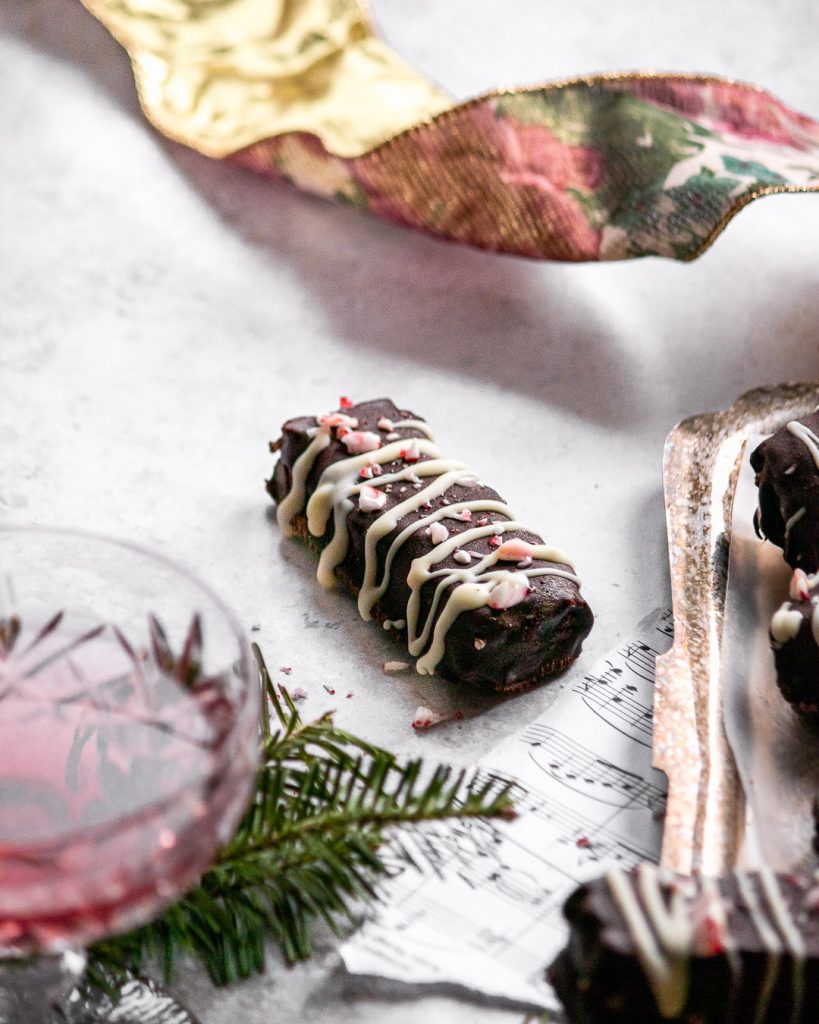 Healthy Peppermint Twix Bars ingredients
This healthy peppermint twix bar recipe is all about mindfully indulging. For ingredients with common intolerances I've suggested alternatives. 
for the shortbread crust
Blanched Almond Flour: Blanched means the skins were removed and not included. Make sure the flour is finely ground. If not, pulse it a few times in a food processor.
*If you're in a treating mood, use all-purpose flour for a classic shortbread. If you're sensitive to nuts, try an oat flour. 
Vegan Butter: For an extra flakey crust. Make sure your butter is cold. 
*If you want to eliminate butter completely used coconut oil. 
Granulated sugar: For a little bit of sweetness in the crust.
Confectioners Sugar: Adding confectioners sugar makes the crust extra tender and flaky. It does this by preventing the full binding of gluten.
*All the sugars can be removed completely with no affect to the texture. 
for the date caramel & topping
Medjool Dates: Make sure your dates are this variety as they taste most closely to caramel. 
Peanut Butter: To help bind the caramel together.
*If you are nut intolerant, this can be subbed with soy butter or any other nut-free option as long as it is creamy, thick and tacky. 
Maple Syrup: I like to use real 100% syrup, as it tastes better and is healthier than corn syrup versions. 
Peanuts: I like a little extra crunch in my bars, but these are extra. 
Semi-Sweet/Dark Chocolate: These bars are only as good as the chocolate you use, so splurge and get the best kind! I recommend getting something higher in cocoa fat as it gets more glossy and is easier to melt for the glaze. 
White Chocolate (optional): I think it adds an extra festive vibe, but totally optional! 
Candy Canes: For the peppermint flavor and holiday spirit! 
How to make caramel with dates
1. Soak the dates: The flesh becomes softer and easier to puree.
2. Blend Dates: I wasn't joking when I said this is easy. The key is to blend the dates with peanut butter, maple syrup and some sea salt until there are no pieces left, and you're left with a creamy, and tacky mixture - just like caramel!
3. Spread and Freeze: Unlike traditional caramel, you don't need to wait for the mixture to cool. Simply spread it on top of the baked shortbread, add some peanuts (if you want) and freeze until completely hardened.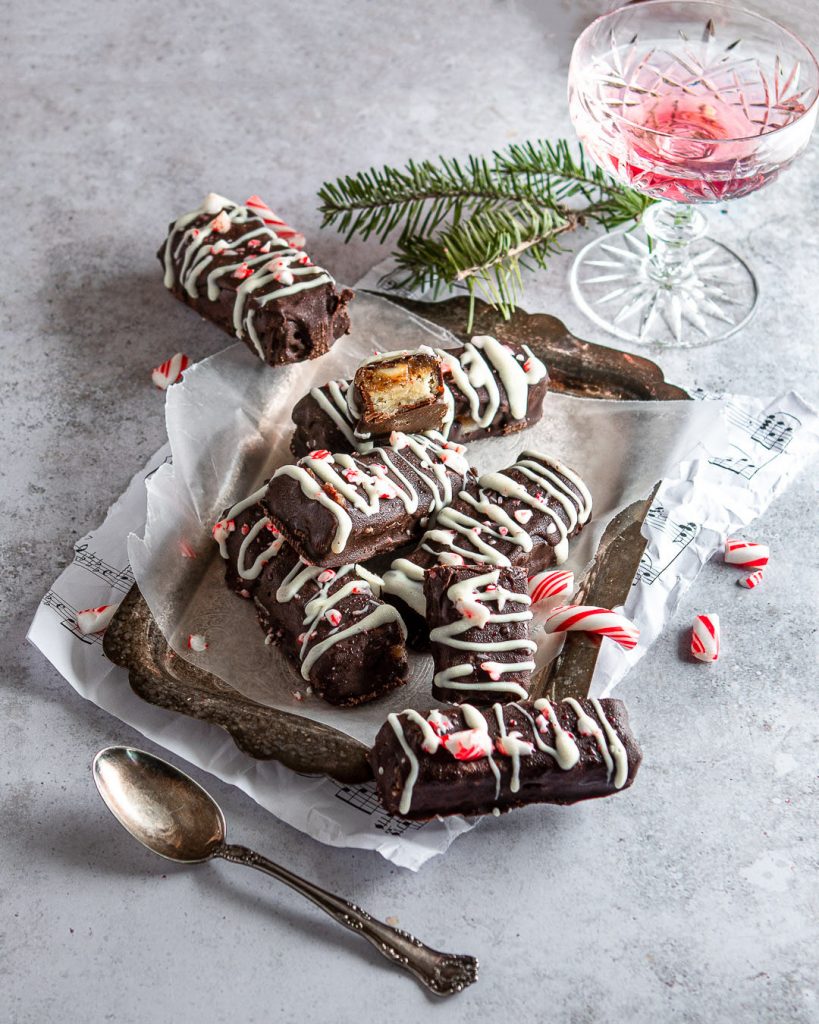 How to freeze healthy Peppermint Twix bars
These healthy peppermint twix bars should be stored in the freezer until completely assembled. Once made, they will stay fresh in the fridge for 1 week and in the freezer for 1 month. They should always be  kept in a sealed container.
When you're ready to enjoy, let it defrost for 5 minutes at room temperature so you don't chip a tooth!
I hope this treats inspires you to bake more and eat happy. While this is still a treat, I hope the healthier ingredients ease the stress of holiday eating. 
Happy Baking! Sharon XO 
Healthy Peppermint Twix Bars (Vegan & Gluten-Free)
Festive and healthy peppermint twix bars made with an almond flour shortbread, and a super easy date-based caramel for less refined sugar!
Ingredients
for the shortbread base
¾

cup (72g)

fine blanched almond flour

3

tbsp (25g)

vegan butter

cold

2

tbsp (25g)

granulated sugar

2

tbsp (50g)

confectioners sugar

1

tsp (5ml)

vanilla extract

¼

tsp

kosher salt

3-4

tbsp (44-59ml)

water

cold
for the date caramel
1

cup

Medjool Dates

pitted

2

tbsp (32g)

creamy peanut butter

4

tbsp (59ml)

maple syrup

¼

tsp

fine sea salt

⅓

cup (53g)

peanut halves (optional)
for the glaze & decoration
6

oz

semi-sweet chocolate blocks

chopped into fine pieces

2

oz

white chocolate block or chips (optional)

chopped into fine pieces

1

regular size

candy cane

2

tbsp (29ml)

coconut oil
Instructions
for the shortbread
Preheat the over to 375°F then grease and line a 6x6 inch baking pan with parchment paper.

In a bowl or a food processor mix together the flour, vegan butter, granulated sugar, confectioners sugar and sea salt. Stream in vanilla extract and water. Pulse or mix by hand until the dough comes together when pressed, is slightly moist, and there are very few particles of dry almond flour.

Tip the dough into the prepared pan, and use your fingers or a flat cup to press the dough in an even ¼ inch layer throughout the pan.

Bake the crust until light golden brown and set, about 15 minutes. Set aside and let cool slightly while you make the date caramel. Do not remove from the pan.
for the date caramel
Soak the pitted dates for 10 minutes in a small bowl filled with hot water. After soaking the dates should feel squishy and moist.

Drain the water, and put the dates into your blender. Blend on high speed until the dates are finely pureed and is starting to become gooey. Add in the peanut butter, maple syrup and sea salt. Continue to blend until the mixture is thick, creamy, and no chunks of date remain.

Spread the date caramel in an even layer over the slightly cooled shortbread, and sprinkle in the halved peanuts (if adding).

Place the entire baking pan into the freezer and let chill for a minimum of 2 hours ideally over night or until the caramel has hardened and does not squish when touched.
to assemble
Melt the chocolate in a double boiler by placing the finely chopped semi-sweet chocolate, and 1 tbsp of coconut oil in a bowl over a simmering pot of water. The bowl should not be touching the water or floating. Stir the chocolate with a spatula until full melted, glossy and falls off in ribbons. Remove the bowl from over the simmering water. Don't increase the heat or you will burn the chocolate and it will not glaze well. Alternatively, melt the chocolate at 10 second increments in the microwave, but watch it carefully and don't microwave too long or it will burn and seize up.

Remove the hardened caramel and biscuit sheet by lifting the parchment paper lining. Place onto a cutting board and, using a sharp knife that has been run under boiling water and wiped, cut into 6 one inch bars. Then cut each long bar into 2 three inch bars for a total of 12 ( 1" x 3" ) bars.

Dip the base of each bar into the melted chocolate, then place onto two wooden skewers. Spoon enough melted chocolate over the bar so it drips over all four sides. Use an off-set spatula to lightly smooth the top of the bar and wipe off excess chocolate. Transfer to a baking tray lined with parchment paper, sprinkle with crushed candy canes and repeat until all bars are covered. Freeze once more for 15 minutes or until hardened.

Optional: Repeat the melting steps for white chocolate adding the remaining 1tbsp of coconut oil. Once the first chocolate layer is frozen, use a narrow spoon to drizzle the white chocolate. Freeze again before serving.
Notes
SUBSTITUTIONS:
Almond flour can be subbed with oat or all purpose
All sugar can be omitted 
Vegan butter can be subbed for regular
Peanut nuts can be omitted 
Peanut butter can be subbed with any nut-free options as long as it is thick, tacky and creamy. 
Did you make this recipe?
Tag @WhiskfullySo on Instagram
if you like this recipe, you may also enjoy...