These healthy Strawberry Banana Granola Bars are healthy, no-bake and super simple to make. Only 8 ingredients, with optional chocolate chips (just because 🙂 ), and made dairy-free, egg-less and low in refined sugar! Perfect for breakfast, or when you're on-the-go and need a yummy snack!
Remember those nutri-granola bars you had as a kid? SO GOOD, but so many extra additives and very sugary. These Strawberry Banana Granola bars, have all the goodness of a store bought bar: chewy, toasted flavor, and sweet, but without all the added sugar, eggs and dairy. 
YIELD: This recipe makes 12 homemade chewy granola bars! 
METHOD: The easiest and fastest granola recipe! These are no-bake, and the only oven work is for toasting the oats and nuts (also optional). Step-by-step details below! 
TEXTURE: Chewy, with gooey puddles of chocolate, a slight from the toasted almonds, these bars are PERFECT! 
FLAVOR: Strawberry banana with chocolate..need I say more?
LEVEL OF DIFFICULTY: EASY - This recipe is super SUPER easy! No fancy equipment and skills required. 
Ingredients you'll need to make Strawberry Banana Granola Bars
These granola bars are so versatile! Even though these are Strawberry & banana flavored, you can sub in any mix-ins! Here's what you'll need to make these! 
Old fashion rolled oats - Large flaked oats are best so you really get a soft chewy texture. I would not recommend steel cut, as they are gritty and difficult to bite. 
Whole almonds -  Make sure to chopped these into either fine slivers or quarters. Can be omitted for a nut-free version. 
Honey - The main sweetener in this recipe, and what helps "glue" all the ingredients  together! 
Plant Based Butter - These bars are so delicious because of the browned butter! This can also be subbed for regular dairy butter. 
Light Brown Sugar - For a richer molasses taste, use dark brown or even organic unrefined. 
Vanilla Extract - For an extra dash of flavor. 
Ripe Bananas - Just like making banana bread, use ripened bananas with some spots for a stronger flavor.
Freeze-dried Strawberries - I wouldn't use fresh or frozen strawberries, as that will make these bars wet, and mushy. 
Chocolate Chips (optional) - Totally optional, but a great add-in for those looking for a little more sweetness.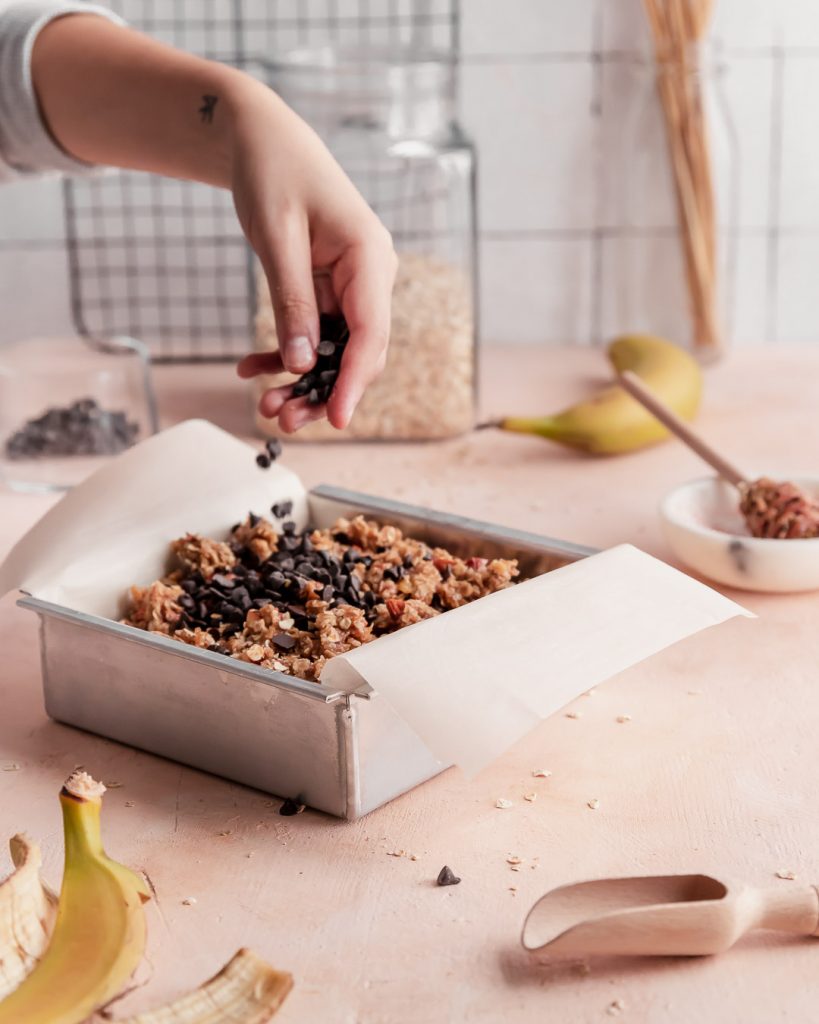 How to make homemade chewy strawberry banana granola bars
EQUIPMENT - You will need either a 6 x 6 inch (for thicker bars) or 8 x 8 inch baking pan. 
1. Toast the rolled oats and nuts - toasting the dry ingredients enhances their flavor and gets ride of any staleness. 
2. Brown the butter - the secret for making the best homemade chewy granola bars is the butter! By browning the butter, honey, and brown sugar the flavors become caramelized and toffee like. 
3. Mix together - Pour the melted butter mixture over the dry ingredients, add in the strawberries, mashed banana, choco chips and fold together. The melted butter and honey acts as a glue to form the bars. 
4. Chill! - Transfer the oat mixture to a prepped pan lined with parchment or aluminum foil. Press into an even layer, then cover and refrigerate for at least 2 hours to set. 
5. Slice - Slice into 1.5 inch long bars and (optionally) drizzle with more chocolate! Enjoy!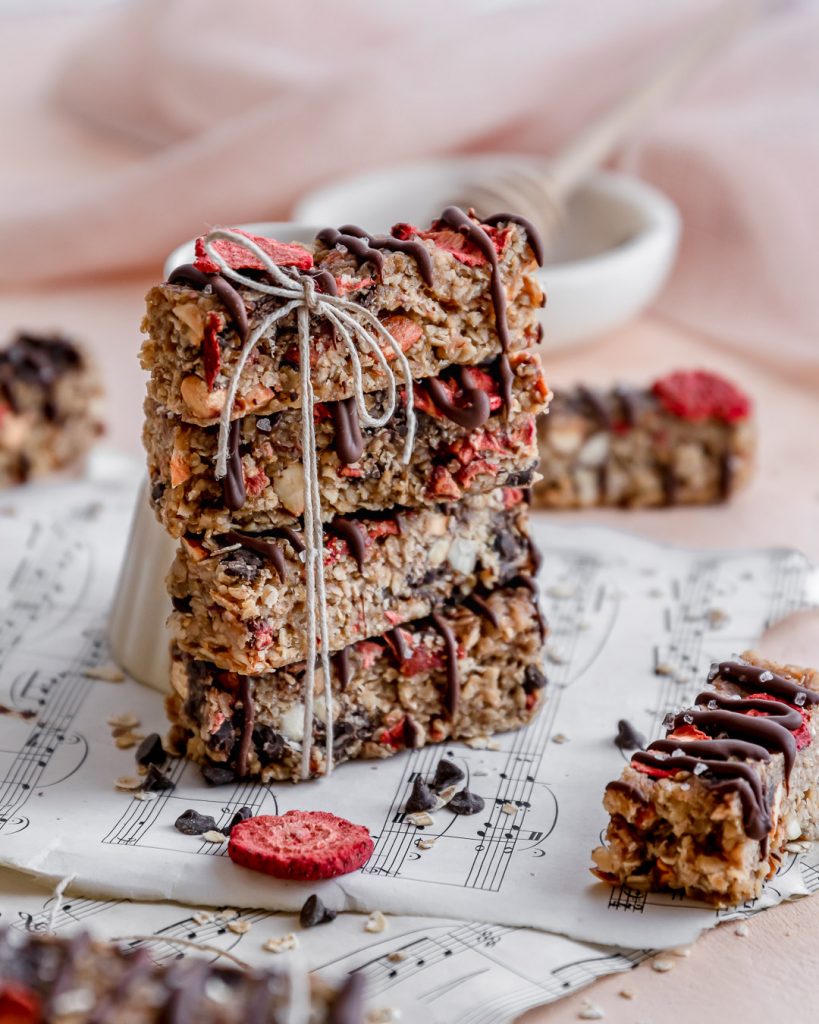 Tips for making Chewy Granola bars at home
TIP #1 - Let the butter mixture cool slightly if adding chocolate chips to prevent them from completely melting.
TIP #2 - Press the oat mixture firmly into the pan so the bars can form. I found that if I didn't press firm enough, I could end up with granola rather than bars. 
TIP #3 - Chill for at least 2 hours to allow the butter/honey mixture to cool and become sticky.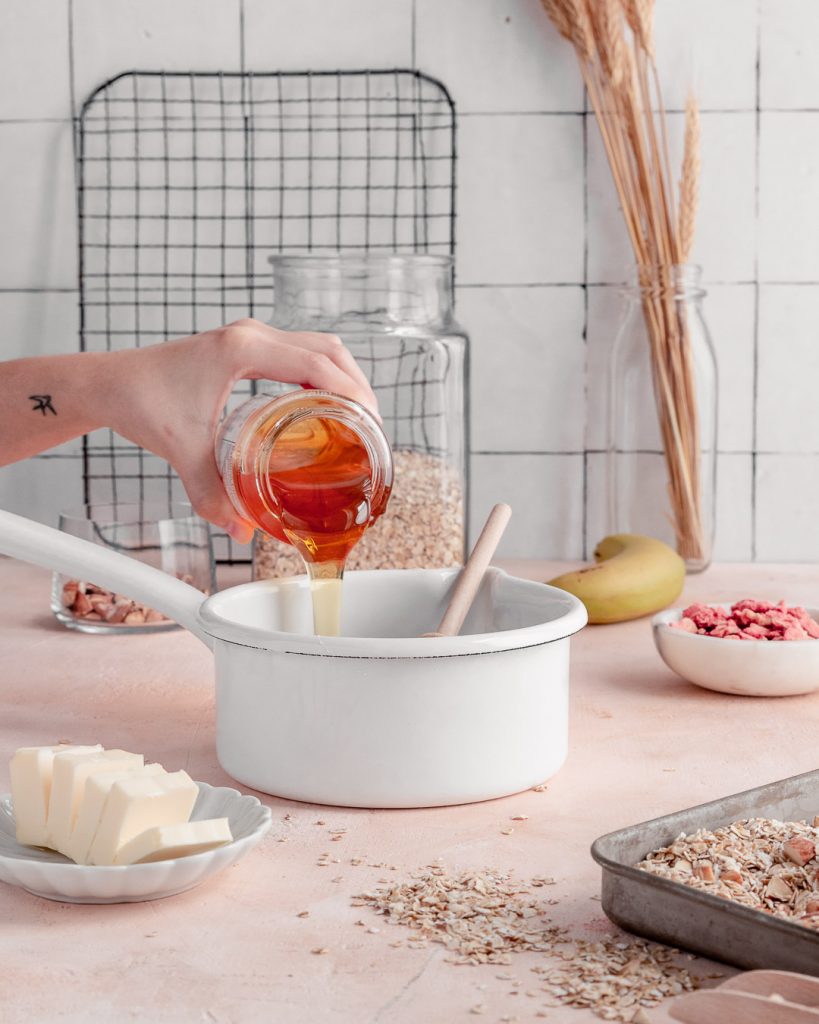 Homemade granola bar ideas and storing
Now that you know how to make homemade chewy granola bars, here are some flavor ideas! 
Chocolate Hazelnut - load these up with dark chocolate, milk chocolate and hazelnut for crunch!
Fruity Nut - Mix in walnuts, almonds, pistachios, and dried cranberries.
Peanut Butter Banana - Sub in peanut butter instead of honey for a classic, yet delicious flavor. 
These homemade granola bars keep for up to 1 week when stored in an air-tight container. They can also be stored in the fridge for up to 2 weeks, but will be slightly firmer. 
I hope you enjoy these delicious homemade and chewy Strawberry Banana Granola bars, they're one of my favourite breakfast treats and also great as a post work-out snack.
Happy Baking!
Sharon
if you like this recipe, you may also enjoy...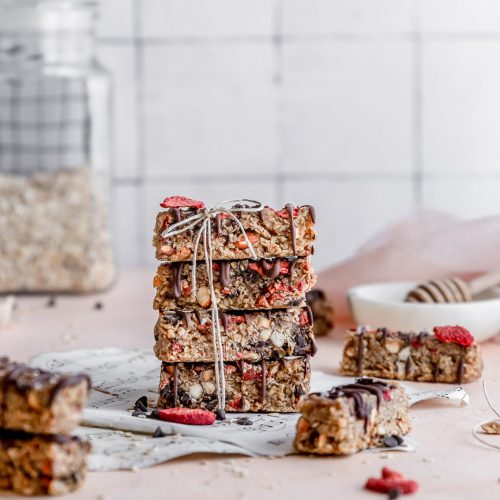 Homemade and Chewy Strawberry Banana Granola Bars
Super easy homemade & chewy Strawberry Banana Granola Bars that are dairy-free, low in sugar, and filled with wholesome ingredients!
Ingredients
2 ½

cups (230g)

old fashioned rolled oats

½

cup (80g)

whole almonds

chopped into quarters of sliver

⅓

cup (113g)

honey

¼

cup (50g)

plant based butter

cut into cubes

⅛

cup (25g)

light brown sugar

½

tsp (5ml)

vanilla extract

¼

tsp

kosher salt

2

ripe lightly spotted bananas

mashed

⅓

cup (22g)

freeze dried strawberries

crushed

½

cup

chocolate chips
Instructions
Prep either a 6x6 inch or a 8x8 inch square baking pan by lining with aluminium foil or parchment paper.

Preheat the oven to 350°F/176°C. Toast the oats and chopped almonds by spreading them into an even layer on a baking tray. Bake for 5-8 minutes or until desired level of toasted. Place in a heat-proof bowl.

Combine butter, honey, salt, and brown sugar in a saucepan over medium-low heat. Stir until butter is caramelized browned and sugar is dissolved. Remove from heat, and let cool slightly before stirring in mashed bananas.

Pour butter/banana mixture into the bowl with the toasted oats/almonds. Add crushed strawberries and chocolate chips. Fold with a spatula to combine.

Transfer oat mixture to the prepared baking pan, then use a rubber spatula or damp fingertips to firmly press the mixture into the pan. Press hard so the bars will stay together once cooled and cut.

Cover and refrigerate for 2 hours. Cut into 12 bars, and drizzle with melted chocolate if desired.
Did you make this recipe?
Tag @WhiskfullySo on Instagram