Pipping hot and delicious, Molten Chocolate Raspberry Lava Cakes filled with a warm raspberry center, and topped with mint whipped cream are a sweet indulgence in the cold winter months. 
This is one of those recipes that I believe everyone NEEDS to make at least once! It seems intimidating because of the molten center, but it really is simple and comes together in 30 minutes!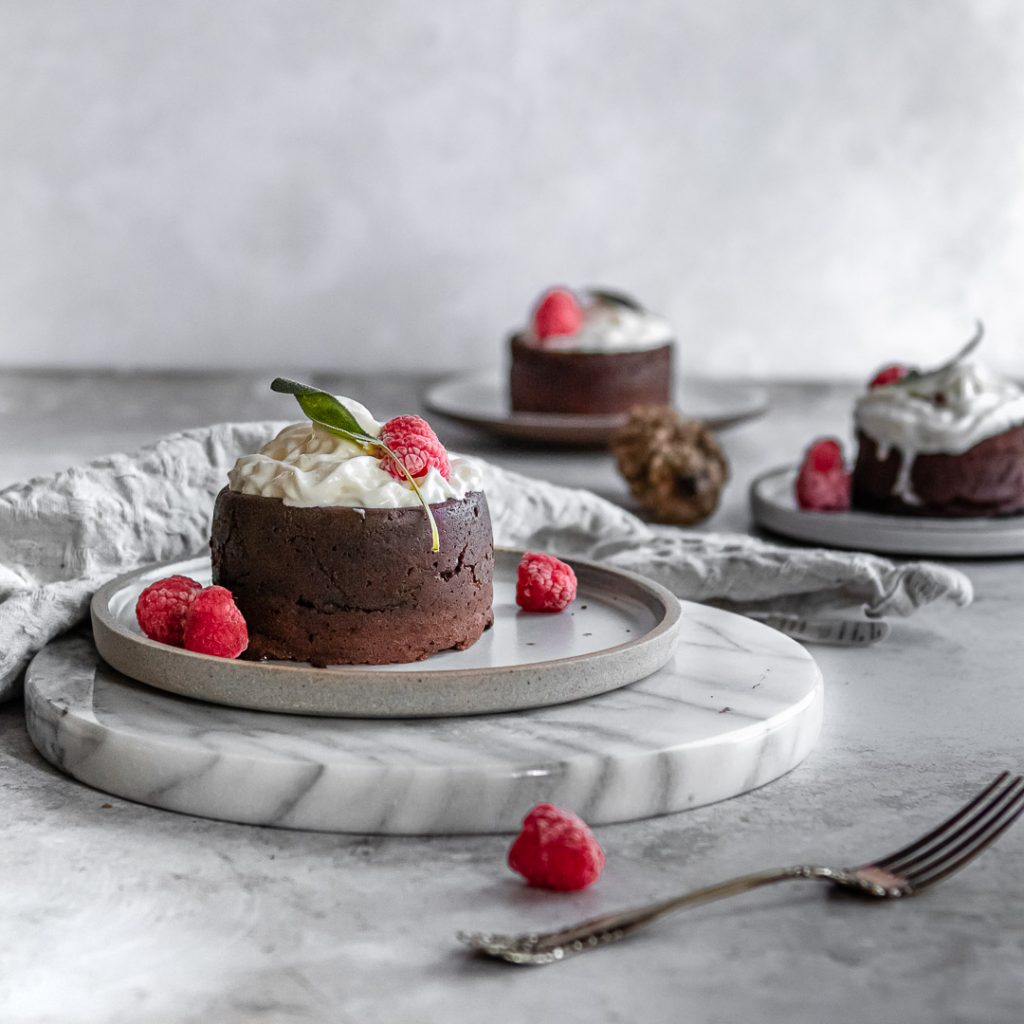 Are molten chocolate raspberry lava cakes safe to eat?
ABSOLUTELY! Let's be clear. These cakes are not raw! You are not eating uncooked eggs! When you are adding the melted chocolate to the eggs this is called tempering. The heat from the chocolate is heating the eggs slightly. Not enough to scramble them, but enough to get them warm. Also, these cakes bake at a super high temperature so only the raspberry center is left gooey.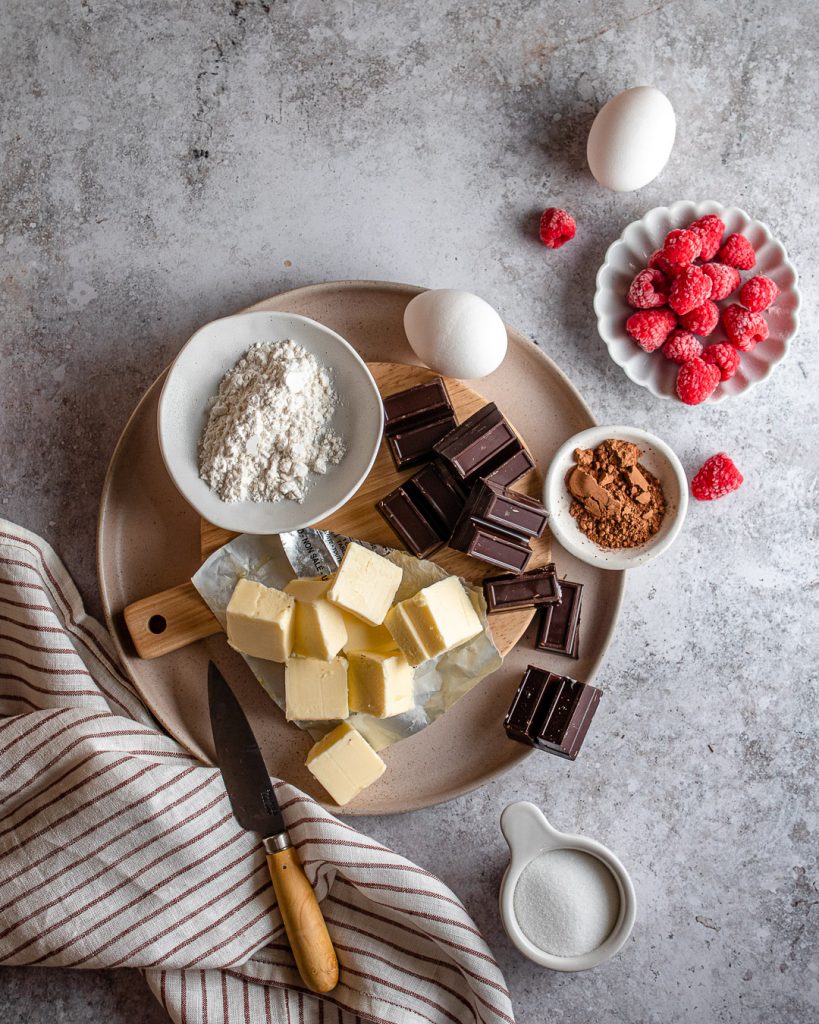 Ingredients for Chocolate Raspberry Lava Cake
This healthy peppermint twix bar recipe is all about mindfully indulging. For ingredients with common intolerances I've suggested alternatives. 
Unsalted Butter: To melt the chocolate into ribbons. 
Bitter-Sweet Chocolate: The star of the show, so INDULGE yourself and use only the good stuff! I recommend a chocolate higher in fat for a richer and thicker taste. 
Granulated sugar: This is key when whisking the egg yolks into custard. 
Egg Yolks: One of the main ingredients for adding richness into the cakes. For easier separate, warm your eggs to room temperature. 
All-Purpose Flour: This cake only needs a few tbsps of flour to thicken. The small ratio of chocolate to flour makes this cake truly decadent. 
Cocoa Powder: To prep the ramekins and make sure the cakes release smoothly 
Fresh Raspberries: Taste-test your berries to make sure they're fresh. 
Mint or peppermint extract: To flavor the whipped cream.
*Or you can make your own mint syrup with fresh mint leaves steeped in granulated sugar and water.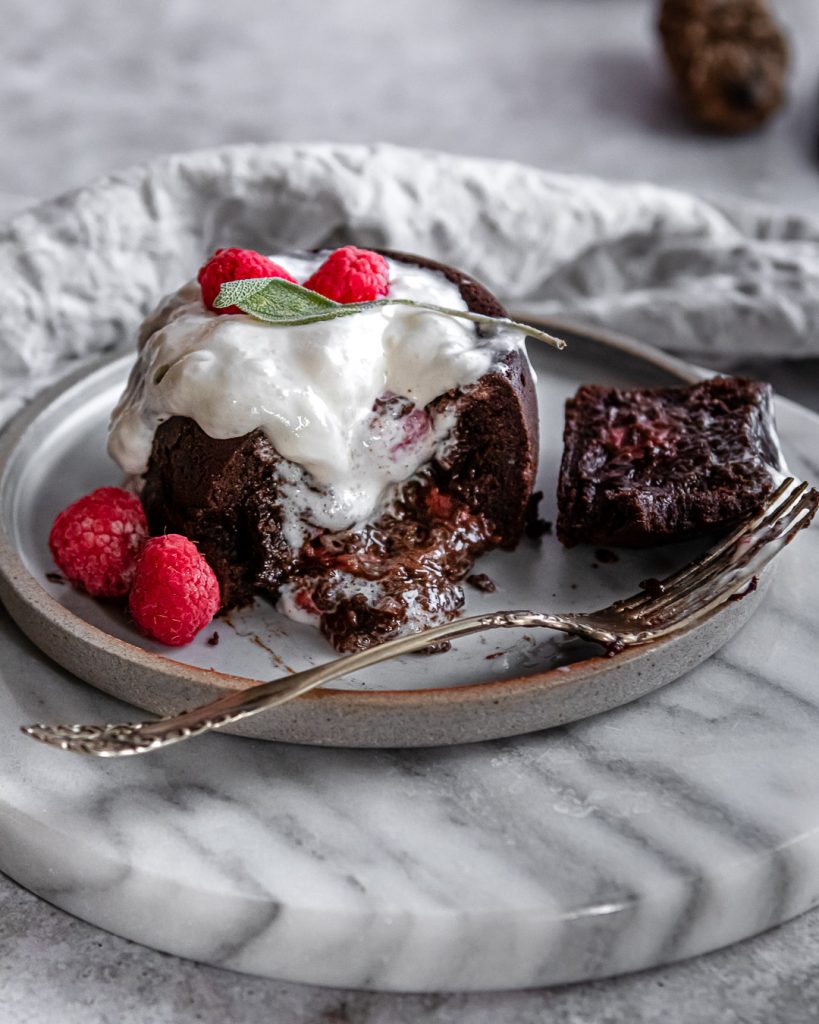 How to make Molten Lava Cakes at Home
This cake is legendary, but simple to make at home. 
1.Melt the chocolate: This little cake is rich because of the higher ratio of chocolate to flour. The chocolate is melted in a double boiler with butter until deliciously glossy and smooth. 
2. Beat Egg custard: Eggs are beaten with sugar until thick pale and ribbony. 
3. Fold together: The melted chocolate is folded into the egg mixture and sprinkled with flour to help thicken the mixture.
4. Bake: Spoon the rich batter halfway into ramekins and add a dollop (or two) or raspberry puree. Lastly, top with more cake batter before baking.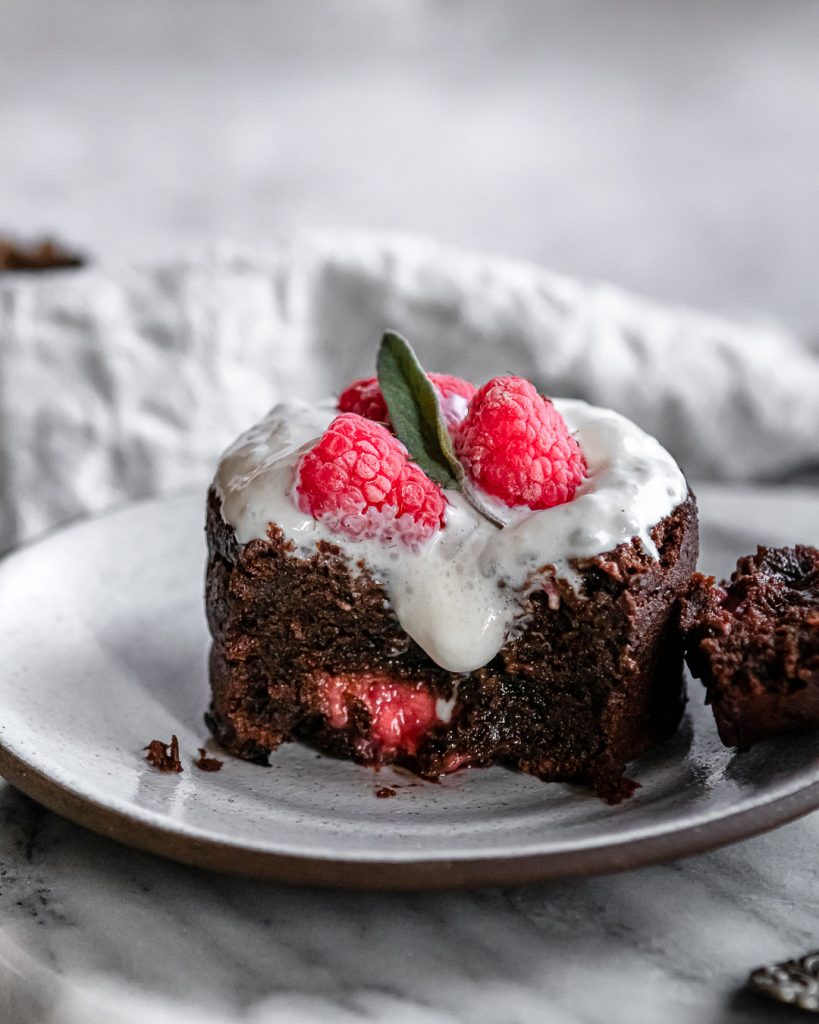 Tips for making Chocolate Raspberry Lava Cake
Prep your ramekins with butter and cocoa powder. Don't skip this step! Use your fingers to make sure butter is coating every inch of the ramekin. Tap out any cocoa powder excess after dusting or avoid chunks of cake being pulled out. 
Whisk the eggs till ribbony or the cake will lack structure and not bake properly. 
Use a plate to remove the cakes. Place a plate over the top of the baked cakes in the ramekins. Invert the whole structure, then slowly lift the ramekin off the plate. If properly buttered (and dusted) the cake should release easily. If it sticks, run a knife around the edge of the cake.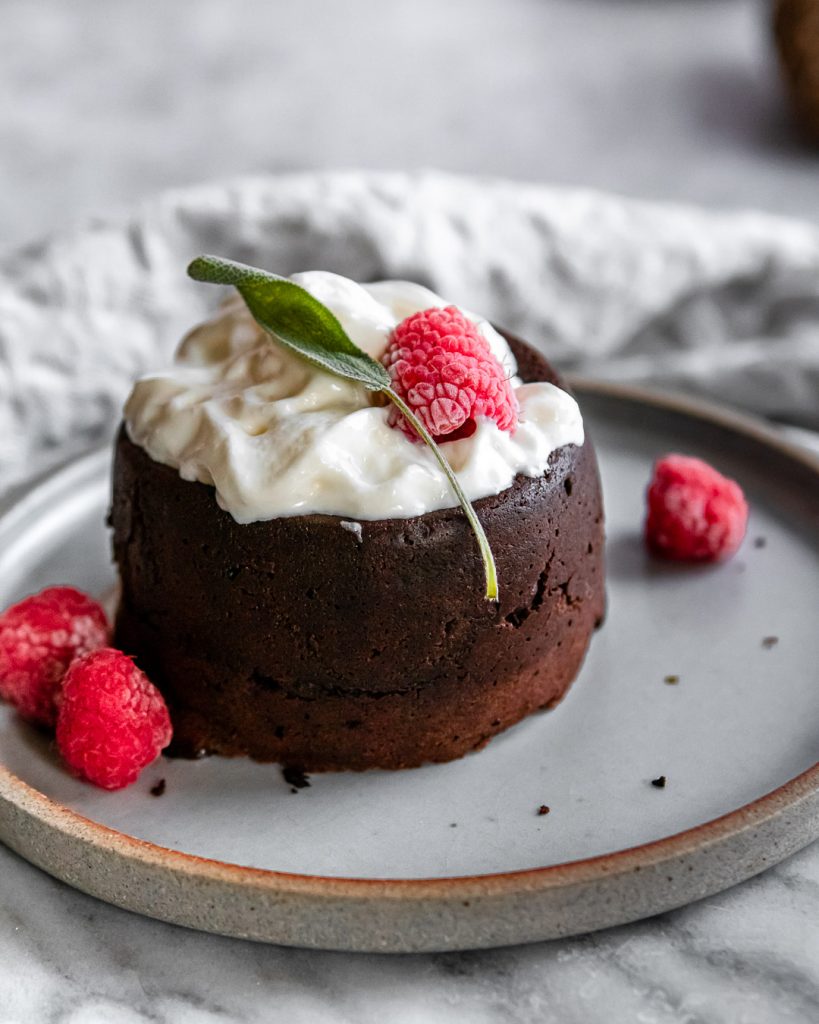 How to store molten lava cakes 
Once baked these cakes are best stored inside the ramekins to prevent them from deflating or spreading.
Store them covered with cling wrap in a refrigerated for up to 5 days. When ready to serve, remove the clingwrap, invert onto a plate and microwave at 10 seconds increments until at preferred warmness.
I hope you enjoy these warm and delicious cakes! They're no-fuss to whip up on a whim on a winter night or can easily be prepped ahead for a dinner party. 
Happy Baking! Sharon XO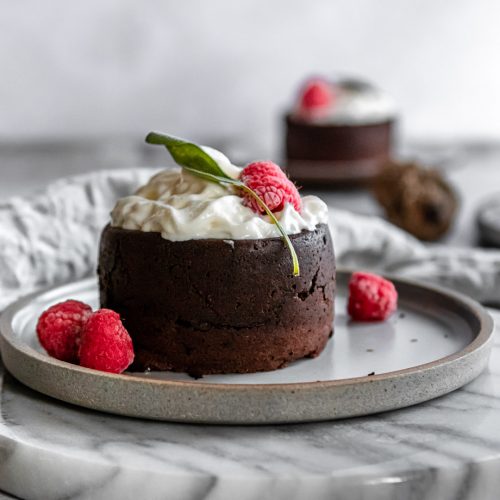 Hot Molten Chocolate Raspberry Lava Cakes
Pipping hot and delicious, Molten Chocolate Raspberry Lava Cakes filled with a warm raspberry center, and topped with mint whipped cream are a sweet indulgence in the cold winter months. 
Ingredients
1

stick (½ cup)

unsalted butter

1 tbsp separated

1

tbsp

cocoa powder

6

oz

bitter-sweet chocolate

chopped into small sliver or chunks

2

small

eggs

room temperature

2

small

egg yolks

¼

cup (50g)

granulated sugar

¼

tsp

kosher salt

2

tbsp

all-purpose flour
for the raspberry center
1

cup

raspberries

washed

1

tbsp

granulated sugar
to assemble
1

tbsp

mint extract

½

cup (60ml)

heavy whipping cream
Instructions
for the raspberry center and mint whipped cream
Mash the raspberries and sugar with a whisk or with a blender until pureed. Place aside until ready to use.

Beat heavy cream, and mint extract by hand or a mixer until stiff. Place in covered in the fridge until ready to assemble.
for the cake batter
Preheat the oven to 450°F. Brush four 4oz ramekins with the separated 1 tbsp of butter. In a small bowl whisk together 1 tbsp of cocoa powder with 1 tbsp of all-purpose flour; dust the ramekins with the cocoa mixture by rotating the ramekins, tapping out the excess. Transfer to a baking sheet.

In a double boiler, over simmering water, melt the butter with the 6 oz of chocolate, and whisk until smooth. In another medium bowl, beat the eggs with the egg yolks, sugar and salt on high speed on by hand until thickened pale, and falls off in ribbons. Quickly fold the melted chocolate into the egg mixture and sift in all-purpose flour.

Spoon the batter halfway up into the prepared ramekins, and spoon in 2 tbsp of the mashed raspberry, and top with another spoonful of cake batter until the raspberry is fully covered. Level off with a knife.

Bake for 12-15 minutes or until the sides are firm and the center is soft. Check by using a skewer, the cake sides should be fully cooked. Let the cakes cool for 2 minutes then cover with an inverted plate. Carefully turn over and let stay for 10 seconds then unfold. Top with mint whipped cream, raspberries or ice cream. Enjoy!
Did you make this recipe?
Tag @WhiskfullySo on Instagram
if you like this recipe, you may also enjoy...