Had to cancel your tropical vacation this summer? Yup, me too. Rather than dreaming about the vacation I could have had, I'm bringing the tropics home with a Lychee Lemon Mojito. Sweet on sweet, this drink is refreshing, minty, tart and best of all it only takes five ingredients! Get mixing!
I'm not an avid drinker, but come summer, mojitos are my "go-to", and I will say that the tiny addition of rum in this recipe actually serves a purpose and brings this drink from great to ammazing! That being said, if you don't drink alcohol and are serving this to children, omit the rum, and it'll still be a crowd pleaser.  
*Note: This post is NOT sponsored by Bacardi - It's just my preferred rum brand. You can use any white rum you have on hand.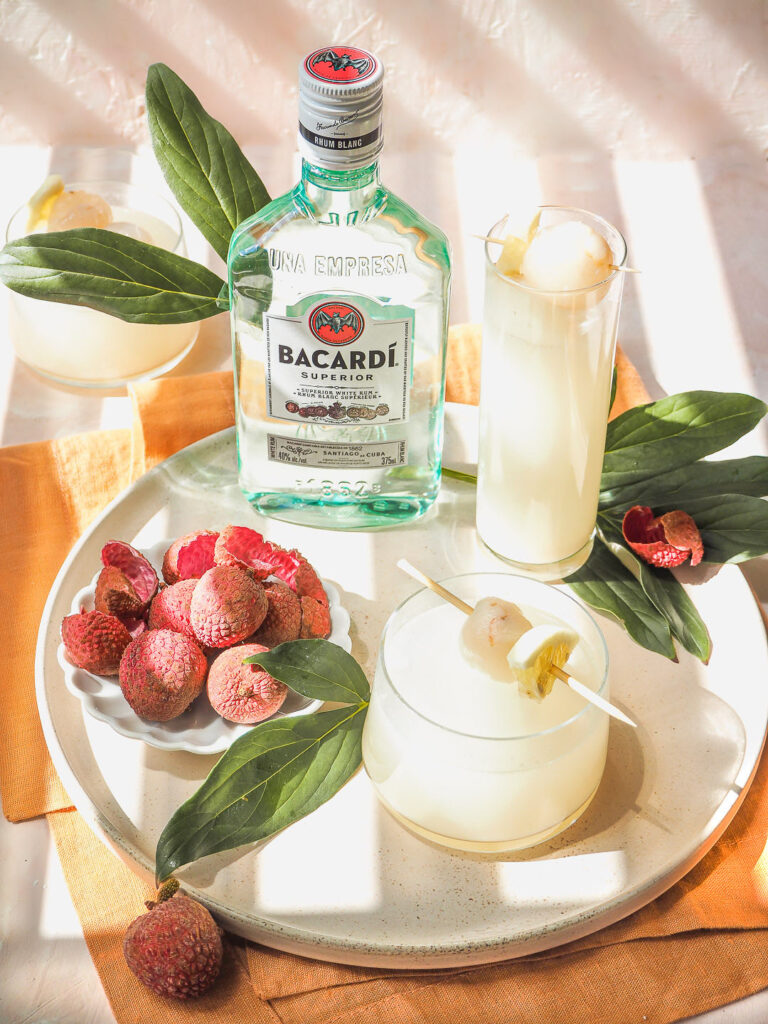 What is a Lychee Lemon Mojito?
A Mojito is a traditional cuban cocktail with five ingredients: white rum, sugar, lime juice, and mint. Still sweet, tart and herbaceous, this Lychee Lemon Mojito is my take on this popular summer drink. 
Lychee is a tropical fruit popular in southeastern China that is notable for its sweet flesh. It may take a bit of work to peel back the tough nubby skin, but once peeled and de-seeded, you'll be rewarded with a sweet juicy treat. To make this mojito we first need to make lychee juice. To make this process quicker, I used canned lychees and reserved my fresh ones for garnishing. First, the canned lychees are pureed in a blender with some water and crushed ice, then strained. Ta-da lychee juice! This is already great on it's own, but we're making a mojito here so we have to muddle the rest of the ingredients together (more on this below). Once muddled, strain and divide amongst your glassware and top with soda water (or sprite for more sweetness) and garnish with lychee and mint. 
This drink is so refreshing, and is best in the summer time served alongside a grilled meal, or even as happy-hour treat.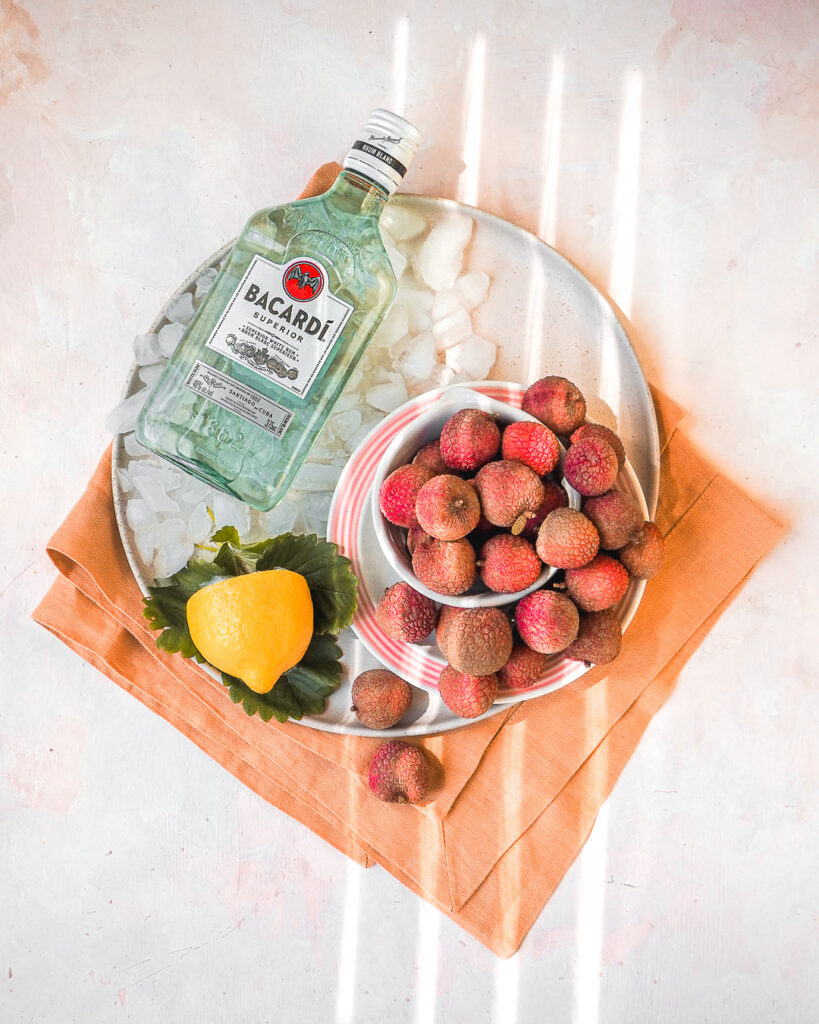 What Ingredients Do I Need? 
Lychee: While exotic, this fruit can always be found in your local Chinese supermarket. It comes fresh (when in season) and always in cans. Purchase the canned version, so you also get the lychee syrup.
White Rum: This drink has a light rum flavour, so white rum is the best option. You can use any brand, just make sure there's no additional flavouring. 
Lemon Juice: One of the OG ingredients in a mojito, a little lemon juice adds tartness. 
Mint Leaves: You'll need a good handful of mint, so make sure your mint is fresh!
Sprite or Soda Water: If you like your drink extra sweet (Yup, that's me!) then top your drink with sprite or soda water for a less sweet version but still bubbly fun.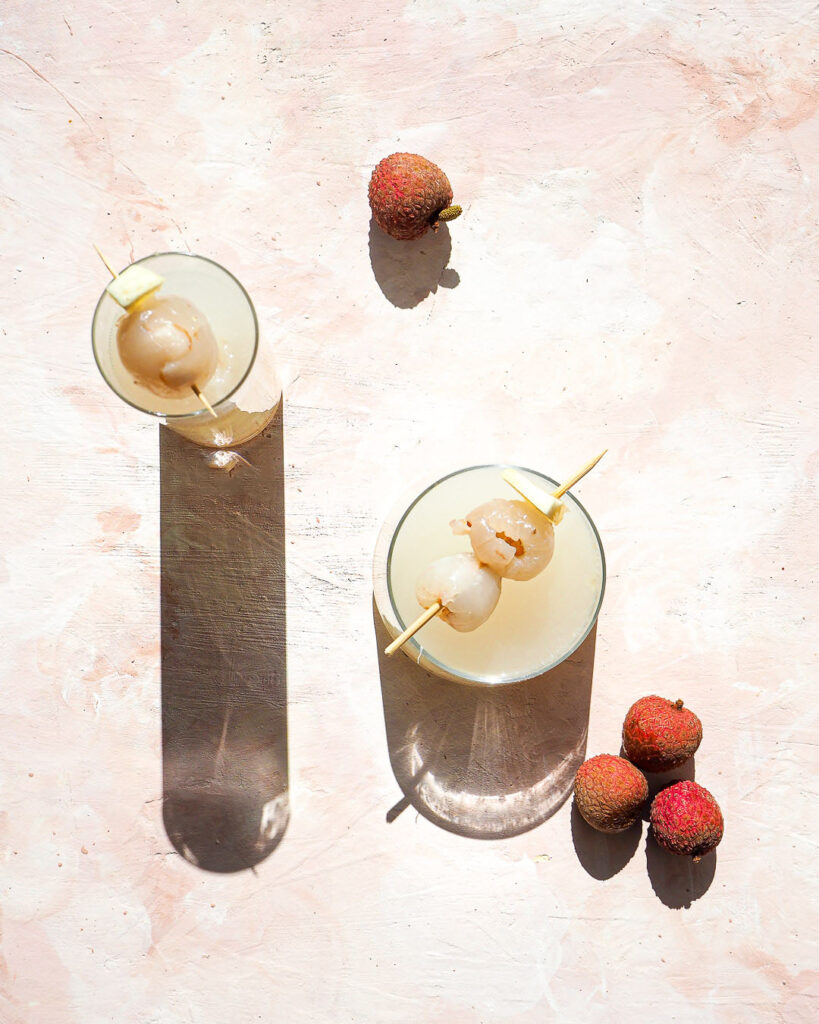 Muddling is the process of combining all the cocktail ingredients in a cocktail shaker or mixing glass and lightly pressing on them with a flat-based utensil to get all the juices out. 
It's easy to over muddle so here are some tips:
Muddle with a flat un-varnished utensil: You don't have to purchase a "muddler" to muddle. Use the end of a rolling pin, or pestle to avoid tearing into your ingredients. Wood and stainless steel are the best choices. 
Press down lightly: Do not pulverise your ingredients, as we're not trying to make a smoothie. Instead lightly press and twist with your muddler. 
Check with your nose: Stop muddling once the mixture smells minty and herby. The mint leaves should still be intact.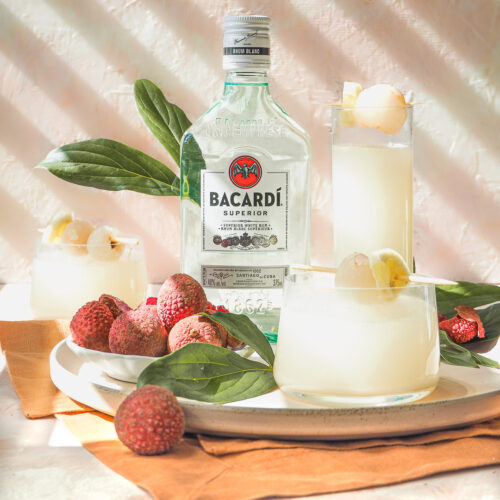 Lychee Lemon Mojito
Bring the tropics home with this sweet refreshing mojito that comes together in just 15 minutes!
Ingredients
3

cups (283g)

canned or fresh lychee

syrup drained into a measuring cup

5

tbsp (75ml)

lychee syrup

½

cup (118ml)

cold water

½

cup (118ml)

crushed ice

4

oz

white rum

½

lemon

juiced

12

large

mint leaves

reserve 4 for garnishing

1

bottle

soda water

more if desired
Instructions
First, make the lychee juice by combining the lychees in a blender with water and crushed ice. Purée until it resembles a smoothie consistency. Strain the lychee juice in a large measuring cup, using a spatula to scrap the mixture against the strainer to get all the juices. Discard pulp. Approximately 600ml of juice.

To the measuring cup add 8 fresh mint leaves, lemon juice, and white rum. Muddle, using a muddler or wood spoon (any utensil with a large flat bottom), until the mint leaves release their juices, but aren't shredded.  

Strain and divide into 4 chilled cocktail glasses, top with soda water/Sprite and garnish with remaining mint leaves and lychee.
Notes
If using fresh lychee, make sure the lychees are ripe before peeling and coring to remove seeds. 

Ripe lychees are a vibrant pink throughout the shell and smell fragrant. 

If you're using soda water add 2 more tbsp in step 2 (more or less depending on desired sweetness).
Did you make this recipe?
Tag @WhiskfullySo on Instagram