Made-from-Scratch Classic Tiramisu featuring homemade lady fingers (much tastier, not stodgy like store bought) with luscious mascarpone cream and topped with a generous dash of cocoa powder.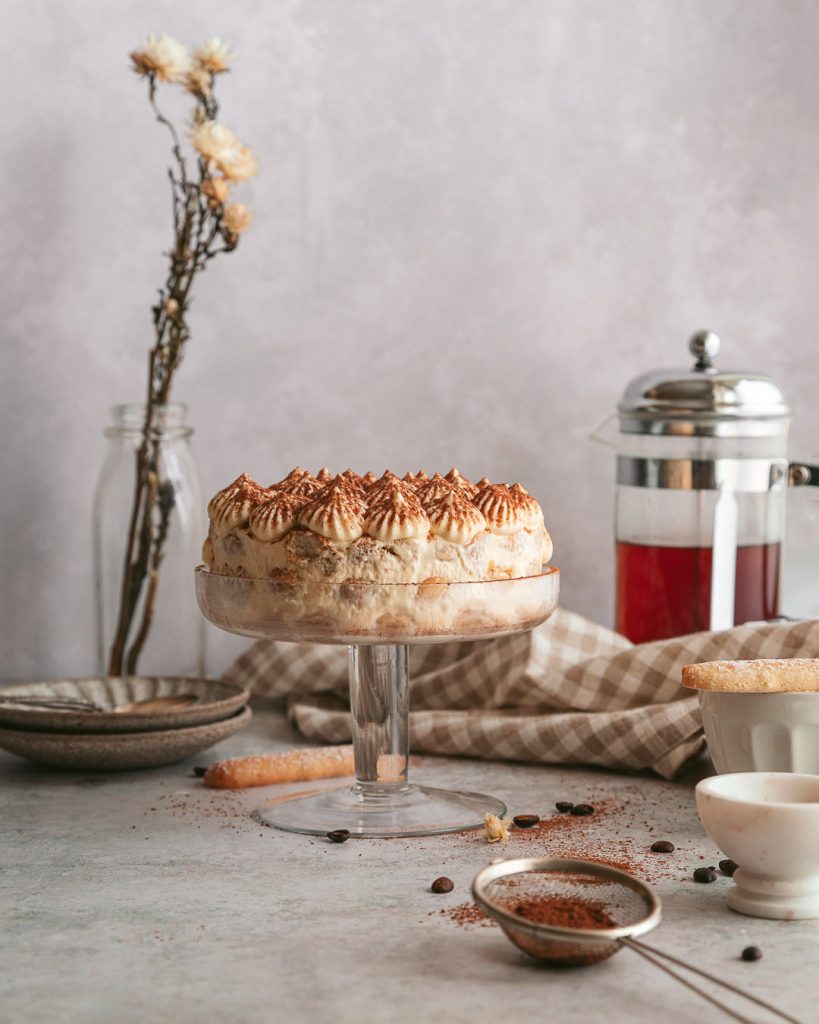 When I was a sceptical eater, Tiramisu was a dessert I would avoid - after all, desserts with fancy names that don't say anything about what's inside could taste horribly. It wasn't until I had Tiramisu in Italy that I realized I was missing out. 
Tiramisu meaning "pick me up" or "cheer me up" in Italian does just that with it's primary flavouring being coffee. While this from-scratch tiramisu has  3 components: ladyfingers, coffee, and mascarpone cream, it's an amazing combination that's even better homemade and is actually super simple to make!
Why homemade lady fingers are the best!
Store bought lady fingers, do the job, but chances are they've been sitting on the shelf for months. a.k.a they're probably stale and not so fresh. A homemade lady finger is:
easy to make!
crispy!
snaps cleanly in half
has a distinct vanilla egg flavor
absorb the mascarpone and coffee better!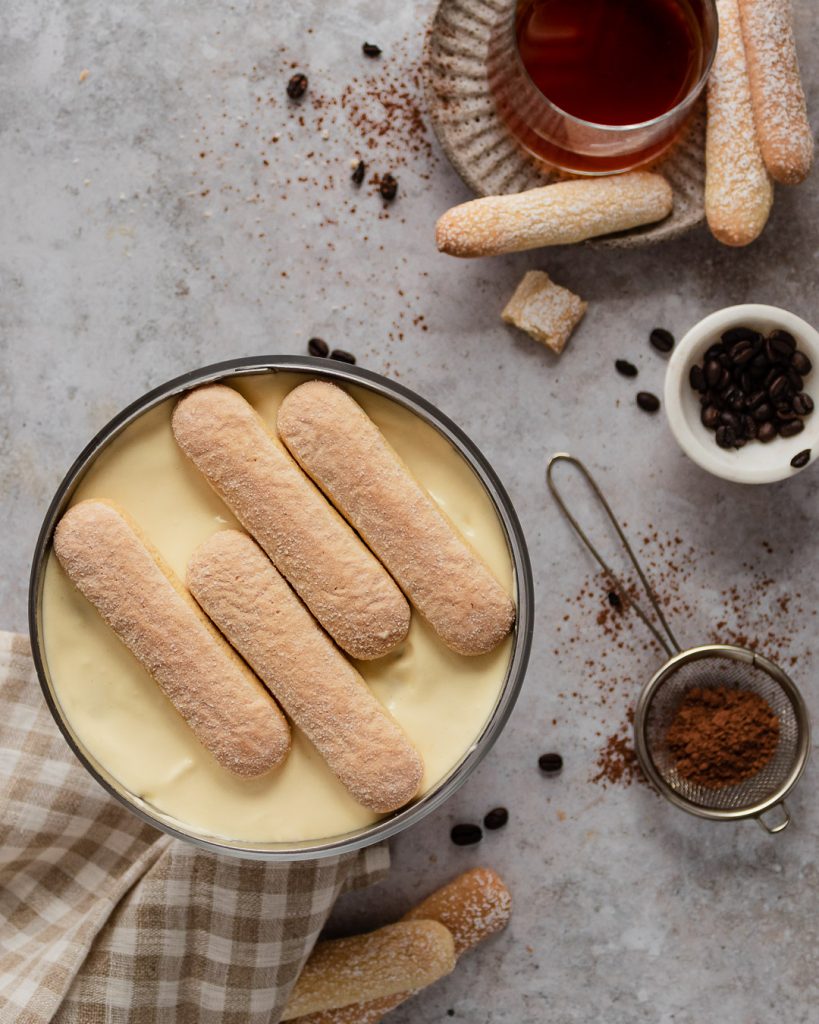 Ingredients you'll need to make classic tiramisu
for the homemade lady fingers
Eggs - These are the base of the lady finger cookies. Make sure they're room temp as they're easier to whip up!
Granulated Sugar - Similar to making meringues, sugar sweetens and stabilize eggs. 
All-purpose flour - Just a little bit of flour to hold the batter together.
*Can be subbed with 1:1 gluten-free flour. 
Powdered Sugar - This is the secret ingredient! Just a light dusting before baking keeps them from drying out! 
for the mascarpone cream
Heavy Cream - Is whipped up separately before being added to the cream. Makes the cream lofty and fluffy!
Egg Yolks - Yolks give richness to the cream and help it to thicken. They do not have to be room temp, but they separate easier when they are. 
Mascarpone - The star ingredient! So use the good stuff!
Sugar - To sweeten and stabilize the cream.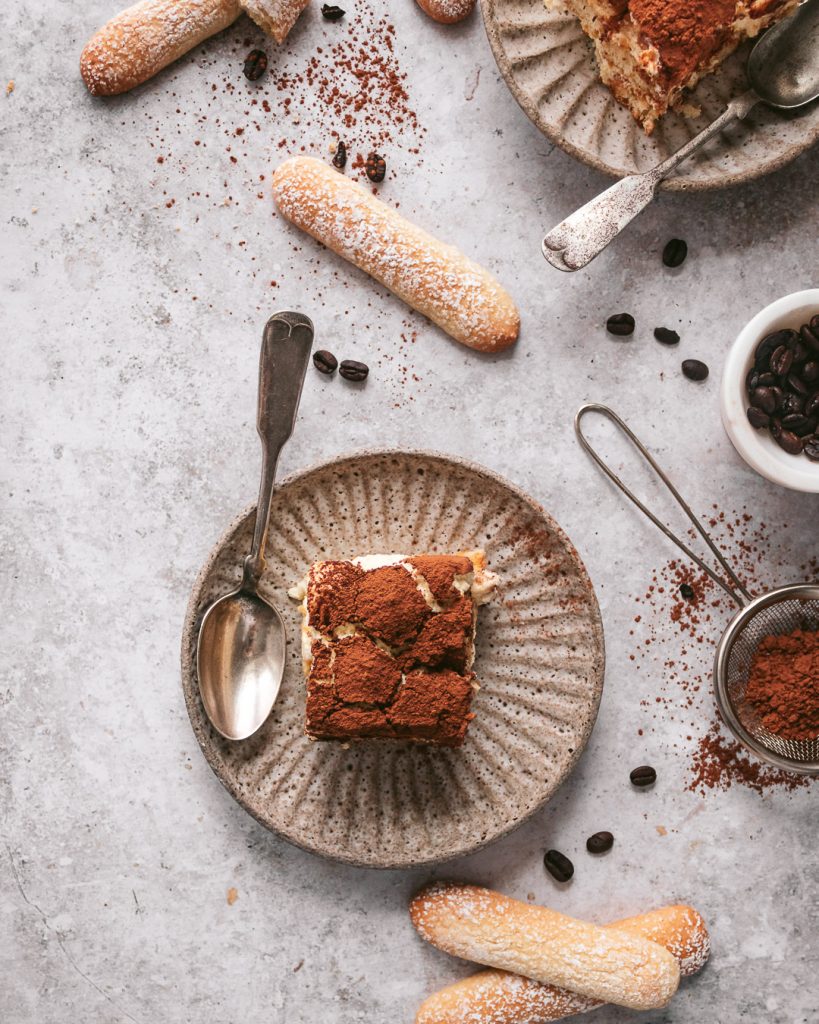 How to make Tiramisu from scratch?
It's best to make Tiramisu at least a day before serving so the ladyfingers have time to soften and absorb the coffee and cream. 
1. Make the Lady Fingers
(If you make this with store-bought lady fingers skip to making the cream) I make the lady fingers first so they have time to fully cool and get crispy. 
2. Make the Mascarpone Cream
Most tiramisu recipes don't cook the eggs before hand. Which is yummy but if you're like me with a delicate stomach, salmonella risk is not okay. I use a bain-marie method (more on that below) to lightly cook the eggs before incorporating with the whipped cream and mascarpone.
3. Make Coffee & Rum Mixture
Use your favourite espresso and mix with rum (if using).
4. Assemble! 
a) Dip each lady finger into the mixture of coffee and rum, then line them up at the bottom of a pan.
b) Top with a huge dollop of cream.
c) Repeat! Then dust with coco powder to finish!
5. Chill
This is the most important step! The espresso, rum, and cream need time to soak into the lady fingers and give it moisture. It may be tempting to dig into the tiramisu once it's assembled, but TRUST ME the longer the cake chills the better it tastes.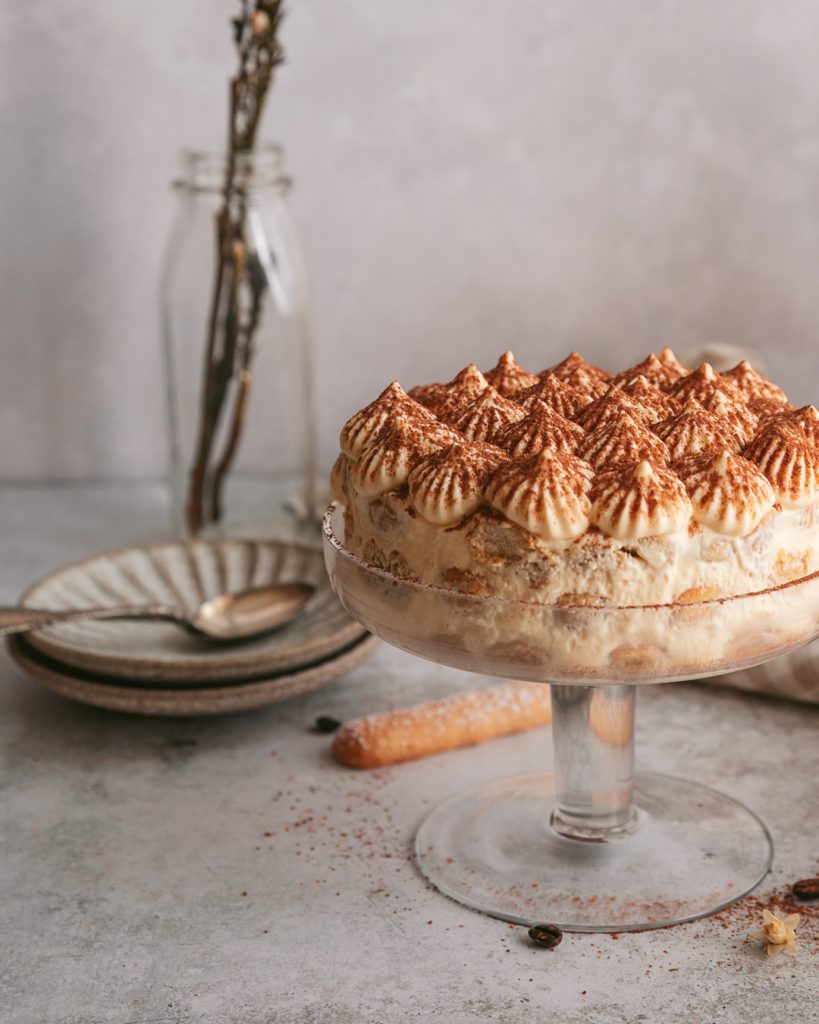 Bain-Marie Method for tiramisu
The bain-marie method (aka double boiler) is a hot water bath where delicate ingredients in a mixing bowl are placed on top of a pot of boiling water and whisked. Here are my top tips when using bain-marie.
Mixing Bowl should not Float: The bowl your egg yolks are in SHOULD NOT float on top of the boiling water. The bowl should be large enough for only the base to fit into the boiling pot of water and doesn't require steadying.
Simmer: Once the water boils, lower the heat to simmer so the eggs don't curdle and the heat is constant.
Whisk Vigorously: To avoid scrambling the eggs, whisk continually and quickly to get rid of any lumps.
Whisk until Lightened: Once the egg yolks lighten in colour and fall off the spoon in ribbons, you can remove from the heat. 
Cool: Let the custard cool to room temperature before combining with the whipped cream and mascarpone. 
How to Keep made-from-scratch Tiramisu Fresh
Once the cake is assembled, cover with cling wrap and chill until ready to serve. Once cut, the cake lasts for another two days. But I don't image there will be much leftover  - it's that good!
I hope you and your loved ones enjoy this from-scratch tiramisu cake as much as I do! The recipe is down below - happy baking! 
Sharon XO
if you like this recipe, you may also enjoy...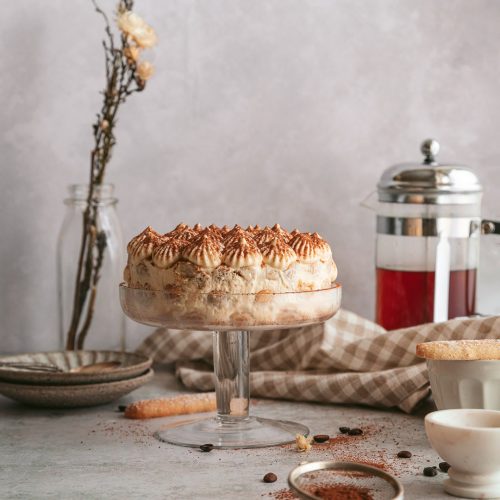 Made from Scratch Classic Tiramisu
This made-from-scratch tiramisu contains all the elements of the classic but with easy homemade ladyfingers and a creamy mascarpone cream!
Ingredients
for the lady fingers
3

large

whole eggs

room temperature

½

cup (108g)

granulated sugar

1

tsp (5ml)

vanilla extract

1

cup (148g)

all-purpose flour

pinch of salt

¼

cup (25g)

powdered sugar

sifted, for dusting ladyfingers
for the mascarpone Cream
1

cup (140g)

heavy cream

3

medium (60g)

egg yolks

room temperature

¼

cup (50g)

sugar

¾

cup (143g)

mascarpone

½

tsp (2g)

vanilla
for assembling
½

cup (168g)

espresso

add more for a stronger coffee taste

1-2

tbsp

rum

2

tbsp

unsweetened cocoa powder
Instructions
for the homemade lady fingers
Preheat oven to 350°F. Prepare a large baking sheet by lining with a silicone mat. parchment paper as works, but silicone yields most even bottoms.

In the bowl of a stand mixer, combine whole eggs and sugar. Using the double boiler method (bain-marie) heat on a low simmer until it reaches 160°F / 71°C.

Remove from the bain-marie, and whisk using a handheld or stand mixer until soft peaks form and is thickened (approx. 5-7 mins) Should have the consistency of soft serve ice cream. Add in the vanilla, and then fold in flour until just combined.

Spoon into a large piping bag fitted with a plain round tip, and pipe lady fingers that are 3 inches long x 1 inch wide. Dust the tops liberally with powdered sugar and bake for 8-12 minutes until light and crisp. They should easily pop off from the silicone mat. Let cool to room temperature.
for the mascarpone cream
Bring a small pot of water to a boil over the stove. In a small bowl (the base of this bowl should fit over the pot, but not be small enough to be floating on the water), whisk egg yolks, sugar, and vanilla extract.

Once boiling, lower the heat and place the bowl with the egg yolks over the steaming pot of water. Vigorously whisk with a hand-held mixer (or by hand) until mixture is lightened, thick and creates ribbons. Remove from heat and let cool to room temperature. 

In another large bowl, whip heavy cream into medium peaks (it should be thick and holds together). Place to one side.

Fold the mascarpone into the egg mixture then add the whipped cream in three increments, gently folding to combine as to not deflate. Chill in the fridge until ready to use.
to assemble
Combine espresso and rum in a small measuring cup.

In the final serving dish, dust the bottom with cocoa powder. Dip a lady finger quickly into the coffee/run mixture and place into the bottom of the pan. Repeat until you have 1 layer of ladyfingers. Spread a ⅓ of the mascarpone cream over the ladyfingers. Repeat until you've used all the lady fingers and cream.

Lastly, dust with cocoa powder, and chill for 12 hrs before serving.
Notes
If you find the cake is dry, it may need to chill longer for the coffee/rum and cream to soak into the cake or not enough espresso was drizzled. 

Cake flour can be used instead of all-purpose for an even finer crumb.
While I suggest rum, marsala wine, whiskey, or cognac can be used. The flavour will be altered of course depending on your choice. 
Did you make this recipe?
Tag @WhiskfullySo on Instagram