Why send a Valentine's Day card, when you can send these Mixed Berry Conversation Heart Hand Pies instead! Make these cute hand pies with my go-to flaky pie crust and fill with a medley of fresh (or frozen berries). Lastly,  stamp out your valentine's day message and gift to your loved ones!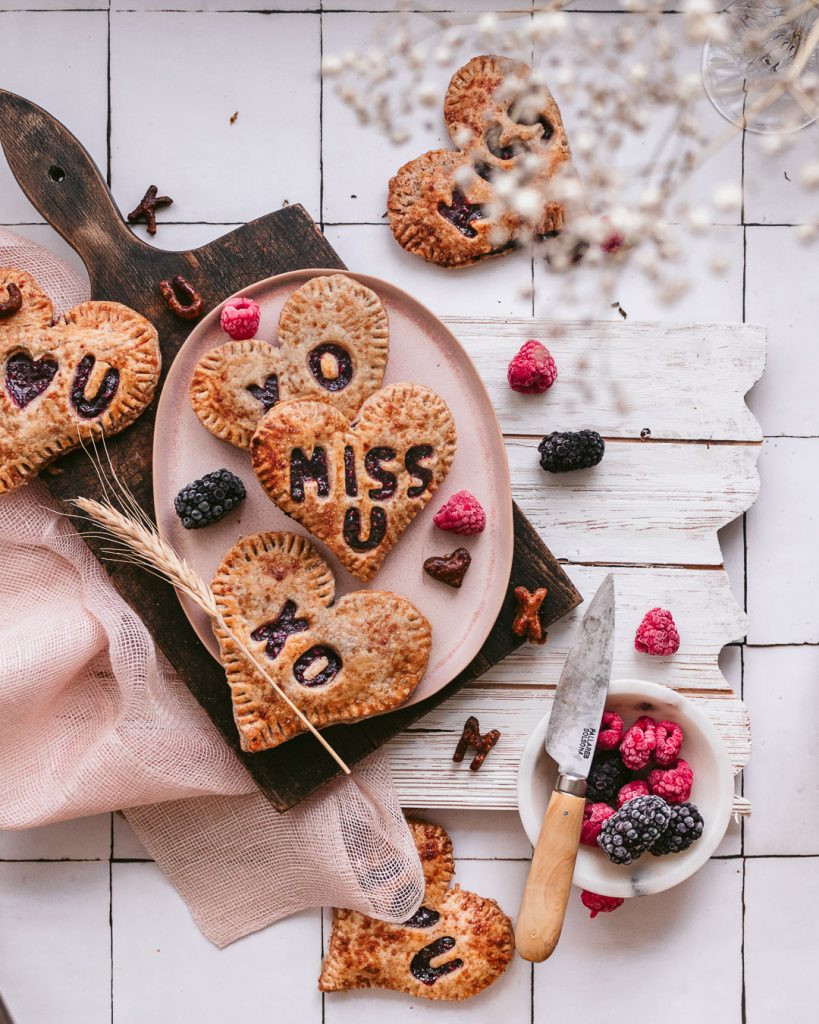 Hand pies are basically "hand-sized pies" all the deliciousness of a full pie, but in a smaller package. A.k.a these are like pop tarts 😀 Here's are yummy details! 
YIELD: This recipe makes 12 mixed berry conversation heart hand pies! Depending on the size of your heart cutter, you may get more or less. 
METHOD: Just like making a full sized pie, you'll make the dough and filling separately first; assemble, then bake. Step-by-step details below! 
TEXTURE: Crispy layers of golden pie crust paired with a sweet and tart jammy center.
FLAVOR: Summer berry mix! (check out the ingredients to read which ones I used.)
LEVEL OF DIFFICULTY: EASY - This recipe is easier than making a full pie, but does require some patience- the dough has got to chill! If you've never made pie before, don't worry! I have a TON of tips, and this is a good entry recipe to pies.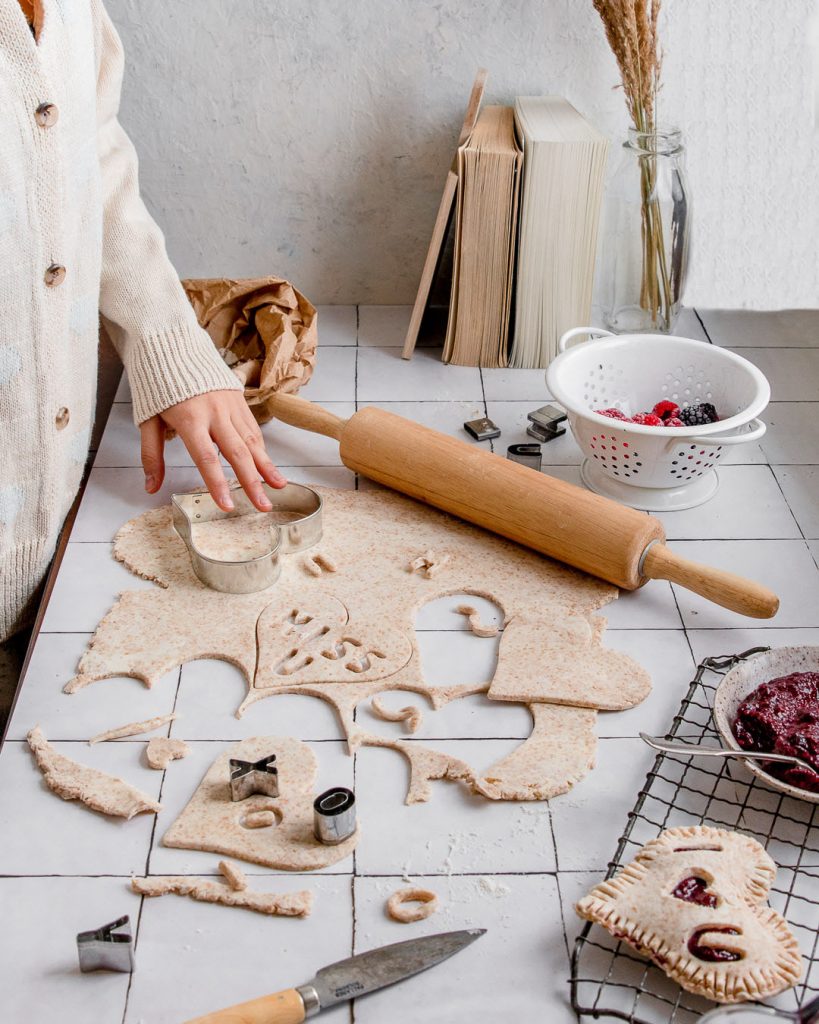 Ingredients & equipment you'll need to make these hand pies
These granola bars are so versatile! Even though these are Strawberry & banana flavored, you can sub in any mix-ins! Here's what you'll need to make these! 
1 recipe of my home-made pie crust - Tried and tested many, many times. This is my favourite pie crust! It's flaky, buttery, and easy to roll out!
*Note - For an egg free version - omit the egg, and add more water as necessary until the dough is JUST holding together. Get the recipe here! 
Berry Mix -  I use a mix of raspberries, blackberries and blueberries, but you're free to them individually or combined! Frozen or fresh both work! 
Granulated Sugar - To remove any sourness from the berries when making the jam filling. 
Heart-shaped cutter - I use a 4 inch wide cutter, and don't recommend going any smaller or you may not be able to fit your text. 
Mini Alphabet Cookie Cutters - The set I have has letters 1 inch long, but if you can find ½ inch long that's even better!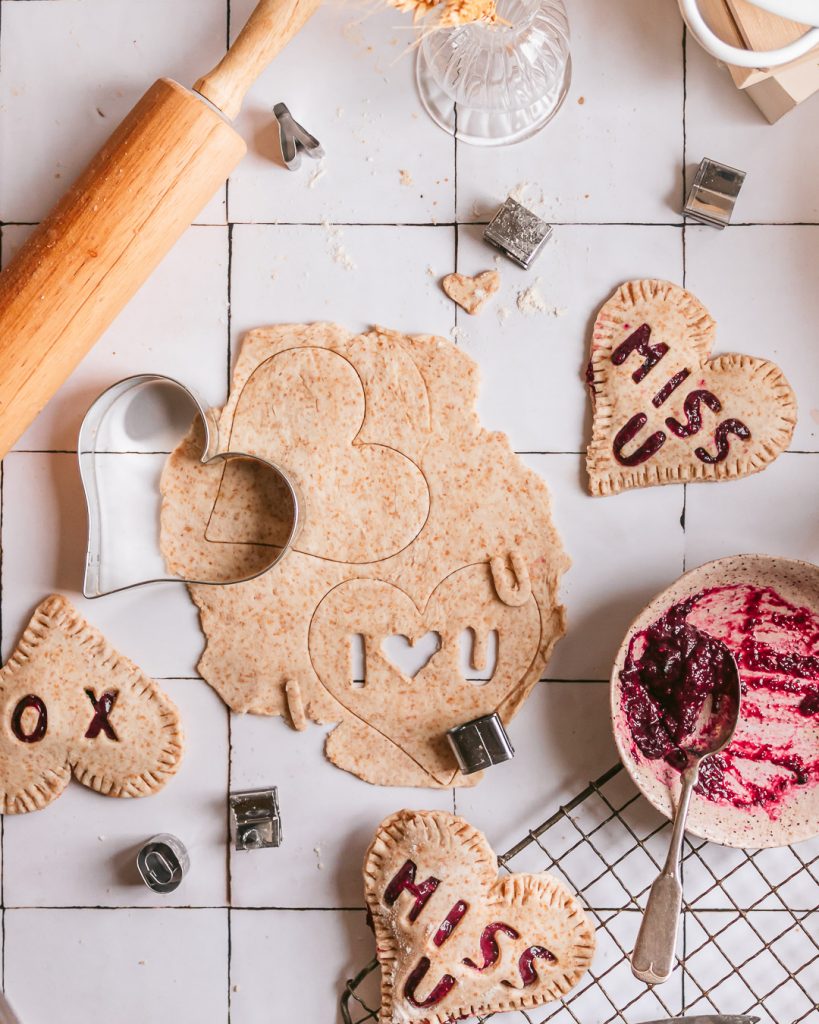 How to make Mixed Berry Hand Pies
1. Macerate the Berries -  Macerating is a process in which fruit is tossed with sugar to release all of its juices and soften. Let the (frozen) berries thaw and release all their juices and ice water. This step is essential if using frozen berries. 
2. Make the pie dough - While the berries macerate, make the pie dough. Chilled pie dough is easier to roll out because the gluten has had time to relax. Read all my pie dough tips here! 
3(a). Prep the Berry Jam - while the dough is chilling, get started on the jam! The berries should be very soft and mostly thawed. Pour out all but 3 tbsp of the excess water the sugar drew out. This ensures the jam will form. 
3(b). Make the Jam - Place the berries in a sauce pot and on low heat bring to a light simmer. Stir occasionally with a spoon to ensure it doesn't burn at the bottom. Patiently simmer the berries until they are completely softened and thicken. For more jam tips, check out this strawberry jam recipe! 
4. Assemble! - Roll the pie dough out, and cut out 20-24 hearts.  Cut out the phrases of your choice on half of the heart shapes. Spoon the berry jam into the center heart pair, and top with the pair that has the cut-out phrase. Brush the edges with egg wash, and crimp shut with a fork!
5. Chill once more - These are chilled once more to prevent the bottom crust from getting soggy. Since the pies will warm up while assembling, this keeps them from getting droopy. 
6. Bake! - Brush the pie with a little egg wash then bake in a hot oven at 450°F / 238° C. Bake until slightly golden brown and the filling is bubbling! Enjoy!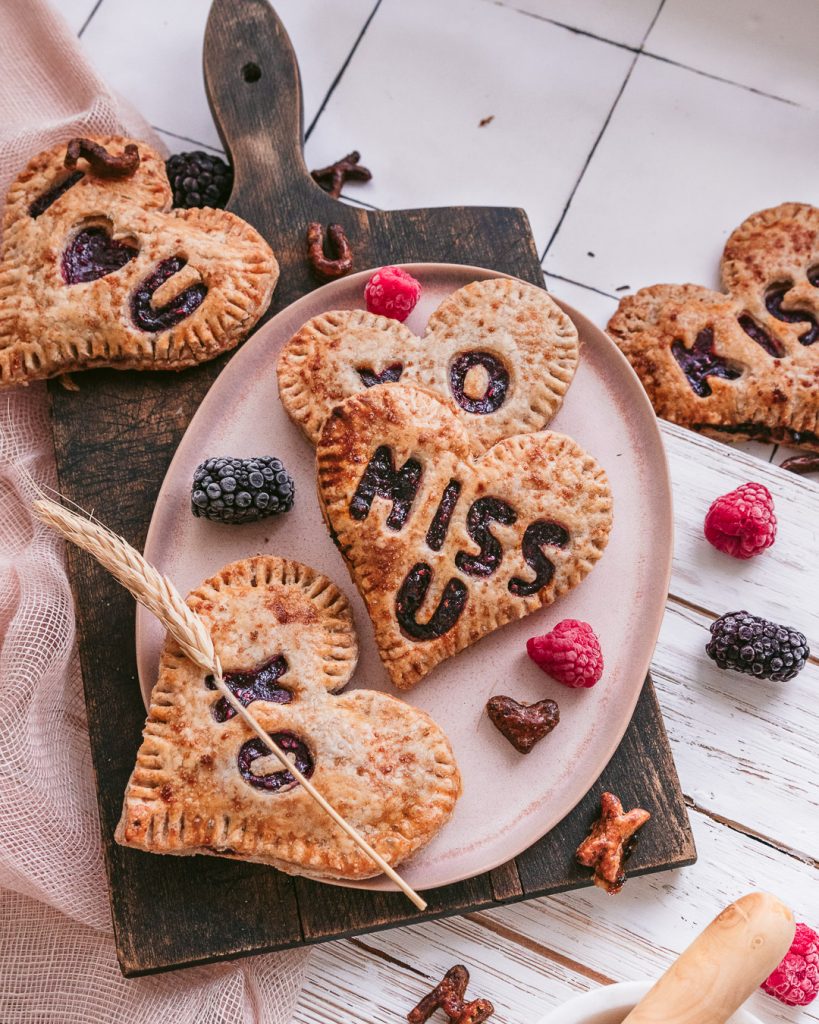 TIP #1 - Keep the pies cold -  Whenever making pies, the key is keeping everything cold: the butter, the filling, everything. A warm pie will bake out soggy. YUCK! I chill these hand pies once more before baking to ensure the jam doesn't make the bottom soggy. 
TIP #2 - Roll only in one direction to prevent the pie dough from tearing. Rolling back and forth with too much pressure can tear the dough. Roll only in one direction at a time, changing the direction to prevent one part of the dough from being overworked. 
TIP #3 - For extra crunch, sprinkle some regular brown or turbinado sugar right before baking.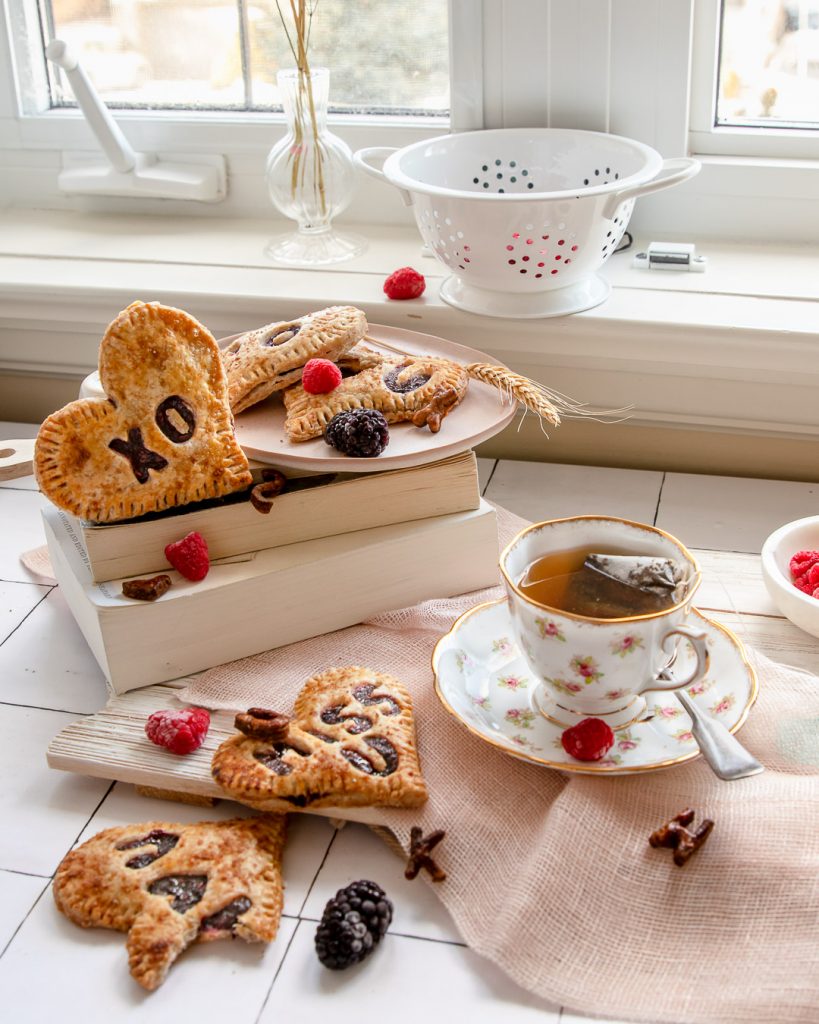 Once baked these are best enjoyed within 3-4 days. Store in an air tight container in the fridge. 
To store unbaked, assemble the pies without the egg wash. Place them on a baking tray and freeze for minimum 30 minutes before stacking and placing in a bag or container. Freeze for up to 2 months. When ready to bake, thaw in the fridge, brush with egg wash and bake as instructed. 
Happy Valentine's Day my lovely friends! Thank you so much for being a part of this blog journey! Sending you extra love! 
Happy Baking!
Sharon
if you like this recipe, you may also enjoy...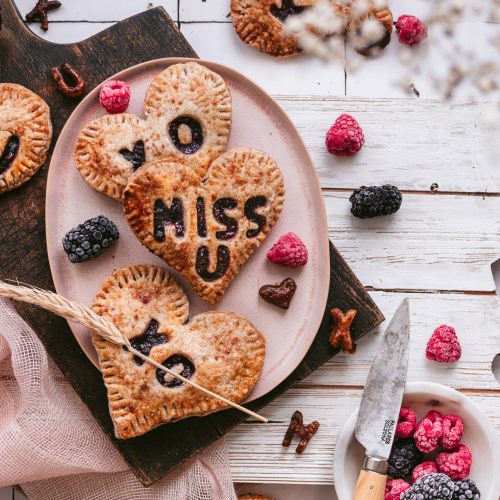 Mixed Berry Conversation Heart Hand Pies
Cute mixed berry hand pies with a flaky crust and filled with fresh (or frozen) berries. Stamp with a love note, and gift to your loved ones!
Ingredients
for the berry jam filling
3

cups (570g approx.)

of mixed berries (raspberry, blueberries, and blackberries suggested)

frozen or fresh

½

cup (100g)

granulated sugar
to assemble
1

small

egg

whisked

1

tbsp (15ml)

cold milk or water
Instructions
To prep the berry jam filling
Macerate the Berries - Whether using frozen or fresh berries, place them in a bowl and toss with the granulated sugar. Let sit for 15 minutes or until the berries are soft and all their excess water has been released. (May take longer for frozen berries since they have to thaw).

While the berries macerate, make the pie dough.
for the pie dough
Make the pie dough as instructed, wrap, and chill in the fridge until ready to use. Chill for at least 30 minutes.
Make the mixed berry jam filling
Combine the raspberry, blackberries, blueberries, and granulated sugar in a sauce pot. Bring to a simmer on low heat and cook until berries are broken down. Mash with a wooden spoon and continue to cook for another 5-10 minutes or until thickened.

Test the jam consistency by scooping some on the back of the spoon and running a finger through the jam. When it wrinkles and holds, it is ready. Remove the pot from the stove, and if desired, strain through a sieve to remove all the seeds. Use a spatula to press the jam through the sieve. Transfer to a glass jar. Set aside to cool until ready to use.
To Assemble the pies
Preheat the oven to 420°F / 238°C and line a large baking tray with parchment paper.

Remove the chilled dough from the fridge, and roll out on a lightly floured surface until ¼ inch thick. Use a heart shaped cutter to cut out 24 hearts. Place the cut-out hearts at least ½ inch apart onto the prepped baking pan. Use alphabet cutters to cut out phrases of your choice on half of the heart shapes.

Make the egg wash by whisking together 1 small egg with 1 tbsp of milk or water.

Spoon 2-3 teaspoons of the berry filling into the center of the cut heart shapes (the ones without words) leave at least a ¼ inch border. Brush the border with egg wash and top with the heart with the cut-out phrase. Press the edges together with the tines of a fork to seal.

Chill the assembled hand pies for another 10 minutes. This prevents the bottoms from getting soggy.

Brush the tops of all the hand pies with egg wash, before baking for 20 minutes or until golden brown.  Let cool for 10 minutes before enjoying!
Did you make this recipe?
Tag @WhiskfullySo on Instagram