Creamy two layer Peach Panna Cotta where peaches are the star. A sweet, juicy peach base paired with a spiced vanilla bean layer. For that extra peach flavour, the panna cotta is topped with a peach puree and a generous amount of rum whipped cream. This dessert will be a fridge staple in the hot summer months.
August should be renamed into the melting month because all I've been doing is melting in this outrageous heat wave. Even the mention of turning on my oven is met with a groan of disapproval from my family. With the oven off, I've turned to the fridge for my daily dose of sweet and this recipe combines my two new favourite things: no-bake desserts, and peaches!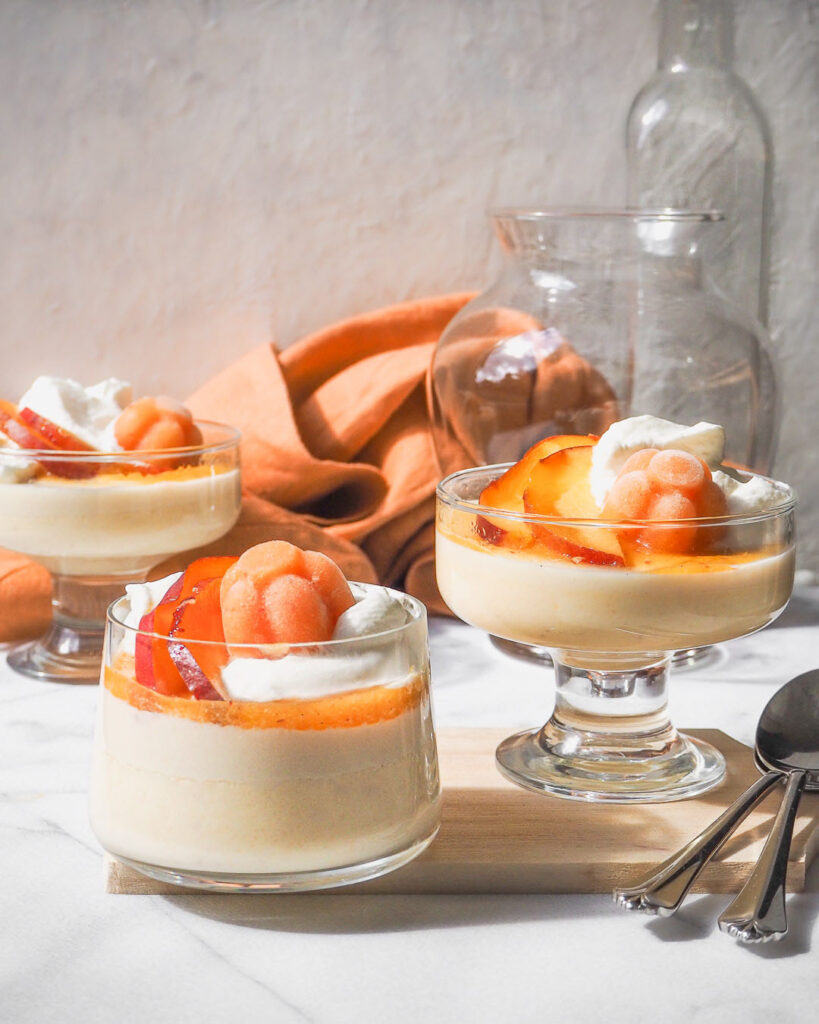 Panna Cotta is an Italian dessert meaning, "cooked cream" and features (you guessed it!) cooked sweetened cream thickened with gelatin. It's essentially the high-class version of jello: but with real flavouring and a creamy texture. 
This dessert is visually A FEAST, and it's all thanks to those layers. The base two layers are the two flavoured panna cottas, but it's the decoration that takes this to another level. Rum whipped cream (need I say more?) and a thin layer of peach puree.
To make panna cotta, heavy cream, sugar and salt are heated until simmering, then combined with the bloomed gelatin (more on this below), milk and flavouring. Set the mixture by pouring into serving glasses, and chill for two-three hours (like setting jello). The layers for each "flavour" are made separately and the second layer is not added until the first layer has mostly set. This is to prevent them from mixing together.
Pour the peach puree into an ice cube mould and freeze until set for the flowers. This whole dessert is a celebration of cream, so make sure you get a spoonful of all the panna cotta layers + the puree + the whipped cream, it's AMAZING!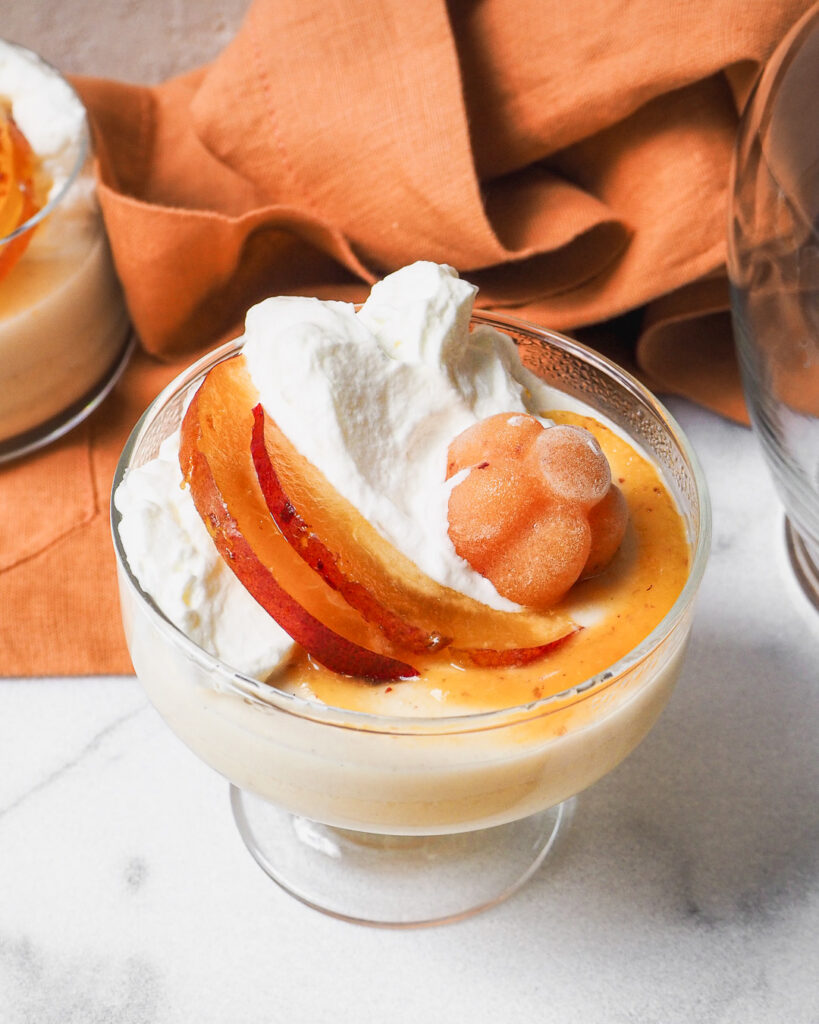 What Ingredients Do I Need for Peach Panna Cotta?? 
This cold treat is easier to make than it looks since panna cottas need only five ingredients.
Peaches: The star of this recipe, make sure your peaches are ripe. They should be slightly soft (with no bruising) and very fragrant. 
Gelatin or Agar: This is to thickened the panna cotta so it holds. Gelatin is animal based, and it does have a slight flavour, so if you're adapting this into a vegan recipe or if you don't like the taste of gelatin, use agar. 
Milk: The best panna cottas are creamy, so whole or 2% milk works best. 
Heavy Cream: Emphasis on the creamy, purchase a heavy cream with at least 35% cream.
Granulated Sugar: For a little sweetness. 
Vanilla Bean: The second layer of panna cotta is ALL about vanilla, so splurge and get the good vanilla. Vanilla extract isn't really vanilla at all, so either get real vanilla bean or vanilla bean paste which is more affordable and contains vanilla specks. 
Rum (optional): This is optional for the whipped cream, but I love the flavour rum gives to peaches.
Blooming gelatin is an important part of making panna cotta. Similar to yeast, adding gelatin to liquid actives it. If not bloomed or added properly, your panna cotta won't set. Here are some important tips to remember: 
Sprinkle, but don't mix when adding the gelatin to milk and DON'T mix or else it will sink to the bottom. 
Simmer, don't boil the heavy cream and sugar or else the gelatin will be too hot and it will loose its thickening power. 
Patience is key when waiting for the panna cotta to set. Don't rush the setting of the first layer or else when adding the second layer, the flavours will mix together and you'll end up with one layer. Still tasty, but not as beautiful visually.  
All about the jiggle: A set panna cotta will have a slight jiggle, so give them a little wiggle to test for done-ness. 
Peach Vanilla Bean Panna Cotta with Rum Whipped Cream
Deliciously light and sweet, peaches are the star in this creamy panna cotta. Two layers of panna cotta: one peach and one with a vanilla bean, with peach puree and topped with a generous amount of rum whipped cream this dessert will be a fridge staple in the hot summer months.
Ingredients
for the peach panna cotta layer
3

medium

peaches

chopped

¼

cup + 3tbsp (90ml)

whole milk

½

tbsp (3g)

gelatin

approximately 1 pack divided in half

¾

cup (200ml)

heavy cream

2

tbsp (25g)

granulated sugar

a pinch of salt
for the vanilla bean panna cotta layer
1

tsp

vanilla bean paste or 1 vanilla bean pod

scraped

¼

cup (60ml)

whole milk

½

tbsp (3g)

gelatin

½

cup (118ml)

heavy cream

1

tbsp (12g)

brown sugar

3

tbsp (36g)

granulated sugar

a pinch of salt
rum whipped cream
⅓

cup

heavy cream

2-3

tbsp (30-45ml)

white rum

no additional flavouring
Instructions
for the peach panna cotta layer
Puree the chopped peaches in blender until a smoothie-like consistency. Strain through a fine sieve and discard any pulp. Divide out a ⅓ cup in a jar and chill in the fridge until ready to assemble. There should be a minimum of 300ml peach purée remaining.

In a small measuring cup filled with the milk, bloom the gelatin by sprinkling the gelatin into the milk. Do not mix and set aside for 5 minutes.

In a medium saucepan, bring the heavy cream, sugar and salt into a simmer. Stir occasionally until the sugar dissolves. Do not let the mixture boil. Once simmering, remove from the heat and whisk in the gelatin/milk mixture until gelatin is fully dissolved and the mixture is smooth. Whisk in the peach purée (at least 1 cup), then divide and pour into serving cups. Cover and refrigerate for at least 2 hours or until the top is set and jiggles slightly.
for the vanilla bean panna cotta layer
Bloom the gelatin (like in the peach layer) and bring the heavy cream, brown sugar, granulated sugar, and salt to a simmer. Once simmering, remove from the heat and whisk in the gelatin/milk mixture and the vanilla bean.

Make sure the previous layer has set by lightly patting the tops or jiggling the serving cup to check. Once checked, pour the vanilla bean layer on top of the peach layer. Cover and chill for another 3 hours or until completely set.
for the rum whipped cream and to assemble
Using a hand-mixer, beat the whipped cream and rum until medium peaks form.

To assemble, slightly warm the reserved peach puree by soaking the jar in a bowl of hot water. Stir the puree until it is of pourable consistency, then pour a thin layer on top of the set panna cottas, add a dollop of rum whipped cream, and garnish with peach slices. Enjoy immediately!
Did you make this recipe?
Tag @WhiskfullySo on Instagram