Red Wine Chocolate Ganache Macarons a.k.a the boozy sweet delicate treat your afternoon tea needs! I know Valentine's Day just passed, but there's babies are a good idea all year round. This is my first macaron recipe on the blog, and hopefully the first of many! Let's get baking!  
This recipe is adapted from Pierre Hermé, Macarons with tips from Cambrea Bakes, "How to Make French Macarons" Post.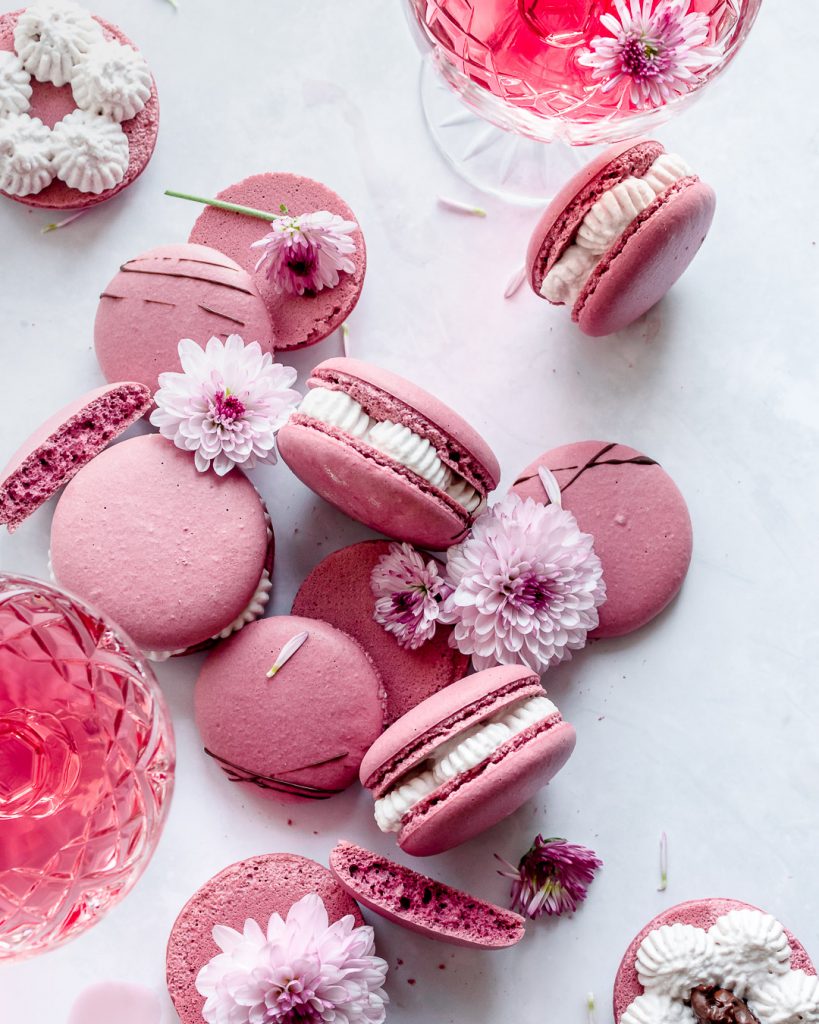 What are Red Wine Ganache Macarons?
These red wine macarons are filled with a fluffy red wine reduction whipped cream and silky smooth chocolate ganache. Are you drooling yet?! Since the red wine is reduced, all the alcohol is removed so you won't get tipsy from these! 
YIELD: This recipe is considered a small batch recipe and yields 12-15 macarons depending on how you pipe them.
METHOD: This macaron recipe uses the Italian method. This is my preferred method as it is more forgiving than the french, and gives super smooth tops. 
TEXTURE: Crispy macarons shells and a smooth whipped cream and chocolate ganache filling. 
FLAVOR: Rich chocolate with all the flavors from your favourite red wine - without the booze. Boozy option included! 😉 
LEVEL OF DIFFICULTY: INTERMEDIATE - Macarons are notoriously known being being tricky. While I won't say that they're easy, they can be mastered! This recipe uses the Italian method making these less unlikely to fail, and I have some tricks below to tackle this!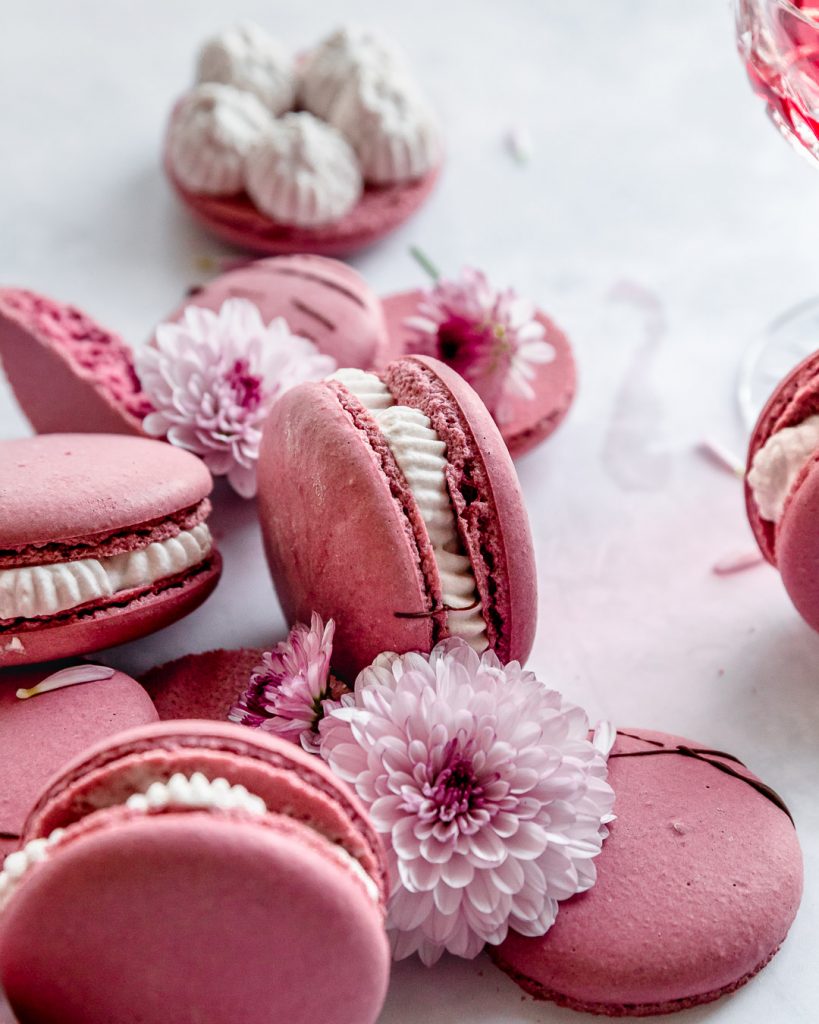 Why the Italian Method?
There are 3 method for making macarons: 1) French; 2) Swiss; 3) Italian. With French being the least stable and Italian being the most stable. 
The difference between the 3 methods is that French method does not boil the sugar down into a syrup. Both the Swiss and Italian methods involve dissolving the sugar before hand. This makes the meringue more stable. Verses, the French method where the sugar is dissolved by whipping with the egg whites. If the sugar is not properly incorporated with the egg whites it can leads to more problems later like deflating, poor feet development, etc. 
Here's why I use the Italian Method:
1. Most Stable
2. Smooth macarons shells
3. High success rate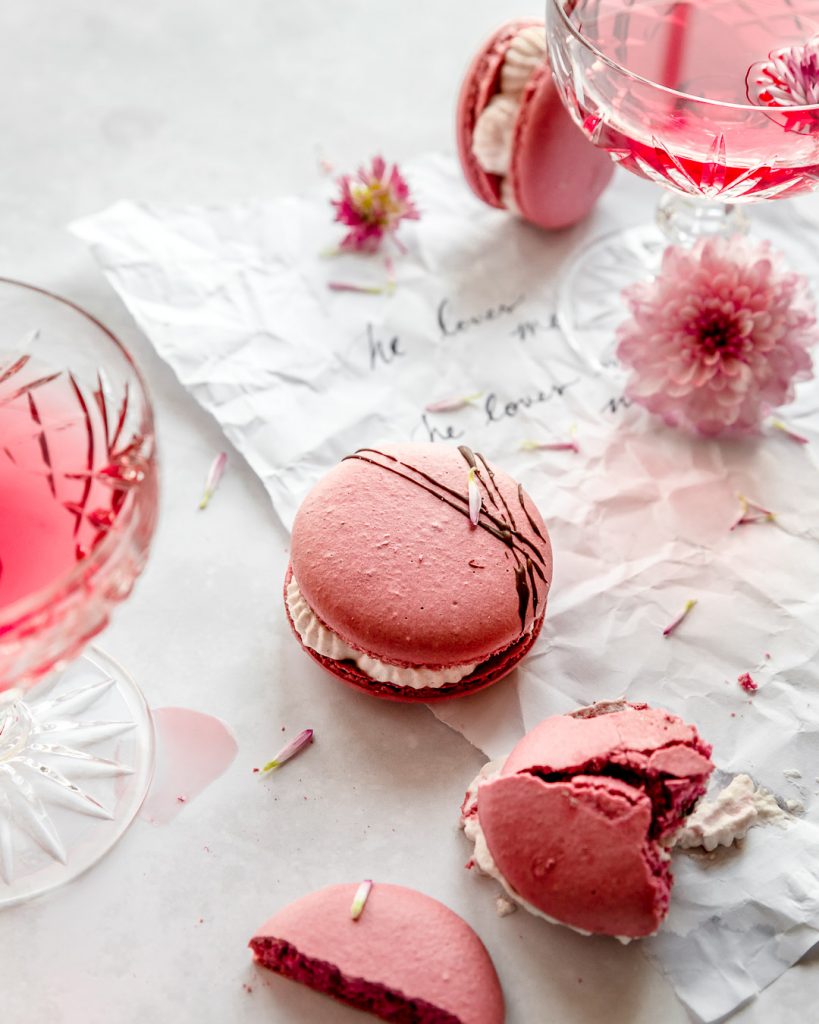 Ingredients & equipment you'll need to macarons
INGREDIENTS:
Almond Flour - Made of peeled and ground almonds, almond flour is finer than meal. You can substitute for almond meal (un-peeled almonds), but use a food processor to grind the meal before using. 
Confectioners Sugar/ powdered sugar - The most fine of sugar, this is mixed in with the almond flour. 
Egg Whites - I recommend using day-old egg whites. This is so the proteins have time to loose their elasticity and are easier to whip. If you forget to age your whites, no worries, just make sure your egg whites are at room temp. 
Gel Food Coloring - To give color to your macarons. 
Granulated Sugar - For stabilizing your egg whites. 
Heavy Cream - For making the red win whipped cream. Make sure it is at least 35% fat or it will not whip. 
Red Wine - Use your favourite red wine! I recommend a merlot or Cabernet for a medium body. 
Chocolate - For making the chocolate ganache center. I recommend either chocolate baking bars or small discs. I'm partial to Valhrona, Guittard or Callebaut. 
equipment:
Baking Tray & Silicone Mat - While you can use parchment paper, I find that a silicone baking mat transfers heat better, gives the macaron bottoms a dry crispy finish, and are less prone to tearing. 
Get my fav baking pans here and my recommended silicone mat here! 
Cooking thermometer - a must when boiling any sugar. 
See the thermometer I use here! 
Stand-mixer or Hand held - I recommend using a stand-mixer as you'll need to whip the egg whites while boiling the sugar. 
Piping bag & Plain Round Tip - If you don't have a round tip, you can just snip the end of a piping bag, but a tip ensures you get perfect rounds.
See my fav piping bags here, and my recommend tip here.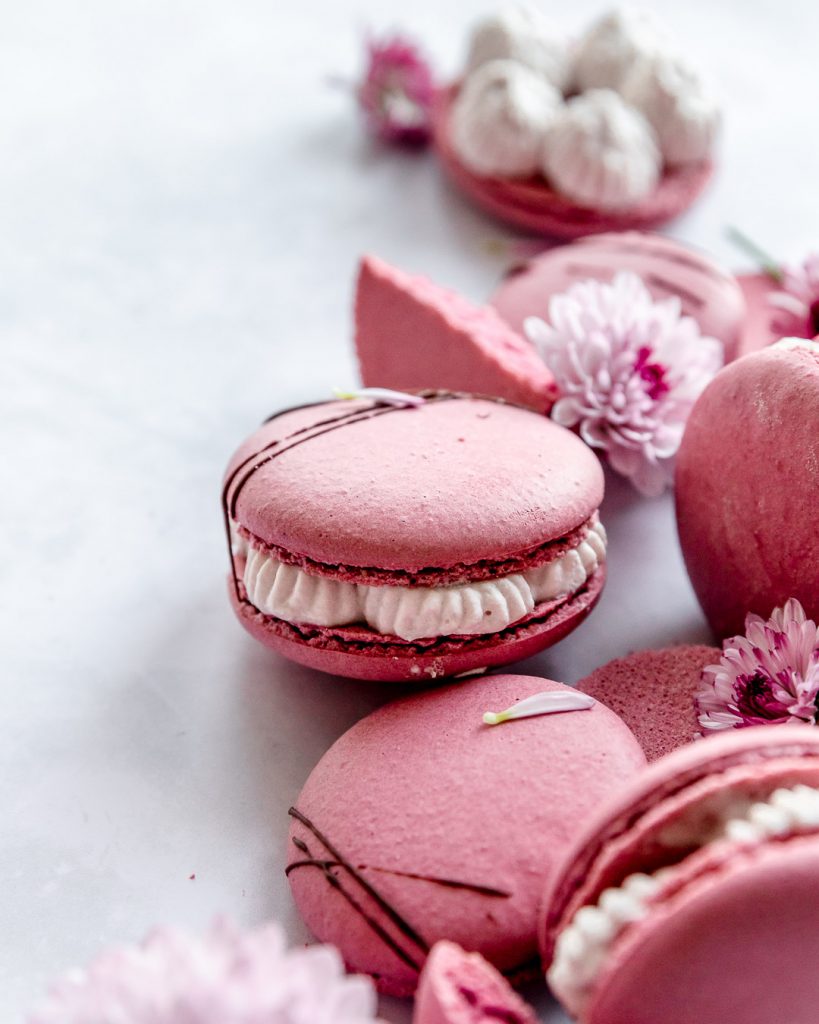 How to make Red Wine Macarons
1. Make the red wine whipped cream -  The red wine needs to be reduced in the heavy cream for 2 reasons: 1) To evaporate the alcohol; 2) Infuse the flavor into the heavy cream. 
The red wine is simmered with the heavy and then the mixture needs to be re-chilled so the cream can be whipped. I like to do this either the night before or at least 2 hours before assembling.
2. Combine the dry ingredients with half the egg whites - Half of the egg whites is added to the almond flour and confectioners sugar. This creates a paste that makes the macaronage process (combining the egg whites with dry) easier. 
Make the Meringue
3. Begin whipping Egg Whites - Start whipping the 2nd half of the eggs whites in your stand mixer until they reach soft peaks (like soft serve ice cream).
4. Boil the sugar - While the egg whites whip, you'll be boiling granulated sugar with a little water. This creates a sugar syrup which will then be added to the egg whites to stabilize them. Keep an eye on the sugar and only heat on low. Once it reaches 244°F / 118°C it's ready! 
5. Add sugar syrup to egg whites - With the mixer on low (so you don't burn yourself), slowly pour in the sugar syrup. Whip the sugar into the eggs until you get stiff peaks! You can also add your food coloring - note add a little more as it will lighten! 
Macaronage
6. Fold together meringue and dry ingredients - You're going to do this in 3 increments. The first add you don't have to be gentle, but on the second and third additions, fold gently to avoid deflating the batter. 
7. Check Consistency! - Fold the batter until it flows nicely without breaks and you can drawn a figure-8. Slowly, keep doing this until your reach the desired consistency.
8. Pipe - Spoon the batter into the prepared piping bag, and pipe out as many circles as possible, keeping them the same size. 
9. Allow skin to form - Tap the sheet against the counter to remove air bubbles, or pop bubbles with a toothpick. Then let it rest to develop a skin. You should be able to lightly run your finger over the surface without picking up batter. 
10. Bake! - Bake at 325°F / 63°C for 12 minutes or until they can cleanly be removed from the silicone mat. 
11. Assemble - Make the chocolate ganache, then fill the red wine macarons!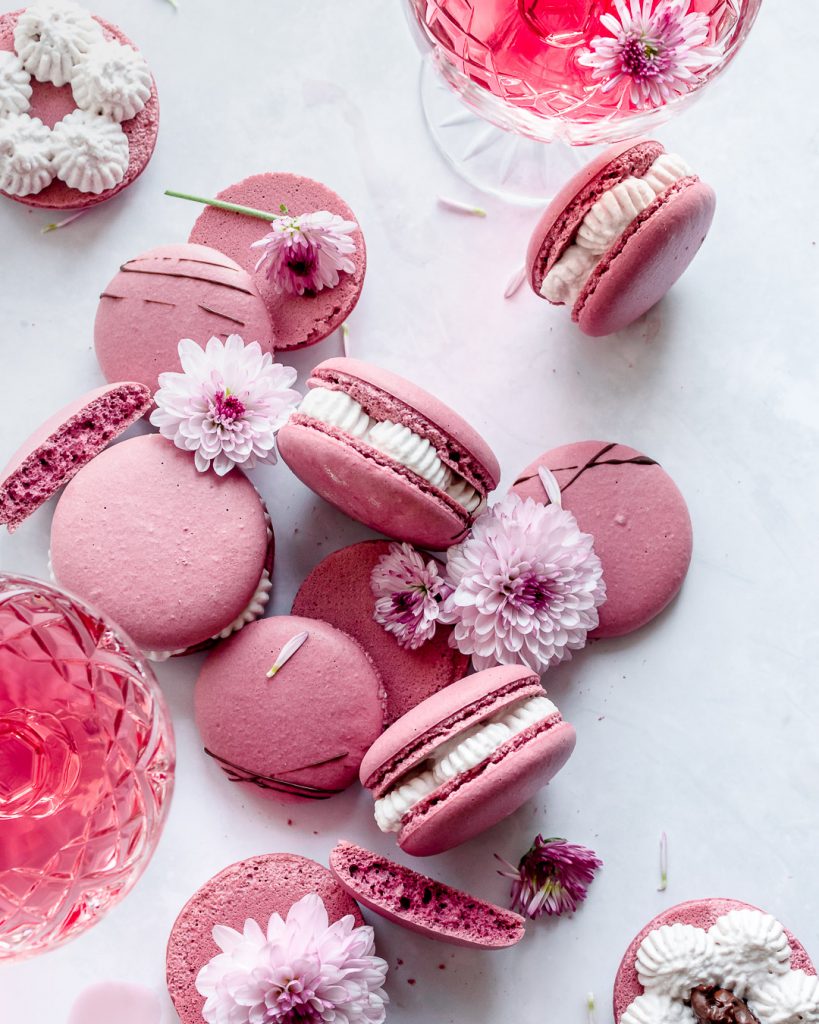 Tips for making Macarons
TIP #1 - Prep everything!  Use a scale to ensure the ingredients are accurate! Meringues are sensitive to changes. 
TIP #2 - Sift the ingredients -  Even though Italian meringue gives smooth tops, sift at least 2 times to remove clumps! Don't forget to grind the almond meal so it is finer, if using. 
TIP #3 - Check the meringue temp with your hand.  It can be easy to over whip meringues, so once you add the sugar syrup, use your hand to gauge the temperature. The batter should be slightly warm. 
TIP #4 - Be patient. Depending on the humidity and temperature of your baking environment, the skin can take longer to form. If it's too warm, I find that by placing a little aways from a fan does the trick. 
TIP #5 - Remove all air bubbles. A toothpick will be your friend in removing all air bubbles. 
TIP #6 - Not all ovens are the same, just because the indicator reads a certain temp, it may be off, so having an oven thermometer is handy. 
TIP #7 - Use the underside of your baking tray. This prevents the bottoms of your macarons from burning. 
How to store Macarons
Once assembled, these Red Wine Macarons are best enjoyed within 3-4 days. Store in an airtight container in the fridge. If you haven't assembled them yet, the shells remain fresh for 1 week when stored in an airtight container. 
I hope you enjoy these Red Wine Macarons! 
Happy Baking!
Sharon
if you like this recipe, you may also enjoy...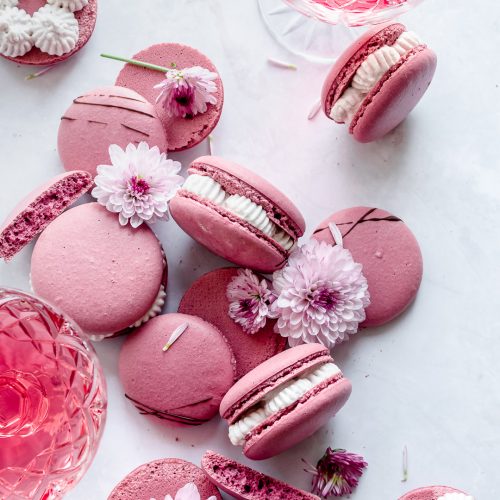 Red Wine Chocolate Ganache Macarons
Red Wine Chocolate Ganache Macarons combine a fluffy red wine whipped cream reduction with silky smooth chocolate ganache for a delicate treat.
Ingredients
75

g

almond flour

75

g

confectioners sugar

54

g

egg whites

one day old*, room temperature, divided in half

Gel or powdered food coloring of your choice

75

g

granulated sugar

19

g

water

⅛

cup (30ml)

red wine

1

cup cup (240ml)

heavy cream

⅓ cup (78ml) set aside

¾

cup (120g)

60% + dark chocolate

, finely chopped or in discs
Instructions
for the red wine whipped cream (sans alcohol)
In a small sauce pot, simmer the red wine and ¾ (162ml) cup of the heavy cream until reduced and the taste and smell of alcohol is gone. Remove from the heat and let cool. Store until ready to use.
for the red wine whipped cream (with alcohol)
No need to simmer the red wine with cream, simply add the red wine to the cream and whip up!
for the macaron shells
Using the underside of a large sheet pan, line with a silicone mat or parchment paper. Prep a piping tip with a plain round tip.

Sift the confectioners sugar and almond flour separately. Re-weigh after sifting to make sure you still have the correct amount. Combine in a medium sized bowl. Add the first half of egg whites (27g , and use a spatula to mix into a thick paste.

In a stand-mixer bowl fitted with a whisk attachment, add the second portion of egg whites (27g). Whisk on low- medium low speed until egg whites are frothy.

Simultaneous in a small pot, bring the water and sugar to a boil until it reaches 118C. Be careful not to splash any sugar-water on the sides of the pot to prevent crystallisation. If you do, use a small pastry brush dipped in cold water to brush down the sides of the pot.

Set the mixer to slow, and slowly pour the hot sugar mixture into the whipping egg whites. Increase mixer speed to medium-high and add gel food coloring (go darker with the color since the meringue will lighten the finished color), and whip till soft peaks form and is no cooler than 122°F / 50°C.

Fold the meringue into the dry ingredients in 3 parts. To fold, write the letter J with your spatula (through the center of the meringue and around, turning the bowl as you go) For the first addition, there's no need to be gentle as you want to fully incorporate the meringue. Add the second and third increments gently until no white streaks remain. Add more coloring if needed.

Keep folding until you can write a figure-8 without the batter without it breaking. The batter should gently ribbon down. Fold slowly to prevent over mixing.

Spoon the macaron batter into the piping bag. Hold the piping bag vertically and begin piping ¾″ to 1″ round shells onto your sheet pan, spacing them about ½″ apart. Deflate any air by lifting the tray and gently tapping it on your work surface. Let rest for 30 minutes or until a skin forms on the surface.

Preheat the oven to 325°F / 63°C and bake for 12 -15 minutes, or until the tops are set and don't wiggle when you gently push them to the side. Remove shells from the oven and slide the parchment or Silicone mat onto a cool work surface. Cool completely.
make the chocolate ganache
Place the chopped chocolate in a heat proof bowl and bring the remaining ⅓ cup (78ml) heavy cream to a light simmer. Pour over the chopped chocolate and stir to melt. Spoon into a piping bag and let cool.
to assemble
Remove the macarons shells gently and match into pairs. Whip the chilled red wine whipped cream into stiff peaks, spoon into a piping bag, and pip a ring of cream using the tip of your choice. Pipe the cooled chocolate ganache into the center, and sandwich with the other macaron shell half.
Did you make this recipe?
Tag @WhiskfullySo on Instagram