FACT: My family can survive without sweets, but we can't survive without bread. We eat it every morning, that's 8 slices A DAY.
The Easiest Rosemary Thyme Dutch Oven Bread
I was on a quest for the most crusty, chewy and fragrant bread, but most recipes seemed too complicated for a bread novice, took too much time (my family wanted the bread, now), and required tools I just didn't have access to at the moment. I was frustrated at how easy most recipes made it seem, but when my first batches failed, I started to think those recipes left out crucial tips that most first-time bread makers wouldn't know.
Don't worry if you don't have a stand mixer, this recipe is so simple it's meant to be done by hand. The proof time may seem long, but the longer the bread proofs the better it tastes. Since the prep time is so quick, I prep it the night before, and in the morning it's ready to bake. TA-DA! Fresh bread in the morning! I've outlined how to hand knead this dough below along with helpful tricks to make homemade bread a reality.
Materials You Need to Make This Bread
Dutch Oven: Using a Dutch Oven is ideal to trap all the steam in the wet dough and help the crust remain cool longer, thus allowing the bread to grow taller. If you don't have a dutch oven, don't fret! Below are some options:
Cast Iron Pan (2 needed): Cast iron is amazing as a heat conductor, and it can also withstand the high temperatures needed to make this bread.
Oven-Safe Pot: Make sure that your pot can withstand up to 450°F including the lid. If the lid isn't oven safe, you can cover the top with a baking tray or aluminum foil.
Two Tall Cake Pan or Trays: Make sure the cake pans or trays are at least 5 inches in depth to accommodate your baked bread.
Ingredients For Herbed Bread
Bread Flour: You may be wondering, can I use All-Purpose flour? Technically, yes; however, your bread may turn out more dense in the centre. Bread flour is best because of it's higher protein content (11-13%) to create gluten. Gluten gives bread dough elasticity and its characteristic airy "chew".
Rosemary + Thyme: I would like to say these herbs are optional, but they take bread to another level.
Salt: You can never have enough salt. Don't be afraid to liberally salt the top of your dough before baking.
Active Dry Yeast: The underdog ingredient, yeast will make or break your bread. Baking with expired yeast will mean the bread will not rise. If you do not have yeast you can substitute for Fresh or Instant Yeast.
Water (room temperature): Water will active all the ingredients and is needed to form gluten. Most importantly, in the baking process will produce steam to rise the bread.
I share in depth about the four stages of gluten development in this post. The dough is ready when you can stretch a small portion into a thin "membrane' without it tearing. Be careful not to overwork the dough or it will have the opposite affect.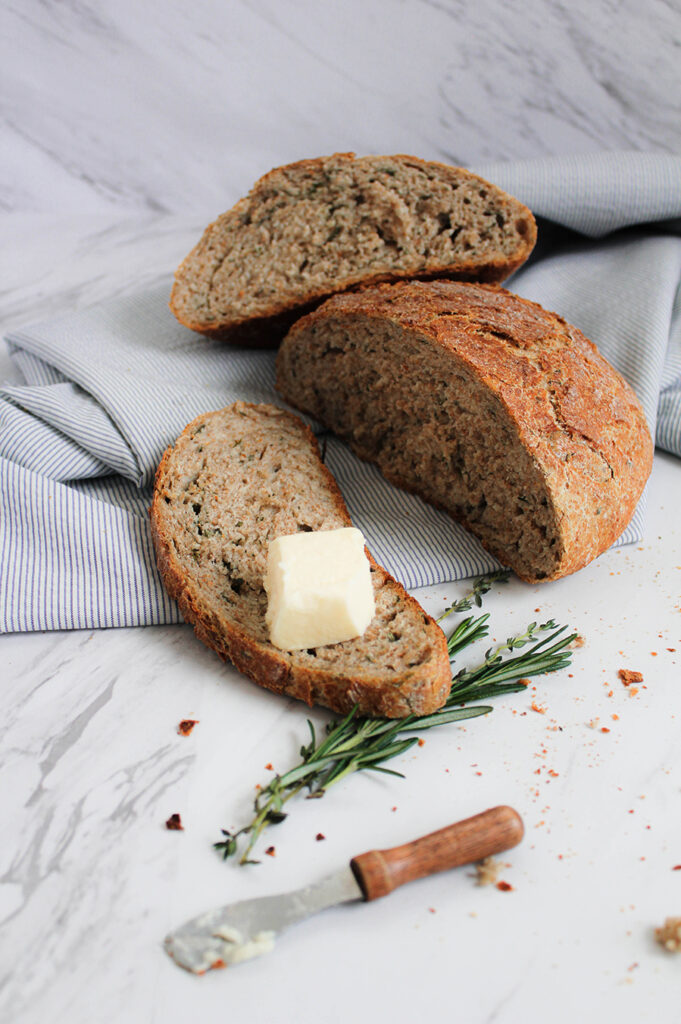 Tips and trick for making BREAD 
How do I knead the dough? And How Long?
Sprinkle 1 tbsp of dough on a flat surface (this prevents the dough from sticking to the surface) and remove the dough from the bowl it proofed in.

Knead the dough by pushing down into the centre with the heels of your hands and away from the body.

Fold the dough in half (folding from the part furthest away and toward you, pressing down). Using the heels of your hand, push the dough outwards, stretching the dough and lengthening it. Turn the dough 90° and repeat.
*If the dough begins to stick to the surface add more flour.

Continue kneading, folding, stretching and turning the dough until it is smooth.
Where should I store my bread when proofing? 
Bread needs moisture and heat to rise. I like to keep my proofing bread near the stove or nearby a window with lots of sunlight. During colder temperatures, you can preheat your oven to 150°F, once preheated turn off, and let your bread proof in the heated oven. 
How do I store the baked bread?
Bread is best fresh, but can last up to 2 months when frozen. To do so, first let the loaves cool to room temperature then slice each loaf. Wrap the bread and place them in re-usable bags/containers. When you want to eat them simply pop them in a toaster or oven to reheat.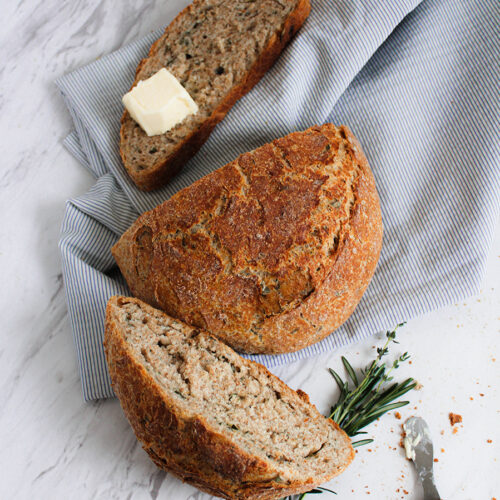 Rosemary Thyme Bread
Perfectly crusted, perfectly herbed by rosemary and thyme, this bread is so simple to make and is perfect for first time bread makers. All you need is an oven safe pot, flour, herbs & you're good. It's best toasted with a huge spread of garlic butter.
Ingredients
3 ½

cups

bread flour

¼

cup

rosemary

roughly chopped

¼

cup

thyme

roughly chopped

½

tsp

active yeast

1

cup

water

1

tsp

kosher salt

reserve half for later

½

tsp

olive oil
Instructions
for the dough
Proof the yeast: In a large bowl, add the water and sprinkle the yeast ontop of the water. If the yeast is active, it should foam after 5-10 minutes.

Once the yeast is foaming, add in flour, rosemary, thyme, and salt.

Using your hands, gradually incorporate flour with the water by gently kneading until all the water has been absorbed by the flour.

At this point the dough should be wet and sitcky. Use the palm of your hand to knead the dough until it holds together as a shaggy mass.

Pull the outer edges of the dough up and into the center of the dough. Turn 90° then repeat until you have made a full rotation. (repeat once more)

*If the dough seems dry, add more water one tablespoon at a time.

Continue kneading the dough, until a small piece can be stretched without tearing. (refer to notes on how to knead)

Swirl the olive oil so it evenly coats the bottom of the bowl and place your dough inside. Cover with cling wrap or a towel and proof for 6 hours (overnight for best results) in a warm place.
bake
Preheat oven to 450°F and place your dutch oven inside to warm.

Punch down on the proofed dough to release air. On a lightly floured surface, tip out the dough, and form into a circle. Liberally dust the surface of the dough with flour - it should be smooth and shiny.

Lastly, score the dough using a sharp knife to cut a slash in the dough. Sprinkle with salt.

Bake the dough for 40 minutes covered, then bake for another 20 minutes uncovered.

Let the bread cool before slicing and serving.
Did you make this recipe?
Tag @WhiskfullySo on Instagram