Nothing says comfort like these Savory Mushroom Spinach Hand Pies with a Cheddar Crust. Whether you're cooking for a group on thanksgiving, or making lunch, these cute hand-pies are tasty on their own, as a snack, or even with some hot soup.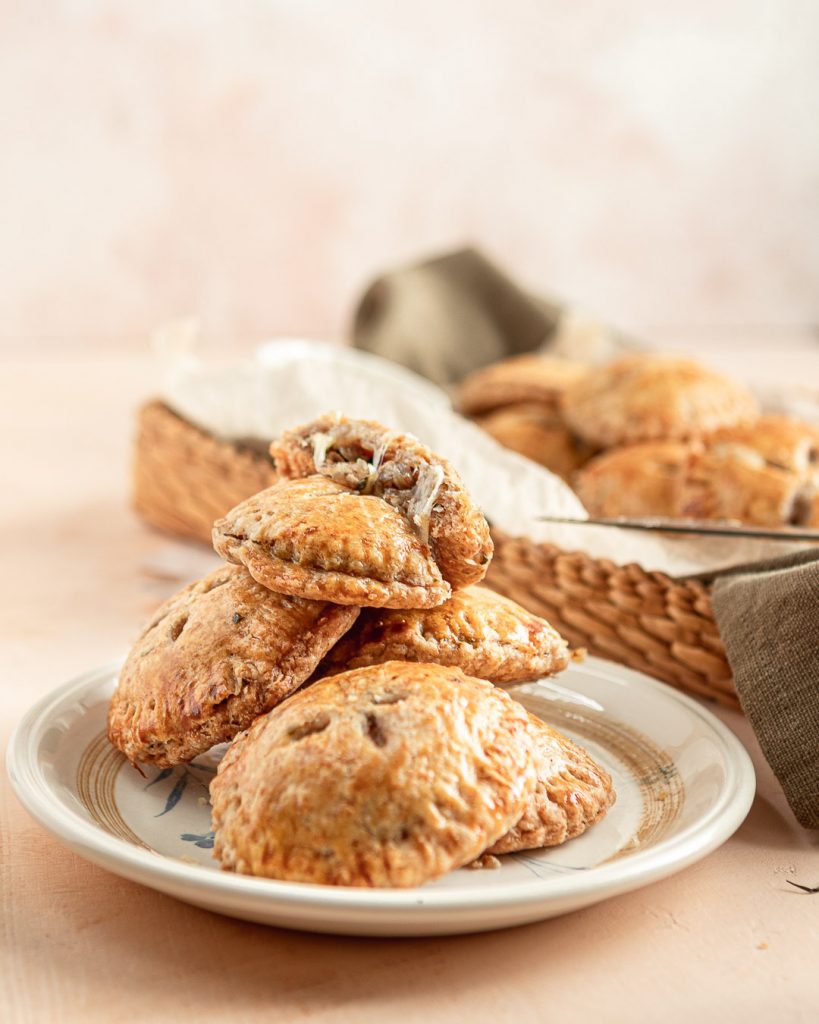 What are Savory Mushroom Spinach Hand pies with a cheddar crust?
Imagine a a savory quiche all packed up in  "hot-pocket size" that fits into your mouth in one delicious bite. These savory mushroom spinach hand pies with cheddar crust are filled with simmered mushrooms and spinach, carmelized onions, and topped with gruyere cheese. Baked to a golden crispy perfection in a flaky pie-like crust with hints of sharp cheddar. JUST DELICIOUS! On many occasions, I've made an extra big batch to freeze, so whenever I need something to go with soup, I just pop a couple into the oven.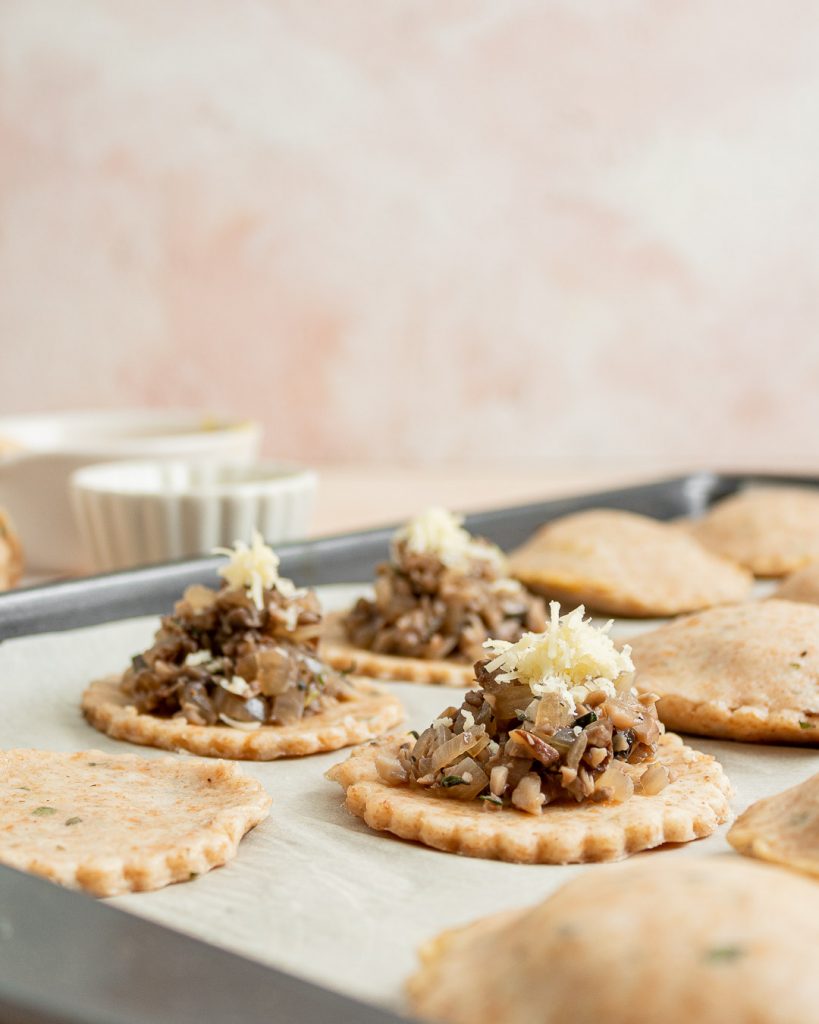 What Ingredients do I need for these savory mushroom spinach Hand Pies?
This recipe is very forgiving. If you don't have gruyere cheese, you can sub for swiss, cheddar etc. I wouldn't try to make these without mushroom though, as they are the star, but feel free to add some bacon or other veggies! 
for the cheddar crust
All-purpose flour: just like making traditional pie crust. 
Whole Wheat flour: I love the nutty flavor, wheat /spelt flour adds. If you want all/no wheat, just make sure you get the final amount needed.
*I have yet to try this with non-gluten flours, so I'm not sure how it will affect the outcome. If you have a go-to gluten-free pie crust recipe, feel free to use that instead! 
Butter: Crucial for getting a crispy flaky crust (Can be subbed with vegan/dairy-free butter).
Apple Cidar Vinegar: My secret ingredient! This makes the pie dough really smooth to roll out and prevents cracking. 
Egg (optional): I love adding egg to my pie-crust since it boosts the richness of the butter, but its not necessary for the success of these pies. 
for the filling
Mushrooms: I use Cremini mushrooms, but you're welcome to use button, chanterelle etc..
Yellow Onion: Carmelized onions are THE BEST, so don't skip out on this!
Spinach: Makes sure to fully cook this down, as any water in the filling will make the pies soggy.
Cheddar Cheese: I use smoke cheddar for a little extra "something" in the filling and the crust, but you're welcome to sub this for what you have. 
Thyme & Oregano: Adding these herbs into the filling instantly elevates the flavor. In this case, I think dried works best. 
Egg Wash: never bake pies without glazing first, it's key for a golden finish.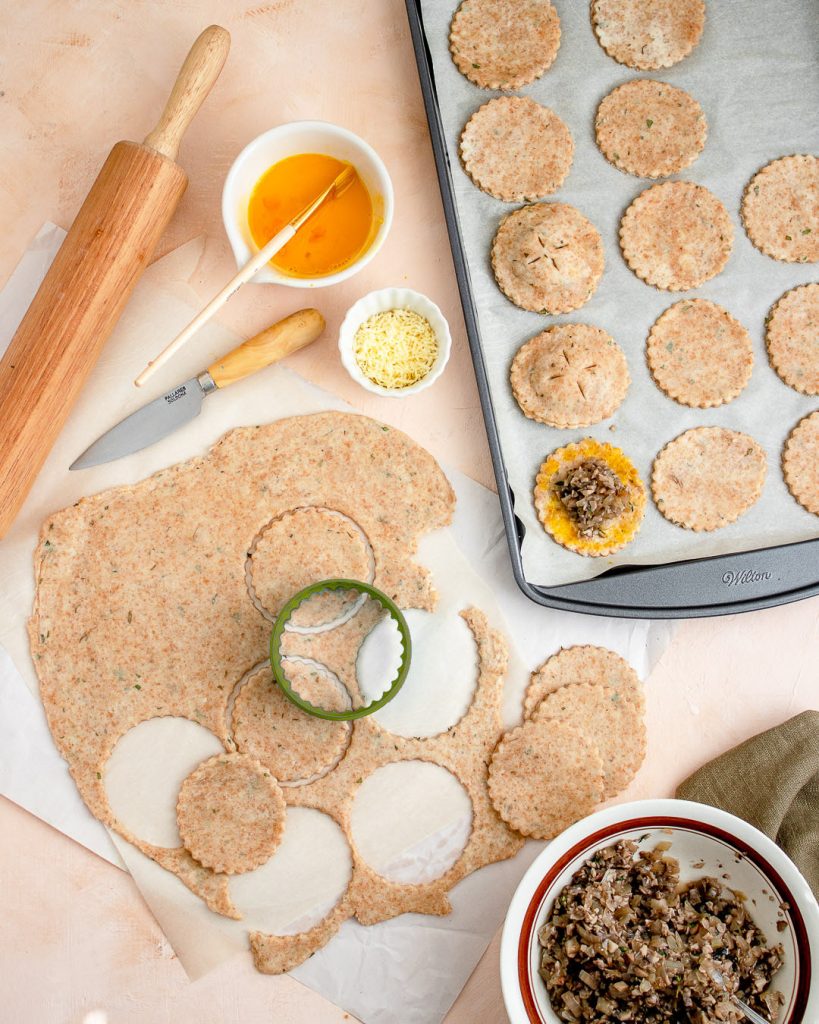 How to Make savory mushroom hand pies 
1. Make the crust: combine the flours, butter, apple cidar vinegar, egg (if using), cheddar, and water. Knead the dough slightly until it sticks together then form into a flat disc, wrap and let chill. It's super important to let pie crust chill before using so the gluten rests, and the butter solidifies. 
2. Caramelize onion: While the dough chills, make the filling by sautéing the onions until translucent. Add a 3 teaspoons of water, cover and let the onions slowly caramelize stirring occasionally to make sure they don't burn. 
3. Make filling: In another pan, sauté the diced mushrooms, until significantly reduced in size and slightly browned. Add in the chopped spinach, and cook down until wilted and all of its excess water is released. Strain out all the water. Press the mixture into the strainer to really get out all the juices. Toss the cooked mushroom/spinach mixture with the caramelized onions. Season with thyme oregano, salt and pepper.
NOTE: Let it cool before assembling, or it may melt the pie dough.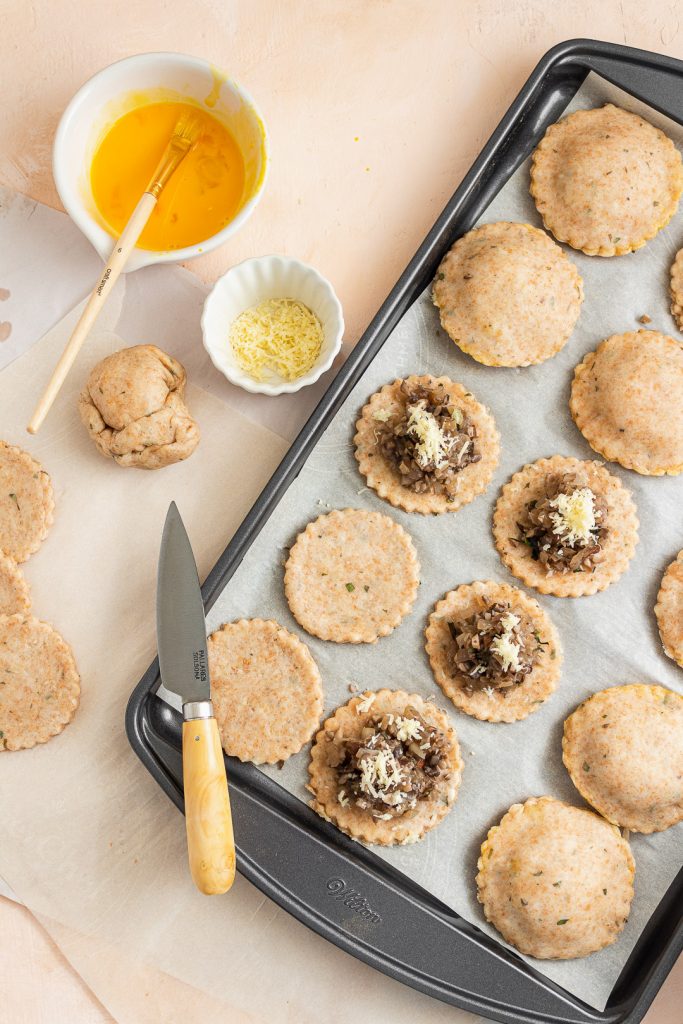 4. Roll out the pie dough: Remove the pie dough from the fridge, and lightly dust your surface and rolling pin with flour. Roll out the dough until it is ¼ inch thick. Using a 3" round cutter (you can up or down a size) cut out 24 circles. Press together any excess dough, roll-out, and cut out more circles. 
5. Assemble Hand Pies: Place the cut-out pie crusts on a baking tray lined with parchment paper. Spoon the filling onto one pie crust round leaving at least a ¼ inch border. Top with more grated cheese, before lightly brushing egg wash around the rim. Seal the pie with another cut-put disc, and press the edges with the tines of a fork to seal. Slice 3 -4 vents on the top of the pie so the steam can escape. Repeat until all the pies are made! 
6. Bake: In a preheated 425°F oven, bake the pies until nicely golden brown, and puffed up in size. Let the savory mushroom spinach hand pies with cheddar crust cool before enjoying!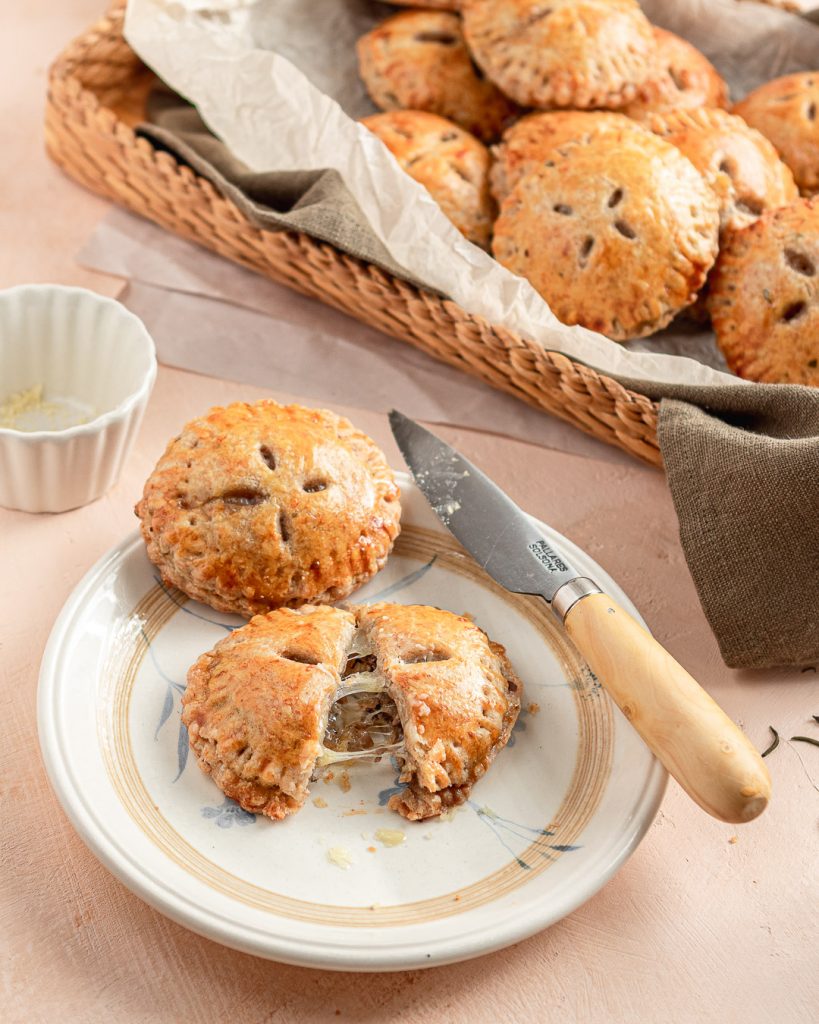 These hand-pies were are perfect for stashing in the freezer. Make and assemble as instructed, then instead of baking freeze on a baking tray until hardened. Then store in an air-tight container or reusable food bag. 
These keep frozen raw for up to two months. When you're ready to enjoy, brush with egg wash, and bake at instructed temperature. Once baked, these savory hand pies last for 1 week when stored in a sealed container. 
I hope you and your loved ones enjoy these savory mushroom hand pies with cheddar crust as much as I do! These are so simply to make, and you can really add anything to them: bacon, peppers, JUST cheese, the options are endless! 
Happy Baking! Sharon XO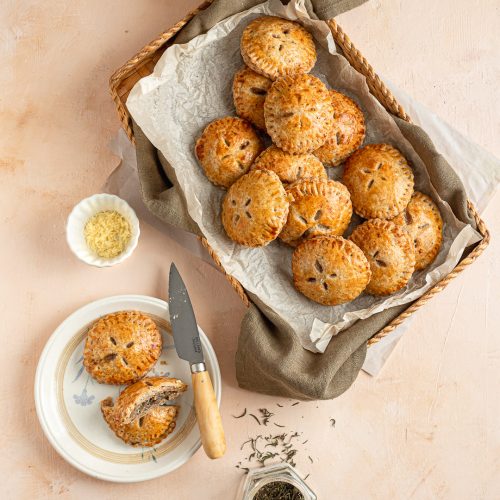 Savory Mushroom Hand Pies with a Cheddar Crust
Savory mushrooms, spinach and carmelized onions topped with gruyere cheese all wrapped in a flaky cheddar crust.
Ingredients
for the cheddar pie crust
1 ¼

cup (154g)

all-purpose flour

¾

cup (95g)

whole wheat flour

½

tsp

kosher salt

¾

cup (170g)

unsalted butter

cold, cut into 1 inch cubes

1

egg yolk (optional)

lightly beaten

⅓

cup (79ml)

water

1 tbsp

apple cider vingar

1

cup (83g)

cheddar cheese

finely grated, ¼ cup reserved for filling
for the savory filling
2 ½

cups

cremini mushrooms

finely diced

1

cup

yellow onion

finely diced

2.5

cups

spinach

roughly chopped

2

tbsp

thyme

2

tbsp

oregano

1

tsp

kosher salt

1

tsp

black pepper

1

tbsp

unsalted butter

1

small

egg

lightly beaten
Instructions
for the cheddar pie crust
In a medium bowl, add the all-purpose, whole wheat flour, cheddar cheese, salt and cubed butter. Rub the butter into the flour using your fingers, until all the butter is coated in flour and are no larger than almonds or peas.

Make a well in the center of the bowl, and add water, apple cider vinegar, and egg, if using. Stir the liquids with your finger tips gradually adding in flour. Knead the dough until no clumps of dry flour remain, and the dough holds together easily. You should be able to press an indent into the dough with your finger.

Tip the dough out onto a flat surface, and shape into a disc approximately ½ inch thick. Wrap in plastic wrap, and chill in the fridge for a minimum of 30 minutes, but no longer than 2 hours.
make the savory filling
While the dough is chilling make the filling by first caramelizing the onions. In a small pot over medium heat, sauté the diced onion until it is translucent. Then add 2-3 teaspoons of water, cover the pot and simmer, stirring occasionally to prevent burning, until the onions are brown, wet, and in a homogenous mass. Approximately 15 minutes.

While the onions caramelized, in another pan on medium heat, heat up 1 tbsp of olive oil before adding in the diced mushrooms. Cook the mushrooms down until reduced by more than half in size and are browned. Add in the spinach and cook until wilted and all their water has been released. Remove the pan from the heat and strained the mixture. Pressing or squeezing with your hands to get out all the water.

It is important to release all the water now, or else it will escape while baking and the pie crust will be soggy.

Toss the mushroom spinach mixture in a bowl with the carmelized mushrooms and season with salt, pepper, oregano and thyme. Cover and set aside to cool until room temperature.
cut out pie crusts
Remove the chilled dough from the fridge, and roll out on a lightly floured surface until ¼ inch thick. Use a 3 inch round cutter to cut out 24 circles. Place the cut-out circles at least ½ inch apart onto a baking sheet lined with parchment paper.
assemble & bake
Preheat the oven to 425°F.

Make the egg wash by lightly whisking one small egg.

Using a small tea spoon, spoon filling into the center of each cut-out pie circle, leaving a border of ¼ inch. Sprinkle with grated cheddar before brushing the border edge with egg wash. Top each hand pie with another cut-out disc and press the edges with the tines of a fork to seal.

Brush all the hand pies with egg wash, before baking for 20 minutes or until golden brown. Let cool for 10-12 minutes before enjoying!
Notes
Substitutions:
Whole and all-purpose flour can be substituted or used interchangeably for the other. I have not tried using gluten-free flour, but if you have a recipe, then you are more than welcome to try it. 
Cheddar can be subbed for any dairy-free version.
Egg wash can be subbed for a vegan version as well.
Did you make this recipe?
Tag @WhiskfullySo on Instagram
Looking for more pies? What about...