When you think of Paris, you probably think of croissants right? When I think of Paris, this Pear Frangipane Tart always come to mind. It combines some of the best French patisserie foundation recipes in a beautiful delicious pastry confection. From a buttery sweet pastry crust that shatters in the mouth, to a creamy warm baked almond cream, and even spiced poached pears, this tart is an icon.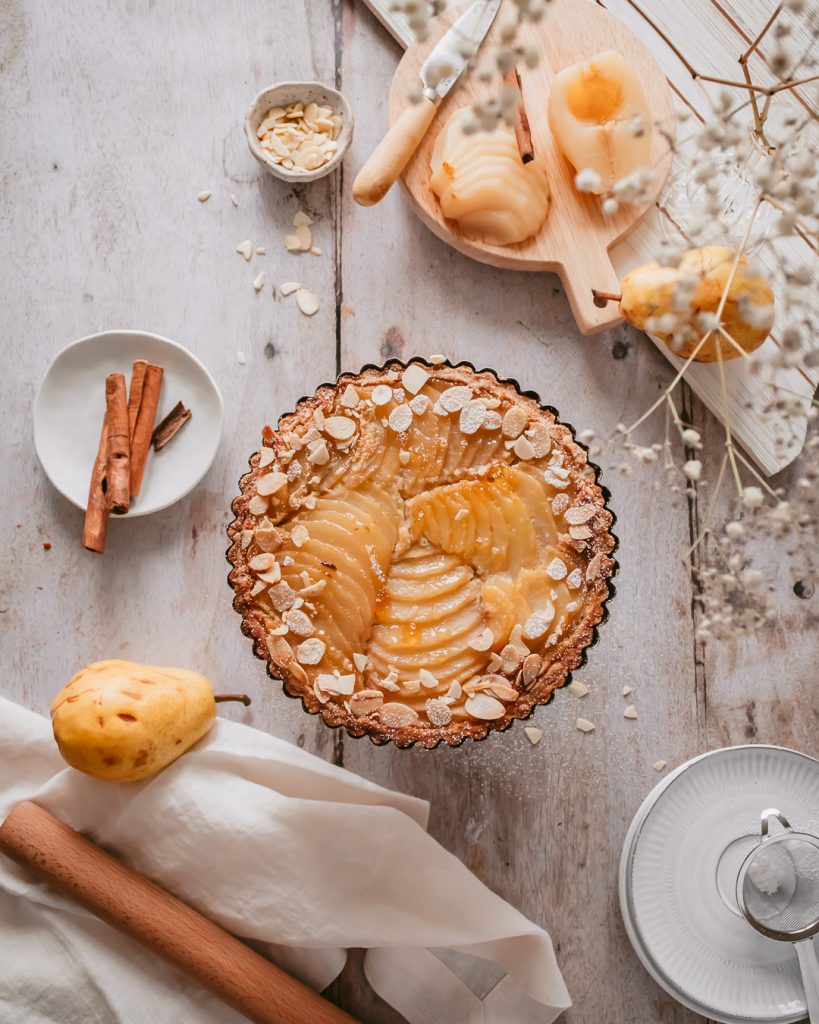 What is a Pear Frangipane Tart?
Also known as Tart Bourdeloue, this recipe has a deep history and was conceived in 1824 by a pâtisserie in Paris near the famous Notre Dame Cathedral. The original version only consisted of baked almond cream (sans pie crust). Later on, poached pears were added as well as a sweet tart crust to make it the famous dessert we know today. 
YIELD: This recipe makes one 7 or 8 inch tart. Enough to serve 6-8 slices. 
METHOD: The tart consists of 3 main parts: 1) Sweet short crust pastry; 2) Frangipane (almond) filling; 3) Spiced poached pears. (for more details, check out the "how-to-make" section)
TEXTURE: The filling is velvety smooth and balanced with crispy crunch from the tart shell. 
FLAVOR: Rich nutty almond cream, with a hit of spice from the poached pairs. All tied together with a buttery crust. 
LEVEL OF DIFFICULTY: EASY to INTERMEDIATE - This Pear Frangipane Tart may look fancy, but the components are VERY achievable. Out of all the components, the frangipane filling can be a bit challenging for beginners not used to making custard.
Ingredients & equipment you'll need to make pear frangipane tart
INGREDIENTS:
for the sweet short crust pastry - Also known as Pâte Sucrée, this is a sweet snappy crust. Get my go-to recipe here!
for the frangipane filling: 2 parts: 1) Classic pastry cream; 2) Almond Cream
Classic pastry cream
Whole milk - The base of the cream, plant based milk can be substituted. I recommend almond so there are no flavor changes.
Eggs and egg yolks - Eggs are a key component and give a rich taste and creamy texture. Eggs are easier to separate at room temp, but it isn't mandatory.
Granulated sugar - To sweeten the filling.
All-purpose flour - The flour thickens the texture of the filling so it has a cake-like fluffy texture.
Dark Rum - Optional, but gives a nice kick to the filling especially when paired with the spiced poached pears.
2) Almond Cream
Butter - The base of the almond cream. Give plenty of time for it to soften at room temperature.
Almond Meal - Unlike almond flour, almond meal is ground almonds WITH the skin. 
special equipment:
Non-stick 7-8  inch tart pan - I recommend using a tart pan with a removable bottom so serving is easier. 
Stand-mixer or Hand held - For whipping up the pastry cream. 
Angled Spatula - This is not necessary, but I find that it is best for styling and placing the poached pears as they become quite fragile once poached. 
What is frangipane filling?
Frangipane filling is a sweet almond flavoured pastry cream that is used to fill tarts, cakes, etc. In this case, the filling is baked until it has a moist cake-like texture. The Frangipane filling in this tart is composed of 2 types of pastry cream: 1) Classic pastry cream & 2) Almond Cream.  They are made separately, because the classic pastry cream needs to be whipped up before being mixed with the almond cream.
Overview of making the filling:
The pastry cream is made by tempering egg yolks with boiling milk.  Tempering is just a fancy word for "bringing 2 ingredients to the same temp". The egg yolks needs to be "tempered" so they don't cooked when hot milk is added. The custard relies on whisked and heated eggs to thicken, but flour is added for a fuller-body mouthfeel. 
How to make Pear Frangipane Tart
1. Make the sweet shortcrust dough - This is made first, since the dough needs to chill for at least 30 minutes 
2. Poach the Pears - The key with poached pears is to cook them on low heat and slowly. Also, cover to prevent the steam from escaping. 
3. Make the frangipane filling - Since the filling is composed of 2 pastry creams, make the classic one first since it needs to cool after being tempered. Right before assembling, you'll combine the two creams together to make the frangipane filling. 
4. Assemble - Line the tart pan with the chilled dough. (See my tart recipe for more details and tips when working with tart dough). Fill the tart with the filling. 
5. Slice and top with pears - Once poached, the pears are very soft and fragile, so be careful when handling. I recommend using the angle spatula to place the pears. 
6. Bake - Decorate the tart with flaked almonds and powdered sugar, before baking. The tart is done when the filling is golden brown. The filling should not be wet, test with a knife or skewer.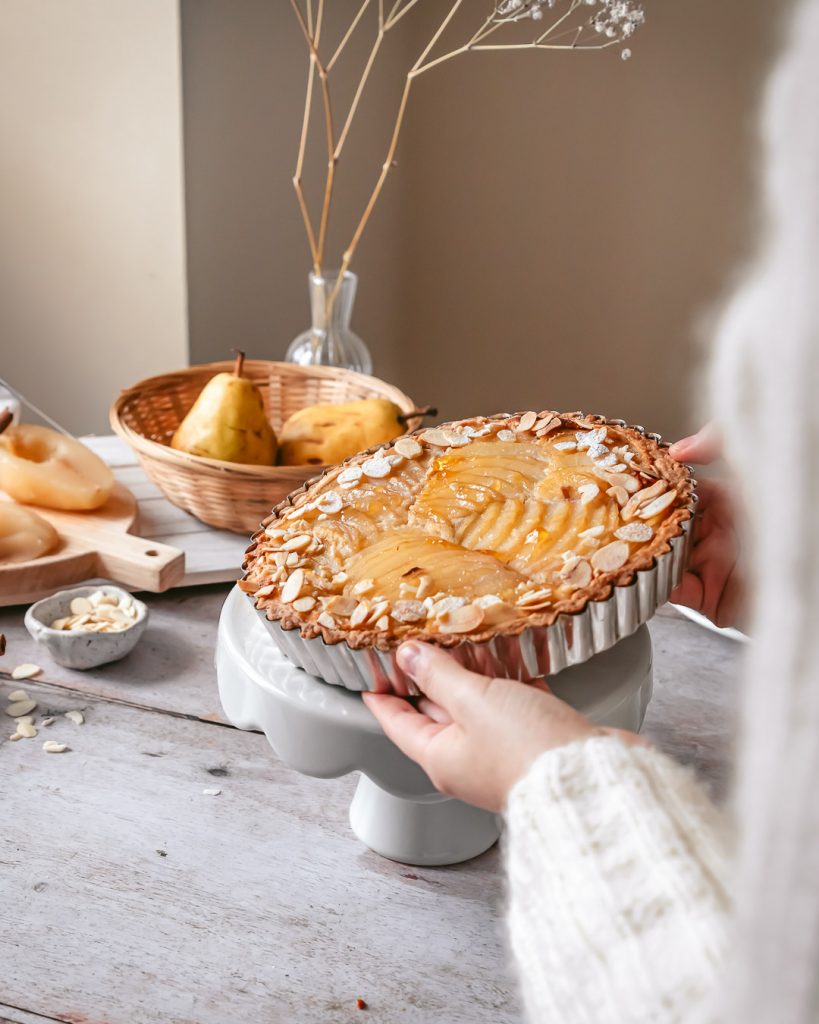 Tips for making a pear frangipane tart
TIP #1 - Prep everything!  Use a scale to ensure the ingredients are accurate. 
TIP #2 - Sift the flour - To ensure the filling is smooth, make sure to sift the flour, and strain the custard. 
TIP #3 - Keep the crust cold.  Whenever working with pie crust, keep the dough cold to prevent the butter from melting. 
How to store this pear frangipane tart
This Pear Frangipane Tart is best enjoyed the same day. I recommend a large scoop of cold ice cream for that hot and cold combo! To store, cover and place at room temperature. This tart stays fresh for up to 3 days. 
I hope you enjoy this classic Pear Frangipane Tart!
Happy Baking! Sharon
if you like this recipe, you may also enjoy...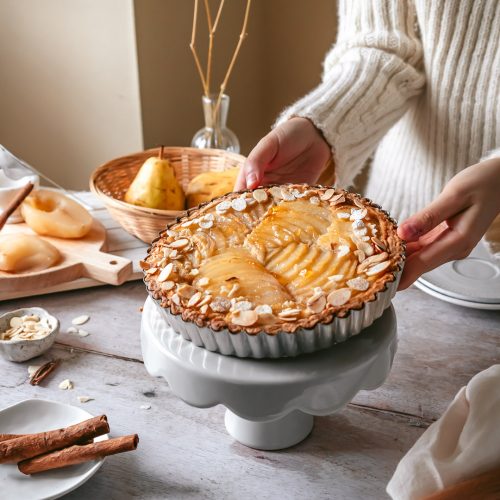 Classic Pear Frangipane Tart (Tarte Bourdaloue)
A french classic, this Pear Frangipane tart has a sweet buttery crust, filled with a rich almond cream and is topped with spice poached pears. Enjoy warm and (for the adventurous) with vanilla ice cream.
Ingredients
for the sweet short crust (a.k.a pâte sucrée)
1

recipe

for Sweet Short crust (a.k.a Pâte Sucrée)
for the poached pears
150

ml

water

100

g

granulated sugar

1

stick of cinnamon

1

whole vanilla pod or vanilla paste or extract

for liquid form use 1 tbsp

3

ripe Bartlett Pears

peeled, cored, and halved
for the frangipane filling
250

g

whole milk*

5

ml

vanilla extract

40

g

egg yolks (approx. 2)

50

g

whole egg (approx. 1)

50

g

granulated sugar

20

g

all-purpose flour

2

tbsp (30ml)

dark rum

30

g

butter

softened

30

g

granulated sugar

40

g

almond meal
for assembling & finishing
25

g

flaked almonds

powdered sugar for dusting
Instructions
for the sweet short crust (a.k.a pâte sucrée)
Make the tart dough according to recipe, and chill in the fridge, wrapped, for a minimum of 30 minutes to overnight.
for the poached pears
In a sauce pot, bring to a boil the water, granulated sugar, cinnamon stick, and vanilla (if using pod, scrap out all the seeds first then add the pod). Boil for 2-3 minutes, then add the pears. Cover with a lid, then gently cook over low heat for 15-25 minutes or until soft enough to pierce with a knife. Remove from the heat and let pears cool in syrup covered.
for the frangipane filling (2 parts - 1) Pastry cream & 2) Almond Cream)
1) PASTRY CREAM - In a sauce pot, bring milk and vanilla to a boil. Remove from heat and set aside.

In a mixing bowl, whisk together egg yolks, the whole egg, and granulated sugar until slightly thickened. Sift in all-purpose flour.

Temper the egg mixture by streaming in ¼ of the the boiled milk/vanilla mixture while vigorously mixing to prevent curdling. Place a strainer over the sauce pot with the remaining milk/vanilla, and strain the egg mixture in.

Turn the heat back on to medium-low and cook custard for another 2 minutes whisking swiftly until thickened and falls from the whisk in ribbons approx. 5 minutes.

Remove the pot from the heat, and pour creme into a cold bowl or dish. Cover with cling wrap, making sure the wrap is in contact with the surface of the cream, and chill in the fridge until ready to use.

2) ALMOND CREAM - Prepare the almond part of the filling by whipping the softened butter and granulated sugar until fluffy, then fold in the almond meal and mix until smooth. Cover and chill in the same manner as the pastry cream.
for assembling and baking
Preheat the oven to 350°F / 177°C and grease a 7 or 8 inch tart pan with softened butter or non-stick spray, making sure to coat each nook and cranny.

Remove the chilled tart dough from the fridge, and on a lightly floured surface, roll out until ¼ inch thick. Gently lift it, and place into the tart pan. To prevent tearing, lift the edges of the dough and ease it gently into the crevices rather than pressing and stretching the dough. Use a sharp knife to slice off any excess.

Remove the chilled pastry cream from the fridge, and beat in a mixing bowl until smooth and fluffy. Fold in the almond cream and stir in rum (if using). Fill the tart shell with the frangipane filling and smooth into an even layer with a spatula.

Remove the poached pears from the syrup with a slotted spoon or spatula, set aside the syrup, and slice horizontally into ⅛ inch slices. Press the pears gently so they sit at a slight angle, then slide a spatula underneath to life and place on top of the filling.

Top with flaked almonds, then dust with powdered sugar. Bake for 30-35 minutes or until the filling is golden, and cook through. Check by inserting a knife into the filling, it should come out clean.

Let cool before removing from the tart pan. To glaze, heat up the poaching syrup, and brush overtop the slightly cooled tart. Lightly dust the edges of the tart with powdered sugar to finish.

Serve and enjoy the same day for optimal yumminess.
Notes
SUBSTITUTIONS 
Whole milk can be substituted with a plant based option. I recommend almond milk so the flavor doesn't change. 
NOTES:
To make ahead, the tart shell and filling can be made the night before.
Sweet Shortcrust (Pâte Sucrée) Recipe here!
Did you make this recipe?
Tag @WhiskfullySo on Instagram