Who said icebox cookies have to be boring? These Pistachio Rose Ice Box Cookies are sure to impress, and are perfect for stashing in the freezer for when you want a sweet treat to go with afternoon tea. 
This recipe is part of the 2020 Holiday Cookie Box. To see all the other flavors click here!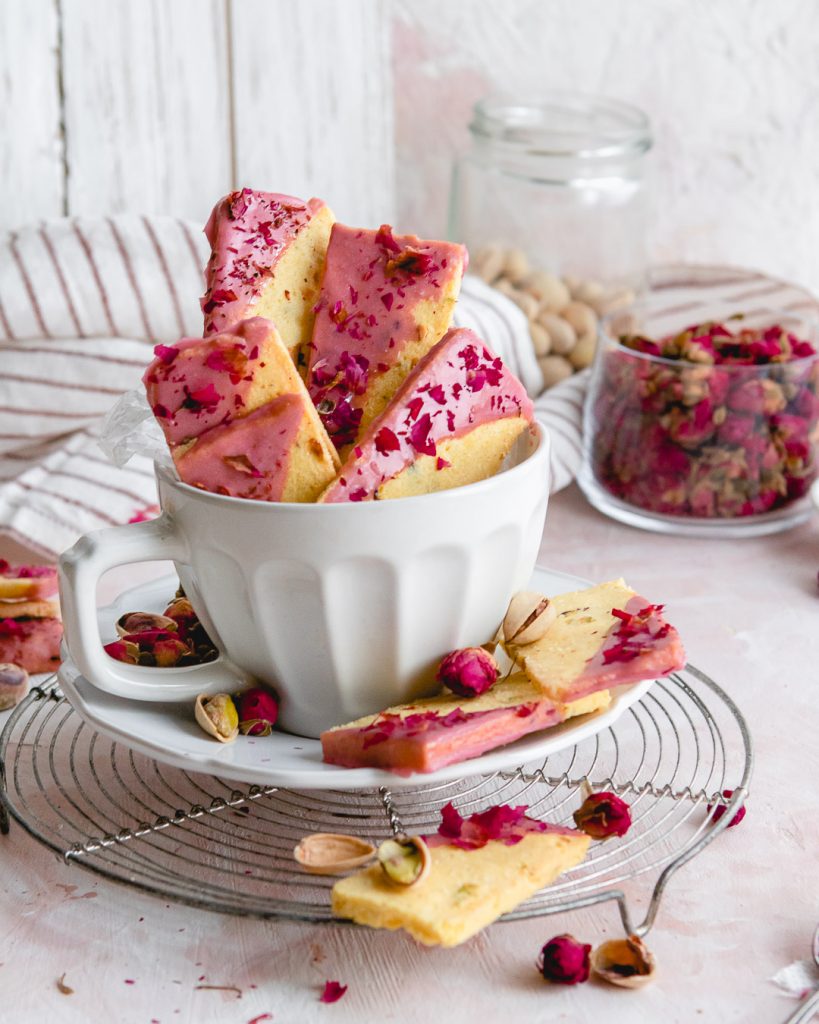 What are Ice Box Cookies?
If you thought these had something to do with the freezer - then you're right! These cookies were invented around the same time the freezer (aka ice box) was invented - around 1930s when the refrigerator was becoming a house hold staple. 
In the 1930s, home cooks were increasingly looking for quick and simple recipes. Thus, this "slice-and-bake" cookie could be made in the morning before going to work, stored in wax paper, and placed in the fridge until they were home and ready to bake. 
Having cookies always on hand in the freezer is practical for many reasons: 1) you don't have to bake all your cookies at one; 2) You'll always have something sweet and fresh to serve guests at a moment's notice; 3) You can put whatever mix-ins you want. A.K.A This is the most versatile cookie recipe EVER!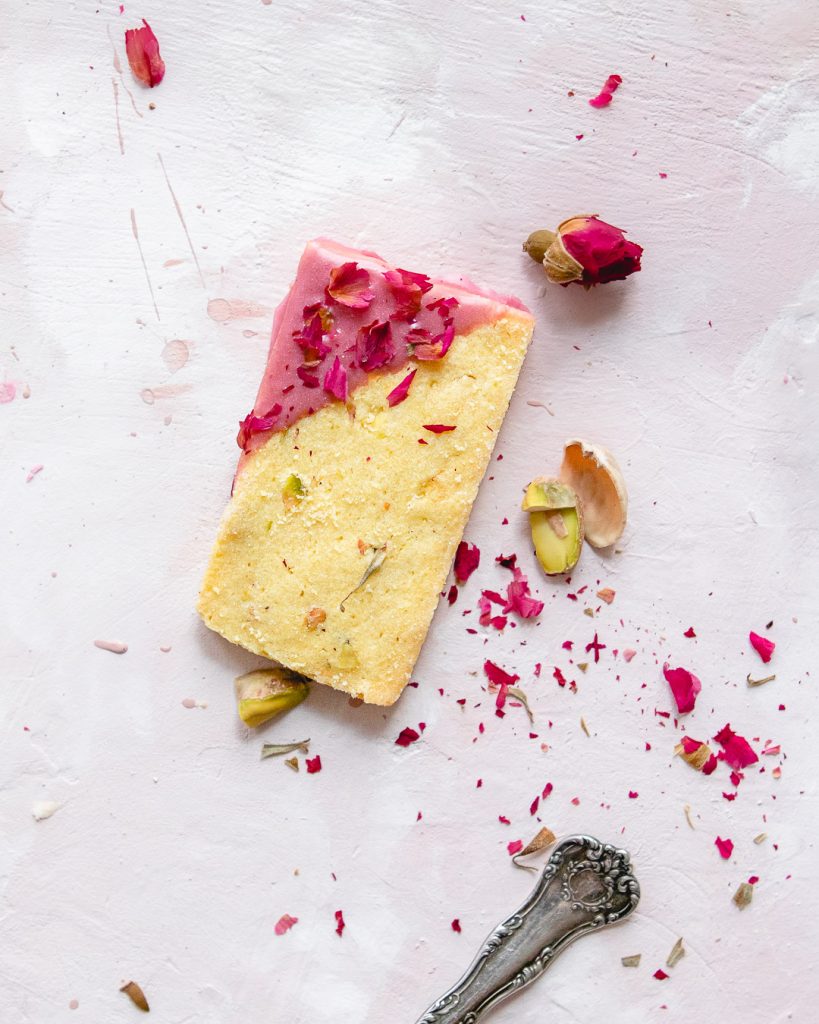 All the details in these Pistachio Rose Ice Box Cookies
YIELD: This Pistachio Rose ice Box Cookies recipe makes 20 cookies if each is sliced ¼ inch thick. 
FLAVOR: Delicate floral rose paired with nutty pistachio. I use rose extract, and I roughly chopped pistachios to flavor the cookies. The glaze also has rose flavoring. If you're not a huge fan of rose, you can omit it from the cookie (but I do recommend keeping it in the glaze). You don't need dried rose petals for the recipe, but it does make for gorgeous decoration. 
TEXTURE: These Pistachio Rose Ice Box Cookies use a classic butter cookie as its base so these have crispy edges and buttery melt-in-your-mouth centers. To get the pink glaze, I used 1 drop of Dusty Rose from Americolor; however, you can use a pink/red of your choosing. As always, add 1 drop at a time to avoid over-coloring. 
LEVEL OF DIFFICULTY: Easy! This recipe is made entirely in one bowl, and after making the base, the rose extract and pistachios and mixed in.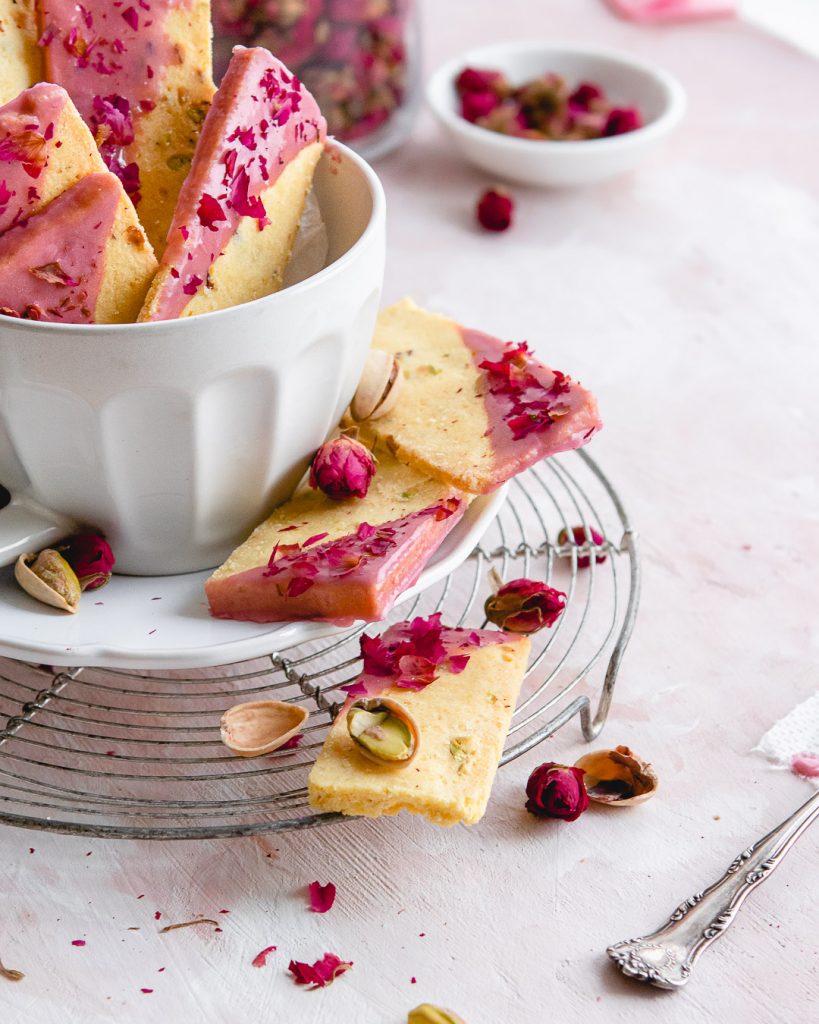 tips for making butter cookies
Use room temperature butter – This is essential for the Pistachio Rose Ice Box Cookies to be tender and crumbly.  The foundation of this cookie is made by creaming butter and sugar, so warm softened butter will make this easier and ensure everything is incorporated. 
TIP: Leave your butter out at least 2 hours before, OR place over a warm vent for 5-7 minutes. 
Aim for Drier Dough – To prevent excess spreading, the dough should be on the drier side. Like pie dough that holds together when pressed. 
Chill your Dough – Absolutely essential for all butter cookies, this relaxes the dough and makes it easier to roll out! It also prevents the butter from smearing and sticking to the surface. For this recipe the first chill should be at least for 30 minutes and the second for 1 hours to hold the design, but the longer the better for flavor! 
Use a sharp knife – The dough will be firm when you remove it from fridge, so use a long sharp (non-serrated knife). TIP: Wash the knife in boiling water, wipe-off, then cut. The hot blade will make quick work of the cold dough. To keep the shape of the cookie, use a gentle sliding motion in one direction only. Using a back-and-for sawing motion will distort shape of the cookie.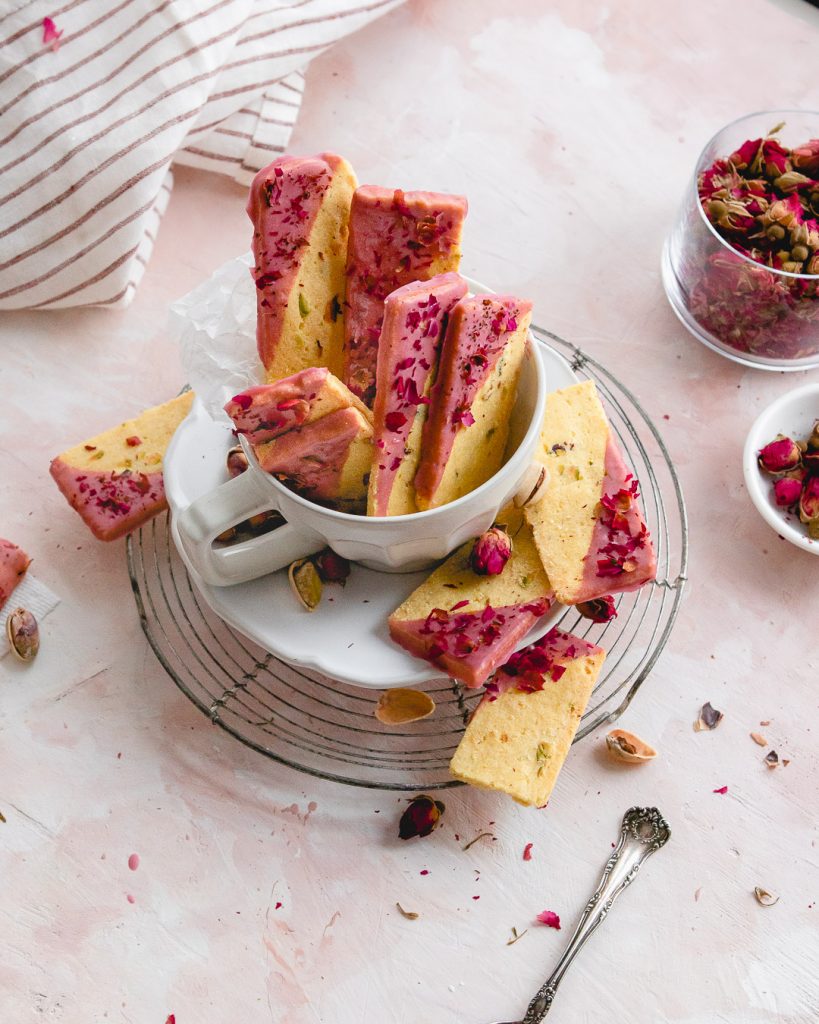 How to store Pistachio Rose Ice Box Cookies
The best part about these is you can make a large stash and keep them in the freezer! Once the dough is shaped into a rectangular log, you can either:
1) Keep the entire log in the fridge, and slice only when you're ready to bake. The dough will stay fresh for 2 week. 
2) Cut the cookies, store in the freezer, and bake when ready. The dough will stay fresh for 1-2 months.
Once baked the cookies stay fresh in an air tight container for 1.5 weeks. 
This wraps up the cookies from this year's 2020 Holiday Cookie Box! I hoped you enjoyed all the flavors from this year, and I can't wait till next years!
Happy Holidays! Sharon XO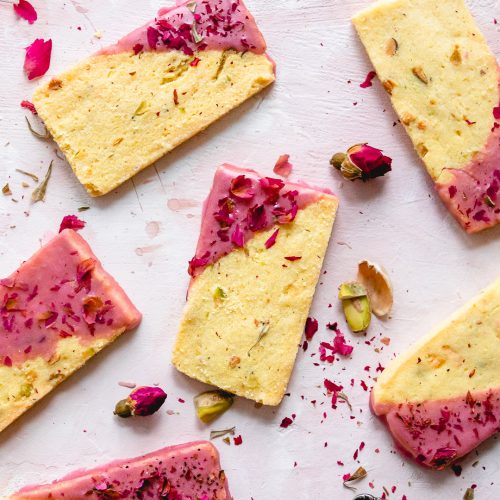 Easy Pistachio Rose Ice Box Cookies
Easy Rose Pistachio Ice Box Cookies for when you need something sweet to go with your afternoon tea. Perfect for stashing in your freezer!
Ingredients
for the cookie dough
5½

tbsp (80g)

unsalted butter

softened at room temperature

¼

cup (30g)

powdered sugar

sifted

½

tbsp (7ml)

vanilla extract

¼

tsp (1g)

kosher salt

1

small egg yolk

room temperature

¼

cup

pistachios

roughly chopped & 3 tbsp (10g) ground

½

tsp

rose extract

½

cup +3 tbsp (90g)

all-purpose flour or cake flour

1

+ tsp

milk (to thin out batter if needed)
for the rose icing
½

cup (50g)

powdered sugar

1-2

tbsp (15-30ml)

milk

1

tbsp (15ml)

rose extract

1

drop

red or pink food coloring

¼

cup

dried rose petals

crushed
Instructions
for the cookie dough base
In the bowl of a stand mixer fitting with the paddle attachment, cream softened butter on medium-low speed until smooth. Sift in powdered sugar, add vanilla extract and salt. Cream until sugar is dissolved and mixture is smooth.

Pour in egg yolk, ¼ cup (minus 3 tbsp) of pistachios, and rose extract (omit rose extract here if not using). Mix until egg is fully combined and the pistachios and evenly spread into the batter.

Sift in all-purpose (or cake flour) and fold to combine. Fold just until no streaks of flour remain. If the dough gets tough, stream in milk 1 teaspoon at a time. Should be of pie dough consistency: holds together when pressed, but not wet.

Tip the batter out onto a flat surface and form into a long rectangle log. Use the palm of your hands to shape the sides to get as sharp corners as possible. Wrap in cling wrap and chill for minimum 20 minutes in the fridge or until dough is stiff.

NOTE: At this point, you can either keep in the fridge, and slice when ready to serve. OR slice and store in the freezer until ready to serve.
to bake
Preheat the oven to 320°F, preferably, at the convection setting and line a baking tray with parchment paper.

Using a sharp knife, slice cookies a ¼ inch thick starting from the shorter side of the log. Place onto prepped baking tray, and chill the cookies for 5 minutes in the freezer or 10 minutes in the fridge. Bake the cookies in a convection oven (circulates air) for 10-13 minutes or at 14-16 minutes for conventional bake until the edges are slightly golden brown. Remove and cool for 5 minutes before removing to a wire rack to cool completely.
for the rose icing
Combine powdered sugar, milk and rose extract, gel food coloring in a small bowl. Whisk together, adding more milk or sugar if necessary until the icing is thick and falls off the whisk in continuous ribbons.

Dip the cookies at an angle into the icing and lay on a wire rack to dry. Decorate with crushed dried rose petals.
Did you make this recipe?
Tag @WhiskfullySo on Instagram
if you like this recipe, you may also enjoy...