Wouldn't it be a dream come true if every morning began with a warm and flaky Danish? Well now it can thanks to these No-Fuss Brown Butter Puff Pastry Peach Danishes! Inspired by my desire for a quick pastry, these Peach Danishes have flaky buttery layers, a brown-butter frangipane filling, succulent peaches, and all without the fuss of homemade a puff pastry, so you can bake and enjoy these in just under an hour!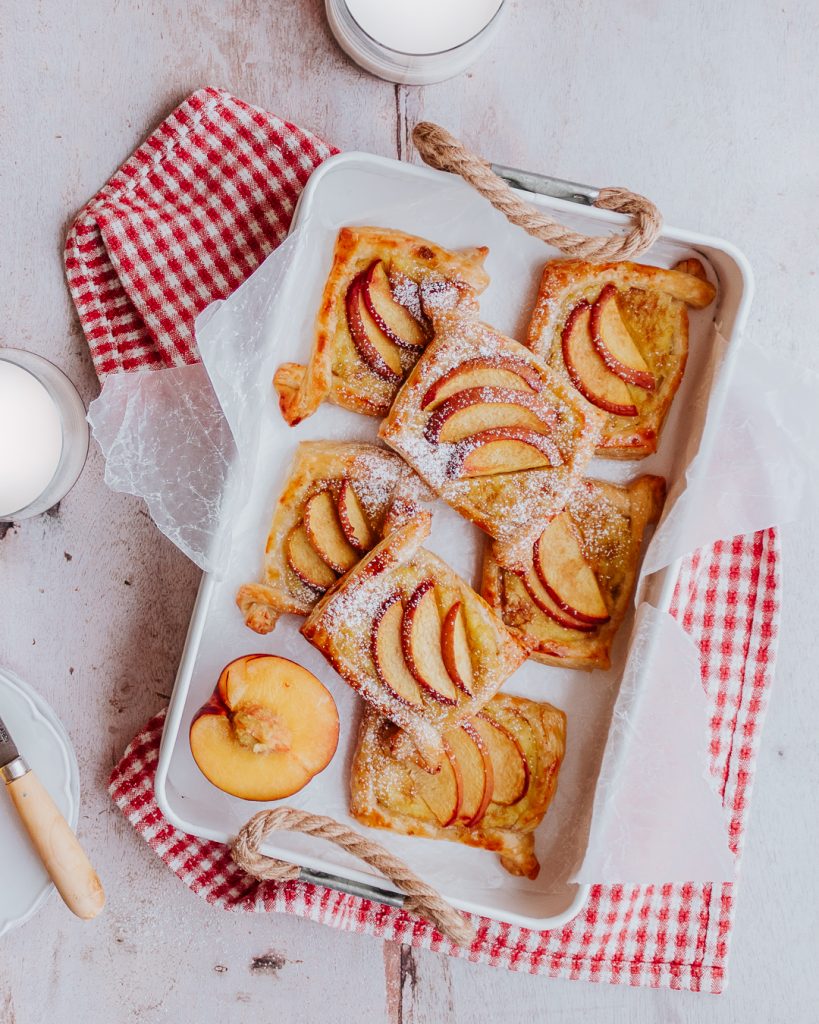 Everything you need to know about these Puff pastry Peach Danishes
If you know me, you probably know that pastries are my favorite thing to make, and I've made my fair share of puff pastry dough by hand. It's labor of love that's very worthwhile, but sometimes I just want a warm pastry in my hand without having to spend an extra day on the dough. Here's where these No-Fuss Puff Pastry Peach Danishes come in! 
YIELD: This recipe is a "small-batch recipe" and makes 6 Peach Danishes.
METHOD: This recipe uses a pre-made frozen puff pastry, so all you need to do is make the frangipane filling, assemble, and bake the Danishes.
TEXTURE: A Danish combines all my favorite mouth-feels: A crispy and tender pastry shell, smooth paste from the frangipane, and the robust juiciness of peaches. 
FLAVOR: It's a party in the mouth for sure! You'll taste the buttery pastry, which compliments the roasted flavor of nutty brown-butter frangipane, and oven-roasted peaches. 
LEVEL OF DIFFICULTY: Intermediate. The pre-made puff pastry makes this recipe a breeze, but the frangipane filling can seem intimating for first-timers. 
but first...is puff-pastry the same as danish dough?
Okay...so bad news first, puff pastry dough is not the same as traditional danish dough. The reason being that traditional danish dough uses yeast to rise, and most store-bought puff pastries don't have yeast. Before you abandon this recipe, know that you can create your puff pastry by hand (which will include yeast), but that would take you, at least, 24 hours - doesn't sound very fun, right? Frozen puff pastry is just as delicious, and I promise your danishes will still taste amazing.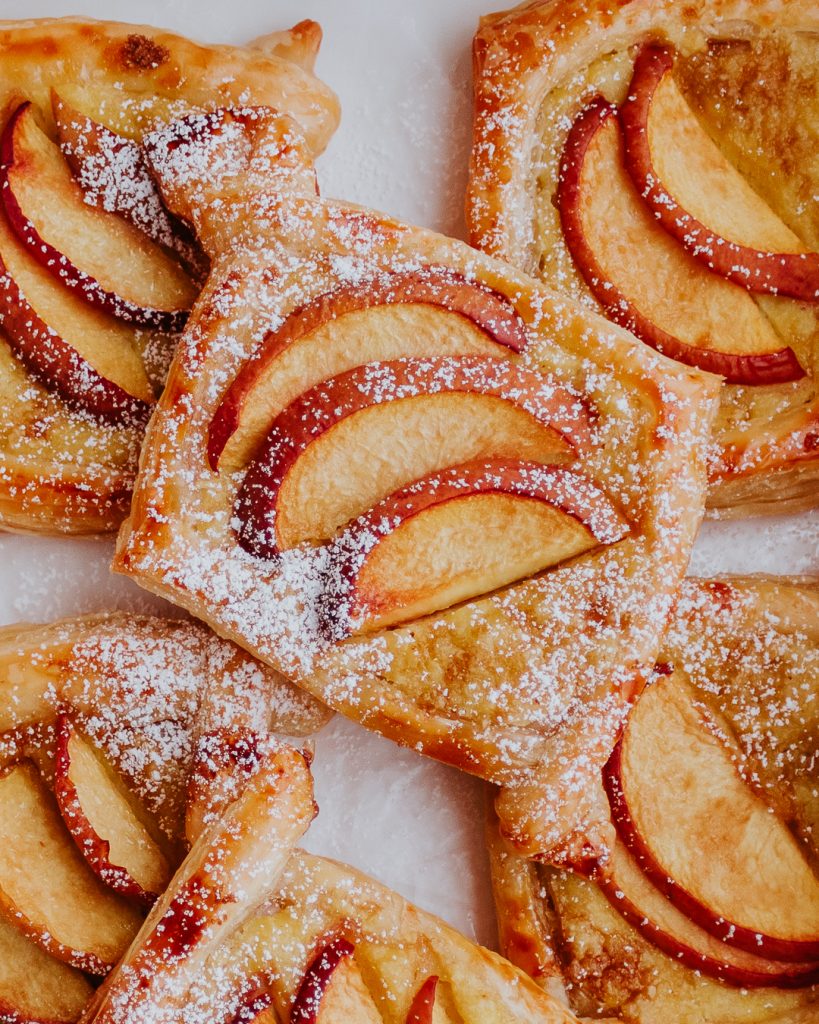 Ingredients & equipment to make a Strawberry Crepe Cake
INGREDIENTS:
Pre-made Frozen Puff Pastry - Any brand will do, but my favorite is Pepperidge Farm. For an even flakier pastry, I recommend visiting a local gourmet bakery and purchasing your puff pastry from them! 
for the frangipane filling:
Whole Milk - Can be subbed for a dairy-free alternative like almond or oat 
Whole Eggs & Yolks  - Crucial to making the base of the frangipane, since eggs are the main binding agent and add richness
Granulated Sugar & Vanilla Extract - For sweetness and flavor
All-purpose flour - Just a smidge is needed to create a paste-like consistency
Un-salted Butter - I've tried frangipane recipes without butter, and it just doesn't feel the same. Butter makes the frangipane so smooth and less gritty
Almond Meal or almond flour - Both are made of ground almonds, but almond flour has the extra step of removing the skins and blanching
special equipment:
Rolling Pin - For rolling out the frozen puff pastry dough 
Pastry cutter or knife - For cutting the dough into individual danishes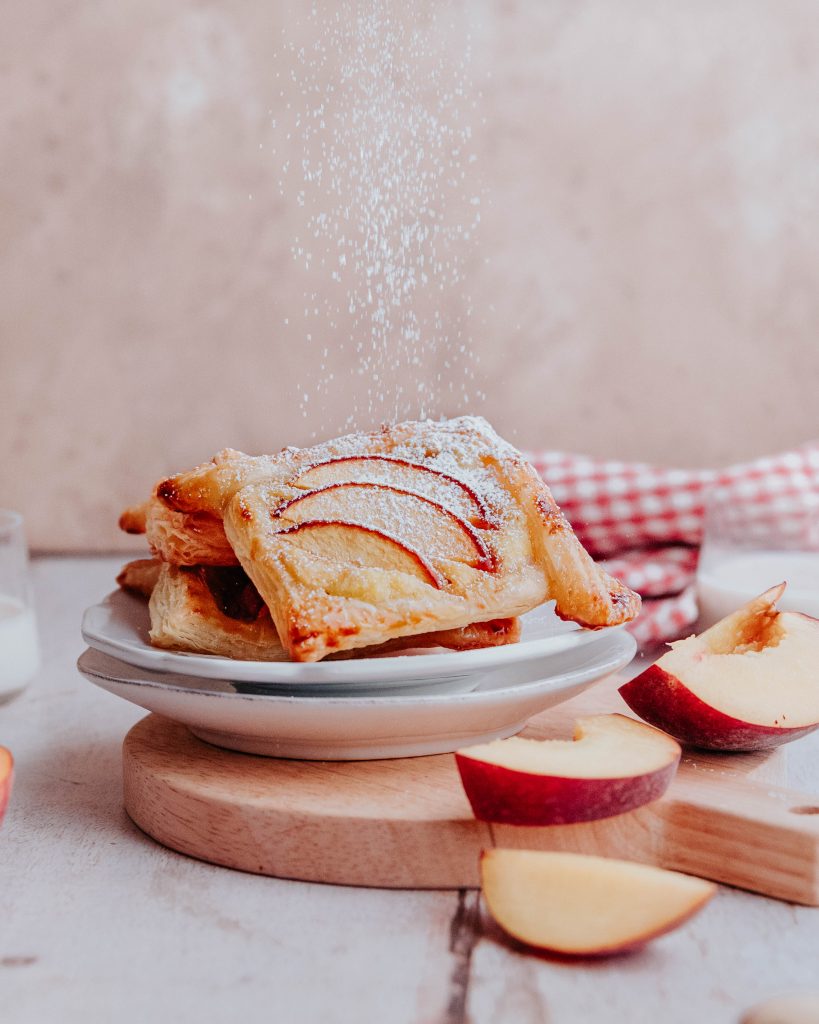 How to Make the Brown Butter Frangipane Filling
If you don't know frangipane is an almond flavored pastry cream/custard that's a favorite choice among bakers and chefs alike for filling pies, tarts and pastries. Frangipane is most famously used in Tarte Bourdeloue a.k.a Pear Frangipane Tart.  I've decided to add brown-butter to this frangipane filling for an even nuttier taste because who doesn't love brown butter?! 
Making the Frangipane filling consists of 2 main Parts: 1) A Basic Pastry Cream and 2) Almond Cream. It may seem tedious to use 2 creams, but this classic recipe is SO MUCH BETTER. The final filling will be rich, luxurious, and without any gritty texture. It's basically what you get from a professional bakery. 
Break-down of Frangipane making Steps
STEP 1: Make the Pastry Cream -The pastry cream is made by tempering egg yolks with boiling milk.  Tempering is just a fancy word for "bringing 2 ingredients to the same temp". The egg yolks need to be "tempered" so they don't curdle when hot milk is added. The custard relies on whisked and heated eggs to thicken, but flour is added for a fuller-body mouth feel.
STEP 2: Brown Butter - Next, you'll brown some butter, then freeze it so it becomes more solidified again.
STEP 3: Make the Almond Cream - The almond cream is super easy to make, just whip up the brown butter so it becomes fluffy, then fold in the other ingredients. 
STEP 4: Combine both to create Frangipane - Lastly, fold both creams together and you've got frangipane!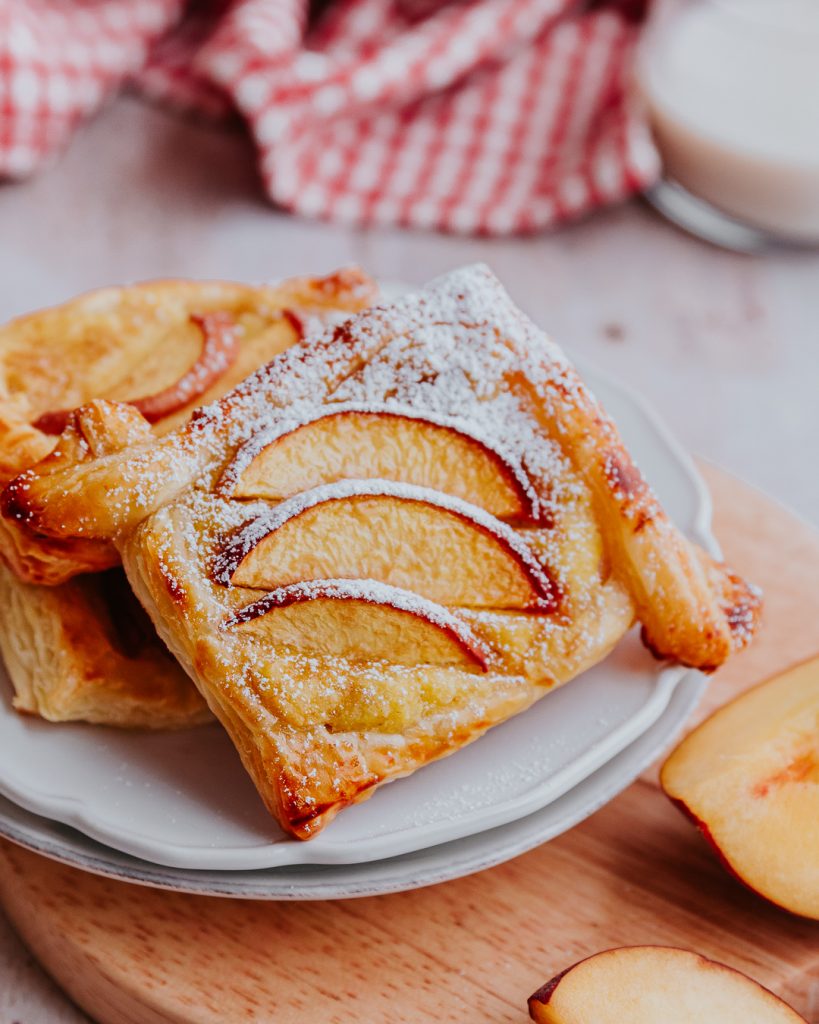 How to Shape Danishes
A danish is all about the unique shape, and this diamond shape is easily my favorite. 
To fold, first fold each pastry square diagonally to form a triangle. Then use a sharp knife to cut 2 parallel lines on each side of the triangle, making sure you leave ¼ " on the edges. This is SUPER important or you'll end up with 2 pieces of pastry! Unfold the pastry and fold over one of the edges so it meets the other side. Repeat with the other edge to get the diamond shape. 
In my opinion, there's no better morning greeting than the taste of a hot fresh danish, especially when they're these Brown-Butter Puff Pastry Peach Danishes. I hope you see how easy they are to make, and tell me in the comments what types of fillings you'll try!
Till next time, Sharon XO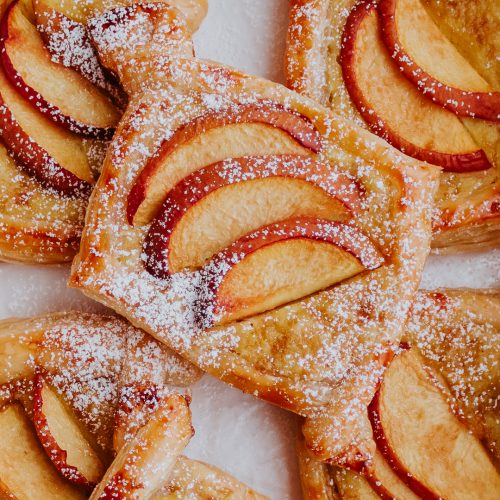 No-Fuss Brown Butter Puff Pastry Peach Danishes
These Puff Pastry Peach Danishes have flaky buttery layers, a brown butter frangipane filling, succulent peaches, but without the fuss of homemade a puff pastry.
Ingredients
1

pack pre-made Puff pastry
for the brown-butter frangipane filling (consists of 2 parts)
Part 1: ClassicPastry Cream
125

g

whole milk*

2

ml

vanilla extract

20

g

egg yolks

(approx. 1)

25

g

whole egg

(approx. 1)

25

g

granulated sugar

10

g

all-purpose flour
Part 2: Almond Cream
15

g

unsalted butter

15

g

granulated sugar

20

g

almond meal
for assembling & finishing
2

medium ripe peaches

,washed & sliced into ¼ inch wedges

1

small egg

powdered sugar for dusting
Instructions
For the puff pastry dough
Defrost the pastry dough by removing it from the freezer either the night and into the fridge, or 30 minutes prior. Roll it into a large rectangle 10 x 14 inches. Trim the edges so you have a neat rectangle measuring 9″ x 13.5″. Cut dough into six 4.5″ inch squares, and place onto a large baking tray prepped with parchment paper. Cover with plastic wrap, and refrigerate for about 10 minutes.
to shape the pastry dough into diamonds
Remove the dough from the fridge. and gently fold a pastry square on the diagonal to form a triangle, making sure the corners line up. Use a sharp knife or pastry cutter to make two cuts parallel to the sides of the triangle, leaving about ¼″ of pastry on the edges. Don't let the cuts meet or you will end up with two pieces of pastry! Unfold the dough and orient the square so it is like a diamond. Fold one edge over so it meets the cut you just made. Repeat with the other edge to form a diamond.

Brush the pastry with a light layer of egg wash, then cover with cling wrap and let proof in a warm area or in the oven with the light on and tray of boiling water underneath while you make the filling
For the filling:
Part 1: PASTRY CREAM - In a sauce pot, bring milk and vanilla to a simmer. Remove from heat and set aside.

In a mixing bowl, whisk together egg yolks, the whole egg, and granulated sugar until slightly thickened. Sift in all-purpose flour and whisk until smooth.

Temper the egg mixture by streaming in ¼ of the the boiled milk/vanilla mixture while vigorously mixing to prevent curdling. Place a strainer over the sauce pot with the remaining milk/vanilla, and strain the egg mixture in.

Turn the heat back on to medium-low and cook custard for another 2 minutes whisking swiftly until thickened and falls from the whisk in ribbons approx. 5 minutes.

Remove the pot from the heat, and pour the pastry cream into a cold bowl or dish. Cover with cling wrap, making sure the wrap is in contact with the surface of the cream, and chill in the fridge until ready to use.

Part 2: ALMOND CREAM - First, brown the butter until caramelized and nutty. Pour into a cold bowl, and quickly freeze the butter for 10-20 minutes so it re-solidifies. Once the butter is somewhat solid again (it should be of softened butter consistency) whip the butter until fluffy then fold in the almond meal and mix until smooth. Cover and chill in the same manner as the pastry cream.

Once ready to assemble pastry, fold chilled pastry cream into almond cream.
To assemble & bake
Remove the danishes from the oven (if proofing in there) and preheat oven to 425°F/ 218°C. Pipe/spoon desired amount of filling into the center of the pastries, about 1-2 Tbsp each. Top with sliced peaches, pressing lightly to adhere. Sprinkle with turbinado sugar if desired.

Bake for 10 minutes, then turn the oven down to 375°F/190°C and bake for another 10-20 minutes, or until well risen and browned. Cool for about 10 minutes before dusting with powdered sugar and serving.
Notes
STORING:
Danishes are best eaten the day they're baked, but reheat well the day after in a 350°F/176°C oven for 5-10 minutes.
SUBSTITUTIONS:
Whole Milk can be subbed for almond or oat. Coconut milk is not recommended. 
Almond meal and almond flour can be used interchangeably. 
Did you make this recipe?
Tag @WhiskfullySo on Instagram
if you like this recipe, you may also enjoy...