EXTRA EXTRA, Read all about it!! 45 Minute Fudgy Caramel Walnut Brownies that are fudgy, moist, deliciously rich, these brownies will be your new favourite. Packed with walnuts, these brownies are filled with a caramel center for a sweet surprise!
45 Minute Fudgy Caramel Walnut Brownies
Here's the thing: I'm not a huge chocolate lover...I'll just give you a second so that sinks in. Now, before you exit...let me clarify! I may not eat chocolate a lot, but I KNOW chocolate. When I was young, I was a huuuge chocolate addict, and I think I ate my quotas worth of chocolate. Yet, because chocolate is chocolate, I get the occasional craving a couple times a month, and they are INTENSE "gimme-me-all-the-chocolate-the-more-decadent-the-better" cravings. 
Brownies are perfect for any (or all) chocolate cravings because they can be whipped up in less than a hour, and don't require any fancy ingredients. The best part about these? The ooey gooey caramel center. This recipe is alllwaaays in my back-pocket for when such a craving hits, and lemme tell you, this one is WORTH IT! 
Ingredients for the Fudgiest Brownies
Unsalted Butter: Want a shiny crackly crust? Make sure your butter is soft and at room temperature so it melts evenly. 
Granulated Sugar: I wouldn't use another sugar than granulated, because this is what gives the shiny crust when mixed with the melted butter. 
Eggs: Eggs are so important because they hold everything together, AND by whisking more (read more below!) create a crackly meringue layer.
Instant Espresso Powder: I always add this to all my chocolate recipes, because it deepens the flavour 100xs. 
All-Purpose Flour: The go-to flour here, no need to get fancy. 
Dutch Process Cocoa Powder: So So important, I HIGHLY recommend using dutch processed powder. The flavour is more mellow, earthy and they'll bake true brown, rather than with a tinge of red.
Semi-Sweet Chocolate: While some recipes get their main chocolate taste from the cocoa powder, I like to use melted chocolate, not only is this more rich, but who doesn't want more chocolate?! So splurge and use the good stuff!
Walnuts: These are my favourite part of this recipe. Crunchy, delicious. JUST SO GOOD!
Caramel Sauce: I've been putting this on everything, and in brownies? Just fantastic! Click here to get my go-to recipe. 
How to Make Fudgy Caramel Walnut Brownies in 45 Minutes
Brownies are one of the easiest recipes to make, because the steps are so simple! But the order is so important!
1.Melt chocolate and butter in a double boiler: double boiler just means, the ingredients should be sitting in a bowl over a pot of (barely) simmering water. The heat from the steam will met the chocolate and butter together.
2.Dissolve the sugar in the hot chocolate/butter mixture. It's so important that you don't wait to dissolve the sugar or you won't get a shiny top. 
3.Whisk in the eggs one at a time, beating each egg past incorporated. This will create a meringue mixture for a crackly crust. 
4.Fold in vanilla, dry ingredients, walnuts, extra chocolate and whisk until just combined. 
5.Pour half of the batter into the prepared pan, then add the caramel sauce into the center, leaving a 1 inch border empty (this will prevent the caramel from spilling out while baking). Add the remaining batter on top, and smooth the batter evenly with a spatula.
6.Bake for 30-40 minutes, under-baking rather than over so the center is fudgy. An inserted toothpick should not come out completely clean, but with a few crumbs. 
I've been dreaming about these brownies since finalizing the recipe, and they're definitely in my top five, so I hope you enjoy these as much as I do!
Easy, Breezy & Delicious, 45 minutes Fudgy Caramel Walnut Brownies
Sharon XO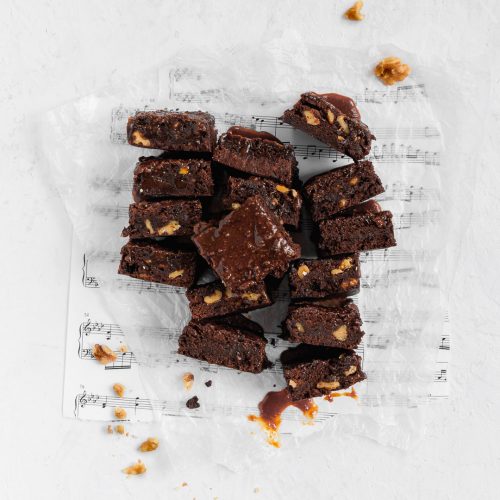 45 Minutes Fudgy Caramel Walnut Brownies
Fudgy, moist, deliciously rich, these brownies will be your new favourite. Packed with walnuts, these brownies are filled with a caramel center for a sweet surprise.
Ingredients
4

oz

semi-sweet chocolate

roughly chopped

¾

cup (170g)

unsalted butter

room temperature

1

cup (200g)

granulated sugar

2

whole

eggs

room temperature

½

tbsp (7ml)

vanilla extract

1

tsp (3g)

instant expresso powder

⅓

cup (35g)

dutch processed cocoa powder

½

cup + 2 tbsp (80g)

all-purpose flour

½

tsp (3g)

kosher salt

1

recipe

for caramel sauce
Instructions
Preheat the oven to 350°F and grease/line an 8x8 inch baking pan with parchment paper.

Melt the semi-sweet chopped chocolate and butter in a double boiler by placing the chocolate and butter in a heat proof bowl over a pot of simmering water on medium-low heat. Melt by stirring with a spatula occasionally until the butter and chocolate is fully melted, ribbony and smooth.

Turn-off the stove, remove the bowl, and wipe any condensation/moisture from the bottom of the bowl. Then, immediately while whisking, stream in the granulated sugar. Whisk until the sugar is fully dissolved into the butter/chocolate mixture. 

Whisk the eggs in one at a time. Making sure each egg is fully whisked in before adding the next. Beat batter longer after eggs are incorporated for a shiny crinkly top. The mixture should now be thick and fall in glossy ribbons.

Whisk in vanilla extract, instant espresso powder, and dutch process cocoa powder until fully combined. Fold in all-purpose flour, salt, and chopped walnuts until just combined and no streaks of flour can be seen. 
to assemble
Pour half of the brownie batter into the prepared pan, then pour ½ cup of caramel sauce into the center spreading evenly with a spatula leaving a 1 inch border empty (this prevents the caramel from leaking when baking). Lastly, top with the remaining half of the brownie mixture. 

Bake for 25-30minutes until the brownies are baked through, but still fudgy, there should be a couple crumbs clinging to an inserted toothpick. Do not over bake, the center should be slightly wet. Remove from the oven and let cool for at least 20 minutes in the fridge, or until the pan can be handled, before removing from the pan and cutting into 16 two inch squares. 

For fully set brownies, chill them for at least 2 hours or overnight in the fridge before cutting.
did you make this recipe?
Tag @WhiskfullySo on Instagram