Up your gingerbread game this year with a spiced Gingerbread Linzer Cookie filled with a delightful blend of homemade hazelnut coffee praline aka nutella (but BETTER). Make these double or single layered!
This recipe is part of the 2020 Holiday Cookie Box! Click here to see the other flavors!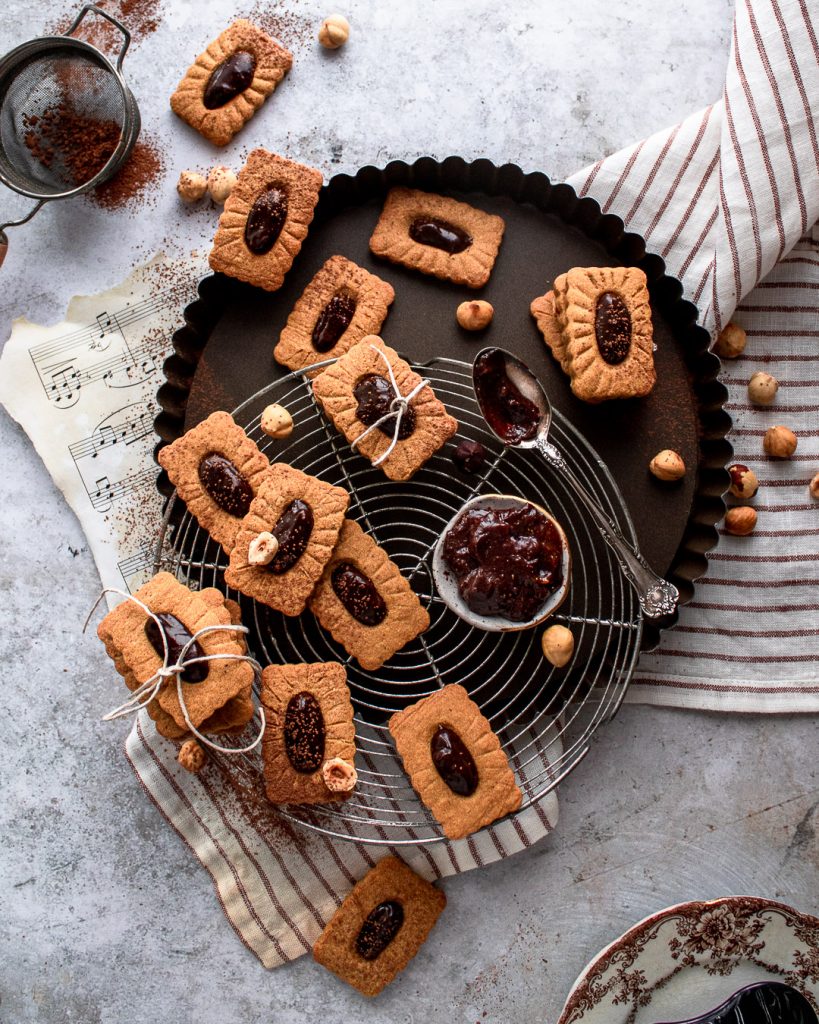 These cookies are from Austria, specifically the Linz region, and why they're called "Linz-ers". 
Originating from the dough of a Linzertorte - a tart made with a rich buttery dough decorated with almonds, lemon zest, cinnamon and filled with a jammy center, these cookies showcase sandwiched fruit preserves in the center cut-outs. 
In a twist, these Gingerbread Linzer Cookies do not use the traditional dough, but rather a butter cookie dough. Based off of these Maple Vanilla Walnut Viennese Whirls, but with small tweaks, so the dough is stiff enough to be cut-out. Instead of a jammy center, I filled these with a creamy nutty hazelnut praline spread flavored with coffee and chocolate which I KNOW you'll love!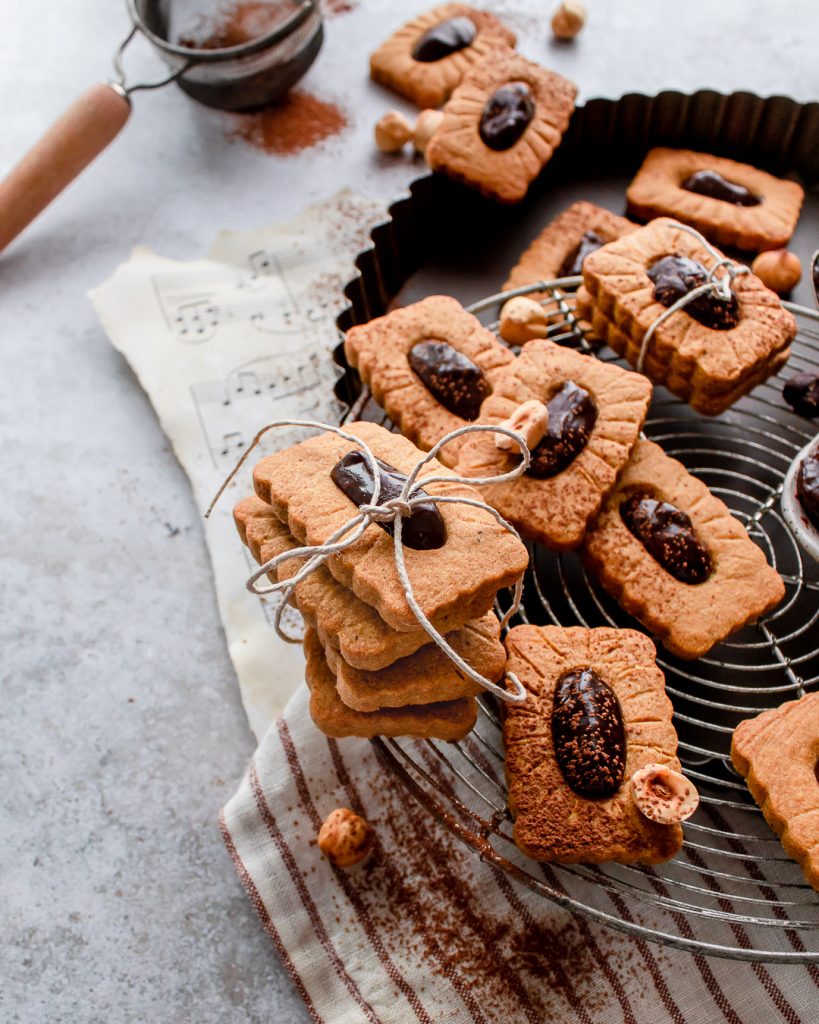 Tips for making Gingerbread Linzer Cookies
Here are my top tips for making delicious tender gingerbread linzer cookies!
Use room temperature butter – This is essential for the cookie to be tender and crumbly.  The foundation of this cookie is made by creaming butter and sugar, so warm softened butter will make this easier and ensure everything is incorporated. 
TIP: Leave your butter out at least 2 hours before, OR watching carefully so it doesn't melt, place over a warm vent for 10 minutes. 
Aim for Drier Dough – To prevent excess spreading, the dough should be on the drier side. Like pie dough that holds together when pressed. 
Chill your Dough – Absolutely essential for all butter cookies, this relaxes the dough and makes it easier to roll out! It also prevents the butter from smearing and sticking to the surface. Chill for at least 30 minutes, but the longer the better for flavor! 
Cool completely before filling – It would be a shame if the filling spilled out. Allow the cookies to completely cool and harden so they're easier to handle and fill.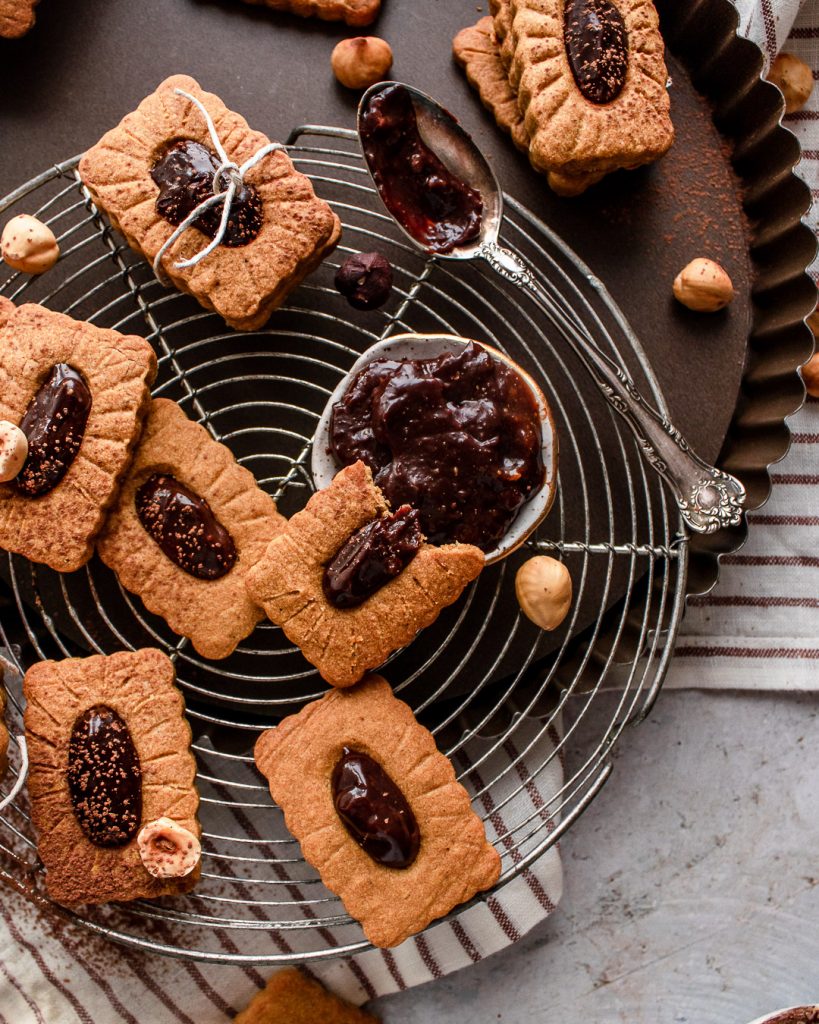 How to make Hazelnut coffee praline paste 
I love nutella, and this classic french version is made extra delicious with nuts, caramel, and coffee. 
1.Toast the hazelnuts – This extra step gives the hazelnuts impeccable flavor and is crucial for removing the skins! 
2. Make the caramel –Just like making traditional caramel, dissolving the sugar makes a pour-able caramel that will cover the hazelnuts. 
3. Freeze the hazelnut caramel – Freezing the caramel-covered-hazelnuts makes a brittle that makes it easier to turn into a paste later. 
4. Grind –  The key is break the brittle into shards so they are easier to grind. Scrape down the bowl continuously, and keep blending until the oils from the nuts are released to form a thick paste.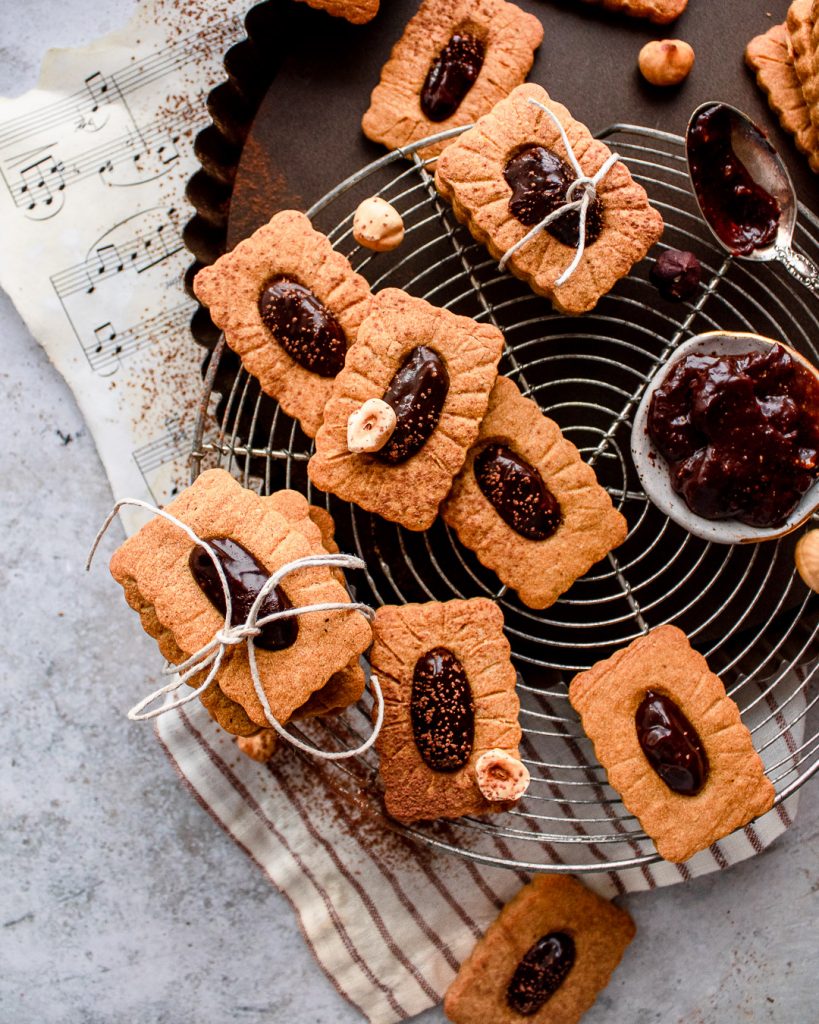 How to store gingerbread Linzer Cookies 
The risk with these cookies is the filling melting in warm temperatures, so the best way to store them is either in the freezer or the fridge. 
The raw cut-out gingerbread linzer cookies are best stored in the freezer. Fully baked and assembled ones keep best stacked inside an airtight container. If your environment is really warm, the fridge is also okay! Just let them warm up a little at room temp before enjoying. 
These Gingerbread Linzer Cookies are a delight, and the hazelnut coffee filling is my fav part - honestly, you can eat it on anything! 
Enjoy! Sharon XO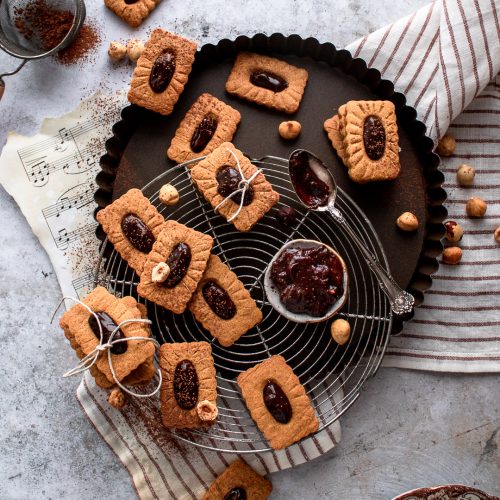 Gingerbread Linzer Cookies with Hazelnut Coffee Filling
A lightly spiced gingerbread linzer cookie sandwiching a delightful layer of homemade hazelnut coffee praline. Make these double or single layered!
Ingredients
for the hazelnut coffee praline filling
⅓

cup (43g)

hazelnuts

¼

tsp (1g)

sea salt

½

cup (100g)

granulated sugar

2-3

tbsp (30ml)

freshly brewed espresso

2

oz

bitter-sweet chocolate

finely chopped

½

tsp

coconut oil (optional)
for the gingerbread linzer cookie
¼

cup + 3 tbsp (100g)

unsalted butter

softened to room temperature

1

tbsp (15ml)

vanilla extract

¼

cup (30g)

powdered sugar

1

tbsp (12g)

granulated sugar

¼

tsp (1g)

kosher salt

1

small

egg yolk

⅓

cup (30g)

almond flour

1

cup (120g)

all-purpose or cake flour

1

tbsp (5g)

ground ginger

¼

tsp (2g)

ground nutmeg

⅛

tsp (1g)

ground cardamon

1

tbsp (15ml)

molasses
Instructions
for the hazelnut coffee praline filling
Preheat the oven to 375°F and spread the hazelnuts in an even layer in a baking pan.

Roast the hazelnuts for 5 minutes - They should smell nutty, not bitter. Remove skins by placing in a kitchen towel balled-up and rubbing vigorously. Discard skins.

Make the caramel by placing the granulated sugar in a deep, but small sauce pot over medium low heat. (Don't heat on high or it will burn, be patient) Let the caramel melt into puddles of sugar granules, only mixing occasionally by swirling the pan. Once all the sugar is melted into a deep brown color, and is a liquid consistency, pour caramel over hazelnuts (in a baking tray) in an even layer with no gaps. Freeze for at least 10 minutes to harden.

Melt the chocolate either with a double boiler or in the microwave until ribbony and stir in the coconut oil (this will make the chocolate glossy and easy to handle)

Break into shards and place in a high speed blender/food processor. Blend on high speed until a thick paste form. Add the salt, chocolate/coconut oil mixture, and coffee (more if needed) until the nut paste is smooth enough to spread. Store in a covered glass container at room temp until ready to use.
for the gingerbread linzer cookie
Preheat the oven to 320°F, preferably, at the convection setting and line a baking tray with parchment paper.

In the bowl of a stand mixer fitting with the paddle attachment, cream the softened butter on medium-low speed until smooth. Sift in the powdered sugar, and add vanilla extract, granulated sugar, and salt. Cream again until sugar is dissolved and the mixture is smooth.

Pour in the egg yolk and molasses and mix on medium speed until the egg is fully incorporated, and batter is smooth.

Sift in almond flour, all-purpose flour, ground ginger, nutmeg, ground cardamon. Fold to combine until no streaks of flour remain and the dough holds together when pressed. If the dough is tough, stream in milk 1 teaspoon at a time. 

Tip out dough on a lightly floured surface, and form into a flat 1 inch thick disc. Chill the disc for 20 minutes in the fridge before rolling out to ¼ inch thick.

Using a fluted 2" long cookie cutter, cut out 18 shapes and place on prepped baking tray. Use a ½ inch round cutter to cut-out the centres of half of the cookies.

Chill cookies for 5 minutes in the freezer or 10 minutes in the fridge. Bake the cookies in a convection oven (circulates air) for 10-13 minutes or at 14-16 minutes for conventional bake until the edges are slightly golden brown. Remove and cool for 5 minutes before removing to a wire rack to cool completely. 
to assemble
Place a dollop of hazelnut coffee filling in the center of a full cookie and sandwich with a cut-out one. Repeat with remaining cookies.
Notes
NOTE: I used a special Linzer cookie stamp that carves out the center for my filling. That way I made 18 cookies. By making the traditional way with 2 layers, this recipe makes 9. 
Did you make this recipe?
Tag @WhiskfullySo on Instagram
if you like this recipe, you may also enjoy...