Chapter 2 of my Styling Series! In this post, I'll be sharing my process for How I Select Props for a Food Photography Shoot! 
If you're new to this series, you can catchup on the first post here which is all about my top 10 Essential Food Photography Props! Just to be clear, this post is not about how I buy props for my collection. This is specifically about my thought process, and the questions I ask myself when I select food photography props for a shoot.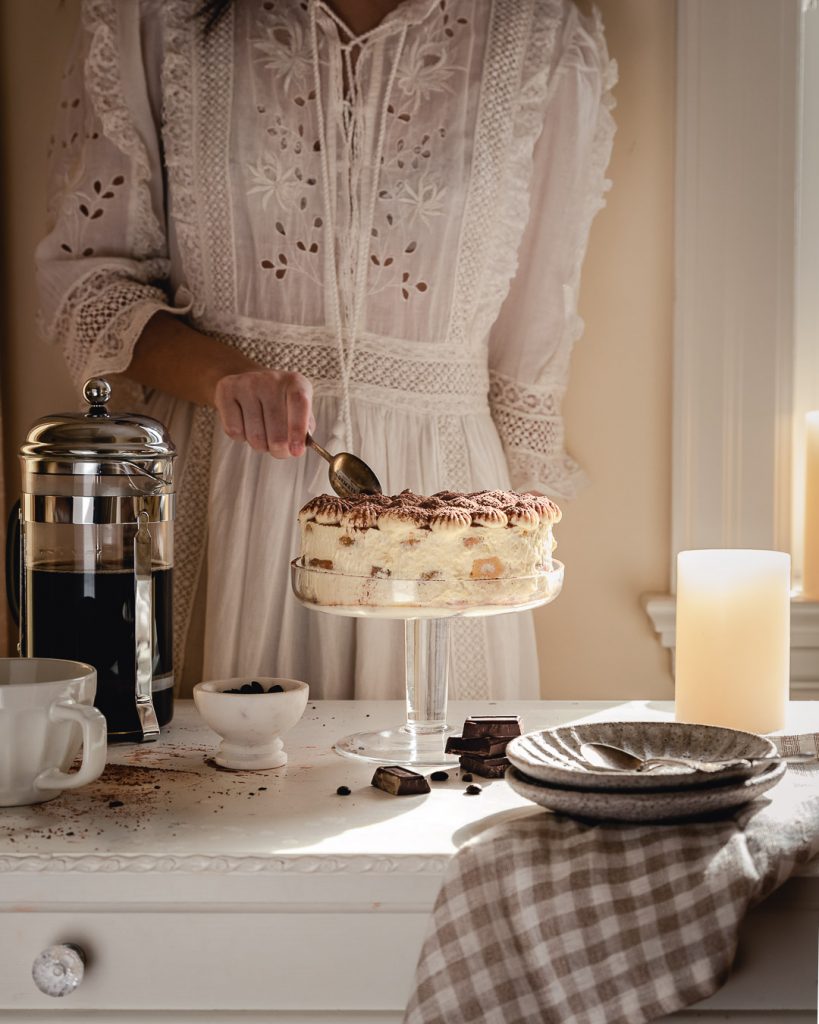 What this post will cover! 
Even before shoot day, I try to have a general plan that includes which props I'll be using. This makes the process of shooting multiple shoots faster and more seamless - crucial when shooting foods that have a time limits (i.e. Anything that can melt, or wilt).  Especially when working on-site with clients, you never want to show up to the shoot without a plan - it would be unprofessional. 
Here's a breakdown of my prop selection process:
1. Decide the story I want to tell. 
2. Determine the color story.
3. Select a location and backdrop(s).
4. Pull props that match the story (including my checklist!).
5. Take some test shots!
To help explain my prop selection process, I'll use the photo above as an example!  Let's dive in! 
Step-by-Step Prop Selection Process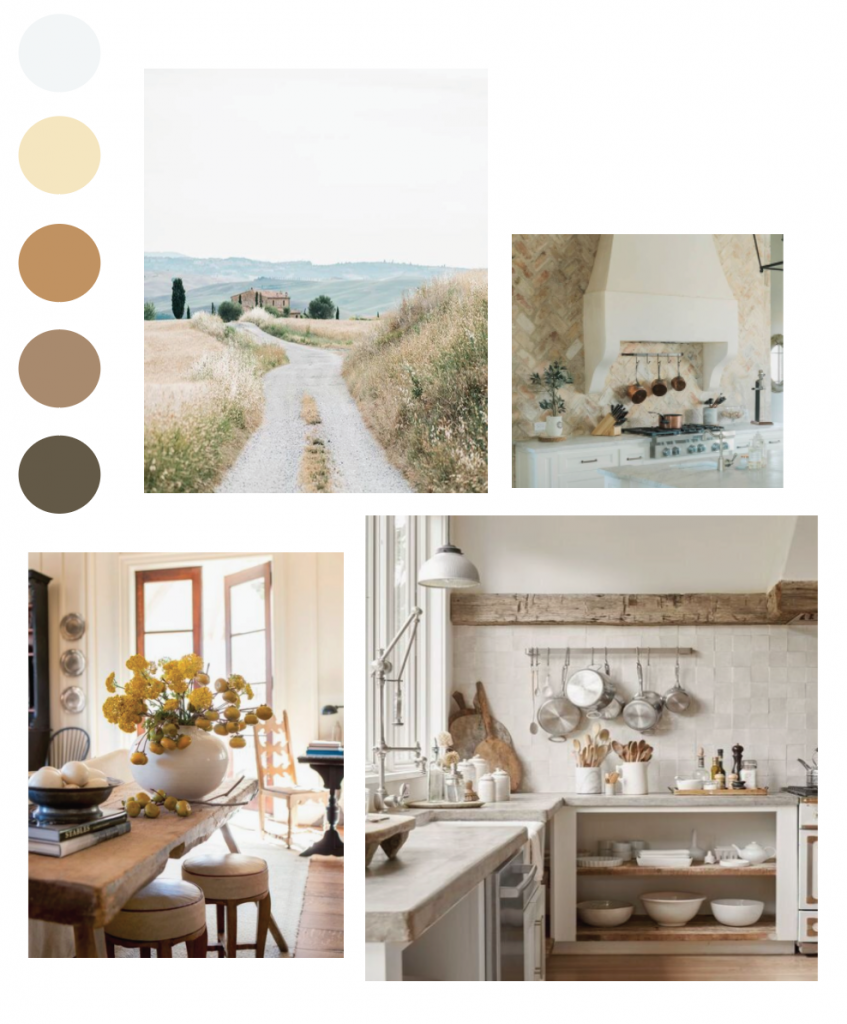 Step 1: Determine The Story
Even before I think about the props, I decide the story I want the image to tell. The story direction then becomes the framework in which I choose my props. For this shoot the story is, " Enjoying a homemade Tiramisu cake.", while evoking a French provincial rustic style. With this story in mind, I create a mood board. I don't do this for every shoot, but definitely for client shoots or when exploring new ideas. 
TIP: When creating a mood board, don't fall into the trap of only referencing food! Lifestyle, home, and artwork can be great inspiration and prevents you from directly copying other people's work. 
Step 2: Choosing a color Story 
A color story is so important when planning a shoot! Colors can evoke emotions, so choose your colors well! For this scene I went with a monochromatic color story (same color, different hues) that matched with the brown from the tiramisu cake. 
Step 3: Select a location & backdrop
Once I have my story, I start scouting locations to shoot the photo, and select my backdrop! I knew for this photo, I wanted to include myself in the frame. This wasn't possible in my usual shoot spot, so I tried out some other places in my home.
Option 1: 
The Location: This location had plenty of light and space, so I could be in the frame.
The Table Backdrop: This table didn't photograph well. The wood is very orange, and clashed with the white backdrop at the back. Overall, the style of the table is very home-ly, but lacked the romantic vibe I wanted.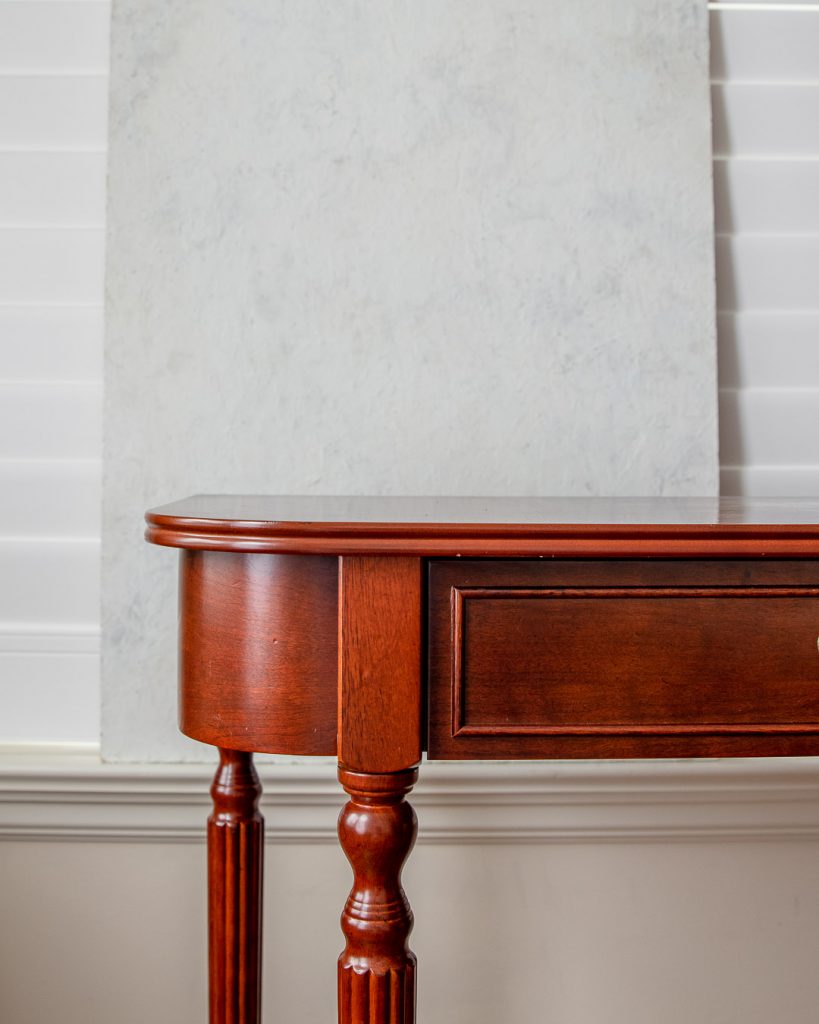 Option 2:
The Location: Same as option 1.
The Table: I swapped the farm table for a more elegant one. I did love the style of the table, but once again the color was off. 
option 3: 
The Location:  I had to change my location as I wasn't able to move this table downstairs. This worked in my favor though, as the natural color of the walls paired better than the white backdrop. The window also adds interest to the story.
The Table: THE WINNER! I had this vanity table for years, and after removing the mirror, it worked perfectly for this scene! It isn't distracting, but also has some romantic details like the carved sunflower.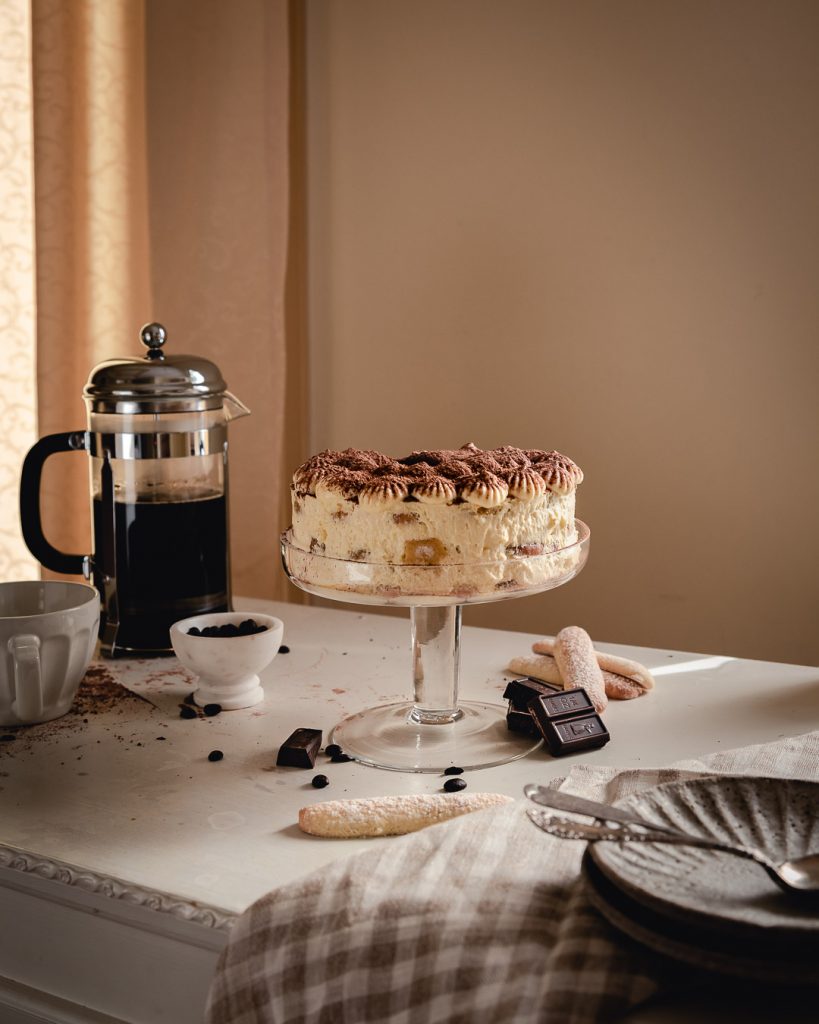 Step 4: Select the food photography props
When selecting props there are 6 questions I ask myself that help determine which props I need/choose. 
How do I showcase the subject?
The tiramisu in this photo is the star! The cake stand elevates the cake, so it stands out! The glass also blends into the table. If it was a different color (even wood) it could clash with the cake and make the scene less airy. 
How do I show the ingredients (a.k.a secondary subjects)?
When shooting a recipe, always try to include ingredients so the viewer can immediately know the flavor. In this case, coffee beans, chocolate, ladyfingers, and even the mascarpone cream were used. 
Are my props the same height? 
The secret to a visually interesting photo is using props of varying height! Don't just rely on the placement of props to move your viewer's eye around an image! The cake stand is the second tallest, so it a focal point, as is the french press. 
What props can I use to share more about the recipe process? 
Not only do I aim to show viewers the flavor of a recipe, but I also like to give hints to the equipment they'll need! 
Do my props support the story and color palette?
To check the food photography props I selected, I always refer to my color palette. I want to make sure they don't distract from the subject. 
Are my props camera friendly? 
Unfortunately, not all props photograph well. In general, food photographer stay away from shiny props as they can create unwanted reflections (more on this in step 5).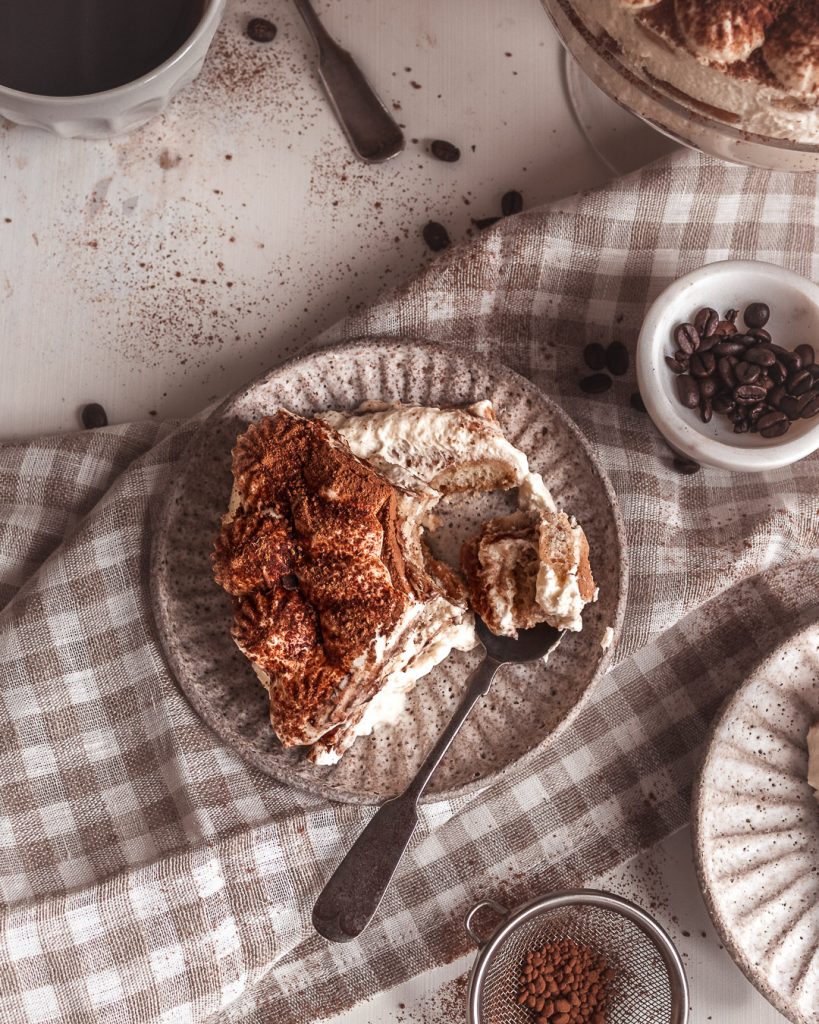 French Press - I didn't have to include it, but having it adds to the story of a homemade tiramisu, and it's easily recognized. Whereas, dark liquids in a cup could be confused for something else. 
Dessert Plates say that this cake is ready to be served! I fell in love with the rustic texture of these plates! They also follow the warm brown color palette! 
Vintage Spoons - Not only does cutlery show movement, but these simple spoons have a romantic heart detail. 
Marble Cup - I could have used a bowl for the coffee beans, but having a variety of textures, in my opinion, tells as deeper story! By using marble, it subtly tells viewers that my kitchen is not only rustic, but modern and elegant. The shallow cup also prevents deep shadows from occurring. 
Sifter - A sifter is needed when making tiramisu, so including it hints to the process of making the cake. 
Gingham Napkin - I mean..who can resist gingham! This pattern is usually used in farmhouse styles, so it was perfect for this scene! I selected it in a light beige/brown to follow the color story.
French Cotton Dress - Yes! Clothing is a prop! It easy to forget that what you're wearing has an impact on your shot! My trick to make sure that whatever I wear blends into the background as I'm not the subject. I chose this white cotton dress for its french romantic style. Any other dress, and the french vibe could not be as clear. 
Once you've selected the props, the last step is to test them! Like I mention in my question checklist, not all props photograph well. 
Either at the beginning of your shoot or before you select your props, take a shot with all your props in the frame. You may notice color subtleties your eyes missed. For example, what looks white could actually be a combination of white, green and oranges. By taking a test shot, you're checking that all the props match each other. Take as many test shots as needed, swapping out props, until you find a collection you like. 
Once you've selected all your food photography props, you're ready to style and shoot! Stay tuned because next week I'll be sharing food photography styling principles. 
Till next time! Sharon XO
if you like this guide, you may also enjoy...