After a crazy year, i'm sure you're yearning for a tropical trip. While that may not be possible just yet...these Mango Toasted Coconut Macarons will transport you somewhere warm and sunny in just one bite!
Mangos are probably the summer fruit I look forward to the most. There's nothing quite the same as biting into the juicy cheek of mango. It's sweet, dense, and you haven't fully indulged unless you have juices all over your mouth and running down your hands. 
They're also SO versatile. Great in sweets like cakes, but also used in savory dishes and cocktails. But, one of my favorite ways to use mangos is in macarons. 
What are Mango Toasted Coconut Macarons?
Coconut and mango is a classic pairing, but I've taken it just a bit further by adding a coconut butter cream, mango curd filling, and sprinkling the shells in coconut shreds so they toast up while baking. My favorite part is the swirled shells of yellow and white for a tropical punch! 
YIELD: This recipe makes 20 macarons (approx. 1 inch wide) but that can change depending on how large you pipe them.
METHOD: This macaron recipe uses the Swiss method. The Italian method (I use it for these Red Wine Chocolate Ganache Macarons) is usually my go-to, but it's the most difficult method. The Swiss method is a good in-between method and still gives super smooth shells. 
TEXTURE: Crispy macarons shells with a rich coconut butter cream and thick mango curd.
FLAVOR: It basically takes like a pina colada! It's not too sweet due to the coconut water and toasted shells. 
LEVEL OF DIFFICULTY: INTERMEDIATE - Macarons are notoriously known being being tricky. Since this recipe uses the Swiss method it makes the batter more stable and unlikely to fail. I also have some tricks below to guide you! 
What's the difference between French, Swiss and Italian methods for macarons?
There are 3 method for making macarons: 1) French (least stable); 2) Swiss; 3) Italian (most stable). 
The base of macarons is a meringue: a.k.a whipped egg whites. Egg whites are very sensitive to moisture and temperature changes, so different methods create varying levels of stability. 
The difference between the 3 methods is theFrench method does not boil the sugar down into a syrup, but both the Swiss and Italian methods do. This makes the meringue more stable. If the sugar is not properly incorporated with the egg whites it can lead to problems later like deflating, poor feet development, etc. 
Here's why I use the Swiss Method for macarons:
1. Stable macaron batter
2. Smooth macarons shells
3. High success rate
4. Easier than the Italian
Ingredients & equipment you'll need to make Mango Toasted Coconut macarons
INGREDIENTS:
Almond Flour - Made of peeled and ground almonds, almond flour is finer than meal. You can substitute for almond meal (un-peeled almonds), but use a food processor to grind the meal before using. 
Confectioners Sugar/ powdered sugar - The most fine of sugar, this is mixed in with the almond flour. 
Egg Whites - I recommend using day-old egg whites. This is so the proteins have time to loose their elasticity and are easier to whip. If you forget to age your whites, no worries, just make sure your egg whites are at room temp. 
Gel Food Coloring - To get the swirl pattern you'll need a yellow and white food coloring. 
Granulated Sugar - For stabilizing your egg whites. 
Mangoes - Only use the most ripe mangos. You can tell by pressing into the skin, it should be very soft. 
Egg Yolks - This is for making the mango curd. Egg yolks are the main binding agent, and create a rich curd. 
Unsalted Butter - For the coconut buttercream. Make sure your butter is softened to room temperature.
equipment:
Baking Tray & Silicone Mat - While you can use parchment paper, I find that a silicone baking mat transfers heat better, gives the macaron bottoms a dry crispy finish, and are less prone to tearing. 
Get my fav baking pans here and my recommended silicone mat here! 
Cooking thermometer - a must when boiling any sugar. 
See the thermometer I use here! 
Stand-mixer or Hand held - I recommend using a stand-mixer as you'll need to whip the egg whites while boiling the sugar. 
Immersion Blender - This isn't necessary, but I found that the mango curd is silkiest after blended.
Piping bag & Plain Round Tip - If you don't have a round tip, you can just snip the end of a piping bag, but a tip ensures you get perfect rounds.
See my fav piping bags here, and my recommend tip here. 
How to make these Mango Toasted Coconut Macarons
To make it easier, I've separated the steps into 4 sections:
Make the Mango Curd
Make the Macarons Shells
Make the Coconut Buttercream
Assemble! 
Mango curd is actually really simple to make. First you have to puree the mango so it's super smooth. Then whisk up egg yolks over a pot of simmering water. This will slowly cook the eggs until they're thicken and ribbon-y. It's important to cook slow and on low, to avoid curdling the eggs - don't stop whisking! Then combine the yolks and mango puree for a rich curd.
Making the macarons shells is the tricky part. For the Swiss method gently heat up the egg whites with granulated sugar over another bain-marie (aka a pot of simmering water). Whisk as it heats up until you get a foamy egg mixture.
Then it's the same as the french method. Whip up the eggs whites until stiff then Macaronage. Macaronage is the process of folding the dry ingredients into the egg whites until you get a thick "lava-like" consistency. Fold the batter until it flows nicely without breaks and you can drawn a figure-8.
The Coconut Buttercream takes less than 5 minutes to make. Just whip up the softened butter on high speed and add in coconut cream! Voila a super creamy and fluffy coconut buttercream.
How to get swirled macaron shells. 
Once the macaron batter is almost combined, and you'll divide it in half. I like to use a scale to make sure they're equal. To get the swirl pattern for these Mango Toasted Coconut Macarons, you'll separately color the macaron batter. Place each color into a small piping bag, then place both into a large piping bag that's fitted with a round piping tip. 
Just pipe the macarons like you normally would, except you have two colors in the piping bag instead of one. 
Not only are these Mango Toasted Coconut Macarons delicious, but they're such a win in terms of aesthetics. I love the swirled pattern, and combined with the flavor, it makes these a crowd pleaser! 
I hope you have a lovely summer and happy baking! Sharon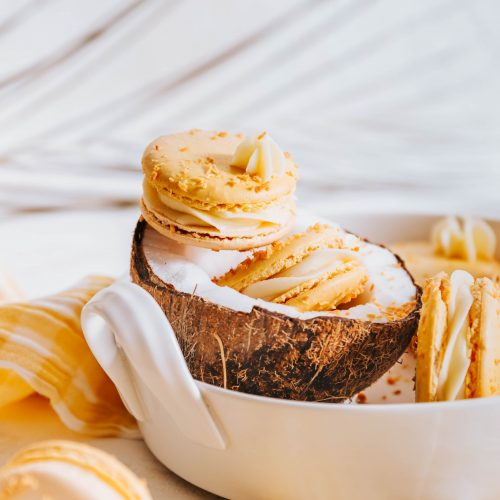 Mango Toasted Coconut Macarons
Bring the tropics to you with these Mango Toasted Coconut Macarons. Filled with mango curd, coconut butter cream and decorated with a swirled yellow and white pattern and toasted coconut.
Ingredients
For the macarons shells
100g

almond flour

100g

confectioners sugar

80g

egg whites

,aged

1

small ripe mango

chopped and pureed

100g

granulated sugar

yellow gel food coloring

,add as needed for desired colored

white gel food coloring

,add as needed for desired colored
For the mango Curd
2

egg yolks

50g

granulated sugar

1g

kosher salt

25g

unsalted butter
For the coconut buttercream
75g

unsalted butter

120g

powdered sugar

1

tsp

vanilla extract

6

tbsp

coconut cream
Instructions
For the mango curd
Fill a small pot with water, and bring to a boil. Once boiling, lower heat to until water is simmering.

In another small bowl (this will go on top of the boiling pot, the bowl should NOT float over the water) whisk together egg yolk and granulated sugar until foamy. Place over pot of simmering water.

Whisk together the contents of the small bowl until the mixture is lightened to a pale yellow. Keep whisking so the eggs won't scramble. Whisk and cook until the mixture is thicken and falls off the whisk in continuous ribbons. If the curd won't thicken after 7 minutes, turn up the heat slightly.

Turn off the heat, remove the bowl, wipe down any condensation, and whisk in the pureed mango. Whisk until combined, then add the softened butter. The butter will melt from the heat of the curd. Use an immersion blender to make the curd extra smooth. Pour mango curd into a jar, and let cool covered with cling wrap, until ready to use. Once cool, place into the fridge to chill. The curd will thicken while cooling.

Curd remains fresh for 10 days when refrigerated.
For the macaron shells
Using the underside of a large sheet pan, line with a silicone mat or parchment paper. Prep a large piping bag with a plain round tip.

Sift the confectioners sugar and almond flour separately. Re-weigh after sifting to make sure you still have the correct amount. Combine in a medium sized bowl.

Combine the egg whites, and granulated sugar in a heatproof stand-mixer bowl, and set over a pot of barely simmering water (bain-marie). Whisk by hand until all the sugar is dissolved, and the egg whites are frothy.

Transfer to bowl to stand-mixer with the whisk attachment, and syrup on low for about 30 seconds, then increase speed to medium. Whisk on medium for one to two minutes, until the mixture is white and starting to become fluffy. Raise the speed to high and whisk until stiff peaks form. The mixture is ready once it becomes glossy and you can hold the bowl upside down without any mixture falling out.

Pour the sifted powdered sugar and almond flour into the stiff meringue.

Start folding gently "writing" the letter J with your spatula, coming down through the center of the bowl and around. Fold until there are no streaks of dry ingredients. Divide batter into 2 bowls, weighing each to ensure they're the same.

To the first batter add white gel food coloring and fold until the color is incorporated. The batter should be flowing slowly and effortlessly off the spatula, you should be able to pick up some batter with the spatula and draw several figure 8s without having the batter break up.

Repeat the previous step with the remaining batter, but using yellow food coloring instead. Food coloring significantly lightens while baking, so add a little more than the intensity you want.

Transfer each batter into a small piping bag. Secure the top with a tie, so the batter doesn't escape while piping, and to keep the batter from drying out while you work with the remaining batter. Snip the tips of both piping bags, then place into the larger prepped piping bag.

Hold the piping bag vertically and begin piping 1″ round shells onto your sheet pan, spacing them about ½″ apart. Sprinkle coconut shreds to the sides of the shells while still wet.

Deflate any air by lifting the tray and gently tapping it on your work surface. Pop any air bubbles with a toothpick Let rest for 30 minutes or until a skin forms on the surface.

Preheat the oven to 325°F / 63°C and bake for 12 -15 minutes, rotating halfway, or until the tops are set. Remove shells from the oven and slide the parchment or Silicone mat onto a cool work surface. Cool completely.
For the coconut buttercream:
With a stand or hand-held mixer, cream the butter until softened and fluffy. Sift in the powdered sugar, add vanilla extract and then the coconut cream one tablespoon at a time. Increase to medium, and whisk until light and fluffy.

Spoon into a piping bag fitted with the tip of your choice, and chill until ready to use.
to assemble
Pair up the cooled macaron shells, then pipe a circle of buttercream leaving the center empty. Spoon approx. 1 tbsp of mango curd into the center then top with the other shell.
Notes
NOTES:
Storage:
These macarons will store in the fridge for up to 4 days, and in the freezer for up to 15 days. I don't recommend going longer than that or the macarons might start to get soggy because the curd is a wet filling.
Did you make this recipe?
Tag @WhiskfullySo on Instagram
if you like this recipe, you may also enjoy...