Matcha is always having a moment, so you'll love these Matcha White Chocolate Wreath Cookies that are perfect with a cup of matcha tea, or any tea really. 
This is cookie #3 in this year's 2020 Holiday Cookie box. To see the other cookies, click here!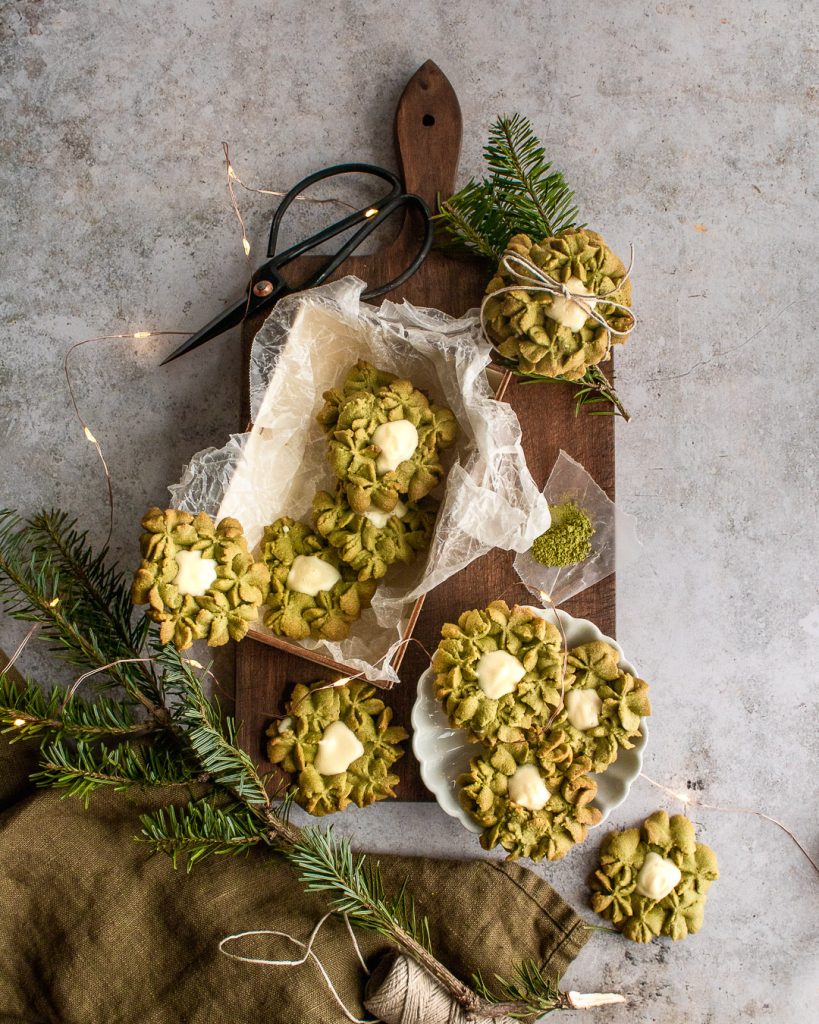 Matcha is finely ground green tea leaves. In Japan and other East Asian countries, high quality matcha is served at special ceremonies and offered to welcome house guests. Today, Matcha is enjoyed everyday as an alternative to coffee. Unlike coffee, it doesn't cause the "jitters buzz" effect, is high in antioxidants, and studies have linked it to prevent heart disease, cancers, and even promote weight loss. 
There are many grades of Matcha, from culinary level which costs $10-14/ 20g to ceremonial grade (the finest) costing $40-70/ 20g.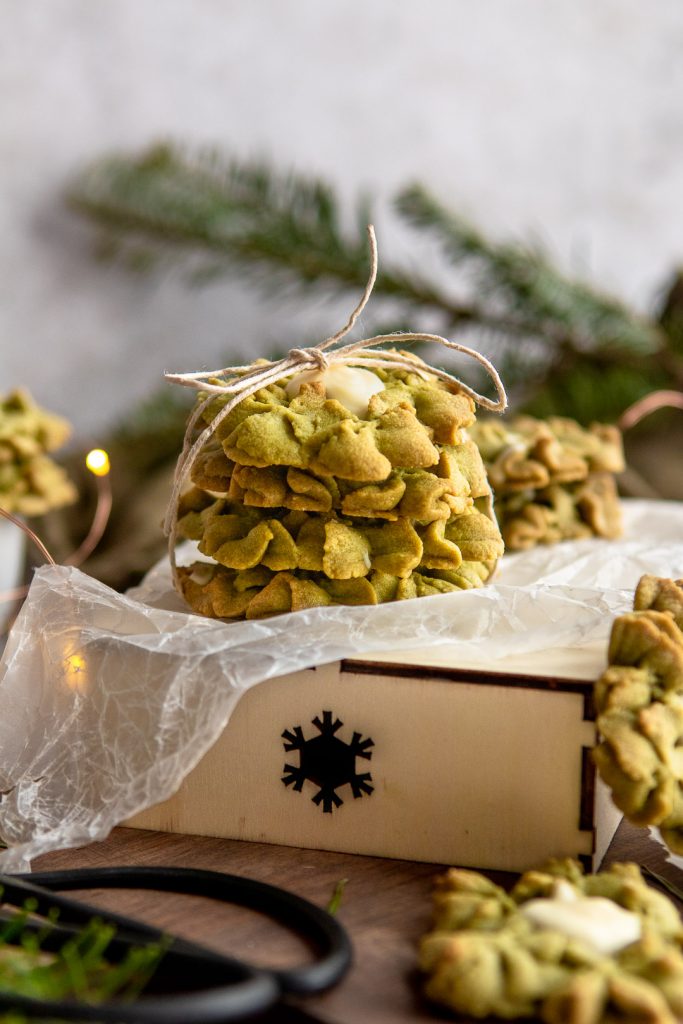 What are Matcha White Chocolate Wreath Cookies?
These Matcha White Chocolate Cookies have a pip-able butter cookie base similar to these Maple Vanilla Walnut Viennese Whirls - but with the addition of matcha powder. You can even make both cookies at the same time but half the batter at the end to add the matcha! 
The cutest part is the piped wreath. I used a small open flower tip, but you can use any you have on hand, as long as the opening is not too big. In each bite, the slight bitterness of matcha is balanced with white chocolate. Best of all, the matcha powder is already green, so no artificial coloring is needed. 
Do I need Ceremonial grade Matcha for these Matcha Cookies?
While ceremonial matcha is not necessary for this recipe (if you have it, why not), I wouldn't recommend the cheap stuff either. Bad matcha is extremely bitter, bland, and has the consistency of chalk dust - BLEH.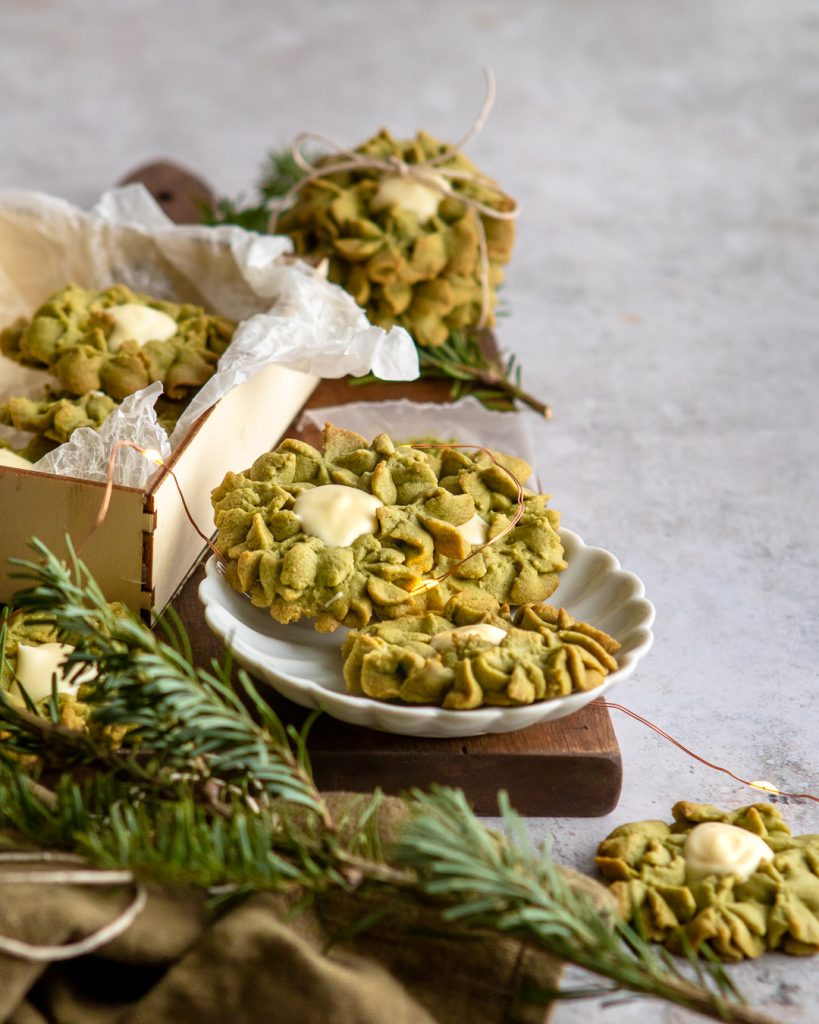 Tips for Making Matcha White Chocolate Wreath Cookies
Use room temperature butter – This is essential for the cookie to be tender and crumbly.  Warm softened butter will make the creaming stage easier and ensure everything is incorporated. 
TIP: Leave your butter out at least 2 hours before, OR watching carefully, place over a warm vent for 5 minutes. 
Add Matcha in small increments/tasting as you add – Depending on the type AND brand of matcha you use, you may need more or less. As a general rule, the higher the quality matcha, the less you will need. Add the recommended amount, tasting as you go, adding matcha in ½ tsp increments if needed.
Chill your Dough – Absolutely essential for all butter cookies! If unchilled, these cookies will spread into large flat discs when baked and loose their defined swirls. Chill for at least 30 minutes, but the longer the better!
Cool completely before filling – Let your cookies cool completely before filling with white chocolate. 
TIP: Don't skip the coconut oil! The chocolate will become glossy and easier to drip into the Matcha White Chocolate cookie centres.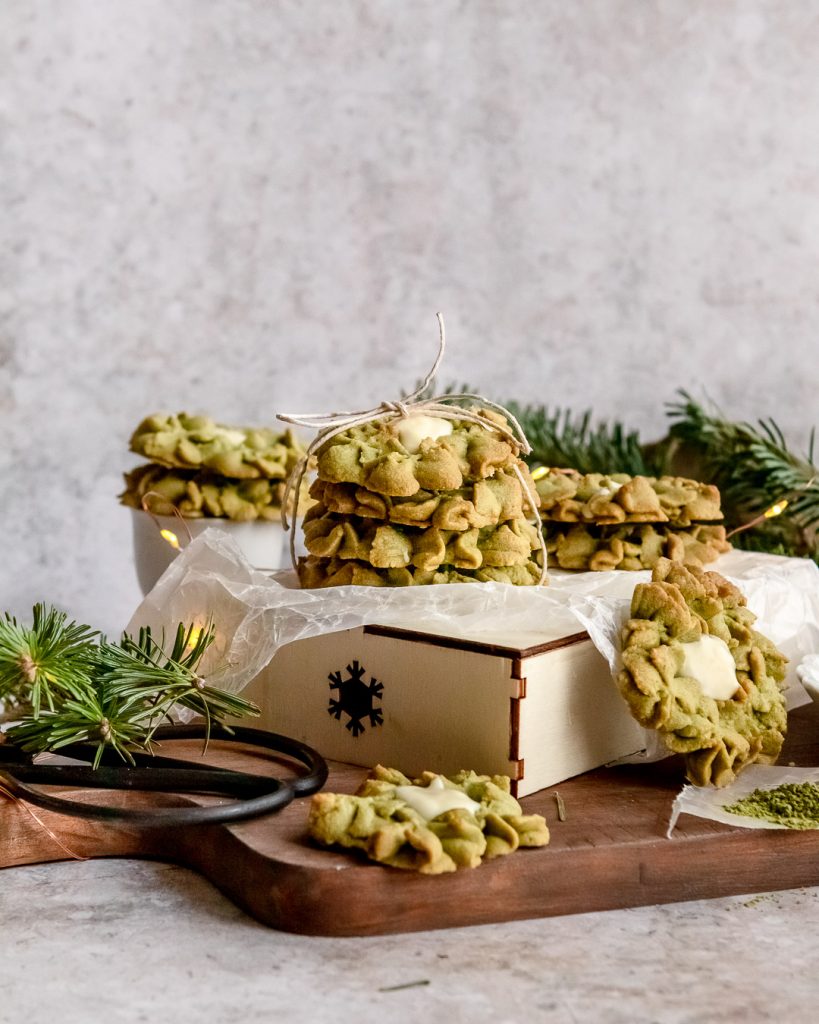 How to store Matcha White Chocolate Wreath Cookies. 
There are two options for storing: 1) Once the cookies are cooled (but not filled), they can be stored for up to a week in an air tight container. When ready to serve, add the white chocolate. 2) If your cookies are filled, store in an air tight container in the fridge to prevent melting. Especially so, if you live in a warm environment. 
These Matcha White Chocolate Cookies are the perfect for baking in batches for cookie boxes or for your afternoon tea stash!
Happy Baking! Sharon XO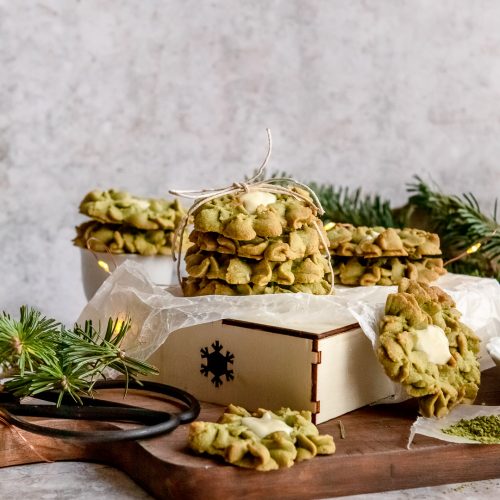 Matcha White Chocolate Wreath Cookies
Cute Matcha White Chocolate cokies piped into wreaths. Flaky crisp edges and a white chocolate centre, makes these perfect for afternoon tea.
Ingredients
for the butter cookie base
5½

tbsp (80g)

unsalted butter

softened to room temperature

½

tbsp (7ml)

vanilla extract

¼

cup (30g)

powdered sugar

sifted

¼

tsp (1g)

kosher salt

15

g

egg white

room temperature

3

tbsp (10g)

almond flour

½

cup (75g)

all-purpose flour

½

tbsp (3g)

matcha powder

1+

tsp

milk (if needed to thin out batter)
for the white chocolate filling
⅓

cup (2oz)

white chocolate bar or chip

finely chopped if using bar

½

tbsp

coconut oil

melted
Instructions
for the butter cookie base
Preheat the oven to 320°F, preferably, at the convection setting and line a baking tray with parchment paper. If you need a guide, draw 16 one-half inch circles spaced ¾ inches apart. Prep a 12 or 18 inch piping bag with a small open flower tip. Soak the piping tip end in boiling water. 

In the bowl of a stand mixer fitting with the paddle attachment, cream softened butter on medium-low speed until smooth. Sift in powdered sugar, add vanilla extract and salt. Cream until sugar is dissolved and mixture is smooth.

Pour in egg white, and mix on medium speed. At first, the butter will separate. Increase mixing speed to 2nd highest level and mix for 5-7 minutes or until egg white liquid is absorbed. Scrape down the bowl every 2 minutes. Turn off mixer and smear all the butter against sides of the bowl with a spatula, mixing it all together after smearing. Keep smearing and mixing, until the mixture resembles softened butter again and there is NO TRACE of egg liquid. DO NOT stop, until it reaches this stage or your cookies will spread. 

Sift in almond flour, all-purpose flour, matcha, and fold to combine. Fold just until no streaks of flour remain. If the dough gets too tough, stream in milk 1 teaspoon at a time. 
to pipe wreaths
Spoon batter into the prepared piping bag. Tighten the top of the bag by twisting the top, and following the drawn guide, pipe out 8 small stars to form the shape of a circle. To pipe, hold the bag vertically ½ inch from the pan with one hand, and the other hand holding the tip. While squeezing the bag, slightly move upwards. Lightly flick at the end to release batter. Pipe remaining wreaths.

Chill the cookies for 5 minutes in the freezer or 10 minutes in the fridge. Bake the cookies in a convection oven (circulates air) for 10-13 minutes or at 14-16 minutes for conventional bake until the edges are slightly golden brown. Remove from oven and cool completely on baking tray.
make the white chocolate filling
In a double boiler or microwave, melt white chocolate with coconut oil. If using the microwave, melt at 10 sec intervals to prevent chocolate from burning/splitting. Whisk to combine oil with chocolate. Use a small tapered teaspoon, to fill the centres of each matcha cookie. Place in the fridge for 10 minutes or more to harden.
Notes
SUBSTITUTIONS:
This cookie recipe is best made with cake flour, but all-purpose is more common so it is used. 
For a gluten-free version sub all the all-purpose flour with almond flour.
For an egg-free version try using a flax egg (cannot guarantee same results).
Vegan butter can be substituted in. 
TO STORE:
These cookies will stay fresh for one week if stored flat in an air tight container. 
Did you make this recipe?
Tag @WhiskfullySo on Instagram
if you like this recipe, you may also enjoy...