Orange Coconut Star Butter Cookies that are sweet and zesty. With toasted coconut for a crispy edge, but are buttery and flaky in the centre.
This is cookie #5 in this year's 2020 Holiday Cookie box and a crowd favourite! Click here to see the other flavors!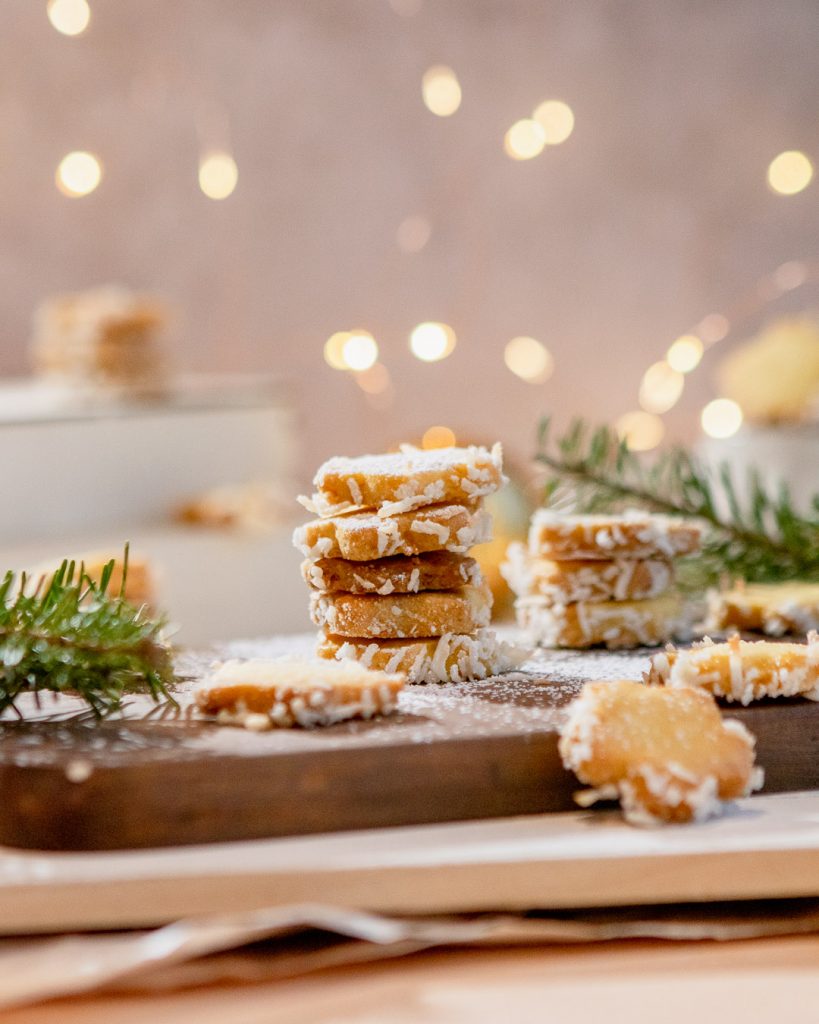 Orange Coconut Star Butter Cookies
Whoever said coconut is just a summer flavor, clearly has never tried these Orange Coconut Butter Cookies. Traditionally, the fruit cookie of the holiday season is a cranberry, orange & pistachio medley, but this year I wanted to try something new. Cue this lovely orange coconut combo. 
This cookie uses a simple butter cookie base, but with the addition of orange zest, orange juice and toasted coconut.  These cookies are bite size (literally, they're the cutest thing), but if you don't have a tiny star cutter, feel free to use whatever shape you have! The best part is the crunchy toasted coconut edges.. The coconut shreds are added right before baking with a little bit of egg white (aka glue), and get toasted to a lovely golden color.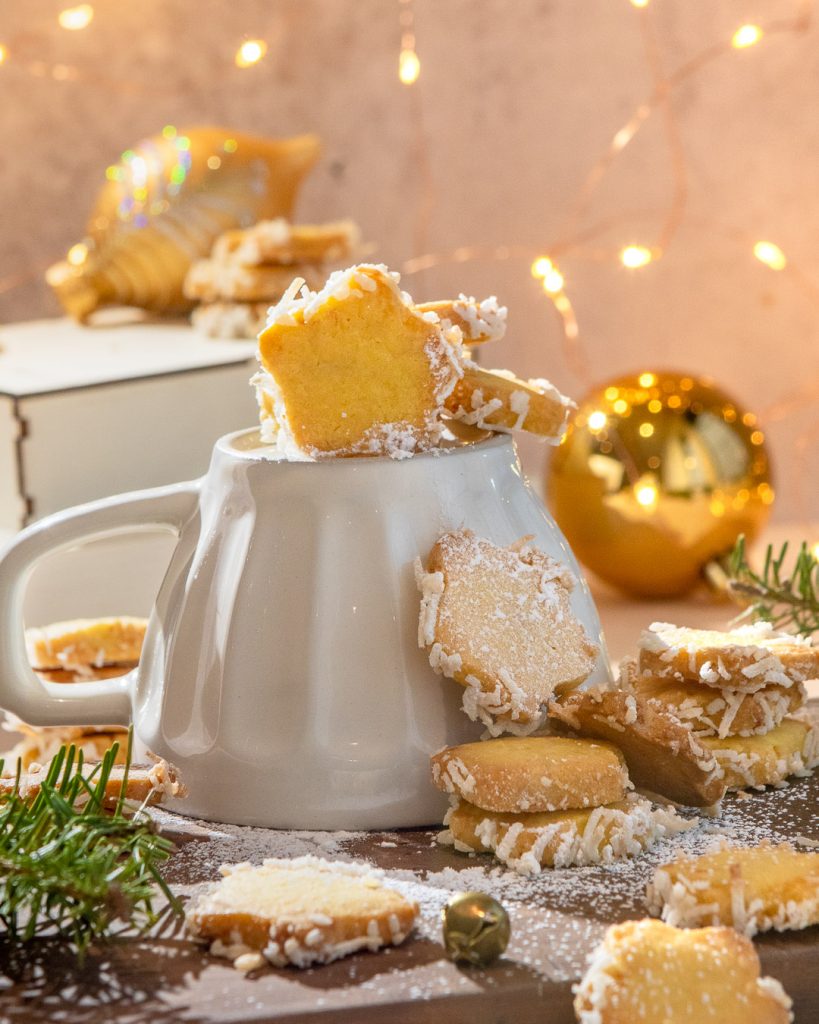 What do I need to make these Orange Coconut Star Butter Cookies?
Isn't it amazing how just 7 simple ingredients come together to make something delicious?!
Unsalted Butter: This cookie is basically an ode to butter, so use the good stuff! Make sure your butter is EXTRA soft! or else the cookies will be dense.
Powdered Sugar: This dissolves better than granulated sugar to ensure that the batter is smooth enough to pipe.  
Egg Yolk: This will hold the dough together and add richness. 
Almond Flour: For a nutty undertone taste. Make sure to finely sift or the batter will be grainy. 
All-Purpose Flour: Like the almond flour, finely sift to prevent lumps.
*This can be substituted for all almond flour if you want a GF version. 
TIP: Cake Flour would be even better so the cookie has a fine crumb!
Coconut Shreds: Desiccated coconut works well too (finely ground), but if you want flakes in your cookie get the shreds. 
Orange Zest/Juice: Use the freshest oranges you can find! Personally I love Cara Cara oranges!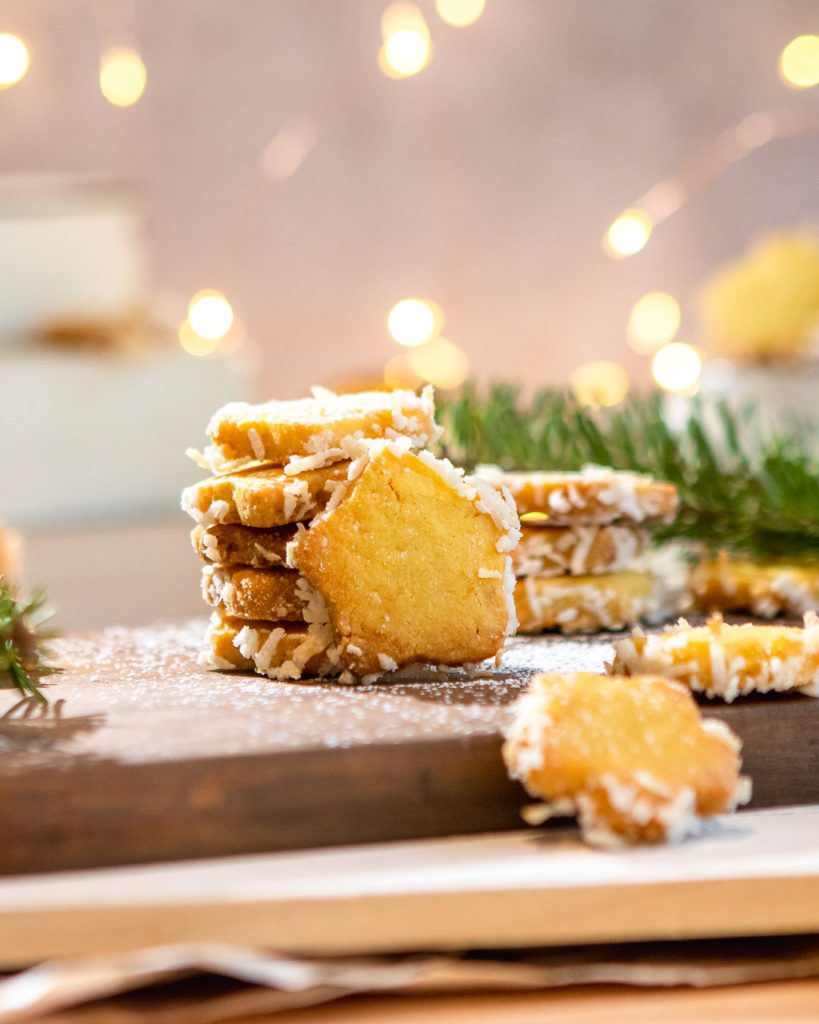 tips for making butter cookies
Use room temperature butter – This is essential for the cookies to be tender and crumbly.  The foundation of this cookie is made by creaming butter and sugar, so warm softened butter will make this easier and ensure everything is incorporated. 
TIP: Leave your butter out at least 2 hours before, OR place over a warm vent for 5-7 minutes. 
Aim for Drier Dough – To prevent excess spreading, the dough should be on the drier side. Like pie dough that holds together when pressed. 
Chill your Dough – Absolutely essential for all butter cookies, this relaxes the dough and makes it easier to roll out! It also prevents the butter from smearing and sticking to the surface. Chill for at least 30 minutes, but the longer the better for flavor! 
Cool completely before filling – It would be a shame if the filling melts, so allow the cookies to completely cool and harden so they're easier to handle and fill.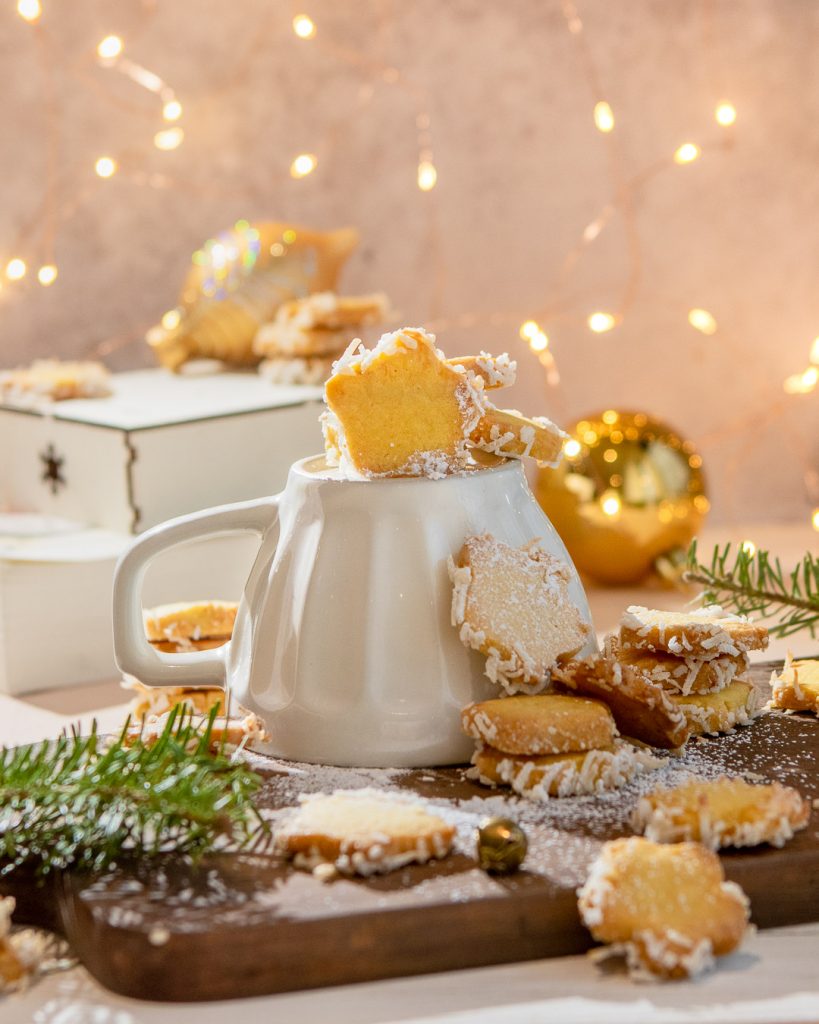 how to store these orange coconut star butter cookies
These cookies stay fresh for 1-2 weeks when stored in an air tight container. For maximum storage, I like to stack the cookies. 
These cookies last even longer when frozen. To do so, make the dough and cut-out the cookies. Freeze the cookies un-stacked before placing them in a plastic bag or container. When ready to serve, simply place on a baking tray and bake as instructed. 
I hope these Orange Coconut Star Butter Cookies make it into your cookie box this holiday season, and if they don't...well remember that cookies are a good idea all-year round! 
See you tomorrow for cookie #6
Happy Baking! Sharon XO
Orange Coconut Star Butter Cookies
Orange Coconut Star Butter cookies that are sweet and zesty. With toasted coconut for a crispy edge, but are buttery and flaky in the centre.
Ingredients
5½

tbsp (80g)

unsalted butter

softened at room temperature

¼

cup (30g)

powdered sugar

sifted

½

tbsp (7ml)

vanilla extract

¼

tsp (1g)

kosher salt

1

small

egg yolk

room temperature

zest from 1 small orange

⅓

cup + 4 tbsp (53g)

coconut shreds

set aside ⅓ cup (33g) for decorating edges.

3

tbsp (10g)

almond flour

½

cup +3 tbsp (90g)

all-purpose flour or cake flour

1+

tsp

milk (to thin out batter if needed)

1

egg white

room temperature
Instructions
Preheat the oven to 320°F, preferably, at the convection setting and line a baking tray with parchment paper.

In the bowl of a stand mixer fitting with the paddle attachment, cream softened butter on medium-low speed until smooth. Sift in powdered sugar, add vanilla extract and salt. Cream until sugar is dissolved and mixture is smooth.

Pour in egg yolk, orange zest and juice, and coconut shreds. Mix until egg is fully combined and the zest/shreds and evenly spread into the batter.

Sift in almond flour, all-purpose (or cake flour) and fold to combine. Fold just until no streaks of flour remain. If the dough gets tough, stream in milk 1 teaspoon at a time. Should be of pie dough consistency: holds together when pressed, but not wet.

Tip the batter out onto a surface and form into a flat disc. Wrap in cling wrap and chill for minimum 20 minutes in the fridge or until dough is stiff. Then roll out on a lightly floured surface until ¼ inch thick.

Using a 1 inch star cutter (or cutter of your choice) cut out 30 (less or more depending on your cutter) cookies. Dip or brush the edges of the cookie into the egg white (essentially glue) and then dip into the set aside ⅓ cup of coconut shreds. Then place onto the prep baking tray spaced half a cookie apart.

Chill the cookies for 5 minutes in the freezer or 10 minutes in the fridge. Bake the cookies in a convection oven (circulates air) for 10-13 minutes or at 14-16 minutes for conventional bake until the edges are slightly golden brown. Remove and cool for 5 minutes before removing to a wire rack to cool completely.
Did you make this recipe?
Tag @WhiskfullySo on Instagram
if you like this recipe, you may also enjoy...