Struggling to make your delicious brownies look equally as yummy on camera?Here are 5 tips to nail your brownie photography game! 
This is part 4 in my "How to Style..." series where I show you how to style everything from chicken to brownies! Part 3 was all about styling salads, read that post here, so i figured it was high-time I started tackling sweets! 
The recipe pictured in these photographs is my Fudgy Caramel Walnut Brownies - oh so gooey, and delicious!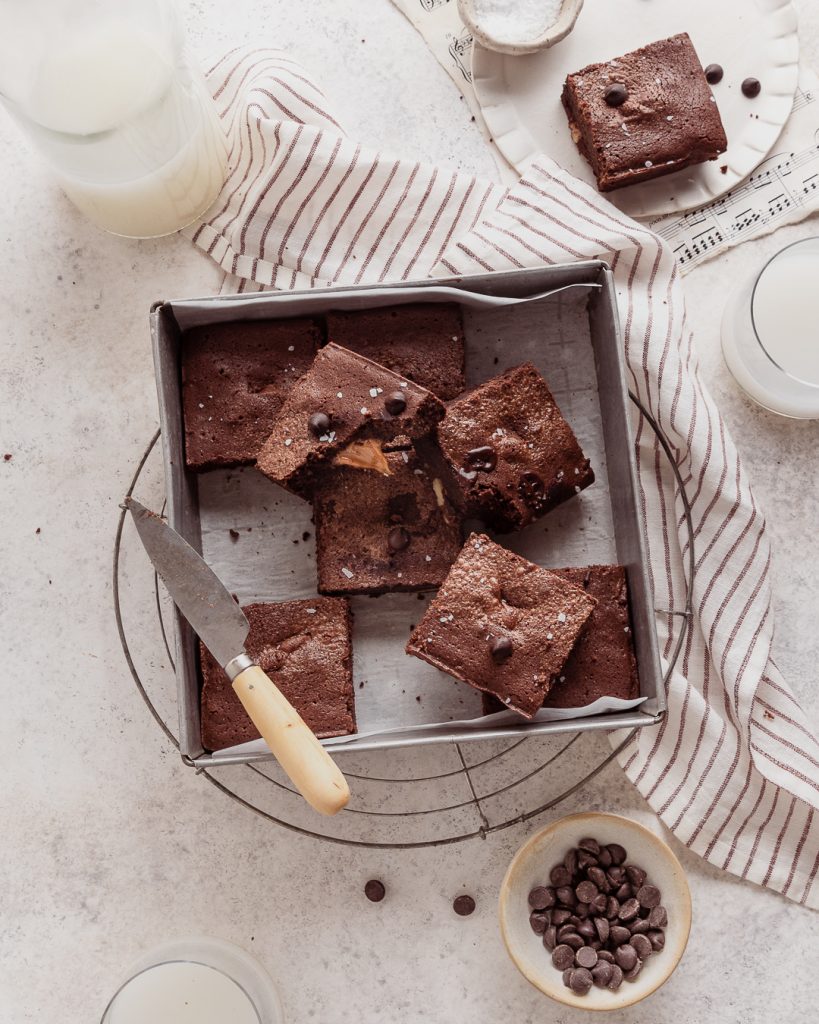 don't under estimate brownies
Here's the rub. Brownies are difficult to style and photograph. EH? But why? 
They can be messy - With fudgy brownies, especially, they can easily loose their shape and be difficult to photograph
They're brown - Ah brown foods...very tricky to style so they stand out, and even more difficult to color-correct in lightroom
They're everywhere - Next to chocolate chip cookies, brownies are probably the most photographed sweet, so it's hard to be original. 
Now that we've identified the struggles of styling brownies, let's get problem solving! Below are my 6 fool-proof tips to styling and photographing brownies.
In case you're wondering what tools you'll need for styling, you can check out my tool-kit here!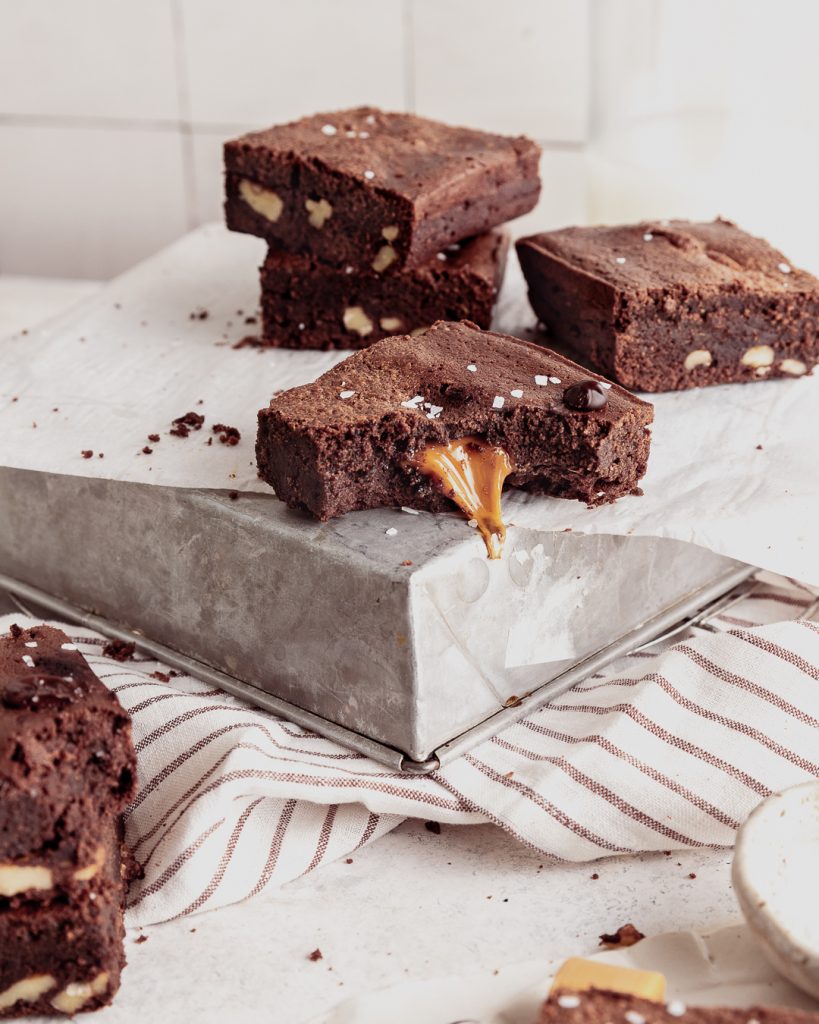 tip #1 - Cool and chill your brownies
Let's tackle the first problem of mess. Cutting into a fresh batch of brownies works if you're eating them, but NOT when you want to photograph them. Brownies photograph much better when cold because they hold their shape.
I recommend baking the brownies the night before, and giving them the entire night to chill in the fridge. Or, if you're in a rush, a quick 20 minutes in the freezer if you're baking and photographing on the same day. 
tip #2 - Use a hot knife
Brownies are simple folk, and as you may know by now, the more simple a dish is, the more difficult it is to style. Nothing ruins a brownie photo like an uneven edge. We like our corners razor sharp, so slice into the chilled brownies with a knife that's been run under hot water. Just make sure to wipe the blade clean between each cut to avoid crumb transference.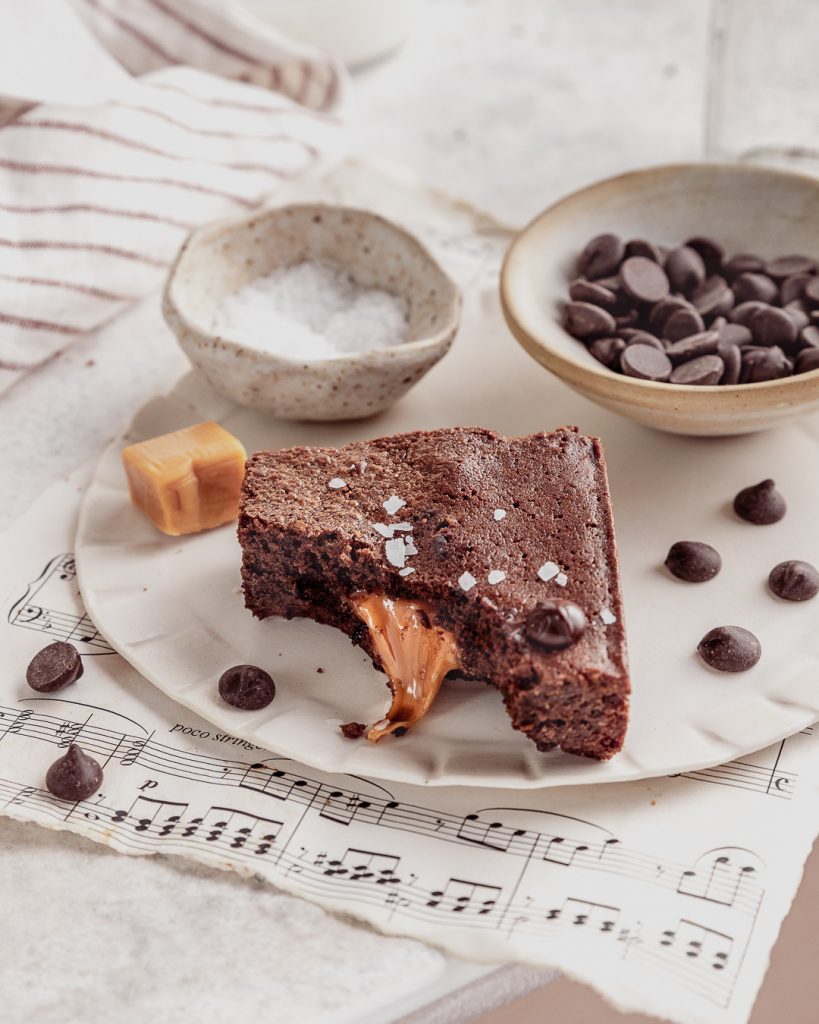 tip #3 - Consider your color palette
Brownies are brown, but they don't have to be boring. To make my brownies stand-out from the scene, I've chosen a white backdrop and simple props. You'll also notice that by adding a caramel center, not only do they taste AMAZING, but since its lighter than the brownie, it adds some interest. 
tip #4 - Use dutch-processed cocoa powder
This is very subtle, but you'll notice that some brownies look red, and others true brown. This has more to do with the type of cocoa powder used. Dutch-processed cocoa powder is not only more delicious, but it gives brownies a true brown color rather than a red tinge. 
If you do use regular cocoa powder, just make sure you color correct in Lightroom and don't use any red props, as that will bring out the red in your brownies - unless red is what you're going for.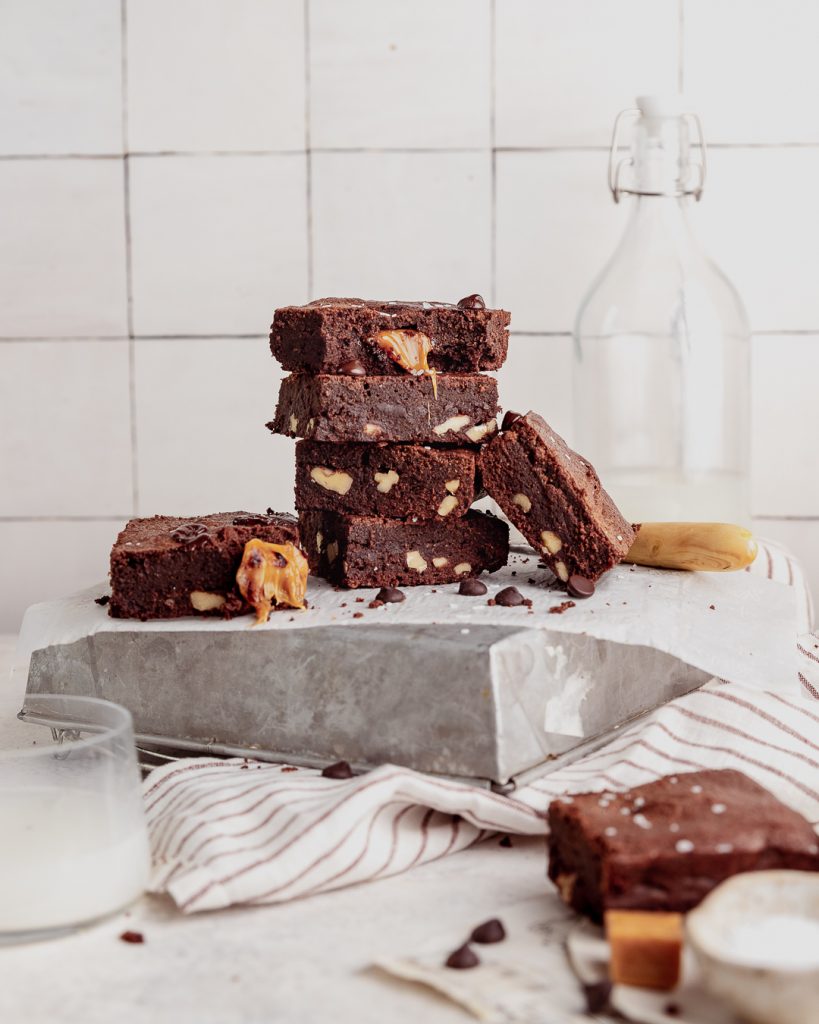 Step #5 - Stack them
When in doubt - stack them. Why? adding height is a guaranteed way to add interest to simple desserts. While brownies look good from an overhead angle, they really shine in stacks since it shows off the rich gooey profile. Top with ice cream or a heavy stream of chocolate for the extra drool factor! 
step #6 - hit it with the flaky salt
Never ever forget the flakey salt! Garnish adds that extra oh la la factor, and crucial to brownies, the large white flecks provide contrast to the otherwise brown surface of a brownie. 
I hope these 6 tips help you better style and photography brownies! Which tip did you find the most helpful? Let me know! 
Till next time! Sharon XO
P.S. I'm always opening to hearing what you want me to cover next in this series, so comment below! 
if you liked this guide, you may also enjoy...