Tangy and sweet, Chocolate Lemon Curd Linzer Cookies are the perfect sweet treat! These are my favourite chocolate offering from this year's 2020 Holiday Cookie Box, and a must-bake! Click here to see the other flavors! 
I use a Linzer stamp to make these cookies so mine are only 1 layer. However, this recipe also has enough to make the sandwiched option. 
What are Chocolate Lemon Curd Linzer Cookies
If you're interested in the history of this cookie and it's origins, check-out my first linzer cookie recipe: Gingerbread Linzers with Hazelnut Coffee Praline Filling. 
These Chocolate Lemon Curd Linzer Cookies are made with a tender chocolate cookie and easy homemade-lemon curd. Eating one of these is like biting into sunshine. The lemon curd is so light it reminds me of a lemon sorbet in summertime. Pair that with a dark, and slightly bitter chocolate cookie and you've got a winning combo!
Tips for making flaky chocolate linzer Cookies
Here are my top tips for making delicious tender chocolate lemon curd linzer cookies!
Use room temperature butter – This is essential for the chocolate linzer cookies to be tender and crumbly.  The foundation of this cookie is made by creaming butter and sugar, so warm softened butter will make this easier and ensure everything is incorporated. 
TIP: Leave your butter out at least 2 hours before, OR watching carefully so it doesn't melt, place over a warm vent for 10 minutes. 
Aim for Drier Dough – To prevent excess spreading, the dough should be on the drier side. Like pie dough that holds together when pressed. 
Chill your Dough – Absolutely essential for all butter cookies, this relaxes the dough and makes it easier to roll out! It also prevents the butter from smearing and sticking to the surface. Chill for at least 30 minutes, but the longer the better for flavor! 
Cool completely before filling – It would be a shame if the filling melts, so allow the cookies to completely cool and harden so they're easier to handle and fill.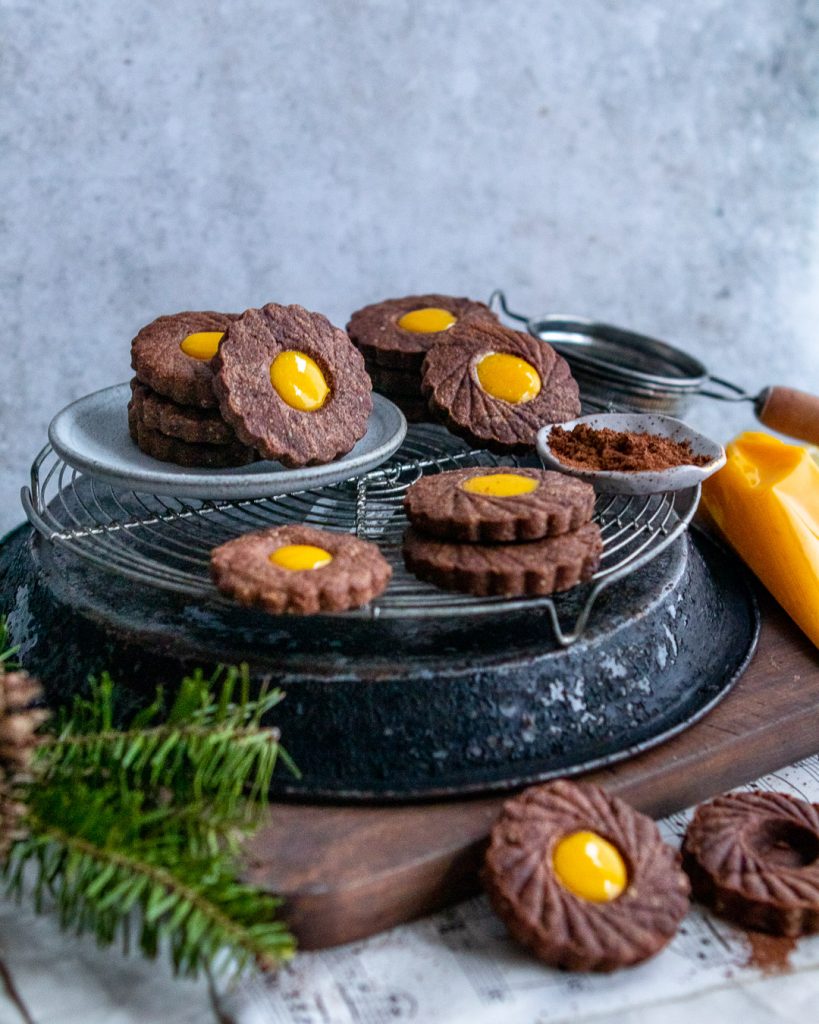 How to make home-made Lemon curd
Confession...before I developed this recipe, I had never made lemon curd...or tasted it before. I just knew it was really good because everyone else was making it but me. 
Now that I've made it, I feel like an idiot for not giving it a go early because it was SO EASY. 10 times easier than making jam or custard. If I can do it, you can too! 
1. Lemon Sugar – Nothing fancy here, but by mixing the sugar and lemon zest together first, the sugar absorbs the lemon flavor for maximum zesty-ness. 
2. Make Custard – Lemon curd is essentially a custard. The eggs and lemon sugar is whisked together over a double boiler slowly to cook/thicken the eggs (not scramble). Remember to constantly whisk, so the eggs don't scramble, until the mixture is light and falls off in ribbons! 
3. Add in butter – Similar to making caramel, the butter is added at the very end. The butter will help cool down the mixture.  
4. Store –  THAT'S IT! Just 4 steps! I then store the lemon curd in a glass container so it can completely cool before using. 
As always, never store hot liquids in the fridge or it will shatter the glass. Let it come to room temp uncovered before storing in the fridge.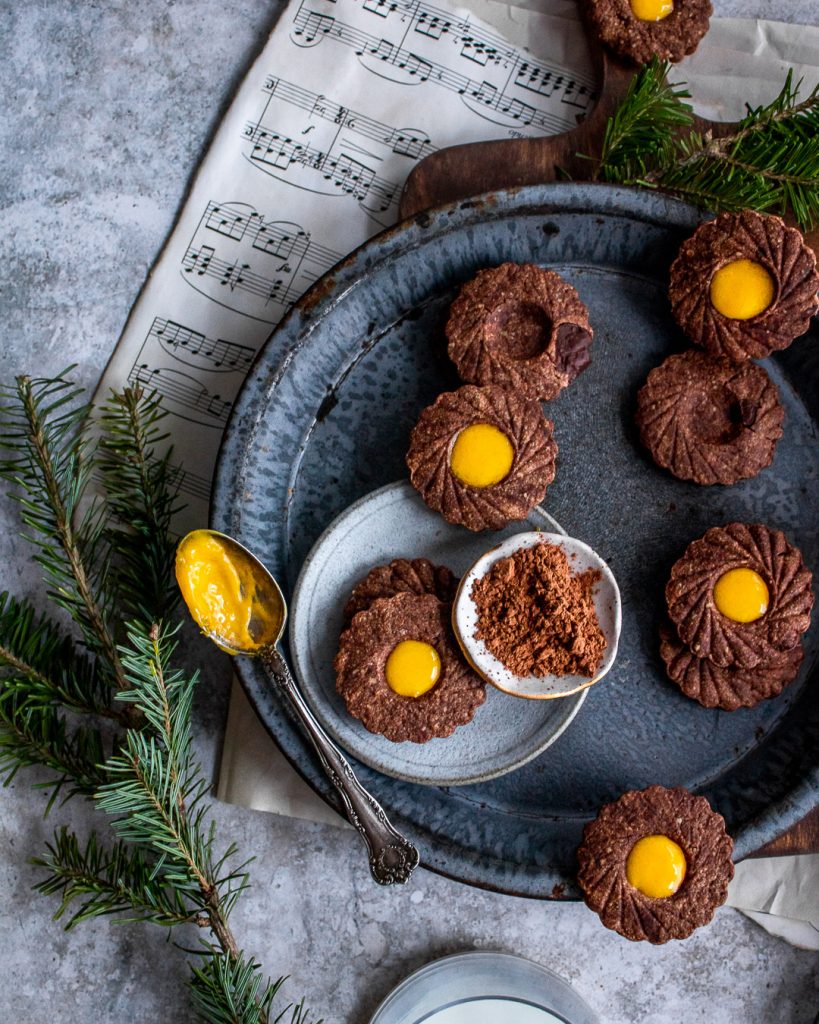 How to fill chocolate lemon curd linzer Cookies 
Filling and assembling is the fun part! I use a narrow spoon to dollop the lemon curd onto the cookies, but you can also use a piping bag to be really precise. 
The only warning I have, is to not over-dollop, once you place the top cookie, the lemon curd will spread out, so just be mindful. 
These Chocolate Lemon Curd Linzer Cookies keep fresh for 1 week stored in an airtight container. If no lemon curd spills out, you can stack them, but to prevent any sticking, I'd always recommend to store them in a single layer.
If you're still not convinced, this was one of the top favs from this year's 2020 Holiday Cookie Box, so you should join the party and make them too! 
Happy Baking! Sharon XO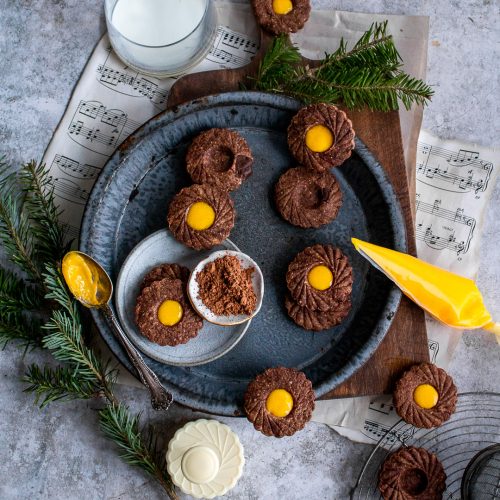 Chocolate Lemon Curd Linzer Cookies
Tangy & sweet, chocolate lemon curd linzers are the perfect sweet treat. Made with a tender chocolate cookie and easy homemade-lemon curd.
Ingredients
for the lemon curd
1

large

egg yolk

room temperature

¼

cup (50g)

granulated sugar

zest from 1 small lemon

juice from half a small fresh lemon

⅛

tsp (1g)

kosher salt

1½

tbsp (20g)

unsalted butter

softened to room temperature cut into 1 inch cubes
for the chocolate linzer cookie
2

oz

semi-sweet baking chocolate

finely chopped

¼

cup + 3 tbsp (100g)

unsalted butter

softened to room temperature

1

tbsp (15ml)

vanilla extract

¼

cup

powdered sugar

1

tbsp (12g)

granulated sugar

¼

tsp (1g)

kosher salt

1

small

egg yolk

⅓

cup (30g)

almond flour

1

cup (120g)

all-purpose or cake flour

4

tsp (10g)

dutch processed cocoa powder
Instructions
for the lemon curd
Fill the bottom pot of your double boiler with just enough water so that the top bowl doesn't touch the water. Place on high-heat until it begins to boil, then lower to low heat until simmering.

In another small bowl (will go on top of the boiling pot, the bowl should NOT float over the water) whisk together granulated sugar, lemon juice and zest. Add in the egg yolk and salt then place the bowl over the pot of simmering water.

Whisk together the contents of the small bowl until completely blended, and continue whisking until the mixture is lightened to a pale yellow. Keep whisking so the eggs won't scramble. Whisk and cook until the mixture is thicken and falls off the whisk in continuous ribbons. If the curd won't thicken after 7 minutes, turn up the heat slightly.

Remove the small bowl, wipe down any condensation, and whisk in the softened butter. The butter will melt from the heat of the curd. Pour lemon curd into a jar, and let cool covered with cling wrap, until ready to use. The lemon curd will thicken while cooling.

Lemon curd remains fresh for 10 days when refrigerated.
for the chocolate linzer cookie
Preheat the oven to 320°F, preferably, at the convection setting and line a baking tray with parchment paper. 

In a double boiler, melt the baking chocolate with the chocolate until thick and glossy. (approx. 5 minutes).

In the bowl of a stand mixer fitting with the paddle attachment, pour in the melted butter/chocolate mixture, add vanilla extract, granulated sugar, salt, and sift in powdered sugar. Mix on medium-low speed until sugar is completely dissolved.

Pour in the egg yolk and mix on medium speed until the egg is fully incorporated and the batter is smooth. Sift in almond flour, all-purpose flour, and coco powder. Fold to combine until no streaks of flour remain and the dough holds together when pressed. If the dough is tough, stream in milk 1 teaspoon at a time. If the dough is wet, add flour in 1 tbsp increments.

Tip out dough on a lightly floured surface, and form into a flat 1 inch thick disc. Chill the disc for 20 minutes in the fridge before rolling out to ¼ inch thick. 

For single layer linzers, use a stamp which presses a filling center and cut out 24 cookies or for 2 layers, use a fluted 2" round cookie cutter, cut out 24 shapes and place on prepped baking tray. Use a ½ inch round cutter to cut-out the centres of half of the cookies. 

Chill cookies for 5 minutes in the freezer or 10 minutes in the fridge. Bake the cookies in a convection oven (circulates air) for 10-13 minutes or at 14-16 minutes for conventional bake until the edges are slightly golden brown. Remove and cool for 5 minutes before removing to a wire rack to cool completely. 
to assemble cookies
for single layer cookie: Place a dollop of lemon curd filling in the pressed-in center of each cookie.

for double layer cookies: Place a dollop of lemon curd filling in the center of a full cookie and sandwich with a cut-out one. Repeat with remaining cookies. 
Did you make this recipe?
Tag @WhiskfullySo on Instagram
if you like this recipe, you may also enjoy...