Nutty Hazelnut Almond Dacquoises that make delicious meringue cookies, but can also be used as a base for entrements & pastries!
Continuing with my basic recipe series, these hazelnut almond dacquoises are a must. If you're looking to jazz-up a cake or need something to decorate a dessert, this is an amazing go-to! If you're not a fan of hazelnuts or almonds, you can swap them out for other nuts! I recommend using only dry ingredients thought that can be ground into fine flours/powders.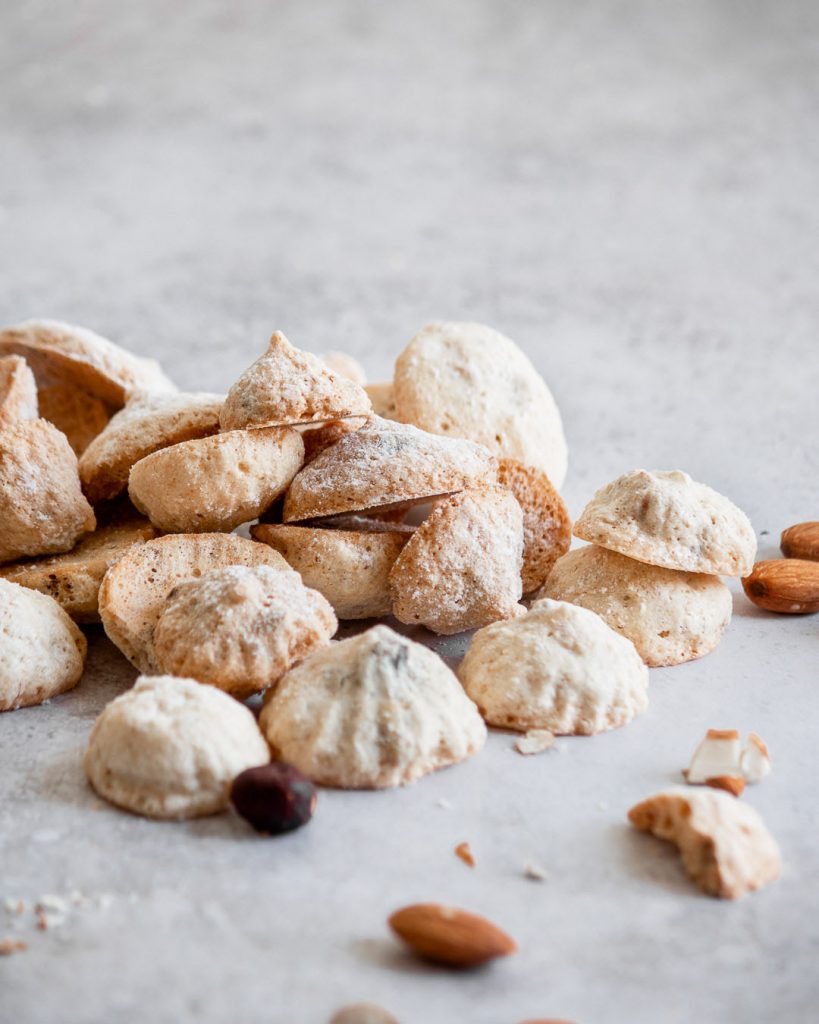 What is the difference between Dacquoise & meringue?
So you've heard of meringues, but have you heard of dacquoise? Well let me tell you a secret...the daquoise is a child of the meringue and it is made exactly in the same way! Eggs whites are whipped into stiff peaks; the mixture is shaped on a pan; and baked at a low heat until dry. The only difference is the inclusion of nuts during the folding process – a small difference, but yields impeccable flavour. The best part? they can be layered with buttercream, chocolate, fruit etc. Check out this Strawberry Dacquoise Cake to see how I use this recipe! 
To summarize: 
Daquoise = crunchy meringue layers with nuts.
Meringue = the process/result of beating egg whites, sugar and and acid until stiff and glossy.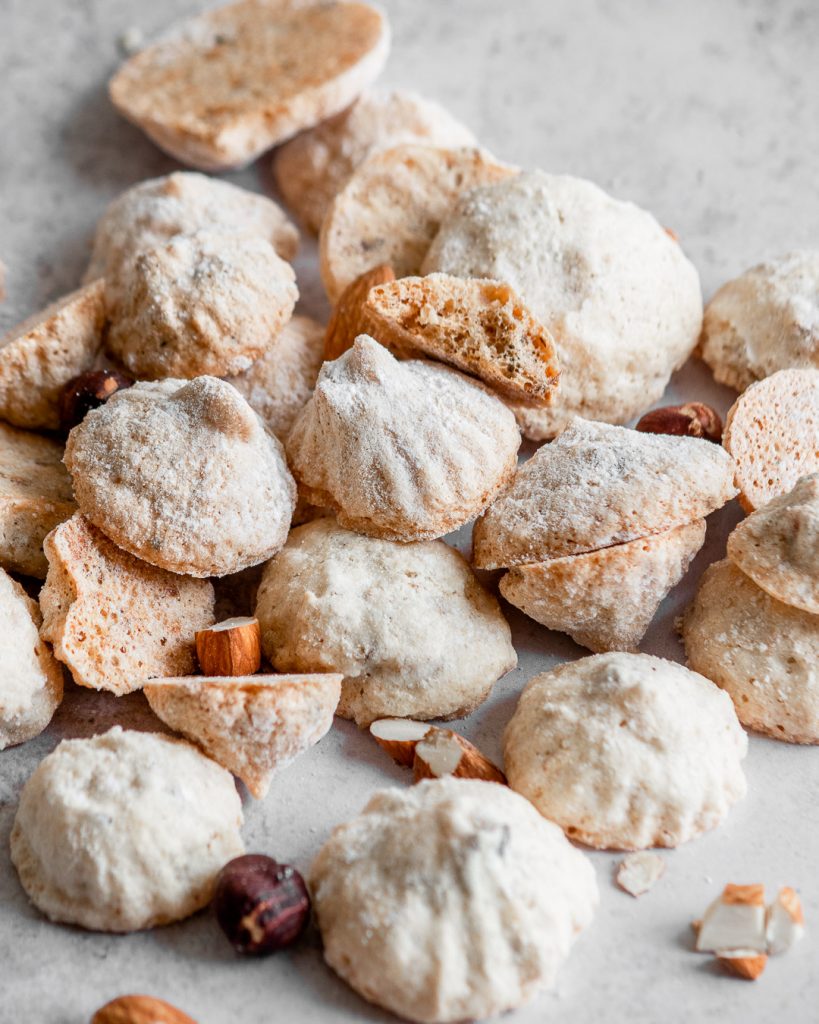 What are Almond Hazelnut Dacquoises
Now that you know dacquoises and meringues are very similar, here are some more details about this Hazelnut Almond Dacquoises! 
YIELD: This recipe makes around 30 (½ inch diameter) dacquoise kisses or 2 six (6 inch) discs to be used a base for cakes. 
TEXTURE: Properly baked dacquoise cookies have a shiny crunchy shell. Unlike Pavlovas (semi-baked meringues), the inside of these Hazelnut Almond Dacquoise cookies should be fully dried and with a lightly browned bottom. Before baking, either lightly spritz the surface with water or dust with powdered sugar to prevent cracking. 
FLAVOR: Dacquoises cookies are (in my opinion) so much tastier than regular meringue kisses because of the added almond flour and ground almonds and hazelnuts!
SPECIAL EQUIPMENT: I've tested both parchment paper and a silicone baking mat, and I found that a silicone mat yielded crispier bottoms and more thorough drying on the insides. To pipe these dacquoises, I recommend a round ½ - 1 inch piping tip for making the cake disc layers and a large star or round tip for making kisses. If you have neither, you can 1) DIY a piping bag using a plastic ziplock bag and cutting off the tip or 2) Dollop a large amount and shape using an angled or flat spatula.
LEVEL OF DIFFICULTY: EASY PEASY! If you're worried about weeping meringues, this recipe is actually less likely to fail because the mix-ins give structure to the mixture.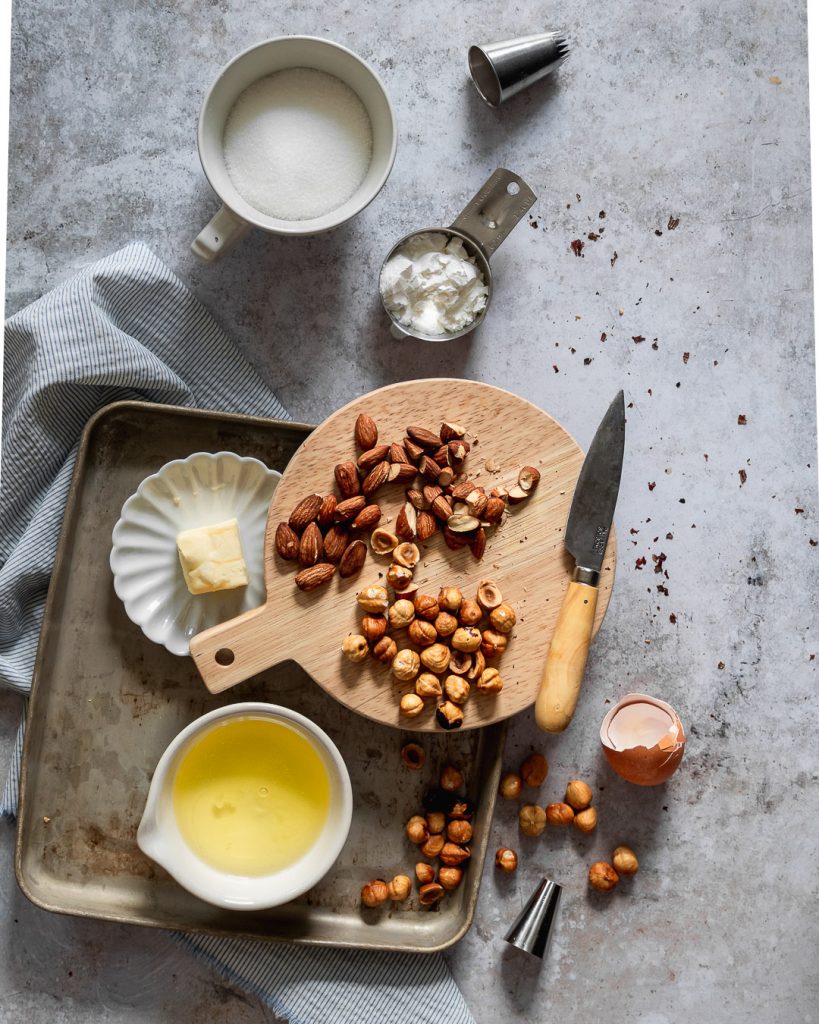 Ingredients for Hazelnut Almond Dacquoises
egg whites - The foundation of a successful meringue is room temperature egg whites. Not only are they easier to separate when warm, they also whip up easier. I DO NOT recommend using pre-separated egg whites unless they are un-pasturized. These pre-boxed egg whites rarely work for meringue based recipes. 
granulated sugar - Sugar helps stabilize the egg proteins and also sweetens the meringue. Don't forget to read the "how-to" below to make sure you incorporate the sugar correctly! 
ground almonds & hazelnuts - To flavor the meringue cookies. For a faster prep time, buy hazelnut and almonds pre-skinned! 
powdered sugar - Protects the surface of the meringue cookies while they bake and prevents weeping and moisture leakage. 
Cornstarch - Just a little is needed to makes these cookies extra crispy. 
Unsalted Butter - this is my secret to perfectly smooth meringue cookies! By mixing in melted butter right before piping, the batter bakes glossy and crack-free! 
Step-by-step instructions to make Hazelnut Almond Dacquoises 
If you're still sceptical about making these Hazelnut Almond Dacquoises, then let me convince you just how easy these are with step-by-step photos so you can see for yourself! Let's get baking!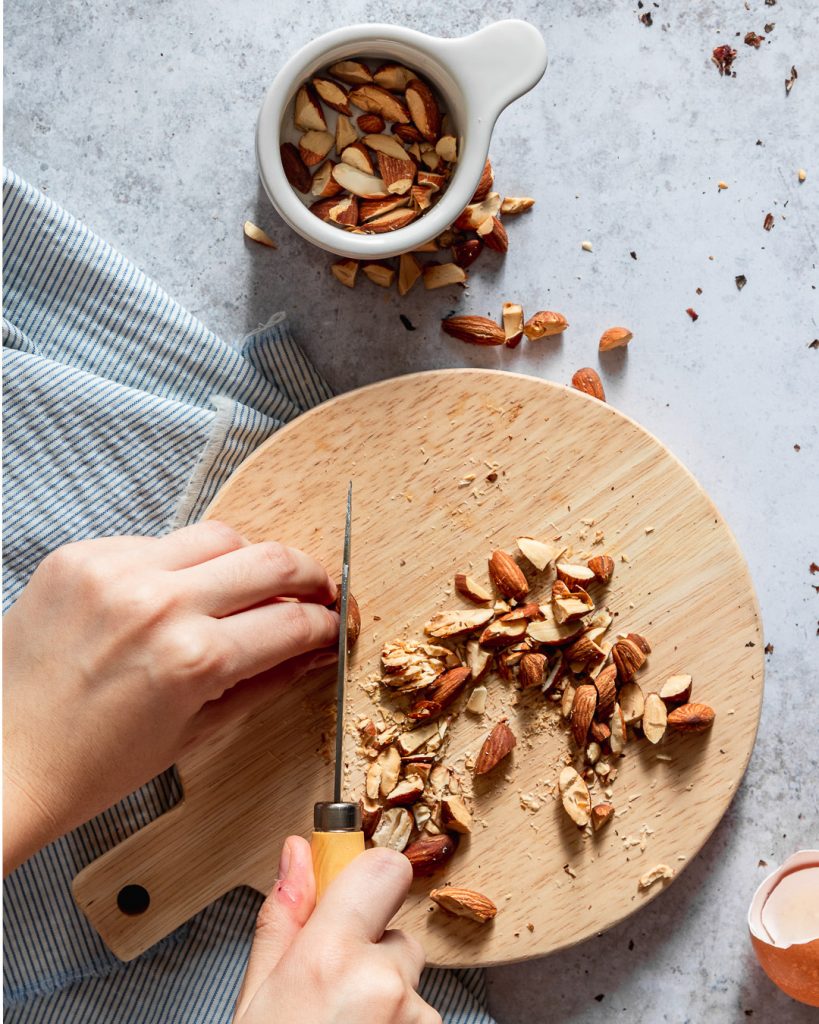 1. Toast & Skin your Nuts! 
Hazelnuts must be skinned, but it's up to you whether you want to blanch your almonds before toasting. Toast your nuts for 8-10 minutes (depending on desired toast level), and while hot remove the hazelnut skins by balling them up in a kitchen linen and rubbing vigorously. 
TIP: Finely chopped the nuts to no larger than pea size to make piping easier. Ground a portion of the hazelnuts and almonds in a meal.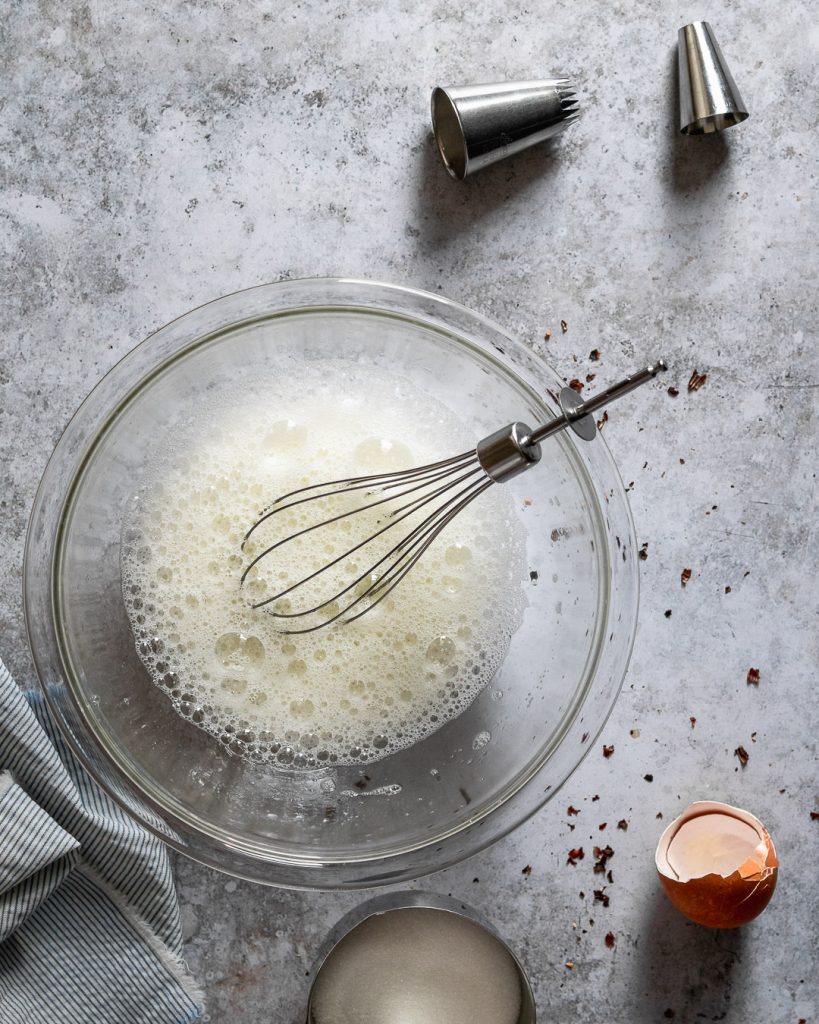 2. Whisk the egg whites until foamy & add sugar
I recommend using a stand-mixer to do the work. Once the eggs are foamy, slowly add in HALF of the sugar in increments. By adding the sugar gradually, the ingredients have time to be incorporated. If you add the sugar too quickly it will overwhelm the eggs and the sugar will not dissolve. Once the first half of sugar is added, increase the speed to medium, and whip to soft peaks.
TIP: Make sure you wipe down your bowl and whisking tool before adding the egg whites. Any grease will affect how the eggs whip up!
3. Add The remaining sugar
The soft-peak stage is when the eggs is starting to firm up, but the mixture is still gloopy and does not hold shape. Once the eggs are at soft peaks, slowly add in the remaining sugar in increments. By adding the sugar gradually, the ingredients have time to be incorporated. If you add the sugar too quickly it will overwhelm the eggs and the sugar will not dissolve. 
TIP: Have our mixer on low-medium speed to prevent the sugar from flying out.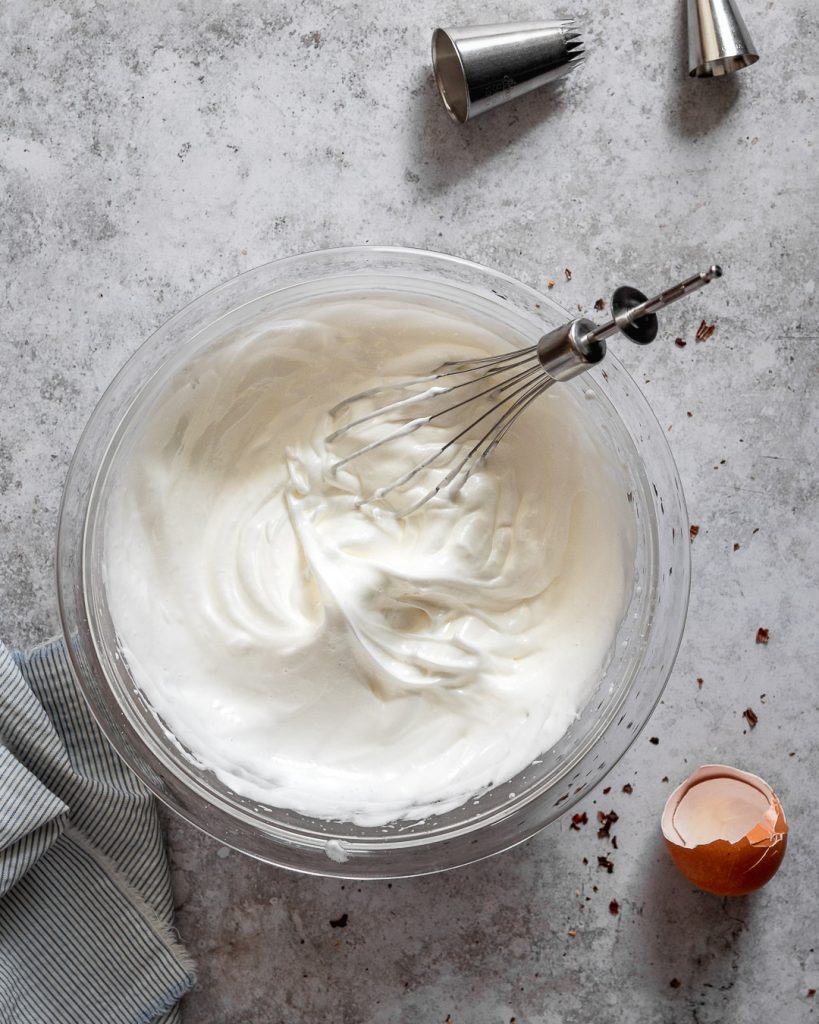 Once all the sugar is added, increase the speed to medium, and whip to stiff peaks! I don't recommend going at high speed as you may risk over beating. Your eggs have reached stiff peak when the mixture is glossy, no granules of sugar can be felt and the eggs are stiff and hold their shape. 
TIP: A good trick to check for stiff peaks, is to hold the bowl upside down. If the mixture holds then you're good!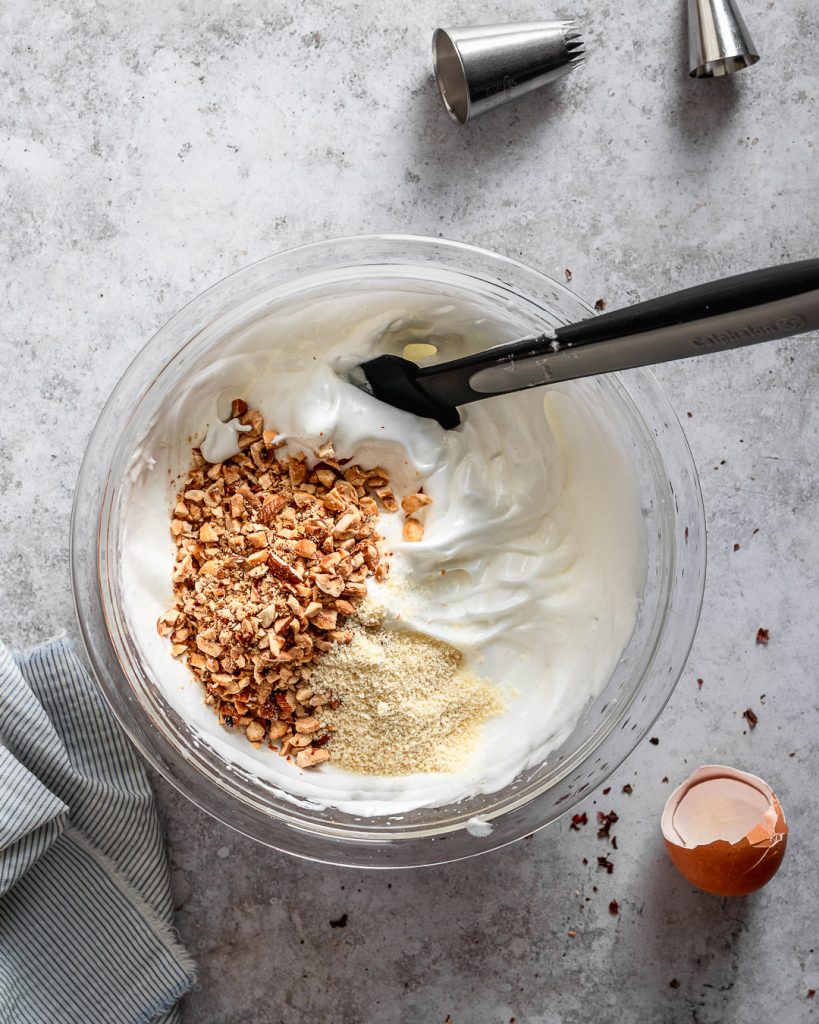 5. Fold in Nuts & dry ingredients
Folding with a spatula is crucial to prevent deflating the airy egg mixture. Fold in the dry ingredients until just combined.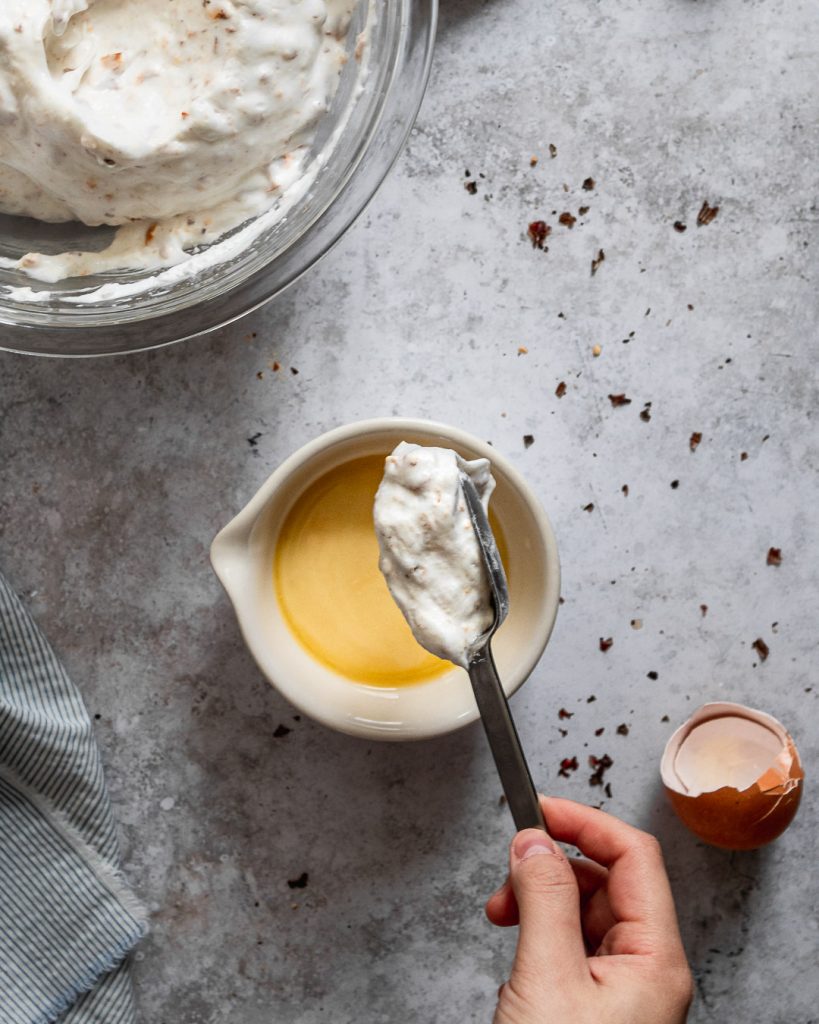 6. Temper butter with dacquoise mixture 
Butter helps prevent cracks in the dacquoise, but since the melted butter is hot, you need to "temper" it before adding it into the mixture. To "Temper" means to bring two liquids you plan to blend together to a similar temperature before combining them completely. Spoon a little of the dacquoise mixture into the melted butter and mix to cool down the butter.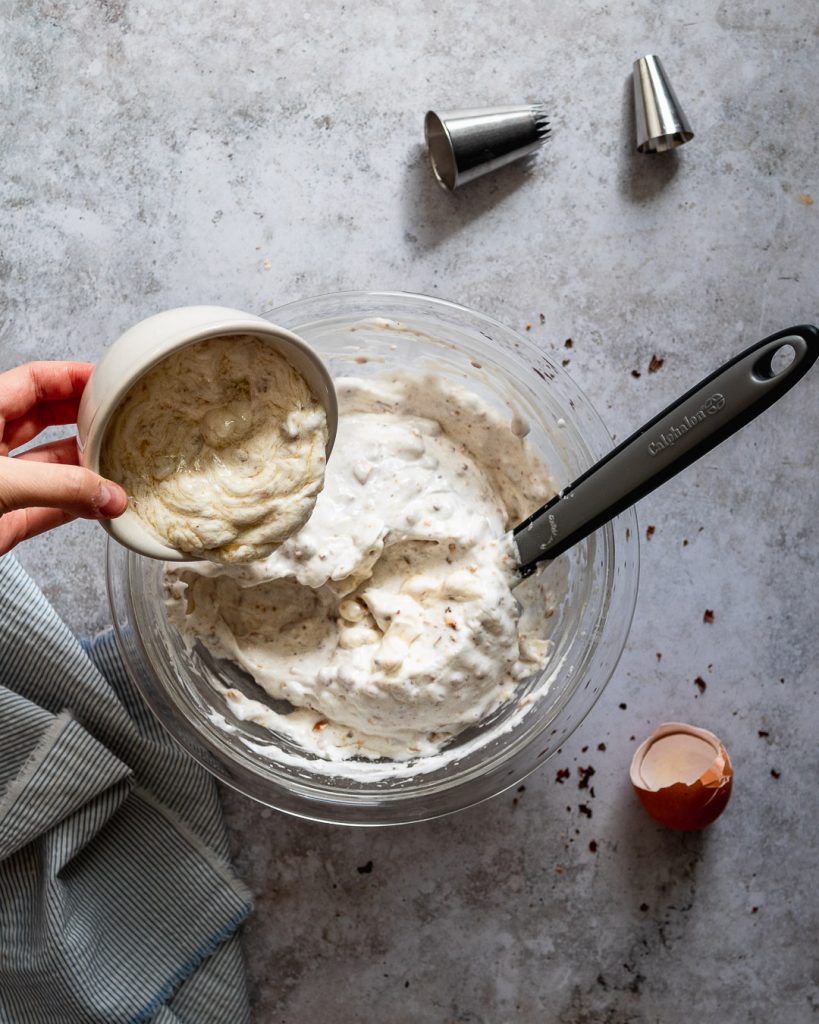 Add the butter/dacquoise mixture back into the large bowl, and give 3-5 last folds to fully combine the butter.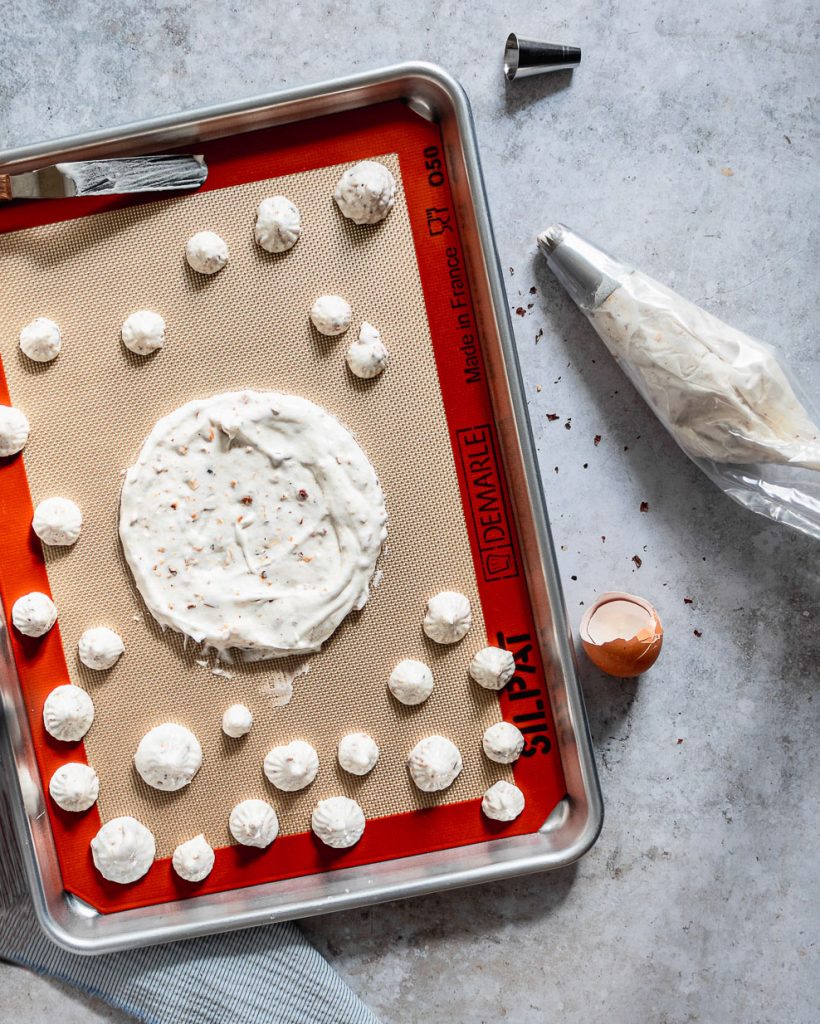 8. Pipe & Bake hazelnut almond dacquoises
Now for the fun part! Prep a piping bag  (16 inch - 18 inch is best) with either a round tip (for piping discs) or an open start tip (for kisses). Spoon the batter into the piping bag and pipe shapes as the recipe requests. Dust the surface liberally with powdered sugar or spritz with water to prevent cracking. Baking at a low temperature is crucial for meringues and dacquoises. Do not exceed 275°F/135°C or the dacquoises will burn. Once baked, best to let the Hazelnut Almond Dacquoises cool in the oven so they gradually come down to room temp. 
TIP: If you don't have a round piping tip, you can always spoon the batter onto the tray, and use a spatula to form it into the desired shape.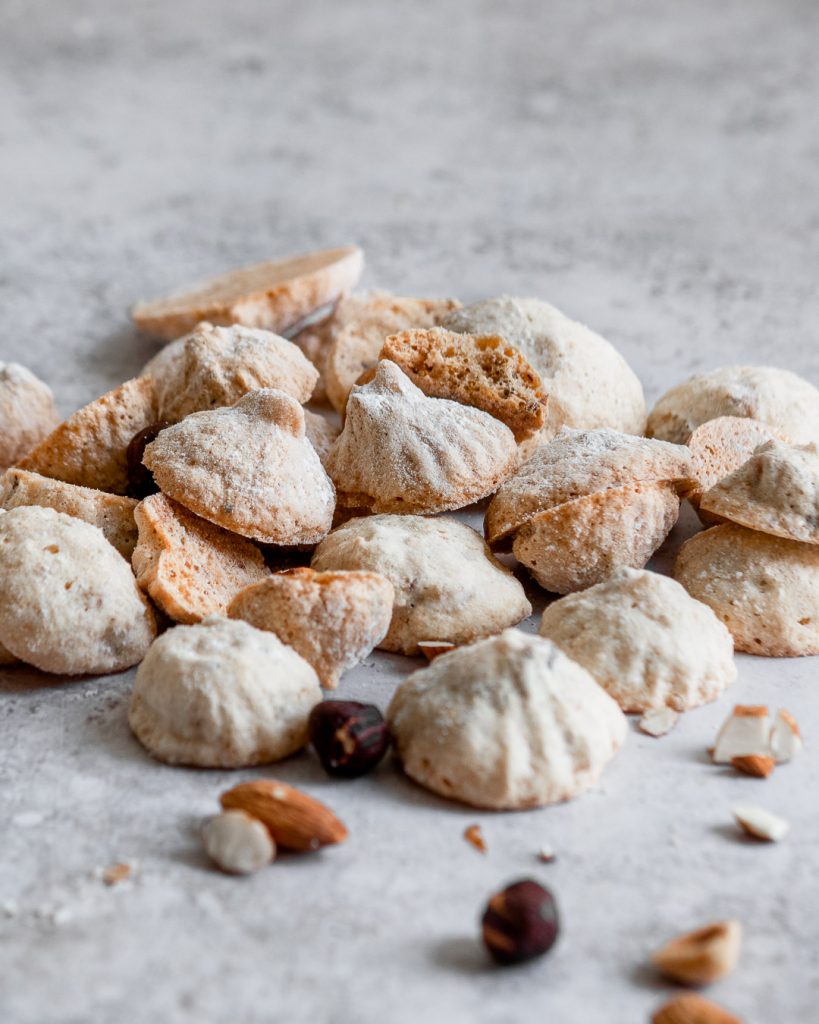 Tips for making fool-proof hazelnut almond dacquoises
Prep Ahead: When it comes to making meringues, preparing all the ingredients before hand is crucial to success.
Only egg whites: Make sure there are no streaks of yolk or grease! The tiniest bit of egg yolk can cause a meringue to fail. The best way to separate egg whites is to crack all the eggs into a bowl, and scoop out the whites with your hand. This way the yolks won't break. 
Don't open the oven: While it may be tempting, don't open the oven while the cookies are baking. This may cause them to deflate. 
if you like this recipe, you may also enjoy...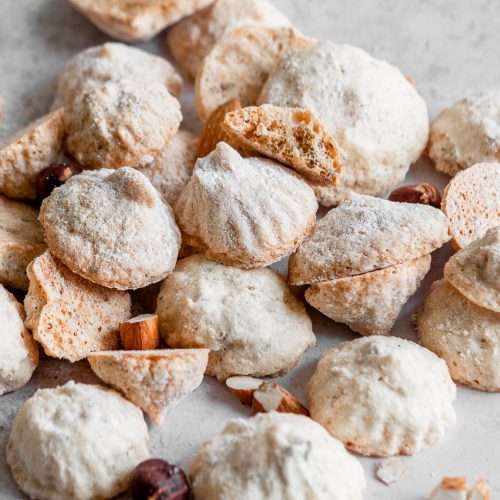 Easy Hazelnut Almond Dacquoises
Nutty Hazelnut Almond Dacquoise cookies that make delicious cookies, but can also be used as a base for entrements & pastries.
Ingredients
30g

almonds

roughly chopped

30g

hazelnuts

skinned. Remove 28g (¼ cup) and grind into fine powder. Roughly chop the rest.

18g

¼ cup

ground almonds (or almond flour)

60g

approx. 2 egg whites

room temperature

110g

½ cup

granulated sugar

19g

2½ tbsp

cornstarch

15g

⅛ cup

unsalted butter

melted

28g

¼ cup

powdered sugar
Instructions
Preheat the oven to 350°F/176°C. Spread hazelnuts and almonds out on a baking tray and roast for 8 minutes or until desired level of doneness. Skin hazelnuts and roughly chop 30g of hazelnuts, 30 g almonds and grind 28g of hazelnuts. Set aside and lower oven temperature to 275°F/135°C.

In the bowl of a stand mixer fitted with the whisk attachment, whisk the egg whites until foamy, then add half of the sugar in one tbsp increments while the mixer is on low speed. Once at soft-peaks add the remaining sugar in increments again and whisk until stiff peaks form.

Using a spatula, fold in the ground hazelnuts, ground almonds, chopped almonds, chopped hazelnuts and cornstarch until just combined.

Add 2 spoonfuls of the dacquoise batter to the melted butter and fold together. Pour the butter mix back into the larger dacquoise mixture and fold with a spatula until smooth and homogenous.

On a silicone baking tray or tray lined with parchment paper, pipe out shapes as recipe requires and liberally dust the surface with powdered sugar or spritz with water to prevent drying out. Bake in the pre-heated oven for 30-40 minutes or until dry and the dacquoises easily pop-off without the bottoms tearing.

Use immediately or wrap in cling wrap and store in the freezer for up to 1 month.
Notes
NOTES:
I DO NOT recommend using pre-separated egg whites unless they are un-pasturized. These pre-boxed egg whites rarely work for meringues. 
Hazelnuts and almonds can be substituted for walnuts, peanuts and other dried ingredients that can be finely ground or chopped. 
Did you make this recipe?
Tag @WhiskfullySo on Instagram